Are you heading out on an outdoor adventure with the kids this summer? These tips will help the entire family have a memorable time.
My #40before40 birthday list was made for adventures and I've been knocking off the bucket list items one after the other this summer. A couple weekends ago, we took a day trip to the Blue Ridge Mountain Parkway to see Looking Glass Falls so I could check "See a waterfall" off my list.
We've been meaning to get up to that area since we moved here 4 years ago. The distance made it just hard enough to do as a day trip when the girls were smaller but on the other hand it felt too close to justify a hotel night. It was a crazy realization to look at my girls and see that they are finally big enough for us to head off on more taxing adventures with little risk of total meltdown. It is so hard to watch my babies passing their milestones, but wow is this the light at the end of that tunnel!
While we try to encourage outdoor adventures with smaller experiences closer to home, this was one of the first bigger outings we've taken them on and I realized there were a few things we could definitely have done better.
If you're just now heading into the next phase of kid rearing, I thought you might appreciate these lessons, too!
8 Tips for Raising Your Big Kids to Be Adventurers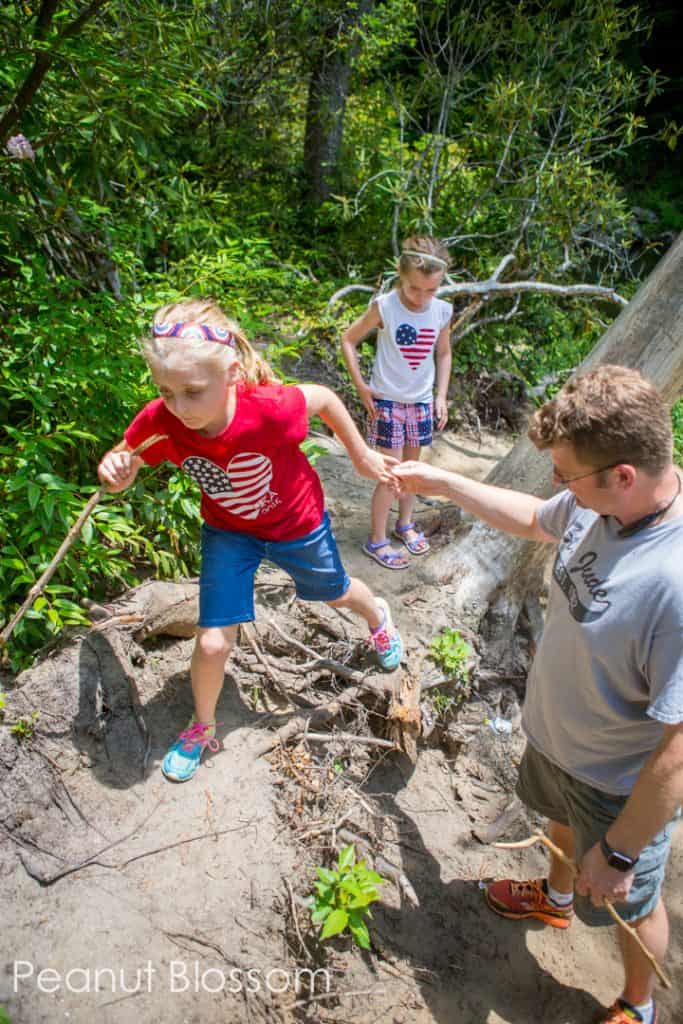 1. Bring a change of clothes:
It has been years since I've worried about bringing a change of clothes because of a diaper blow out. It never even occurred to me that my big girls might need fresh clothing from a simple day trip to the mountains. And while I didn't mind a little mountain dust getting on them (and then into my car), once you combine that with water from the waterfall or river side and it turns to mud, we have an entirely different situation.
We were surprised to discover the park visitors in their swimming suits splashing and playing in the pool of the waterfall. My girls were dying to really get in there and play but without a change of clothes, they had to be more reserved and careful. Next time, we're bringing swimming suits and a change of clothes for everyone! I want to be able to say, "YES! Get dirty! Get wet! We're here to have fun!"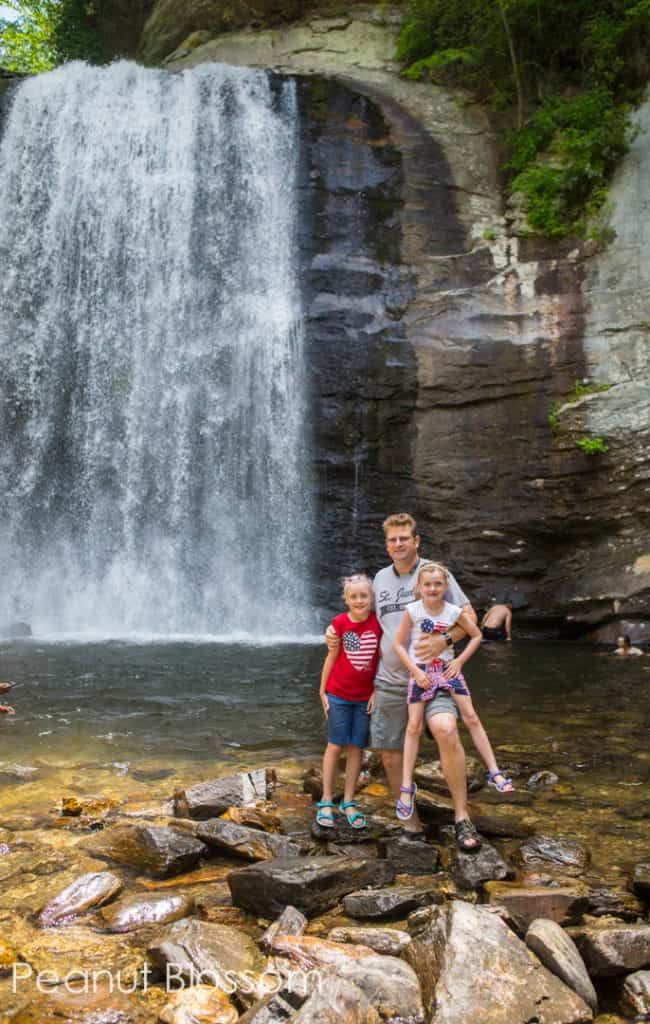 2. Everyone should wear waterproof sandals that strap on your feet (not slip-ons):
I'm going shoe shopping for MYSELF before we try this again. I have comfy athletic sandals that I wore for our hiking, but they just slip on over my feet. When I was trying to climb over the rocks and stepping into the water, the current came close to carrying away my sandals. It made it so tricky for me to walk comfortably. Thankfully, both the girls had proper sandals for rock climbing in the water.
We also brought everyone a 2nd pair of shoes to change into back at the car. It made our drive home a lot more comfortable.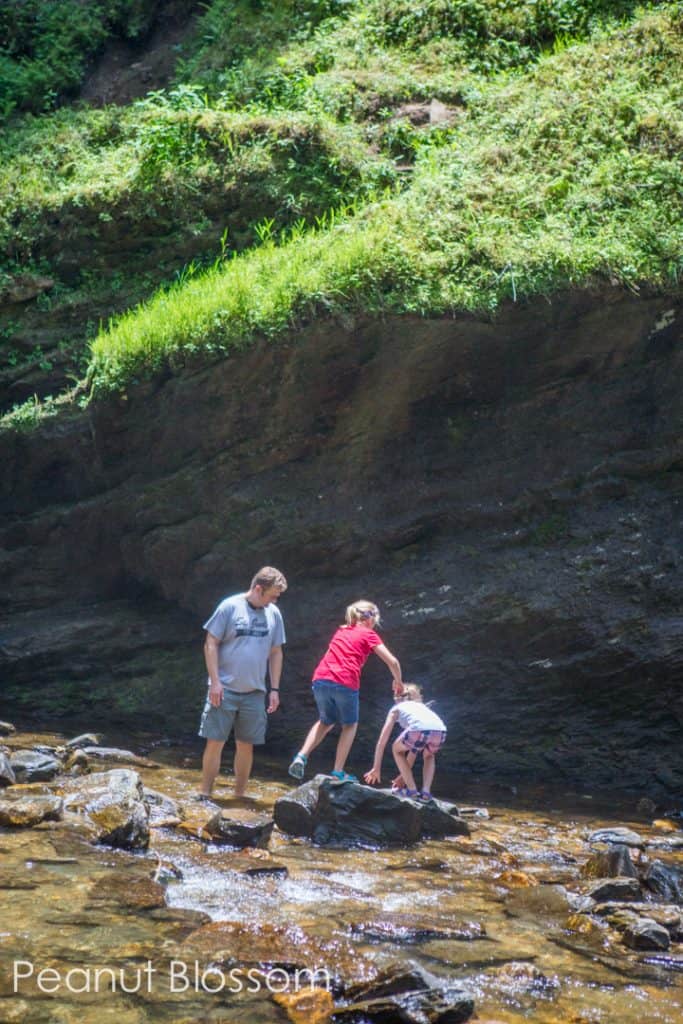 3. Go slow and let the kids explore:
The only things on our itinerary that day were to see the waterfall and have a family picnic. We had an entire day to accomplish those goals. This meant we were able to pull off and see whatever the kids wanted to look at more closely. We found a small trail by our picnic spot that led to the river front where they could skip rocks with Tim. This was one thing we did right that day. The kids loved leading the pace.
4. Stay fueled:
My girls do much better with smaller snacks and meals more frequently throughout the day. We brought snacks for the 2.5 hour car ride to the park and a family picnic lunch. Another one of my bucket list items was to "Have a fancy picnic somewhere scenic." In order to take advantage of the day trip, I went to a little extra effort to make our lunch more special than normal, I planned ahead and had:
Roast beef sandwiches with horseradish sauce on whole wheat rolls
asparagus and oranges salad
strawberries with goat cheese and balsamic vinegar (just plain for the kids)
sea salt & vinegar potato chips
peanut butter cookie chips with a melted chocolate dip for dessert
Pulling together those dishes only took me 30 minutes the night before to chop, prep and pack and it was all perfectly portable.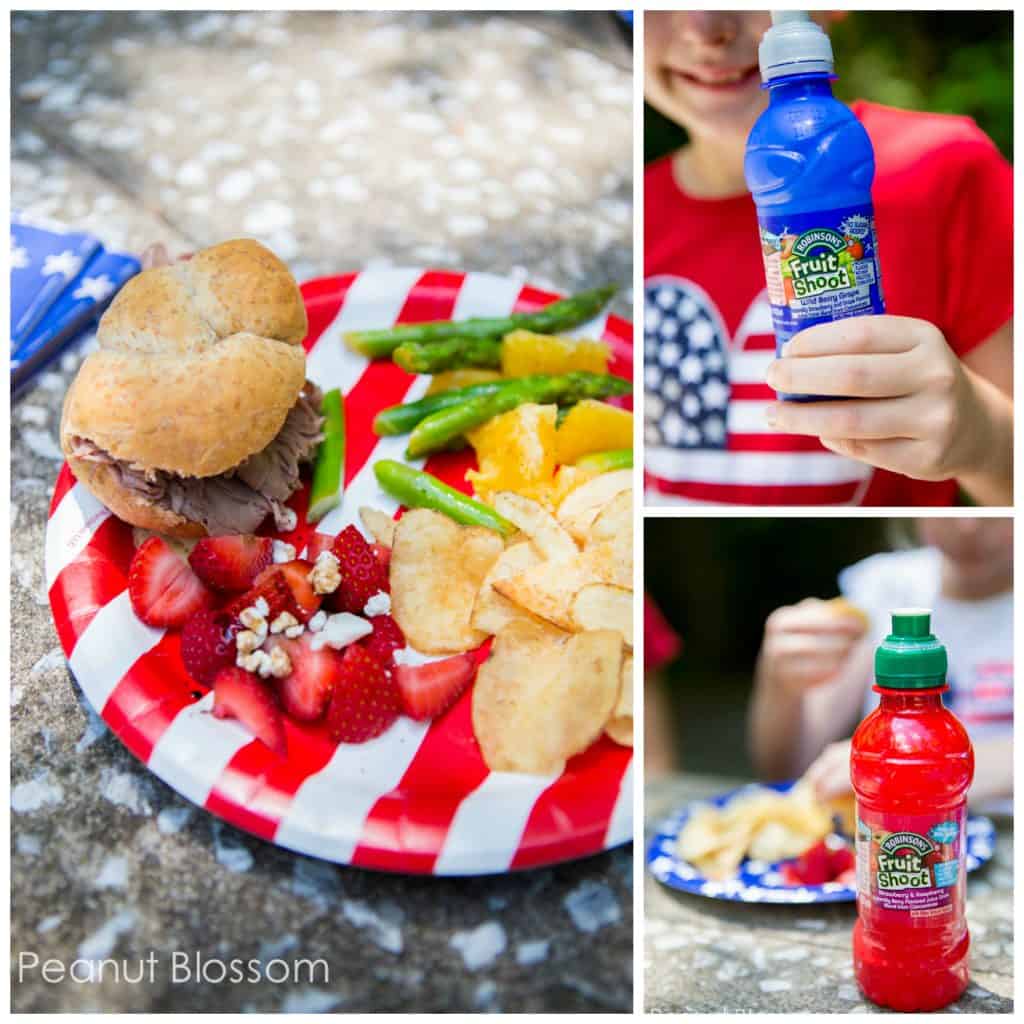 5. Stay hydrated:
We always travel with water bottles in the car for both girls but for our picnic lunch I wanted them to have a fresh cool beverage out of the cooler to enjoy with their treats. We brought along 2 flavors of juice: wild berry grape and strawberry & raspberry with no added sugar.
6. Let them take calculated risks:
These outdoor adventures do not come naturally to me. I've shared my challenges with enjoying being outside before, but I really do try hard to not let that get in the way of the kids learning to appreciate nature in the ways I didn't as a kid. But here we are in the mountains and all my mommy eyes can see are potential dangers for my babies. It was so hard for me to bite my tongue and let them do things that were just a smidge risky.
As we were climbing over the rocks at the bottom of the waterfall, all I could see was Little Pea slipping and falling and hitting her head.
Tim or myself was within arm's reach of her nearly every moment we were there. We stressed moving slowly and carefully and helped to guide them over the trickiest parts. But at some point, you just have to let go and let them climb a little on their own. This is one of the hardest lessons for me right now but I don't want my kids to be scared of trying new things.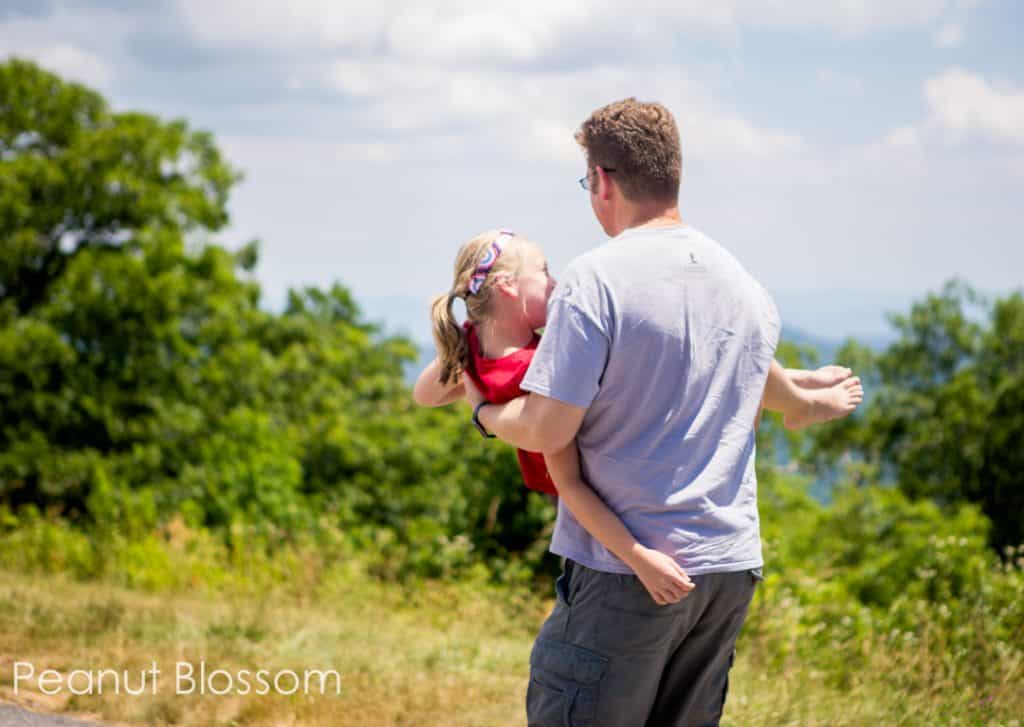 7. Drag their tired butts out of the car:
At some point, your little kids are going to get tired. Their feet will hurt, their legs will be fatigued. For us, this happened as we finally drove to the top of the Blue Ridge Parkway and could look out upon the mountain range. The view was incredible and we heard, "I don't want to get out to look, my feet hurt."
Um. No.
I'm sensitive to their discomforts, but the truth is they aren't babies anymore! I've been trying to prepare my kids for the harsh reality that life hurts sometimes. As our bodies age pain becomes something we all have to deal with. Accidents, surgeries, dental work, heck even child birth some day. There will be pain to overcome many many times in their lives. So when the payoff for pushing through that pain is something as gorgeous as that overlook, sometimes it takes unbuckling your kids out of the back seat and carrying them to the vantage point.
She laughed at the ridiculousness of daddy having to carry her and once she was there she loved what she saw. I hope she remembers that next time!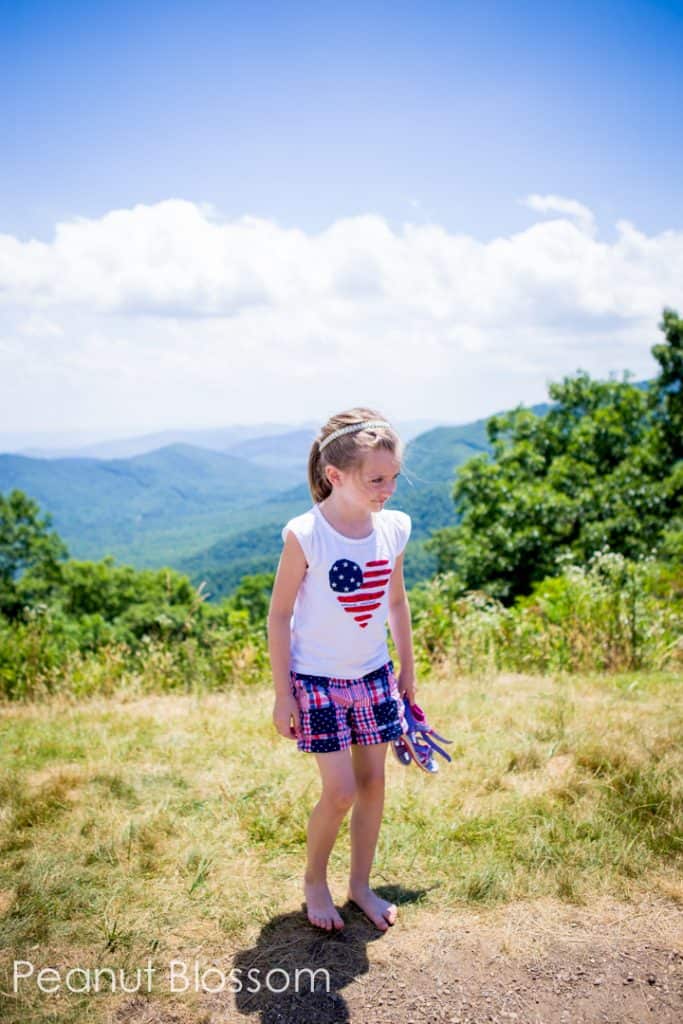 8. Let them take their shoes off:
This is less a commentary on wardrobe and more an encouragement to let your kids physically connect with the nature around them. Little Pea was put out that the Peanut was barefoot (after daddy dragged her out of the backseat) and insisted that she be allowed to run barefoot on the mountain, too.
My first instinct was to say, "No. Keep your feet clean! We're only getting out for a moment before getting back in the car to drive back." Then I stopped and thought about what would it hurt to allow this?? Feet can be cleaned. She wanted to stand on top of a mountain and feel it with her toes. Why would I deny that?