The best beach snacks won't spoil in the sun or melt in the heat and are easy enough to pack in a cooler for a fun day at the beach.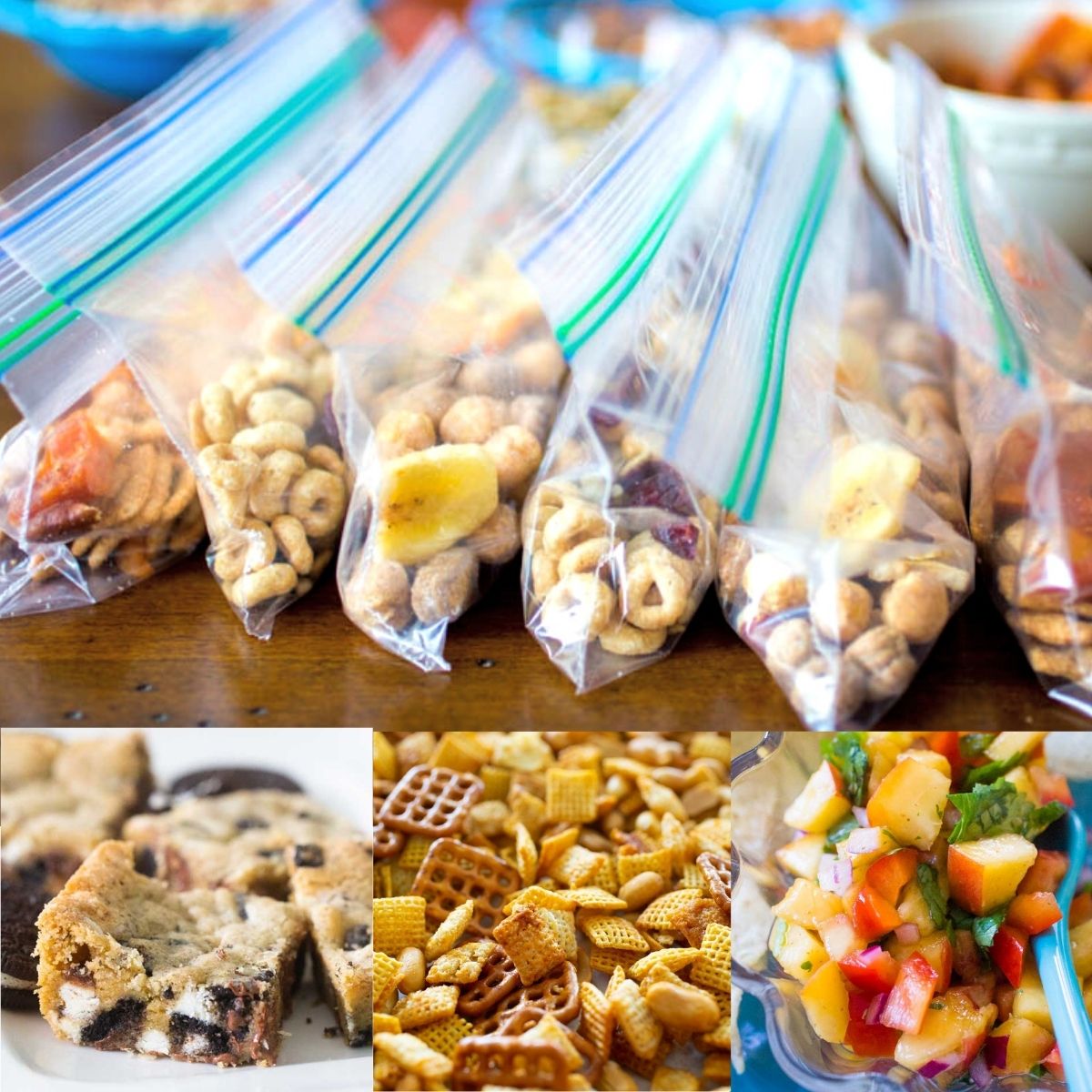 Whether you're planning a day trip to the beach and want to pack plenty of snacks to bring along for the ride or you're planning to spend an entire week at a beach and want fun snacks for your hotel or beach condo, there are some important things to consider before you head to the grocery store.
You'll want to make a list of the best beach snacks so you don't have to waste a single minute of your family vacation worrying about grocery shopping!
From healthy snacks to fuel your bodies to sweet treats that remind you this is a fun vacation, all the best snacks to pack for the beach are here!
Jump to:
Keep in Mind When Choosing Snacks
When you're picking your beach snacks for packing your cooler, it is important to keep a few things in mind:
Consider Spoilage: Avoid snacks that include dairy of any kind -- cheese, yogurt, sour cream, mayo etc. Even if you pack your cooler well, you don't want to worry about accidentally getting sick from something that spoiled in the summer sun.
Consider Melting: Anything coated in chocolate or yogurt coating can be seriously problematic if it gets warm. A good beach snack should be hearty and stable.
Consider the Wind: Beachfronts are often very windy. Even if you can't see it, the sand is blowing all around you as you sit under your umbrella. Think about how you plan to eat your snack while keeping the sand out of your food. Avoid foods that are super sticky or limit their exposure to the air.
Consider the Sand and Salt: Even if you haven't gone swimming in the ocean, your hands are likely going to be fairly sandy and salty from the day at the beach. Be prepared with extra fresh water for rinsing off your hands before eating or come with reusable utensils for forking your fresh fruit and veggies.
Pack It In, Pack It Out
Be considerate of the sea turtles and other ocean life. Remember the cardinal rule:
Pack it in, Pack it out: Anything you bring to the beach should also go home with you.
Have a special tote bag to keep any wrappers or empty bottles or packaging you may end up with after eating your snack.
Consider bringing reusable utensils and napkins so the extra plastic and paper doesn't end up in the sand or ocean. They're less likely to blow away in the wind and will hold up to a solid rinsing if needed.
Now let's consider the fun part -- what are we going to eat at the beach??
Healthy Snacks
Keep your family hydrated with fresh fruits and veggies.
They'll keep cold in a cooler and the extra water and fiber will help battle the hot sunshine and taste very refreshing when you take a break under the umbrella.
Frozen Grapes: They are delicious eaten frozen or you can use them to help chill the cooler and let them thaw before eating.
Peanut Butter with Celery Sticks and/or Sliced Apples
Diced Pineapple: Can't be bruised or squished as easily as delicate berries.
Whole Strawberries: Firmer than more delicate berries and very refreshing.
Sliced Bell Peppers
Baby Carrots
Diced Watermelon: Package it in a sturdy container, the extra water will be great on a hot day.
Grab and Go Snacks
If you want to stop at the grocery store on the way to the beach and just grab a few prepared things, this shopping list is an easy way to fill up your cooler.
Some of the individually wrapped snacks can be nice to have because you can just partially unwrap them for eating and keep your sandy hands away from your food.
Boxed granola bars or cereal bars
Cheese and Cracker Sandwiches or Peanut butter and Cracker Sandwiches
Bags of salted nuts: pistachios, almonds, peanuts
Container of hummus and a bag of pita chips
Container of salsa and a bag of tortilla chips
Rice crispy treats
Bagged snack mixes like Chex mix
Boxes of raisins
Best Beach Snacks To Make Before You Go
These easy homemade beach snacks don't take much time to make but will definitely taste a lot better than the packaged stuff from the grocery store.
Plan ahead and prepare a few of these things to pack in a cooler to bring from home when you leave for your beach vacation.
They make great snacks while you're actually ON the beach or at your hotel or condo, too.