Want to save money on your next family beach vacation? Learn how to cook easy dinners in your beach condo. Don't miss the free grocery shopping list so you can order the groceries for delivery before you even hit the road.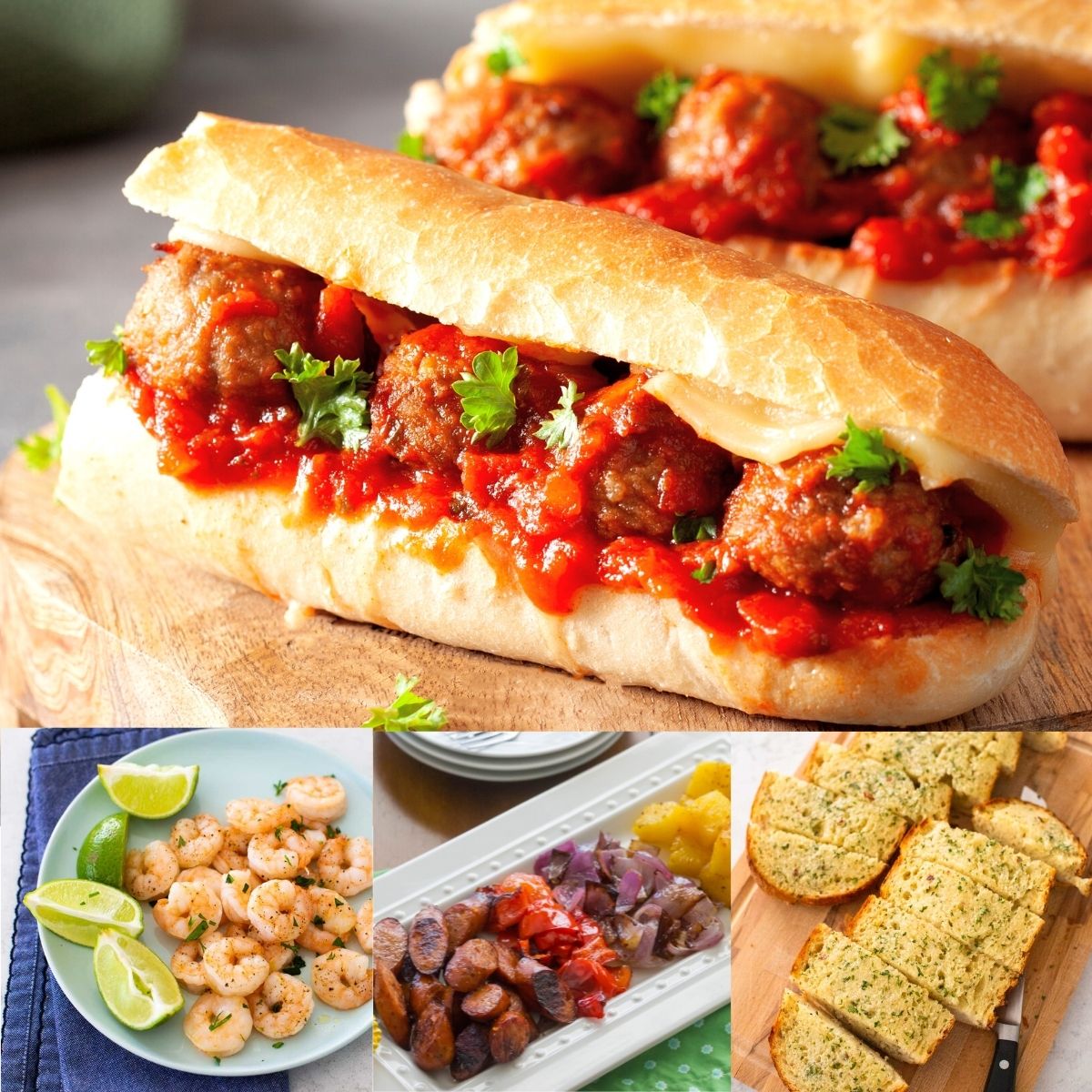 As we headed into the craziest summer on record, I was worried we wouldn't be able to enjoy our annual family trip to the beach a couple years ago. Social distancing and crowded vacation hot spots don't go hand in hand.
Our quick weekend family getaway to Myrtle Beach earlier in the year had me dreaming of those ocean views while we stayed safer at home.
You could hardly blame me, check out the gorgeous condo we found through Condo-World here.
The more I dreamed about it, the more I realized that you really can't beat the safety of renting a beach condo for your family vacation. Especially if you plan to cook a week of meals right in your very own beach house kitchen.
We loved the break in our routine and the ability to continue our annual summer tradition of a family beach trip. This meal plan made that happen!
Jump to:
Why a Beach Condo is a Safe Option
If you're looking for a safe way to squeeze in your annual family beach vacation, there are few better options than renting an oceanfront beach condo in Myrtle Beach, NC.
You get your own clean, private space for the trip.
You can easily walk down to the beach early in the morning and later in the evening.
You can enjoy the ocean views right from your balcony during the crowded times during the day.
And perhaps most importantly, you have your own kitchen where you can safely prepare your meals for the week or comfortably enjoy take-out from a local restaurant.
There are so many beach condo options to pick from for all sizes of families and budgets. You can easily sort through the features you want most on the Condo-World web site.
They have the best stock of beach rental options from luxury oceanfront condos to budget-friendly family beach houses with a competitive price guarantee.
We have our family vacation already booked and we're counting down the days till we can enjoy those ocean blues again.
Why You Should Cook on a Beach Vacation
One of my favorite parts about vacation is dining out at local restaurants but for that trip we planned to cook all of our meals right in the condo kitchen so we could have better peace of mind.
Since I didn't want to spend the entire beach trip in the kitchen, I created a super-simple meal plan for a week's worth of dinners and an assortment of easy breakfast and lunch ideas we kept stocked in our fridge.
Now that the world is opening back up, it is still a great idea to cook some of your meals at your beach rental because:
Saves a Lot of Money: Even for a family of just 4, we were looking at $70+ for most dinners at a restaurant. Alternatively, we enjoy going out for a more affordable lunch and then just cooking dinner at home.
Less Time Waiting: By the end of a busy day swimming, sometimes kids are too exhausted to even enjoy the meal out. It is so nice to just relax around a quiet dinner and have a restful evening not spent waiting in line for a table at a restaurant.
How to Get Groceries Easily
The last thing I wanted to do is head to a crowded grocery store on vacation, so I was thrilled to discover that Instacart serves the part of North Myrtle Beach where we stayed.
I pre-ordered all of our groceries for the entire week and had them delivered right to our condo door shortly after check-in on the first day of our trip.
The only decision that was left was which recipes to make and then knowing what to order!
How to Cook a Week of Easy Vacation Recipes
Order Your Groceries Ahead of Time
Use a Meal Plan that Maximizes Each Ingredient
Use Leftovers on Purpose for a No-Waste Week
Leave Room for Relaxing and Keep it Easy!
Easy Dinner Recipes for Small Rental Kitchens
We're on vacation, cooking elaborate dinners is not the top of my wish list. These easy dinner ideas are perfect for cooking quickly in any beach house or beach condo kitchen.
I created a simple meal plan with recipes that met these crucial requirements:
Involves a short list of ingredients
Uses minimal cooking tools and gear for easy clean-up
Uses similar ingredients over and over again to save you money
Minimizes waste by the end of the week
Are kid-friendly and totally customizable for picky eaters
I've included six dinners so there's room for take-out or delivery one evening of the beach trip. If you don't want to do take-out, you could always add a frozen pizza or two to your grocery list for an easy night.
The meal plan feeds 4 - 6 people, depending on your appetite. Each recipe is easily scalable for larger crowds, you just need to add larger quantities of each ingredient.
Official Beach Vacation Meal Plan for Dinners
Below is the entire meal plan for your convenience, but if you'd like to have everything rounded up in a neat and organized recipe book, be sure to check out my "Tasty Week at the Beach" ebook here!
When you buy the digital book, you not only get the entire meal plan and recipes listed below gathered together in one spot to bring along on your trip, but you get all my best tips for feeding your family for an entire week at the beach.
I included everything you need to plan for an easy-peasy breakfast, lunch, and dinner plan for the entire week.
Dinner #1: Pasta with sausage and peppers
This is the perfect meal for the first night of vacation. Pasta is satisfying comfort food for the end of the long day getting settled and it comes together in a pinch.
Get the pasta with sausage and peppers recipe here.
Dinner #2: Caesar salad with spicy shrimp (or chicken) and fresh garlic bread
Make a super-easy large bowl of salad with your family's favorite protein on top.
Since the salad is so easy, tonight we'll prep two loaves of fresh garlic bread. One will be used for this dinner and we'll pop one in the freezer for later in the week. You can always substitute frozen garlic bread if you prefer.
Get the Caesar salad recipe here.
Get the garlic bread recipe here.
NOTE: The grocery list printable below mentions BOTH a rotisserie chicken and a bag of frozen shrimp for use in this salad. Pick one or the other and remove the unnecessary item from your list before you do your shopping.
Dinner #3: Baked meatball sub sandwiches
Using frozen meatballs will make this a super quick and easy dinner night. Round out the meal with chips and dip and any leftover salad from the night before.
Get the baked meatball subs recipe here.
Dinner #4: Spicy taco skillet with tortilla chips
Kids love tacos, but no one wants to prep a ton of toppings on vacation. This taco skillet has everything you need all in one pan. Serve it with the chips on the side for scooping. It's the perfect fun, interactive dinner for families on vacation.
Get the taco skillet recipe here.
Dinner #5: Roasted salmon with sautéed pierogi and salsa corn
We love salmon but you can substitute any fresh fish you love for this dish. Find a local fish shop or plan ahead and just order frozen fish during your grocery delivery at the start of the week.
The pierogis are an easy side dish that are prepped on the stove top while the fish bakes. If you don't like them, you can substitute any stove-top side you prefer: rice, pasta, etc.
The salsa corn is just a mix of frozen corn and fresh pico de gallo or salsa and chopped green onions.
Get the recipe for the roasted salmon here. I also included a variety of easy side dish ideas to go with it if you want to swap the pierogis and/or corn.
Dinner #6: Fresh tomato pasta with roasted shrimp and homemade garlic bread
This pasta dish is so easy, there's no sauce to cook! Toss hot pasta with fresh tomatoes and a simple olive oil dressing. You can serve it with roasted shrimp (or a rotisserie chicken if you prefer). Tonight we'll use up the second garlic bread we prepped earlier in the week.
Get the recipe for the fresh tomato pasta here.
Get the recipe for roasted shrimp here.
Get the garlic bread recipe here.
NOTE: The grocery list suggests a bag of frozen shrimp for this dish. Be sure to add chicken to your shopping cart to replace it if you prefer. (The second bag of shrimp on the list is intended for the Caesar salad above.)
Dinner #7: Take-out from a local restaurant OR frozen pizza night
If you don't feel comfortable doing take-out or pizza delivery, just add a frozen pizza or two to your grocery order. This is a great night to eat up any leftovers in the fridge, too.
Easy Lunch Ideas
Even if you plan to eat your dinners at restaurants, a great way to save money on your family beach trip is to prepare easy lunches to keep in your condo kitchen or beach house.
Roll-ups or wrap sandwiches are the perfect beach vacation lunch because you can make them quickly, they store well in the fridge, and you can pack them for a trip down to the beach.
Mix and match a few roll-up flavors. Cut them into pinwheels and kids will love to nibble on the different flavors.
Try these simple recipes:
Firecracker pinwheels (this is our favorite easy pinwheel recipe)
BLT and turkey
Roast beef and cheddar
Ham and havarti with peach mustard
Easy Breakfast Ideas
The best time to visit the beach is early in the morning. Don't let breakfast slow you down. Keep these easy breakfast items in your beach condo kitchen so you can head out the door quickly.
Yogurt with granola and fruit: I love this easy homemade granola recipe
Granola bars
Cereal and milk
Bakery muffins and fruit
Homemade quick bread (we love this banana zucchini bread)
Make-your-own-takeout breakfast sandwiches (English muffins, frozen sausage patties, and sliced cheese)
Easy Desserts
Keep a simple variety of treats on hand and you'll save money from getting desserts at restaurants and ice cream shops.
Ice cream sandwiches
Popsicles
Root beer floats
Licorice wands
Prepared Jello or pudding and whipped cream
Fresh fruit served in waffle cone bowls with whipped cream
The Best Beach Snacks
And if you're heading down to the beach, don't miss this list of the best beach snacks to put in your cooler!
Free Grocery Shopping List
Is your head spinning? I hope not. I did my best to make this meal plan as easy on you as possible!
I've organized all the ingredients you need to make all six of the dinners into one easy shopping list.
NOTE: The shopping list does NOT include the lunch and breakfast ideas. Be sure to make note of your favorite ideas and add those to your shopping cart before you hit the road.