Whether you're planning a family beach vacation or just want to celebrate Talk Like a Pirate Day with your kids, this list of the best 20 pirate books has something for everyone. From toddlers to teens and the parents who love them all, you're sure to find a pirate story that's perfect for your family.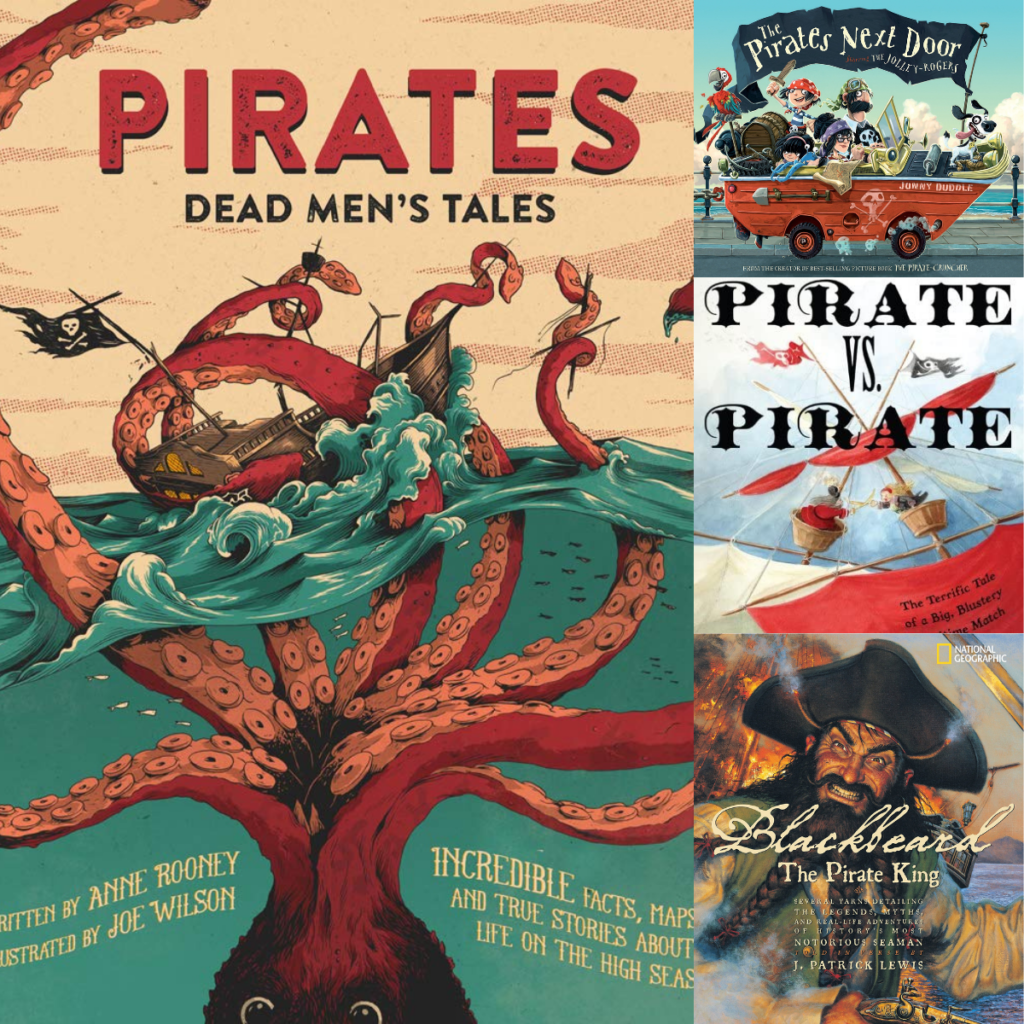 If you're planning a family trip to the beach or a tropical island getaway, you might think to read books about ocean creatures with your kids but don't miss the chance to enjoy one of the more swashbuckling story opportunities!
We just returned from a visit to Amelia Island, Florida and I was surprised to see pirate paraphernalia every which way we turned.
Why You Should Read Books About Pirates Before Vacation:
Pirates were a very real part of Eastern US history.
From Maryland to North Carolina, all the way down to the Florida Keys, pirates influenced trading and borders as the United States developed.
If you're traveling to the Caribbean, they are just as important and relevant.
Since pirates appear in so many Hollywood movies and children's television shows, they can be a fun way to make a connection between the familiar and the new experiences at your destination.
I hunted down the best pirate books for your family to enjoy no matter the age range.
You will discover great reads for:
picture books for toddlers and young kids
early reader chapter books
family read-aloud chapter books
audiobook ideas for the whole family for the car trip to your destination
Pirate Books the Whole Family Will Enjoy:
If you're traveling to any of the North Carolina beaches, be sure to read up on Blackbeard the Pirate. You can even find the Blackbeard Trail destinations here.
"Now, the real-life adventures and the myths of the 18th century Pirate King Edward Teach have inspired a thrilling collection of biographical poems by J. Patrick Lewis-collected in a picture-book format that will quicken the pulses and fire the imaginations of young adventurers everywhere. . . "
Perfect for younger kids and helping them get excited about pirates before the trip.
"When a pirate ship sails by, young Jeremy learns how to say "scurvy dog," sing sea chanteys, and throw food . . . but he also learns that there are no books or good night kisses on board: "Pirates don't tuck." A swashbuckling adventure with fantastically silly illustrations. . ."
3. Pirate Vs. Pirate by Mary Quattlebaum and Alexandra Boiger
This was one of my all-time favorite picture book read-alouds when my kids were a bit younger. Especially fun if your family includes daughters who want to see themselves in the pirate story.
"Bad Bart is the biggest, burliest boy pirate in the Atlantic. Mean Mo is the maddest, mightiest girl pirate in the Pacific. When they meet in the middle, it's a no-holds-barred contest to see who is the best pirate in the world. . ."
Fun and whimsical illustrations from this pirate tale are sure to get your kids talking like a pirate.
"An old fiddler tells a pirate crew of an island bursting with hidden treasure. But once the motley men have set sail for the mysterious island, he also tells them it is guarded by the terrible Pirate-Cruncher! . . ."
Another light, imaginary tale of a young boy who wonders about life as a pirate. Perfect for little ones who don't enjoy anything too scary.
"After reading his favorite book about a pirate boy, Danny wonders what would happen if he sailed away on a pirate ship. . ."
A fun pirate story by beloved author Mem Fox and gorgeously illustrated by Kathryn Brown.
"Boris von der Borch is a mean, greedy old pirate--tough as nails, through and through, like all pirates. Or is he? When a young boy sneaks onto Boris's ship, he discovers that Boris and his mates aren't quite what he expected. . ."
We love the detailed and gorgeous map graphics that make up this pirate book. A great way to sneak in a little geography to your reading time.
"Who were the real pirates of the Caribbean—and beyond? Find out! Pirates: Dead Men's Tales brings us face to face with some of the most villainous and scurrilous rogues ever to sail the seven seas. . ."
Since Neil Gaiman is one of my husband's favorite authors, he would be much more likely to dig in on this children's book during family reading time.
"Long John has a whole crew of wild pirates in tow, and—for one boy and his sister—he's about to transform a perfectly ordinary evening into a riotous adventure beneath a pirate moon. It's time to make some PIRATE STEW. . ."
Pirates, they're just like us! This clever picture book is another excellent choice for showing moms and girls as pirates, too.
"Meet the Jolley-Rogers — a pirate family who is moving to Dull-on-Sea, a quiet seaside town, while they fix up their ship. This unusual family soon has the whole neighborhood gossiping. . ."
Whether you read this book as a family read aloud before your trip or listen to it together as an audiobook in the car on the go, this chapter books is an excellent choice for a whole-family read with mixed ages.
"In an evocative and fast-paced adventure on the high seas and on a faraway island, an orphan boy named Peter and his mysterious new friend, Molly, overcome bands of pirates and thieves in their quest to keep a fantastical secret safe and save the world from evil. . ."
If you've got a young, independent reader, don't miss the Magic Treehouse series. This fun pirate-themed story is perfect for tucking into their bag for the trip.
"It's a treasure trove of trouble! Jack and Annie are in for a high-seas adventure when the Magic Tree House whisks them back to the days of deserted islands, secret maps—and ruthless pirates! Will they discover a buried treasure? Or will they be forced to walk the plank? . . ."
We listened to this pirate audiobook together as a family during a road trip several years ago and I still remember laughing loudly several times. It's the first in a series.
"Hilary Westfield has always dreamed of being a pirate. She can tread water for thirty-seven minutes. She can tie a knot faster than a fleet of sailors, and she already owns a rather pointy sword. . ."
The Who Was/Who Is series is another excellent pick for independent readers. I love the presentation of historical facts in a way that connects with kids.
"Though much of his early life remains a mystery, Blackbeard most likely began his life as Edward Teach in the sailing port of Bristol, England. He began his career as a hired British sailor during Queen Anne's War. . ."
14. Pirateology by William Captain Lubber
This gorgeous picture book has detailed drawings and maps that will give insight to the entire pirating world. Perfect for enjoying in smaller reading chunks with your curious kids.
"Step lively, pirate foes and fanciers! Mysterious booty found inside a long-lost sea chest, hidden for hundreds of years off the coast of Newfoundland, has just been uncovered for your enjoyment. . ."
Rooted more in history and fact, this book covers how real pirates overlapped with the story of the Mayflower and the first Thanksgiving.
"Say hello to Myles Standish, a fiery man with short legs and an even shorter temper. When he got mad his face turned as red as his hair, earning him the nickname "Captaine Shrimpe." It's a story that has been told for almost 400 years―how a brave band of people set sail on the Mayflower to find a new life in America. . ."
16. Real Pirates by Barry Clifford, Kenneth J. Kinkor and Sharon Simpson
This companion book to a National Geographic exhibition is filled with fantastic details of real pirate plunder.
"The riveting story of the slave ship Whydah, captured by pirates and later sunk in a fierce storm off the coast of Massachusetts, energizes this lavish companion book to a unique exhibition on a five-year U.S. tour. Packed with plunder from more than 50 captured ships, the Whydah was discovered by underwater explorer Barry Clifford in 1984. Now, for the first time, its treasure holds are unlocked for public view. More than 200 items were retrieved from the ocean floor: the telltale ship's bell, inscribed "Whydah Galley 1716"; coins and jewelry, buttons and cufflinks; muskets, cannons, and swords; everyday objects including teakettles and tableware, gaming tokens, and clay pipes. . ."
This magical picture book filled with stunning illustrations is sure to leave your kids dreaming of pirate ships.
"Finn lives by the sea and the sea lives by him. Every time he looks out his window it's a constant reminder of the stories his grandfather told him about the place where the ocean meets the sky. Where whales and jellyfish soar and birds and castles float. . ."
18. Pirates Magnified written by David Long and illustrated by Harry Bloom
For kids who love seek and find, super-detailed picture books, this book is simply perfect.
"Meet history's most notorious pirates as you follow Blackbeard, Captain Kidd, Anne Bonny, and more rogues on their real-life adventures in this book by award-winning author David Long. . ."
Take a look through an entire pirate ship and explore the golden age of piracy.
"Though piracy's golden age was in the 1700s, many still long for a life searching for treasure. From famous pirates like Blackbeard and Captain Kidd, to precious plunder like Spanish coins and colorful jewels, to the less glamorous tasks of climbing dangerous ropes or cleaning dirty decks, Inside Out: Pirate Ship takes you deck by deck into the scourge of the sea. . ."
Audiobooks are an excellent way to introduce classic literature to your kids. The old-fashioned language can be harder to connect with and the emotional, dramatic performances help inject clarity to the story. This Audible Original performance of Treasure Island would make an excellent family listen during your road trip.
"Audible Originals takes to the high seas to bring to life this timeless tale of pirates, lost treasure maps and mutiny, starring Catherine Tate (BAFTA-nominated, The Catherine Tate Show, The Office, Doctor Who), Philip Glenister (Outcast, Life On Mars), Owen Teale (Game of Thrones, Pulse, Last Legion) and Daniel Mays (The Adventures of Tintin, Rogue One, Atonement) amongst others. . ."