Best Beach Gear for Families
The best beach gear for families is sturdy, portable, and will help you have a great day at the beach with the kids.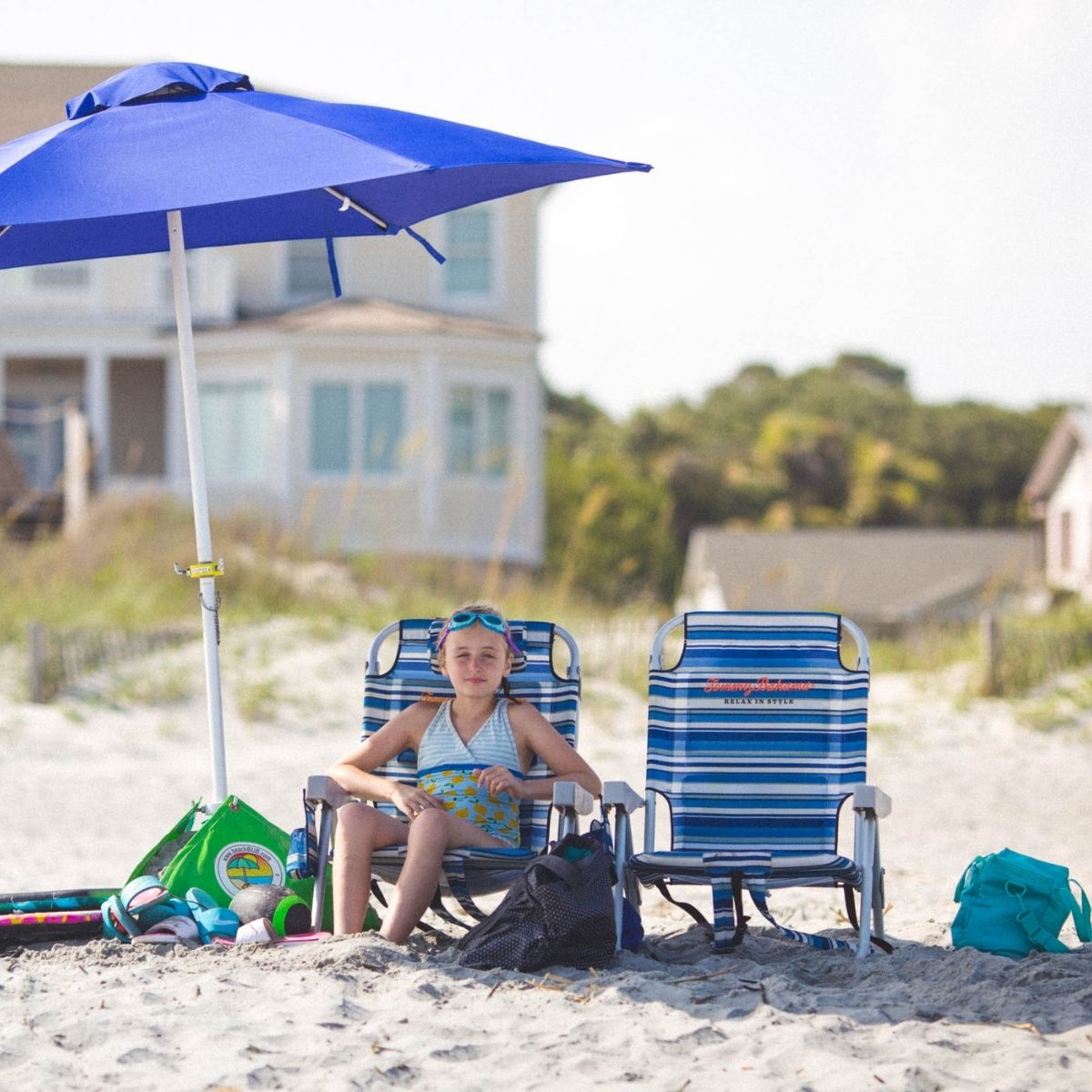 Heading on a family beach trip this year? We've spent a week at the beach every summer for over a decade as our kids grew from tiny toddlers to teens.
Over the years, we've perfected the beach gear that deserves room in our car trunk for the road trip. You can see our list of what to pack for a road trip here.
Our focus is on budget-friendly, reliable, and well made pieces that we can use over and over again every summer.
In my list of essential beach gear, I'll share which items are worth an investment for the long run and which ones you can find more budget friendly prices.
If you are a member of Costco, you can find some of the items at a discount at a local warehouse here in the southeastern coastal cities.
While you're making your shopping and packing lists, don't miss my great list of the best beach toys for the whole family.
Essential Beach Gear for a Family Day at the Beach
The beaches on the East Coast we've visited are WINDY. We finally got tired of having our beach day ruined by an umbrella that couldn't hold up to the gusts.
We tested out the beachBub umbrella and immediately fell in love with it so hard that I quickly ordered a second one. We take both umbrellas to the beach so we have plenty of shade for our family of four and it only takes my husband 10 minutes to set them both up.
These umbrellas have held up against strong winds without turning inside out or bending over, have SPF protection, and come with a compact tote bag for storage and travel.
Our umbrellas have had heavy use and are still going strong after several years of use. While they are definitely an investment, it is money well spent.
If you bought nothing else from this list but these umbrellas, your beach trips would already be better off.
Also, don't miss these important tips on how to avoid sunburn at the beach.
Not all beach chairs are made equal. When we first started going to the beach with our kids over a decade ago, I bought a two-pack of these Tommy Bahama chairs at Costco as a Father's Day present for my husband.
They have held up with rough use for years and years and are still in amazing condition.
The frames are lightweight but very well made. The canvas is thick and sturdy. They dry fairly quickly and don't retain sand in the mesh weave.
There are cupholders and pockets hanging from the arms, a head cushion, and a zip storage pocket behind the head.
The seats are wide enough to feel extra comfy and they open and fold back up easily.
The best part is they come with backpack straps so every member of the family could wear one on their back for easy transportation to the beach.
However if your kids are still too little to carry a big chair, they also come with a carrying handle at the top.
A large insulated cooler tote is essential for keeping your drinks and snacks cool but we also love to store our bottles of sunblock inside.
We strongly prefer a soft-sided thermal tote with a handle and pockets over a hard body cooler because they are easier to fold up and pack on your road trip to the beach.
A soft tote is also easy to squoosh into a beach cart if you're using one and is lighter to carry overall.
Sandproof and waterpoof, you can simply rinse the whole thing out with water after the trip and let it air dry.
Even with a great thermal cooler, once you take your cold beverage out to drink you'll discover it gets warm in just minutes.
We love bringing along an insulated can cooler for sodas and water bottles to help keep beverages cold while we sit and enjoy them at the beach.
If you don't want to mess around with beach chairs at all, you'll need an extra large, lightweight, sand-proof beach blanket for resting under your umbrella.
This gives your bottom a little break from all the sand and helps reduce the amount of sand that will sneak into whatever snacks you're trying to enjoy while you eat them!
This blanket in particular is perfect because of the size, tote bag it comes with, and the 4 stakes it includes for pinning down your blanket in the sand so it doesn't blow away in the wind.
Pockets, pockets, pockets. And Mesh so you can shake out the sand.
A lightweight beach bag is where you'll want to store all the little accessories you're carrying down to the beach for the day but the key is to keep the whole thing very organized.
My biggest pet peeve is when the kids rummage around in my beach bag looking for sunblock or goggles and get sand all over everything else in the bag.
Keeping what they need in a separate, smaller mesh bag lets me hang this on the hook of our umbrella so they can grab what they need without getting everything else sandy in the process.
Sunglasses are good in theory, but for kids who are running in and out of the water, you'll find that they often get lost or misplaced.
My kids vastly prefer to wear SPF googles that not only protect their eyes from the waves and salty ocean water, but from the sand that blows on the wind.
Every member of the family should have a sturdy pair of waterproof slide sandals. Flip flops may be a popular beach shoe, but we've found that these slides do a much better job of staying on our feet as we walk through the sand to our resting spot.
They also protect us from stepping on sharp shells in the sand and are work great walking through the shallow waves as the tide comes in and out and there are more shells in the wet sand.
If you don't have beach chairs with cup holders, you'll be looking for a place to set your drink down at the beach. If you put it on the sand, you're going to risk getting sand IN your drink which is no fun at all.
These colorful cup holders also have an additional side pocket which is perfect for holding your sunglasses, cell phone, or other small accessories.
If you don't want to bother with individual cup holders, you could also consider adding this beach umbrella table tray to your umbrella pole.
It is so nice to have a sand-free spot to rest a drink, snack, or glasses.
This tray is lightweight and waterpoof so you can just rinse it off when you're done for the day.
Have I mentioned the WIND enough yet?? If you plan to bring towels to the beach, these handy clips will keep them in place on your beach chair so the wind doesn't blow them away.
They are also handy for clipping wet swimwear or clothing up to dry either at the beach or back at your hotel or condo.
Strong and sturdy, you'll find plenty of reasons to use these colorful clips at the beach.
Some beaches have a place where you can shower off and change clothes before getting back in your car to head home.
If you know you'll have wet swimwear to take back from your day at the beach, a wet bag is a perfect way to pack it all up but keep things dry that need to stay dry.
I wasn't sure whether to add this to my list of favorite beach toys or to keep it on the list of essential beach gear. Depending on your family, it could go either way.
For our family, it falls under essential gear because we cannot imagine a day at the beach without them. Boogie boards have been my girls' favorite thing to do in the waves at the beaches we've visited.
They've also doubled as a sand-free place to sit in the shade in lieu of a chair.
This style is lightweight and made from a really sturdy foam-like material. With heavy use, they can break but we usually get a few years of use out of each set and never hesitated to buy new ones as needed since we use them so much.