Get your free printable road trip packing list and check out our 40+ things to pack in your car before your next family vacation.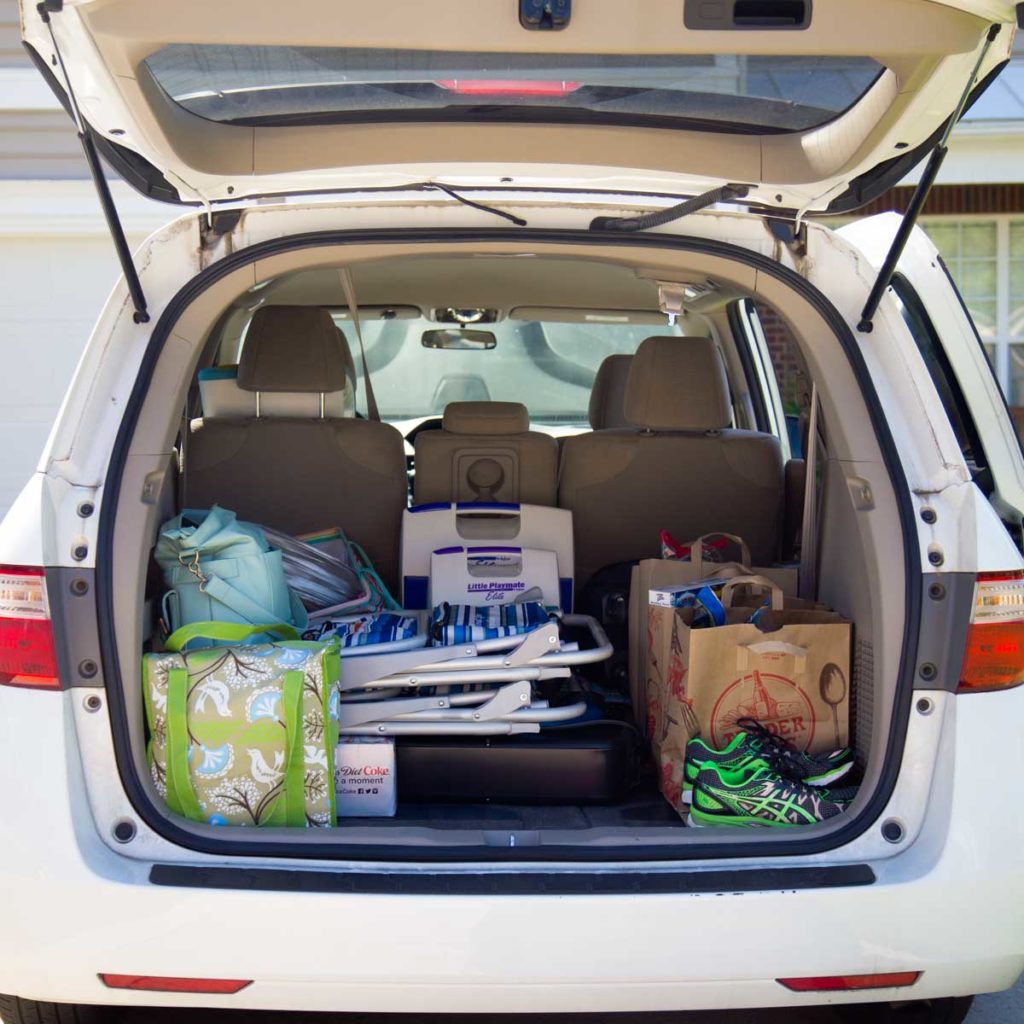 Living in Charlotte, we are just a 9-hour drive away from getting a dose of Disney magic, a short 4-hour drive to the beach when we need some sand between our toes, and only a 2-hour drive away from the gorgeous Blue Ridge Mountains.
One of the biggest perks of living in the southeast is the sheer number of awesome places for a family to visit just a road trip away.
Needless to say, our family spends a lot of time in the car together when it comes to our vacations and getaways. Every single time it comes to packing up the car, it feels like I'm just jamming things into the trunk.
When in doubt, toss it in! Right??
Isn't that one of the biggest benefits of driving vs. flying?
Actually, I admit this is probably the worst tactic for organization and I always worry that I'm forgetting something.
Not exactly how you want to start that long drive: biting your nails and fretting over what you left behind on accident.
When it comes to surviving a road trip with kids, the real key is being organized.
To make packing your car infinitely easier, I've rounded up all the road trip necessities a family with young kids needs in one handy checklist for you to keep handy for your next trip.
Be sure to grab your free printable packing list at the bottom of the post!
Jump to:
The Ultimate Road Trip Packing List for Families
I've sorted each of the items into easy categories.
Let me know if I forgot anything in the comments, I'll add it to this list!
Health & Safety Items for the Car
You never know when you're going to need one of these safety items for someone in the car.
Bandaids in various sizes: Take them out of their boxes and just fill a zip-top baggie with them for easy packing.
First Aid Kit
A tub of wet wipes for hands and clean-up
Benadryl for surprise allergies in new places
A bucket with several plastic bags tucked inside for surprise tummy bug scenarios
Sunblock: both body lotion and face sticks if you use them
Headache medicines for parents!
Heartburn meds for parents
Foaming hand sanitizer
Tweezers
Large scissors and/or a seat belt cutting tool: Stash this permanently in your glove compartment for safekeeping.
How to Make the Trip More Comfortable
If you're on a long drive, these items for the car will help everyone stay comfortable for the drive:
Change of clothes for each kid, easily accessible in case of spills or sickness: Pack them in a zip-top baggie with the child's name marked clearly in case your spouse or one of the other kids needs to grab something to help.
Pen & paper or a handy blank notebook
Sunglasses by each kid's seat
Window shades for babies
Travel pillows
Small blankets for when you can't agree on air conditioning levels
Travel lovies so you don't need to worry about losing the real deal
Diapers or pull-ups for all kids up through age 5 just in case: Travel stress can cause regressions, better to just be prepared.
Foldable umbrella
Phone chargers that are compatible with the car for parents
A spare towel: can be used as seat cover, cleaning tool, picnic blanket, and more in a pinch.
Slippers for the kids: These are way more comfy than shoes for a long drive and are easy to slip on and off.
Cash in varying denominations in an envelope
Coins for tolls
Batteries and/or chargers for any devices you bring
A small, portable box fan for white noise
Pop-up hamper: Corrals all the dirty laundry you'll accumulate on the trip
Gallon sized zip-top bag taped near each child's seat: for garbage collection or emergency car sickness
A travel grab bag for each kid if you are stopping at a hotel overnight on the way to your final destination
Road Trip Food & Entertainment
Melt downs are much less likely if everyone is fed and happy on the go!
Bottled water: Keep a few gallons in the trunk and refill your own water bottles
Playlist of family music
Headphones for each kid
iPad or another tablet with movies & educational games if your kids don't get carsick with screens
External battery charger for digital devices
One (or more!) of the best audiobooks for families
Swimsuits for the whole family in one easy to grab tote bag: Great for checking in early to the hotel before you're assigned your room.
A rubber ball for exercise breaks at rest stations
A jump rope for exercise breaks at rest stations
Non-sticky snacks & treats in single-portioned baggies
License plate game: a whole-family favorite
Packed lunches to save money at fast food spots or these grab and go breakfast ideas for the car
Portable iced coffees for mom & dad
A few handy road trip games
Free Printable Packing List
Every family is different. Some of the items we recommend may or may not work for your particular set of kids.
Since I can't stand printable packing lists that have a bunch of items on them that we don't need, I created a perfectly custom packing list you can use to work for your family.
To get the printable packing list, simply sign up for my email list right here.
So what did we miss?
Is there a road trip car essential your family can't live without? I'd love to know! We are always planning our next big adventure, I can't wait to get out there again!
More Packing Tips
Packing for a family road trip can be so much work.
Check out these great lists to help make sure you don't forget a thing: