Easy Disney gift ideas for birthdays, Christmas, and Easter that will make this year's Disney vacation so much more fun later in the year!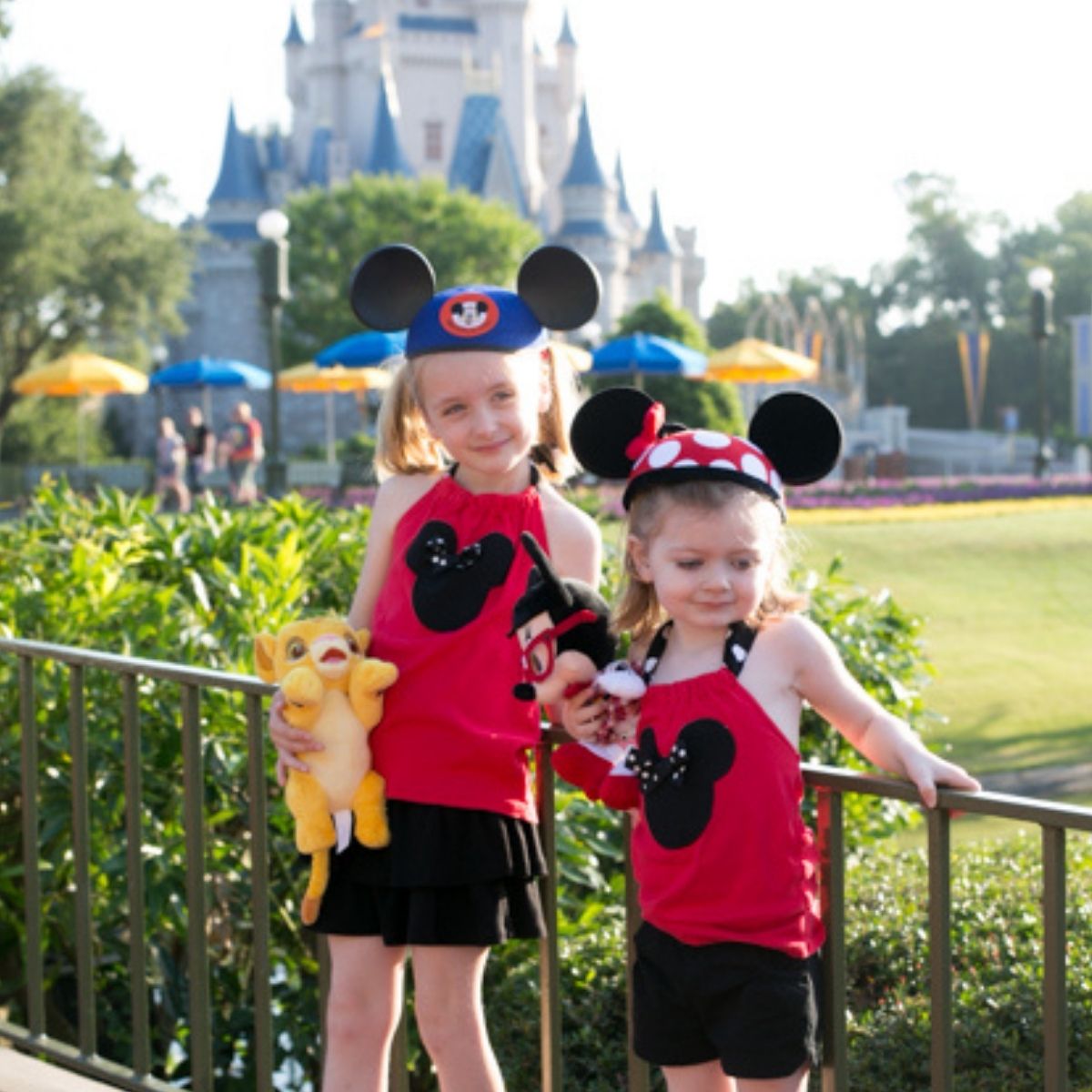 Disney trips can be so expensive and then you add in souvenirs and matching shirts and more!
If you're planning a big family Disney vacation later this year, take advantage of all the gift giving holidays like birthdays, Christmas, and Easter to give your family little Disney gifts that will make the trip even more fun!
From simple and budget friendly to bigger ticket items like matching outfits, here are some magical Disney gifts that will get your family excited for your vacation.
Jump to:
1. Matching Outfits from Etsy
According to friends who have visited the parks far more recently than I have, it is a pretty big deal to let your little princess dress up to play the part at the parks. Neither of my girls are overly into the Princesses, we don't own any of the costumes already. I couldn't imagine spending the money on expensive costumes just to dress them up in hot and scratchy tulle and satin for an amusement park visit.
Luckily for me, both girls LOVE Minnie and Mickey Mouse. I was able to find these adorable halter tops and ruffled shorts outfits on Etsy. They are all cotton and much more comfy and breathable than any costume would have been. I love the cheerful polka dots! I know my girls will love wearing them this summer even after our trips. Money much better spent!
2. Disney Pin Trading Lanyards
This is another new-to-me item that didn't exist during my last visit to the parks ages ago.
Disney has been offering these adorable metal pins for trading since 1999-ish. The kids (or parents too) can trade pins with anyone else they find willing at the parks.
There are cast members that walk around wearing lanyards of Official Cast Member pins that are looking to trade with guests.
To make it more fun for the girls, we put a single pin inside of each plastic Easter egg along with a few coins for our Disney Savings Jar.
They hunted for their pins on Easter morning and it was a huge hit.
The day before Easter, I realized they still didn't have anything to pin the pins on since I hadn't purchased lanyards. In a fit of inspiration, I decided to sew my own.
I used this tutorial from Simply Cotton here and followed it almost exactly. The only difference was that I cut my fabric 3 inches wide and instead of folding each side in half way, I only folded them in ¼ way so that the final width of the strap was a full inch.
It's the perfect size. I cut them to be about 24 inches long so they are just right for my girls' necks.
3. Birthday Pins from the Disney Store
The Peanut's birthday was in March. Little Pea's will be just a few days after our trip in May.
When a sales clerk heard I was there shopping for supplies to announce the trip to the Peanut on her birthday, she told me about their special birthday pins.
If you're going to be celebrating that occasion on your vacation, you can pick these up for your child. Write their name on the space and have them wear them to the park.
I'm told they'll receive special Birthday Girl treatment.
4. Disney Gift Cards for Special Occasions
The Peanut just lost her very first tooth last week. The Tooth Fairy in her infinite wisdom decided to bring a gift card from the Disney Store in just the right amount for the Peanut to pick out the stuffed animal she's had her heart set on ever since she heard of the trip.
(It was her first tooth afterall. I'm sure the Fairy won't be this generous next time.)
The gift cards can be set for any amount and can be used at any Disney Store on or off the parks.
I've even heard they can be used for snacks and beverages and anything sold at the parks so it would be a great stocking stuffer, birthday treat, Valentine gift, Easter basket filler, etc. etc.
5. The Birnbaum Disney World Guide for Kids
My neighbor just recently told me about these adorable guidebooks made specifically FOR kids.
They release a new one every year and her daughter has one for each of the years their family made the trek. It is part guide, part activity book, part scrapbook.
The Peanut was thrilled to receive her very own copy since Mommy has had a mile-high stack of guides sitting on the living room table for weeks.
At age 5, I feel she is just a smidge too young to get the most out of the book, but I don't regret the purchase at all. Ages 7+ might enjoy it far more.