Want to get started with Disney trading pins before your Disney vacation? Here's all the information you need to get set up before the trip.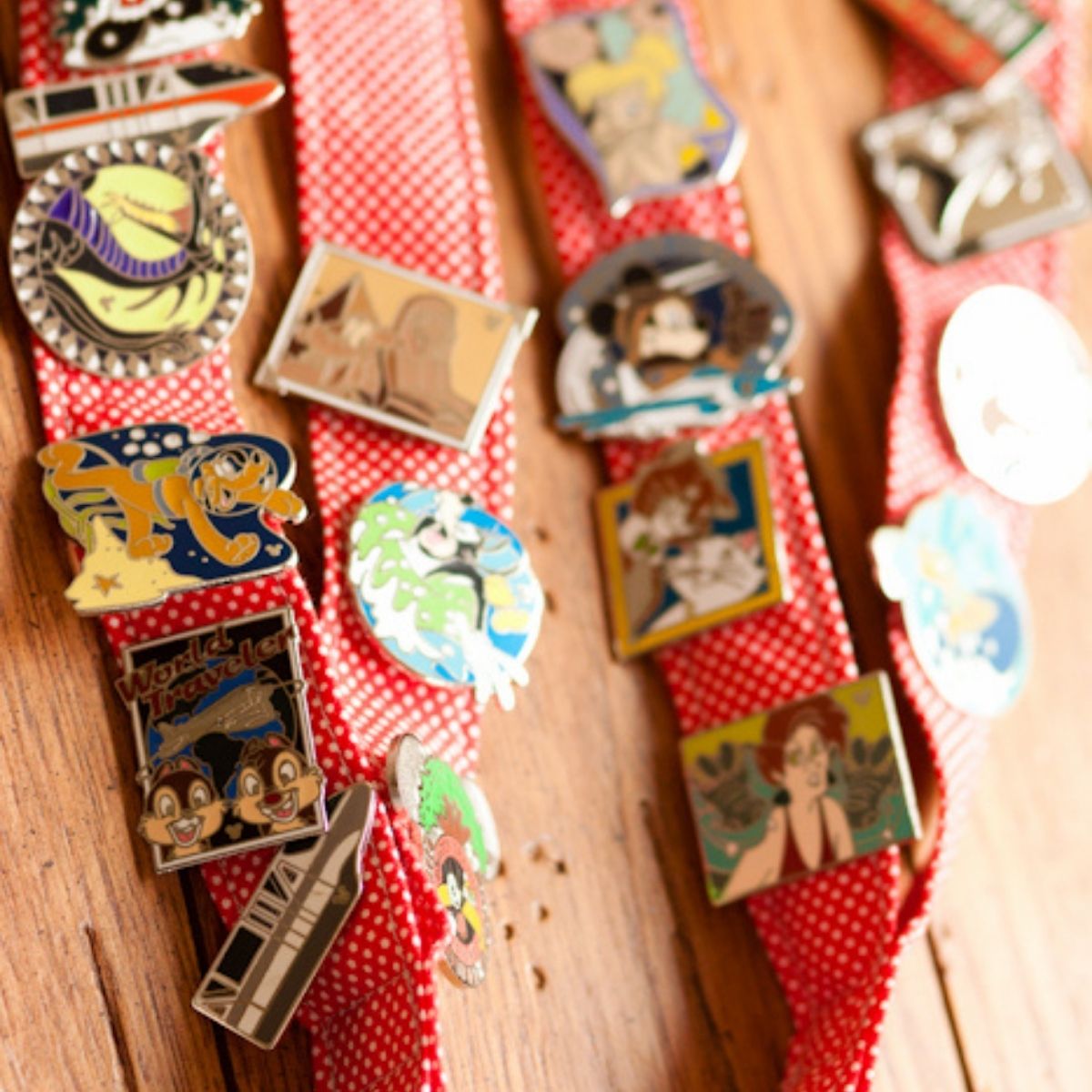 When we were planning our first trip to Disney, I started to see mention of the pin trading phenomenon here and there without any real explanation as to what it is, how to do it, or why on earth it is even something I should have considered.
My curiosity was piqued nonetheless and after a bit of research & guessing, I was hooked on the idea.
It turned out to be one of the more memorable activities for me on our vacation and I loved watching the kids get into the experience, too.
Here are my tricks & tips for getting started.
Jump to:
What You Need to Get Started
Very little is needed to get started with Disney pin trading which is why it is such a great activity to add to your trip.
All you need to get going is:
Pins to start with so you have something to trade
A lanyard or system for keeping them so they aren't loose in your bag
Simple enough, right?
Save Money on Disney Pins
I quickly discovered starter sets of pins for trading can run upwards of $20 on site once at Disney. The starter set comes with usually just 4 pins which won't get you very far. Especially if you have more than one child.
Do a search for "Disney pin lots" on Ebay and you will find dozens of listings for bags of pins at a fraction of the price.
We started with a lot of 25 pins–I figured 10 per girl and 5 for mom & dad to share "just because." It was the perfect quantity for getting our feet wet. It totally does not matter if the pins you receive are ugly, you're going to trade them away anyways!
In fact that actually made it easier for the kids to get started, they quickly caught on that the ugly pin was not as fun as the cute one they wanted to trade for.
Pin Lanyards
Once you have the pins, you need a method of carrying them into the parks. You could just bring them in a baggie, but it is more fun to pin them to a lanyard.
Because I'm crafty, I wanted to sew our own soft fabric ones for the girls. I followed this tutorial here and it was easy peasy.
You could also buy a Disney branded lanyard at the Disney Store or use whatever lanyard you have handy.
Lanyard Alternatives
We tried pinning the 5 "mom & dad pins" to Tim's backpack and quickly discovered that is not a good idea–too tricky to unpin and repin a new one when doing a trade when you have to unzip the backpack.
A bucket hat could work well if you don't like the idea of wearing something around your neck.
Where & How To Trade the Pins
We brought our lanyards of pins into the theme parks every day of our trip. Sometimes we wore them, sometimes we just had them in our bags until we felt like trading and brought them out.
Most of the cast members at the parks wear lanyards or little fanny packs of pins for trading.
When you see someone wearing them you simply approach them and ask to see their pins. If you like one, you can offer up a trade for one of your pins.
We never had someone say no to a trade. They were always very friendly and chatty with the Peanut as she looked over their available characters.
When To Trade
Usually when we arrived at the parks we were too excited to bother with trading.
As the day wore on and we wanted to slow down the pace, we would keep our eye on the food vendors and guest greeters at the shops. It was a nice excuse to stop walking for a little bit now and then.
Our best pin trading always happened on our way out of the park at the end of the day. It was a great way to slow down our departure a little bit and wrap up the visit.
Make it a Game
The reason we had so much fun with this activity is that at some point we saw themes developing.
The Peanut was actively searching for Pluto, Little Pea hunted for Minnie & Tinkerbell, and Tim & I kept our eyes peeled for the Muppets characters.
Knowing the characters we were hunting for made it feel a bit like a scavenger hunt.
Why Kids Love It
This was a perfect introduction into the world of trading for the kids. The cast members NEVER said no and never gave them a hard time.
My girls had the opportunity for the following life lessons:
learned the etiquette of trading
practiced how to approach and wait their turn to speak with a stranger politely
worked on "Excuse me," "May I?" and "Please & Thank You's," all in a very safe environment
I loved this souvenir because the kids felt they "earned" those pins. 
They had to work a bit to find the right ones for the collection. I made sure to not do all the talking and negotiating for them.
Once they caught on to the way things worked, I had them do all the talking with the cast members with me safely right by their side boosting confidence.
Each pin on our pinboard represents an experience or conversation from our trip. They hang proudly in our upstairs hallway where the girls can see them.