Why You Should Leave Your Camera Home
Taking pictures during our travels is one of my very favorite things to do. I love reliving the trip over and over again when I look through them afterwards. I've written several posts about how to capture gorgeous beach pictures, how to get just the right shot at Disney, and I've encouraged you to get in the pictures yourself (and how to look awesome doing it!) because you were there, too.
With all this focus on getting the perfect vacation shot, today I want to share something even more important:
It's ok to not take ANY pictures during vacation.
What would things look like if you didn't even bring your big fancy camera on vacation? What if that cell phone didn't leave your purse?
Last summer we took our family to Tybee Island just outside Savannah, GA. We traveled with both of my parents for the first multi-generation family trip ever. It was a precious vacation for it's own reasons, something you would think I would have captured the heck out of with my DSLR.
I did bring my DSLR on the trip but my camera never left it's bag. Not once. The only photos I have from the trip are 3 precious snapshots I caught with my iPhone:
1. Cake By The Ocean: My friend Stacy sparked this idea for a summer bucket list item. We packed Twinkies for our "cake" and the girls thought this was the funniest summer moment. It's become a new vacation tradition.
2. The girls with both grandparents all smiling and looking great: This is practically unicorn magic at play. In all honesty, this was the ONLY photo that mattered the whole weekend. Once I captured it, nothing else mattered.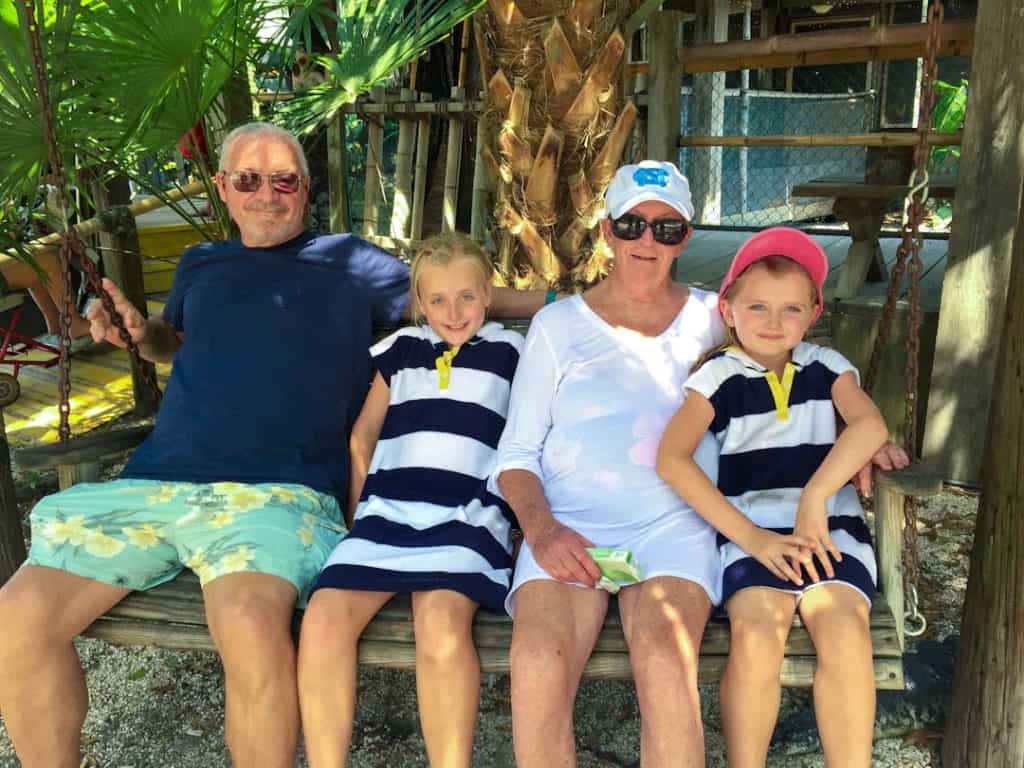 3. A photo of Handyman Tim and me: We were there, too! The Peanut actually offered to take this for us. I was all frumpy looking having just come off the beach and feeling self-conscious. The last thing I wanted was a full body shot. But, I'm trying hard to walk the talk so I handed over my phone and let her have at it.
Now you have seen the ENTIRE photo library collection of this 3 day trip. 3 days, 3 pictures, that's it. Not a single one from a DSLR. But these 3 pictures?? They are the only things I need to remember the weekend. They are the best 3 pictures I could have captured and I didn't need a DSLR to do it. In fact, *I* didn't even take one of them!
Instead of fiddling with my camera and spending the whole trip behind my viewfinder, I swam in the ocean with the kids, I got completely covered in sand, my arms dripped with crab juices and butter from that crab shack, and I enjoyed simply BEING with my family.
If you think about it, your vacation probably has just the ONE photo you really need, too. Could you look for it, capture it, and then give yourself permission to forget the rest?
Maybe your One Photo looks like:
the one summer bucket list item you need to complete
the one picture of the kids enjoying their favorite activity
a selfie with YOU and the kids or YOU and your partner or YOU and the whole family
If you had to boil down your entire trip to just one moment, what ONE picture would summarize it perfectly? Think about that before you leave your house and let everything else go.