Disney's Halloween Party is an annual fall tradition your kids will love. Don't miss these planning tips for Mickey's Not So Scary Halloween.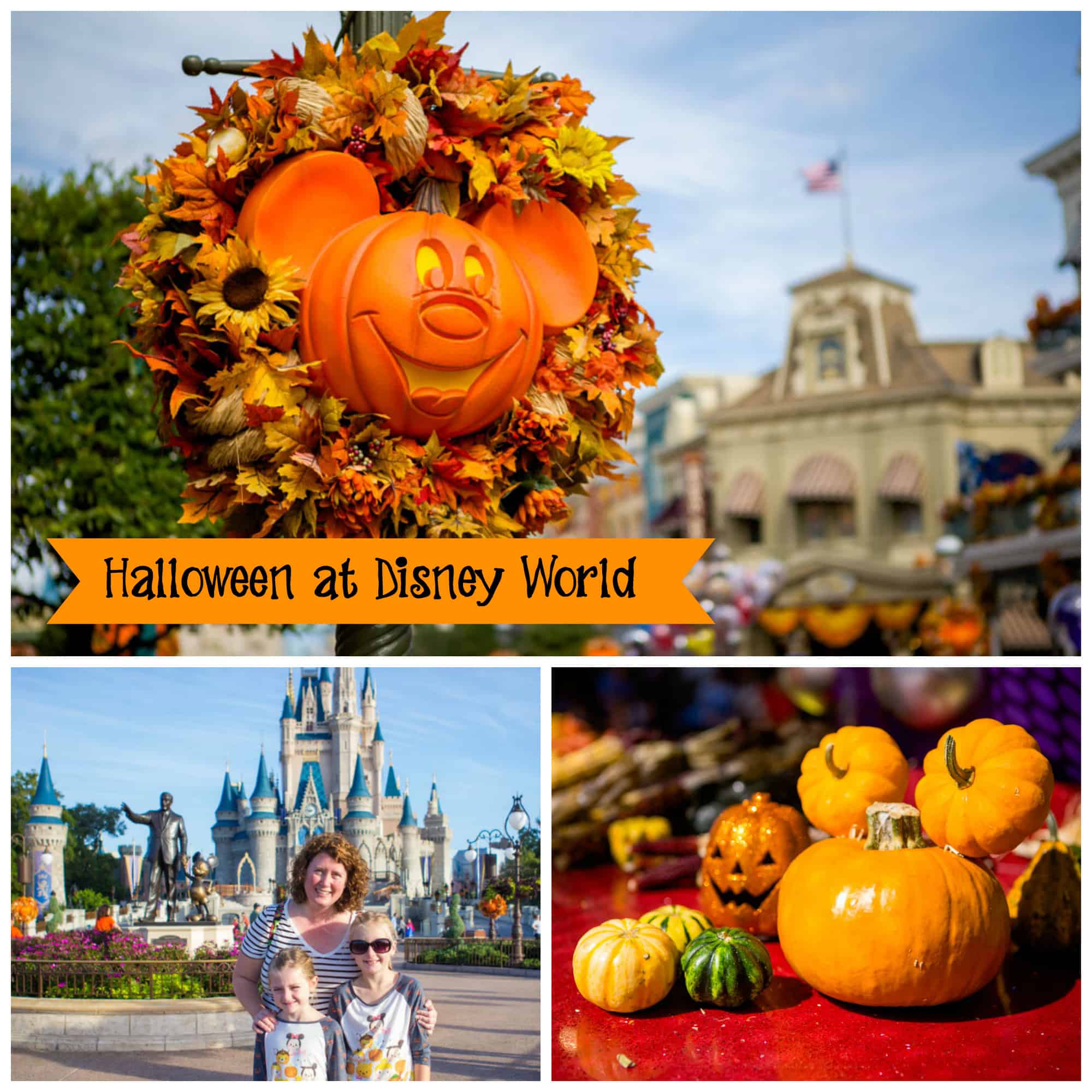 Attending Mickey's Not So Scary Halloween Party has been on my Disney Bucket List forEVER. Every fall I see those pictures of the Mickey pumpkins hit social media and I writhe with jealousy. When I decided last spring to attend the Type A Parent blogging conference in Orlando the days before Halloween, Tim and I decided to buy tickets to the special event at Magic Kingdom for Halloween night.
Mickey's Not So Scary Halloween Party Tips:
We looked forward to Mickey's Not So Scary Halloween Party all year. We spent months planning our costumes and figuring out the time table of how we'd spend our adventure. Today I want to share my Mickey's Not So Scary Halloween Party tips with you while everything is still fresh in my mind. If you're planning a visit for next fall, this is everything you need to know!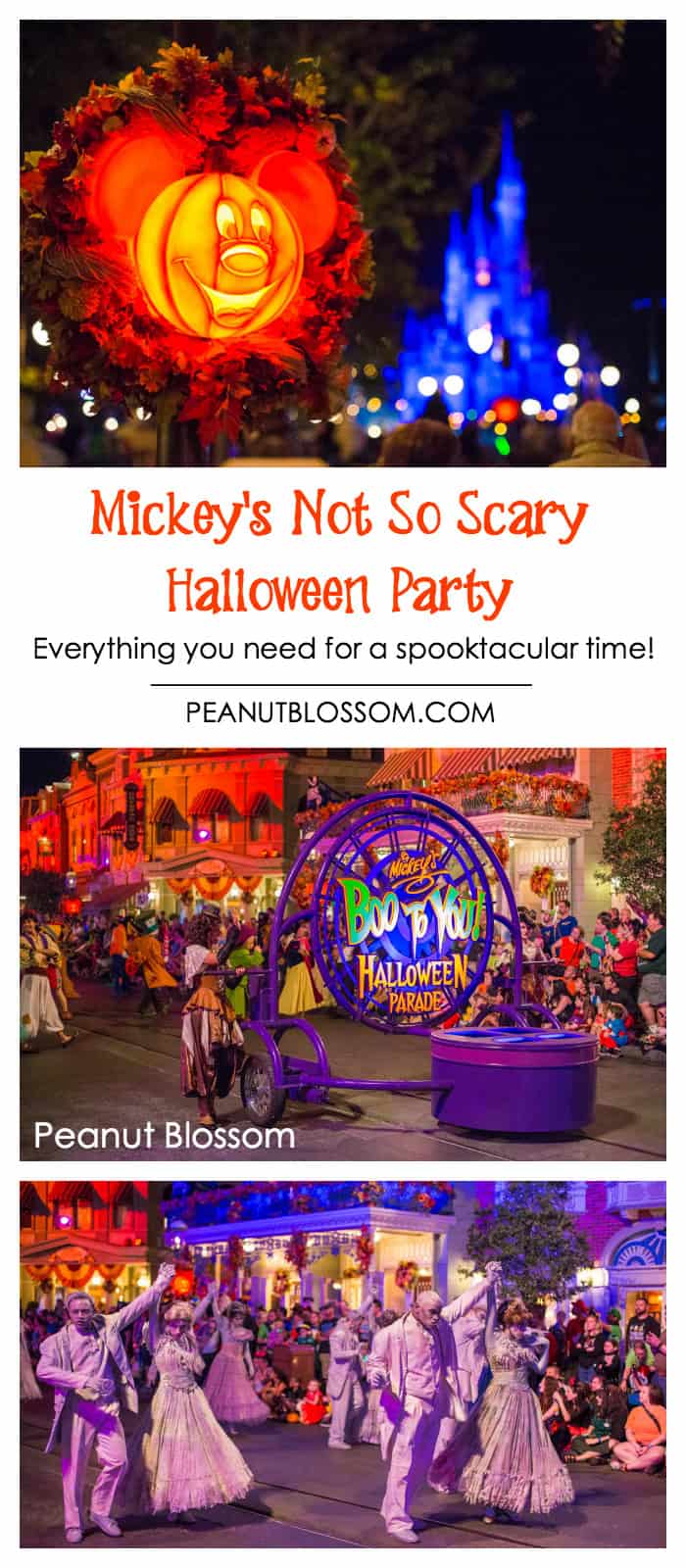 The party is a stand-alone event.
Tickets go on sale early in the year and for big evenings, like Halloween itself, it sells out in advance. Your ticket gets you entrance into Magic Kingdom starting at 4pm and the party starts officially at 7pm. If you want to go into the park (or any of the other WDW parks) earlier that day, you will need to use a separate day pass.
What is Mickey's Not So Scary Halloween Party?
The party features a unique Halloween parade, a special edition fireworks show, Halloween party themed treats for sale at the food shops, and a Trick or Treat feature at different points within the park. Many of the rides are open during the event but some do close. There are also special opportunities to get photos with characters you don't usually see in the park. When we were there, all 7 dwarves were lined up near the Mine Train for a photo opp.
Who would enjoy Mickey's Not So Scary Halloween Party the most?
I think the best part about Mickey's Halloween party is being inside the park after dark with a limited crowd of attendees. Walking around with EVERYONE in costume and taking in the sights was a highlight of the experience for me.
To get the most out of the party you need to:
really enjoy parades
love spotting characters in costume
love dressing up in costume yourself
appreciate the attention to detail that Disney gives their special events
If riding as many rides as possible is your number one priority at Disney, this event might not be for you. The tickets are expensive and since not all the rides are even open, you need to have an appreciation for the ambiance and detail to feel your investment was worth it. No one can decorate a park like Disney can and if you love Halloween there is no prettier place to be in October.
What to Wear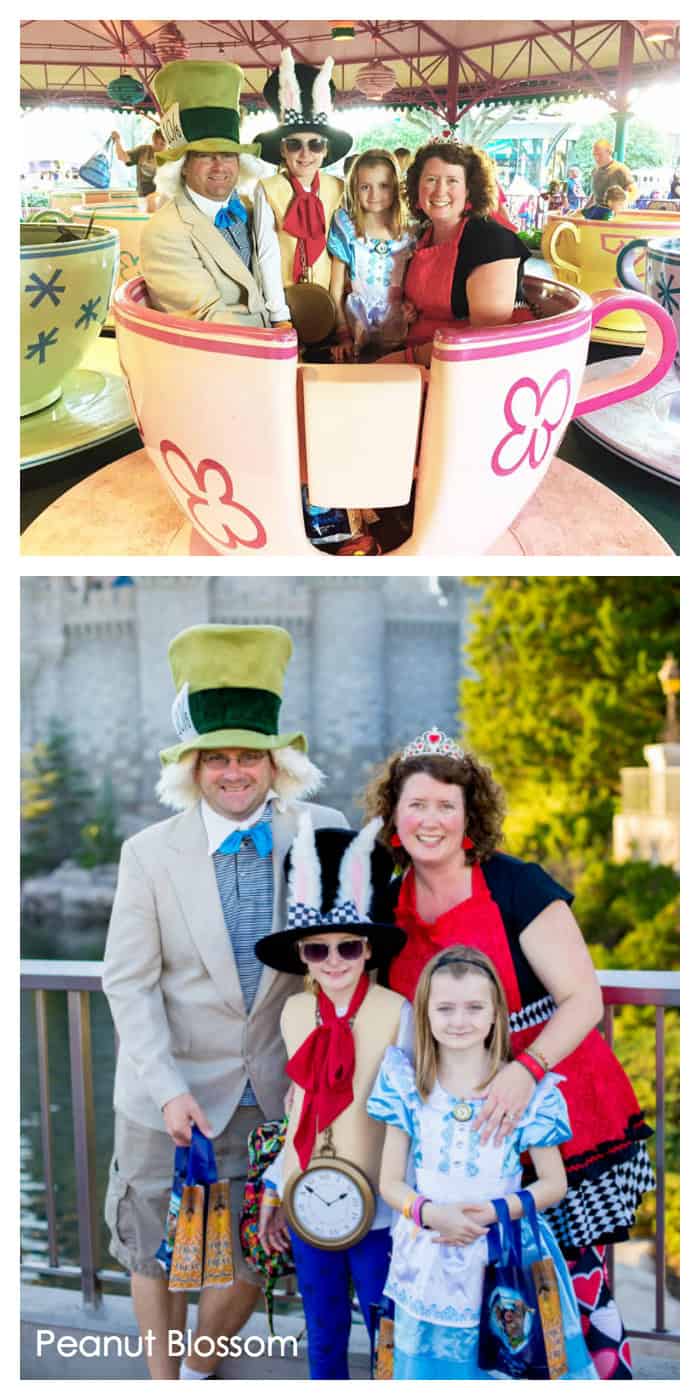 After months of deliberation, our family decided to go with an Alice in Wonderland theme. Handyman Tim insisted that if we did the event we had to stick with a movie that Walt himself would have known and loved.
Little Pea's Alice costume came from the Disney Store when it was on sale in September. I found a black sparkly bow headband from Sweaty Bands that was just right for her hair. We brought white footless leggings to cover her legs and a long white t-shirt to wear under the dress in case it was cold. (Surprise!: it wasn't cold enough for it!)
Handyman Tim went as the Mad Hatter. You can find his mad hatter hat here. Tim wore it over a shirt he already had with a $6 coat from Goodwill and a pair of shorts from his closet.
The Peanut went as the White Rabbit. You can find her white rabbit hat here, the white rabbit vest here, and the large clock here. We just paired it with a pair of fun purple leggings from Target.
My Queen of Hearts crown came from Amazon. I finished my outfit with a pair of heart leggings and sewed my own apron to wear over a black dress from my closet.
None of our costumes were itchy. Most were made up of clothing we might normally wear on any given day. We were all super comfy for walking around, sitting on the sidewalk for the parade, and the costumes were built in layers so we could adjust for the temperatures once the sun went down.

Live Events at the Party
We made one really big mistake with our evening. Since it was our first time attending this event, we didn't know what to expect. The schedule had a live show in front of the castle that started at 7:45 pm with the first parade coming by that route at 8:15. I thought it would be fun to find a spot to watch both things and kill two birds with one stone so to speak.
The castle show was the worst point in our whole evening. The show itself is amazing, but the crowd around us was horrid. Rude, inconsiderate people shoving to get a better view and standing in front of small children. Our girls could not see a single thing. As neat as the show was, we would have been MUCH better served skipping it altogether and using the time to go get a bite to eat or even just walk around.
Don't try to squeeze into the crowd to view the parade from the castle square. Instead, enjoy your pre-parade time and then go sit halfway down Main Street where you'll have an amazing view of the parade as it passes by with a fraction of the crowd.
If your children are old enough to wait until the second parade comes through, you'll be in an even better position to enjoy some rides or special performances elsewhere in the park earlier in the evening. But if you have small kids like we do, skip the live show and just catch the first parade on Main Street.
The parade itself is absolutely amazing. This trip turned me into a parade junkie and I am SO glad I finally got to witness the Boo To You parade myself.
The Halloween Fireworks
Little Pea was completely exhausted after the first parade and there was no way she was going to make it to the fireworks. Tim took her back to the hotel so that the Peanut and I could have some time in the parks ourselves.
The fireworks show started at 10:00 pm that evening but my Peanut doesn't like the sound and still is a bit nervous about fireworks in general. Since we had such a poor experience at the castle earlier in the evening, we headed straight for the Main Street Plaza right in front of the train station to view the fireworks show.
Before the fireworks launch, the castle displays an amazing video production set to music that had me in tears. You can see it perfectly fine from Main Street but that might have been worth trying to get a closer view. They magically transform the castle into various castles and scenes from different Disney movies. It's hard to describe without witnessing it in person but it was truly one of my favorite things of the whole evening.

Trick or Treating at Disney
We were told to hold off on Trick or Treating until later in the party if we wanted to avoid long lines. It ended up being the best piece of advice we were given before the trip.
After the parade passed through Main Street, we headed straight over to the Trick or Treat spot closest to the Haunted Mansion. The line there was the longest we waited in the whole evening but it moved very quickly. From there we circled over to the 2 spots in Fantasyland where there was almost no wait whatsoever. There are additional spots in Tomorrowland and Adventureland. If you plan to hit up all the spots, you're going to need a much bigger bag than the tote that they provide you at the start.
Disney sold adorable light-up Halloween pumpkin treat bags but they are no where near big enough for the amount of candy you can get Trick or Treating in the parks. We saw several guests carrying a Disney Halloween reusable shopping bag that was sold for $5 that was the perfect size. I wish I had snapped them up earlier in the day when we found them at the stores.
Planning When to Visit:
We attended RIGHT on Halloween itself because of the timing of the blog conference that brought us to town. In the end, as much fun as we had we all really missed our neighborhood Trick or Treat event back home. I regretted that we weren't able to do Mickey's party earlier in the month so we could stay home to be with our friends on the holiday itself. If you have the option, I think that celebrating with tickets to Mickey's Not So Scary Halloween Party earlier in the month would be amazing. Your family could get TWO wears out of the costumes you put so much effort into and you get to extend the fun all month long.