Mary Kay Andrew's book "The Homewreckers" takes place in Tybee Beach and Savannah, GA. She mentions several real world locations throughout the book. Get a better sense of the setting with this fun list of Tybee Beach hot spots.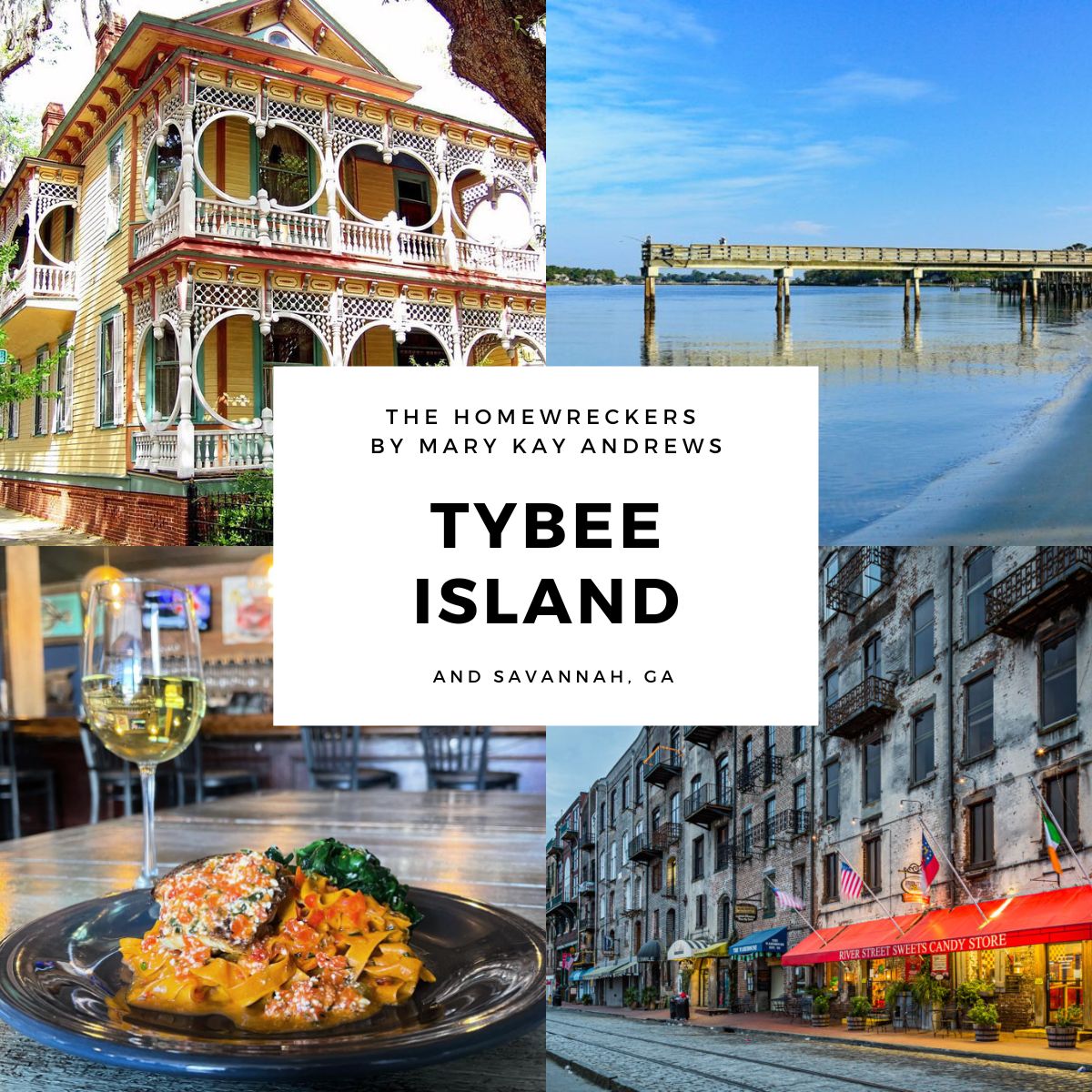 Mary Kay Andrews is the author of 30 fantastic beach reads she has published at the pace of one a year for 30 years.
I always look forward to her new release around May but this year's book "The Homewreckers" was of great interest since it is set on Tybee Island and in Savannah, GA--right where we were planning our annual family beach trip this summer!
My mom flew through the book in 48 hours but I saved it to read while we were in our beach house rental on Tybee Island.
It was such fun spotting familiar landmarks, restaurants, and bridges/roads mentioned in the book while we were on vacation.
I thought you might enjoy a little visual peek at MKA's beach read setting to bring the story to life!
The Homewreckers by Mary Kay Andrews
Who Will LOVE This Book:
If any of these describe you, grab a copy of The Homewreckers right away:
You love Mary Kay Andrews
You love a fun beach read
You love HGTV and all things home renovation
You love reality television and competition shows
You enjoy a not-gruesome murder mystery
You're traveling to Tybee Island or Savannah
Description from Amazon:
"Hattie Kavanaugh went to work restoring homes for Kavanaugh & Son Restorations at eighteen, married the boss's son at twenty, and became a widow at twenty-five. Now, she's passionate about her work, but that's the only passion in her life.

When a slick Hollywood producer shows up in her hometown of Savannah, Georgia, she gets a once-in-a-lifetime opportunity: star in a beach house renovation reality show called The Homewreckers, cast against a male lead who may be a love interest, or may be the ultimate antagonist.
Soon, there's more at stake than bad pipes and dry rot: during the demolition, evidence comes to light that points to the mysterious disappearance of a young wife and mother years before.

With a burned out detective investigating the case, an arsonist on the loose, two men playing with her emotions, and layers upon layers of vintage wallpaper causing havoc, it's a question of who will flip, who will flop, and if Hattie will ever get her happily-ever-after."
P.S. Do you love to read beach reads?? Enjoy fun books? Don't miss my FREE online book club! We're 8,000+ members strong and it is my favorite place on the internet.
About Tybee Island
This map of Tybee Island shows all the major locations mentioned in the book, particularly how Highway 80 runs into town from Savannah and crosses Tybee Island.
1. Back River Beach
Hattie buys the fixer-upper house featured predominantly in the book plot on the Back River beach front.
You can check the location on the map above, but this area is quiet and beautiful.
2. Tybee Island Welcome Sign
I laughed out loud when Hattie drives past a family of four getting their picture taken at the Tybee Island welcome sign.
We drove past this sign almost every day of our trip and I'm kicking myself that we never took the time to pull the car over for a picture with the kids!
3. Sundae Cafe on Tybee Island
Trae and Hattie's dinner date happens at the swanky Sundae Cafe.
Hattie tells Trae it is the perfect spot for martinis and then they are spotted by a gaggle of fans who send over a delicious dessert.
We were spending time at more casual places with the kids, but next time we go back I'm scheduling a date night with my hubby here!
You can see the Sundae Cafe menu here. Reservations are strongly recommended.
4. Lighthouse Pizza
Hattie and Cass are starving so they get some takeaway pizza from Lighthouse Pizza.
5. Chu's Convenience Store
Chu's Convenience is mentioned periodically throughout the book as a spot where teenagers try to buy beer or various characters fill up their gas tanks.
My husband stopped to fill up our cars here before our trip home but he didn't think to snap a pic.
6. Lazaretto Creek Bridge
Hattie's husband Hank dies in a motorcycle accident on the Lazaretto Creek Bridge, the last bridge you drive over before arriving on Tybee Island.
7. Arby's on Tybee Island
Another laugh-out-loud moment for me was when Cass asks Hattie if there's still an Arby's on Tybee Island.
Arby's is the one and only fast food restaurant in an otherwise charming beach town with only locally owned and operated restaurants.
It is tucked into a corner on the far side of the island near the lighthouse.
8. River Street in Savannah
Emma's first job as a 16-year old is to work as a waitress in a bar on River Street in Savannah.
We love making a stop at this riverfront shopping and restaurant lined street every trip to the Savannah area.
Several of the bars have open air patios overlooking the water but the kids always need to stop in at the River Street Sweets candy shop.
9. Oglethorpe Square in Savannah
Emma asks Mak to meet her at the "square with the Oglethorpe statue" to discuss her mom's disappearance.
The green, grassy squares in Savannah are filled with the most breathtaking giant live oak trees which provide tons of shade.
Mak and Emma would have sat on a bench in a spot just like this.
10. Savannah's Historic District
Hattie's failed house flip at the start of the book is located in the Savannah Historic District with gorgeous old Victorian houses like this one.
It is a beautiful place to drive through to see the elaborate detailing on the balconies and porches.
11. SCAD: Savannah College of Art & Design
Emma mentions wanting to take a couple of classes at the Savannah College of Art & Design, also known as SCAD.
In the book plot, students from the art school compliment her on her creative and unique tattoo designs and she'd like to explore her talent a little more.
In reality, SCAD has a visible impact on the Savannah culture. As we drove past the campus, my girls immediately noticed the gorgeous architecture and design details of the building in the campus area.
12. Crystal Beer Parlor in Savannah
The Crystal Beer Parlor in Savannah is the spot where Mak & Emma first meet.
Emma orders a salad with no cheese because she's a vegan while Mak enjoys a hamburger.
In real life, this local restaurant is known to have the best shrimp, burgers, and peach cobbler.
More Beach Reads
If you loved The Homewreckers, you would love my list of best beach reads.