Magical Disney treats that make your Disney trip extra delicious. Learn where to find all the best Disney snacks for your next vacation.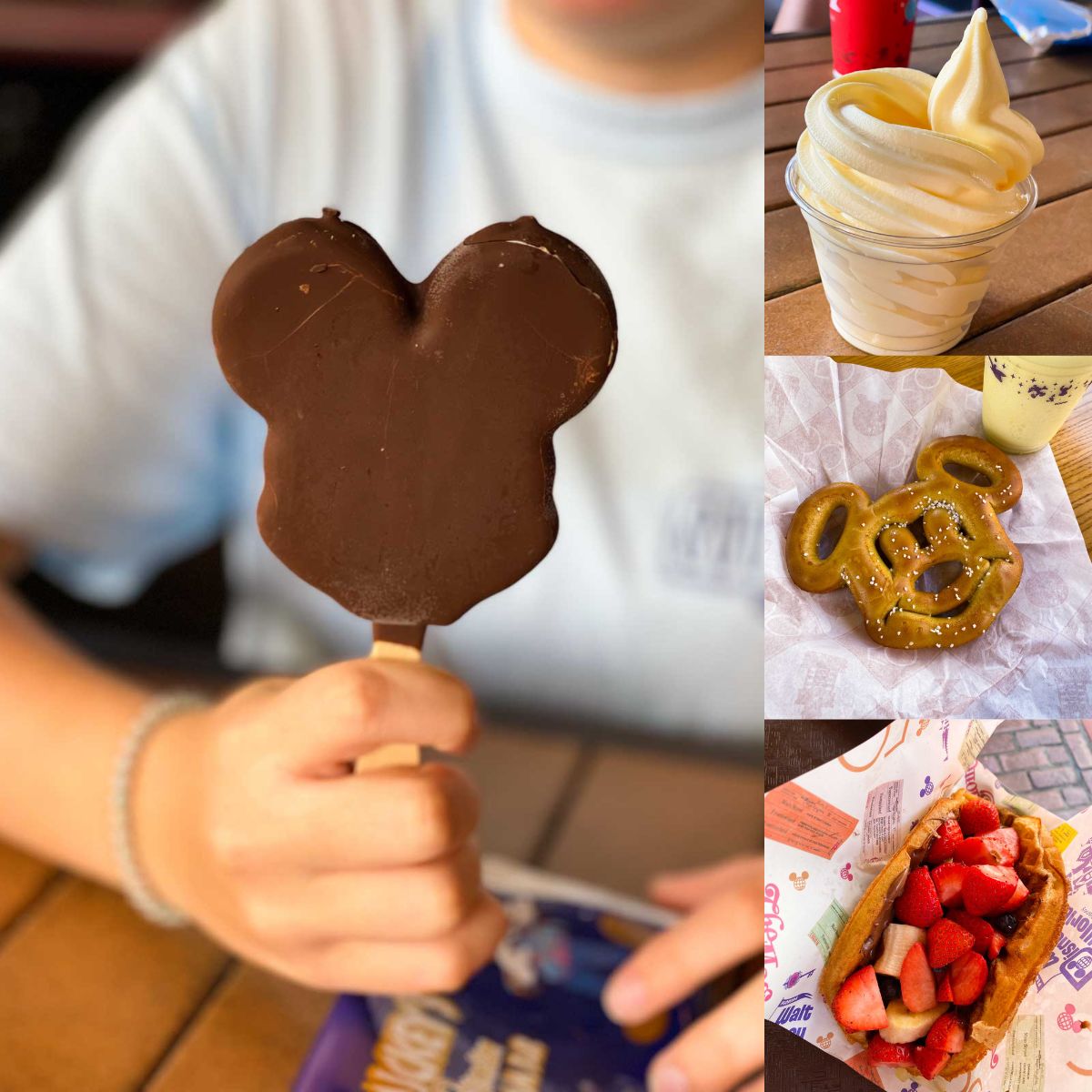 Spend a day at the Disney Parks and you'll quickly work up an appetite.
We walked 24,000+ steps at Magic Kingdom alone during our last trip!
To prevent the family from getting completely hangry, we made sure to stop for extra delicious Disney treats and snacks to keep us fueled for fun.
But when your hunger is getting the best of you, trying to find a Disney snack among the dozens and dozens of options available can feel overwhelming.
So save this list of the most classic Disney treats that are easy to find and perfectly satisfying for everyone in your family.
Jump to:
1. Pineapple Dole Whip
The infamous pineapple Dole whip is perhaps THE single most classic Disney treat available in the parks.
What is a Dole Whip?
This frozen, smooth soft-serve sorbet has two traditional flavors: pineapple and vanilla.
However, seasonally or during special events at Disney World, you might be able to find Dole whips in lime, watermelon, or strawberry.
You can choose just a single flavor or the pineapple-vanilla swirl, which is my personal favorite.
I can't think of anything more refreshing in the blazing heat of the Florida sunshine!
Where to Find Dole Whips:
There are three places you'll find a pineapple Dole whip at Disney World:
BONUS: Dole Whip with Rum!
If you're an adult over 21, this is perhaps THE BEST Disney treat of all time!
My husband and I were introduced to the Pineapple Dole Whip Rum Float during the EPCOT Spring and Garden Show.
It is our all-time favorite Disney treat and we talk about it fondly at home in between our vacations!
If you're not visiting Walt Disney World during the special festival events, you're now lucky enough to be able to find the rum version at the Pineapple Lanai at the Polynesian Resort.
My husband swears the rum adds so much amazing flavor to the pineapple sorbet.
2. Mickey Ice Cream Pops
This classic Disney treat is our daughter's personal favorite pick from all the treats available in the parks!
It doesn't matter how many amazing treats I try to tempt our daughter to try, when she's at Disney World she's only got ONE treat on her mind:
The classic chocolate-covered, Mickey-shaped, vanilla ice cream pop.
You can find this simple Disney treat served at ice cream carts all throughout the Disney parks and even at most of the Disney resorts and Disney Springs.
I fully support her love of this delicious dessert because:
It's so easy to find.
It is super budget friendly.
You don't need to stand in line to get one or worry about a mobile order ahead of time.
It is a reasonable portion compared to some of the over-the-top desserts Disney offers.
3. Salted Mickey Mouse Pretzel with Frozen Lemonade
After an exhausting morning at the parks, my hungry crew inhaled this salty snack!
Make something Mickey-shaped and it is absolutely going to taste 50 times better than the original.
Don't miss this simple soft-baked pretzel in the shape of our favorite iconic mouse. My kids swear the ears were the tastiest part of the snack.
We got a handful of pretzels and paired them with icy-cold frozen lemonades from the Marketplace at Hollywood Studios.
The Marketplace, just across the way from Tower of Terror, has a bunch of shady area picnic tables and benches to sit and enjoy your treats and relax before heading back into the fray.
4. Mickey Beignets
Morning treat or bedtime snack? There's no wrong time to enjoy a powdered sugar, warm and fresh beignet at Disney!
For our recent trip we stayed at Disney's Port Orleans Resort in the French Quarter and were utterly tempted to try the famous fresh made Mickey-shaped beignets.
Our Disney itinerary had us setting early alarms and out the hotel door early so we could rope drop our favorite rides, so eating beignets for breakfast wasn't an option.
We were thrilled to discover you can also enjoy a relaxing evening at Scat Cat's Club and order adult beverages and warm beignets delivered to your table while you listen to live music.
The Scat Cat menu has grown-up beignets with liqueur infusions but you can order the classic kid-friendly beignets as well.
The kids were more than happy to chill with us while we wound down over a glass of wine at the end of the day when they were enjoying this Disney treat!
Gluten-Free Beignets by Special Request
The best part of this Disney snack for gluten-free families is that you can special request they prepare gluten-free beignets which will be made fresh just for you!
A passenger on our morning bus shared this tip with me and she swore that you can't tell the difference in taste between that and the gluten version.
5. Fresh Fruit Waffle Sandwich with Nutella
A Disney treat that is perfect for sharing is the best way to sample a variety of options during your visit.
The warm, fresh waffle sandwich found in Liberty Square inside Magic Kingdom just might be my second favorite Disney treat in the parks.
I first sampled this treat with a friend during our runDisney weekend celebration. It was so tasty, I had to share it with my family during our recent trip.
The crispy waffle is spread with chocolate hazlenut spread and then topped with fresh strawberries, bananas, and blueberries.
It is perfectly sized for sharing and we dug into this thing in just moments. The warm waffle melts the chocolate spread and it is ooey-gooey deliciousness.
You can get your own waffle sandwich at Sleepy Hollow, a quick service restaurant right at the entrance of Liberty Square.
There are a very few tables in the shade right after the order window, but you could take your treat to the main square to watch the parade or fireworks, too!
6. Mickey Waffles
Treats aren't just for snacks, they can be for breakfast, too.
You KNOW you're on a Disney vacation when your breakfast plate is filled with Mickey waffles smiling up at you.
It had been such a long time since our last Disney trip, my daughter almost made the grave mistake of ordering plain pancakes for breakfast one morning when Mickey waffles were an option.
She did a double take at my gasp of surprise, followed my advice and got the waffles, and then shook her head in disbelief that she almost missed out.
Disney Rule #1: ALWAYS order the Mickey waffles. NEVER order the plain pancakes!
Where can you find Mickey waffles? On just about any quick service or table service breakfast menu at any restaurant in Disney World!
7. Tonga Toast
This Disney treat is my favorite "going away" breakfast at the end of our magical vacations.
What IS Tonga Toast?
If you love french toast, you absolutely need to give this dish a try.
Imagine a square hunk of french toast bread that is somehow filled with bananas and then coated in a thick batter and fried before being dusted with a sparkly coating of cinnamon sugar.
Shhh: I actually can't stand bananas, and yet I could eat Tonga Toast all the live long day.
Where can you find Tonga Toast?
As far as I know, there's just one spot to find this Disney breakfast treat: the Polynesian Resort.
Normally, we make reservations for Kona Cafe at the Polynesian for our last morning before driving home at the end of our trip.
This trip, Kona Cafe was under construction so we discovered that the quick service restaurant on the first floor, Capt. Cook's, also serves Tonga Toast. This was wonderful news and a super budget-friendly way to end our stay.
8. Mickey Rice Crispy Treats
Simple, classic, utterly delicious. When in doubt, grab a rice crispy treat!
Whenever I travel to Orlando without my kids for a runDisney race, one of the souvenirs I'd always bring back for them was a Mickey-shaped rice crispy treat.
I love this Disney treat because it doesn't melt and is totally portable. You can buy one in the parks and tuck it in your backpack for enjoying later at the hotel room or really later back at home!
You can find the Mickey crispy treats in most gift shops all around Walt Disney World but some of the fun and festive variations Disney makes for each season are available in the dessert shops in most parks.
We love to buy them from the Main Street Confectionery in Magic Kingdom just before a parade begins!