Ariel's Grotto at Disneyland was an amazing character breakfast experience that let Little Mermaid fans meet Ariel herself. Looking for an alternative now that the Grotto is closed? Check out these tips for your own little mermaids.
If you're as sad as we are that Ariel's Grotto has closed, you might be looking for an alternative princess breakfast at Disneyland to replace it.
Check out the Princess Breakfast Adventures at the Napa Rose restaurant inside Disney's Grand Californian Resort and Spa.
Editor's Note: We are so sad that Ariel's Grotto has now been closed. This is our review of the character breakfast from our trip in 2014.
You can also find our top 10 things to do in Disneyland here and a cute birthday dinner idea for Disneyland here.
Our Little Pea adores Ariel. Her favorite part of our trips to the Disney Parks has been meeting the princesses live and in person. When we headed to Disneyland for the Disney Social Media Moms Celebration, I researched which restaurants offered character breakfasts and swooned when I discovered Ariel's Grotto.
Since we normally visit Walt Disney World in Florida and I know snagging a table with Cinderella requires significant hoops and planning, I was giddy to discover an easy alternative featuring my little lady's favorite princess.
Ariel's Grotto is located in Disney's California Adventure park, across the gateway from Disneyland. You enter at main level and then descend a spiral staircase into the grotto restaurant. Before you enter, your party gets the chance to meet Ariel and have a photo taken before you are even seated.
I think if Little Pea smiled any harder, her face might crack. She was beyond happy to finally meet Ariel and get her signature.
When you enter the restaurant itself, it is themed beautifully. The lights resemble jellyfish, the murals are all ocean-themed, and all the windows face out onto the water. The space has beautiful natural light which makes for great picture taking opportunities once the princesses begin to greet their guests.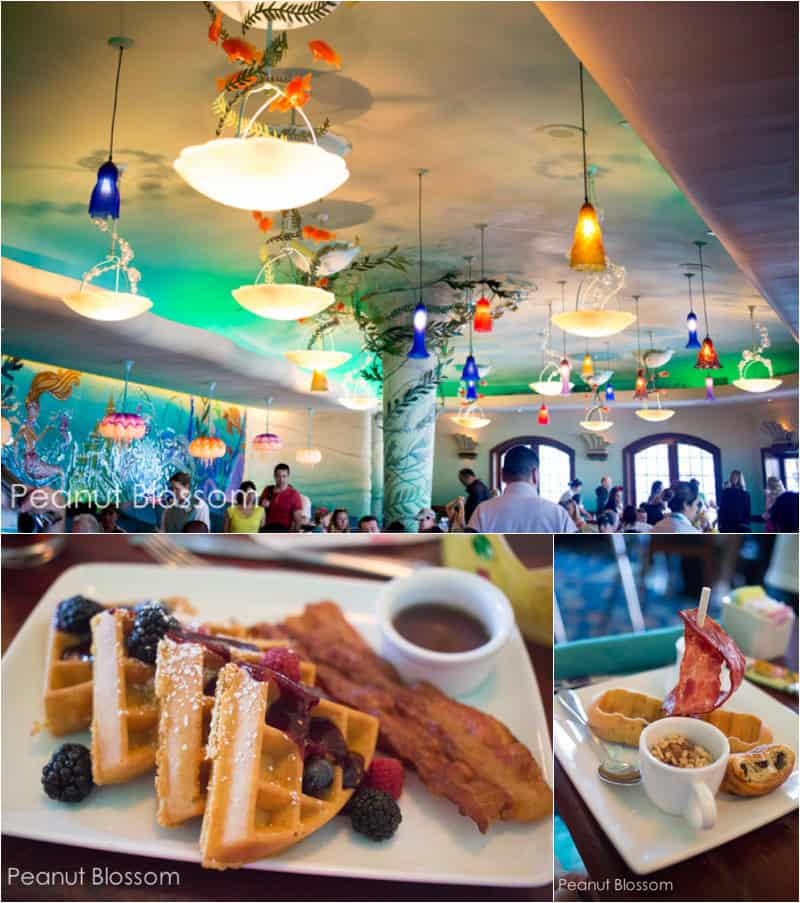 Tim and I agreed that our favorite part of the breakfast is that it is not a buffet, you order from a menu. We loved being able to relax and have the food brought to us so we didn't have to worry about missing any of the characters. The food itself was generous and absolutely fresh and delicious.
The photo above shows my choice -- the waffles and bacon with fresh berry compote and syrup. The photo next to it is the entree both girls chose -- waffle boats that came with a bacon sail. The mug holds a crispy cereal and you can see one of the morning rolls that came served as part of the starter tray. You can view the current menu choices here.
While we waited for our food, the children all received paper crowns and stickers to assemble for their outfits.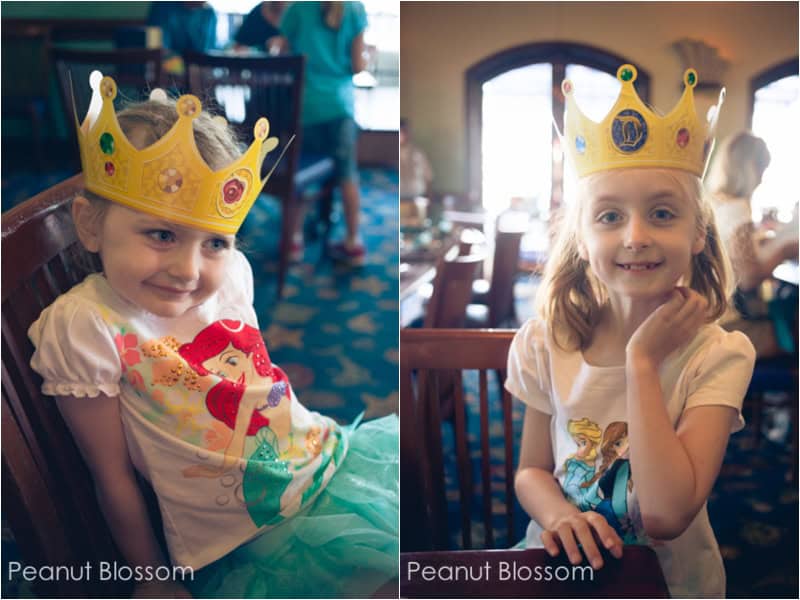 Shortly after our food was served, a royal trumpeter announced the arrival of the princesses. Each one was announced separately in turn before she started the rounds. The official rotation can change from day to day, but below are some examples of who you might expect to meet:
Cinderella: Little Pea adores her mostly due to her fabulous shoes.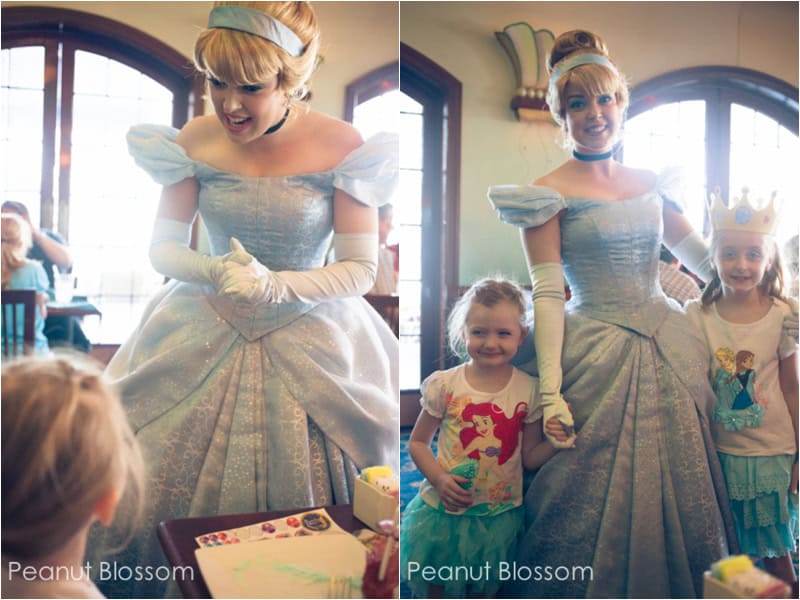 Belle: I should have popped up and gotten my photo taken with Belle, she's my favorite. I loved watching Little Pea get swallowed up by her dress!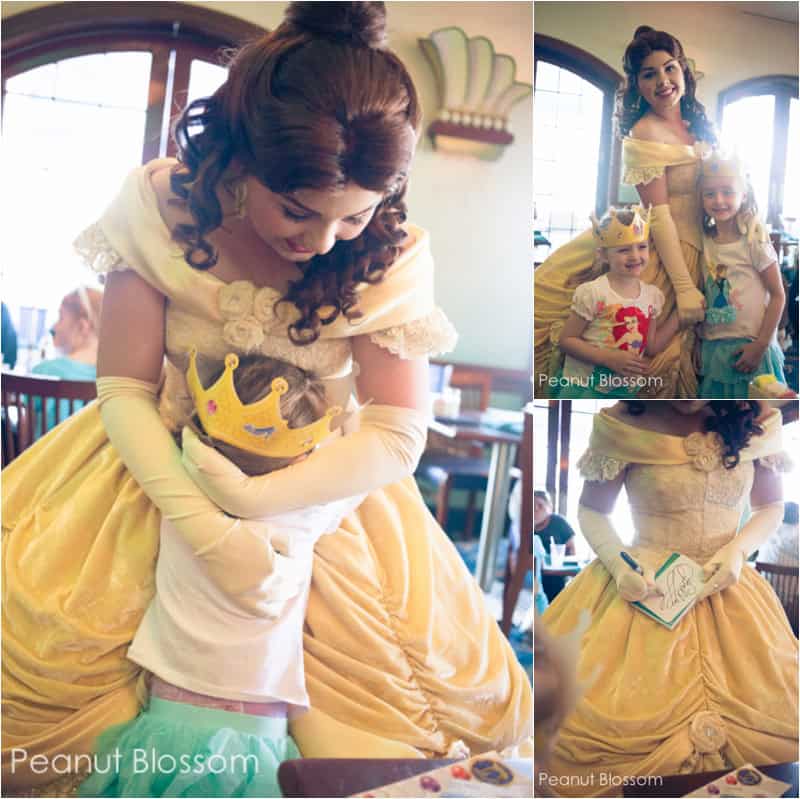 Aurora: Oh, I take it back, maybe Sleeping Beauty is my favorite. This was our first time meeting her in all of our visits. We joke that Little Pea looks like she's going after her necklace. . . This girl loves her accessories.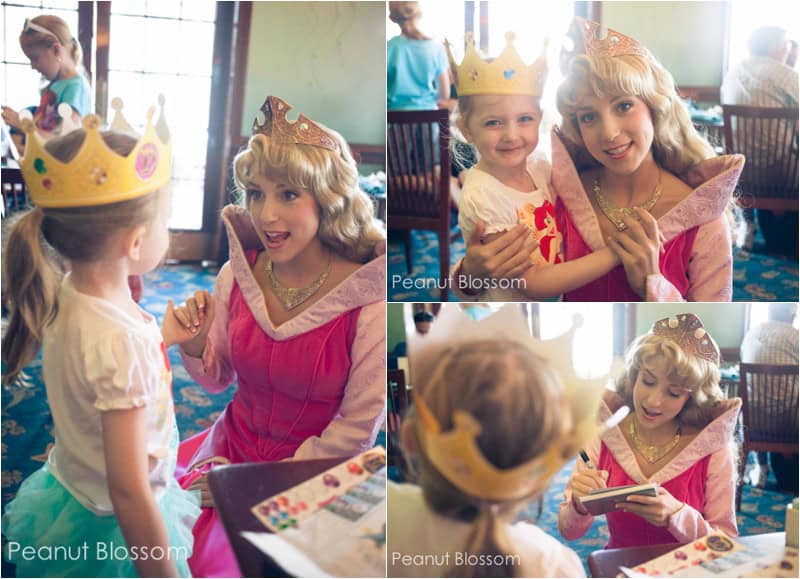 Snow White: Always a classic. This was also our first time meeting Snow White during our visits. It was so fun having new-to-us characters all in one spot without having to wait in line.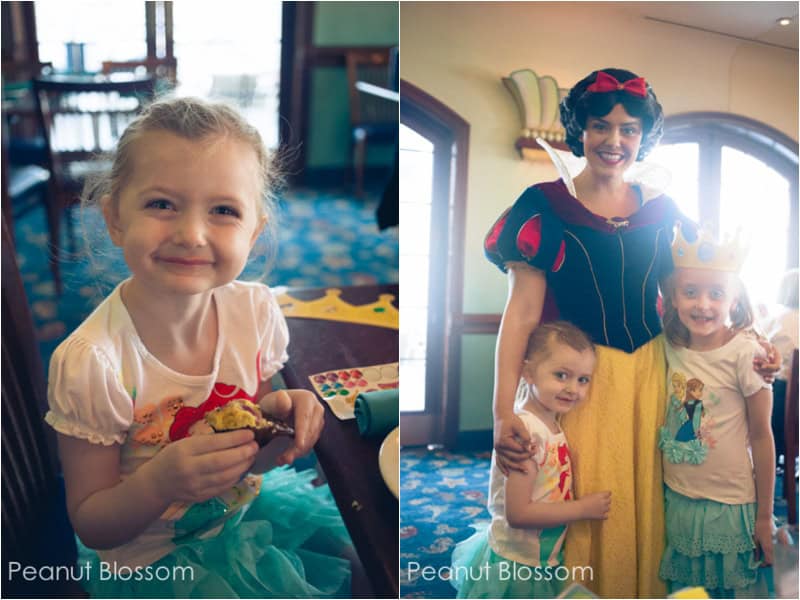 Our experience at Ariel's Grotto was truly special. While we love character breakfasts, we don't normally indulge in the more expensive ones. When our bill came, I did clutch my chest for a moment, but this was Little Pea's "One Thing" from our whole trip. We chose this in lieu of a large gift for her birthday a few weeks later--experiences trump toys any day in my book.
If you're dining at Disneyland on a budget, this experience would definitely be considered a splurge. However, if seeing a good variety of princesses with the least amount of waiting is important to you, it would be well worth it.
Did I miss anything you wanted to know? Leave me a comment, I'd be happy to help!