I ran the fun run at the Disney Social Media Moms Celebration in Disneyland, CA and had an absolute blast. Here are the lessons I learned from the experience.
A bit of magic fell into our lives a little more than a week ago. We're finally back from the 2014 Disney Social Media Moms Celebration at Disneyland in California. As Walt Disney World fans, I never in a million years dreamed we'd make our way clear across the country to visit Walt's original park so this was an opportunity we simply could not miss.
It was absolutely worth the trek, the massive change in time zones, the tiny amount of sleep, and the crazy piles of laundry. I have so much I want to share about Disneyland from a newbie's perspective in the coming weeks but today I wanted to focus on one part of the conference that meant the most to me.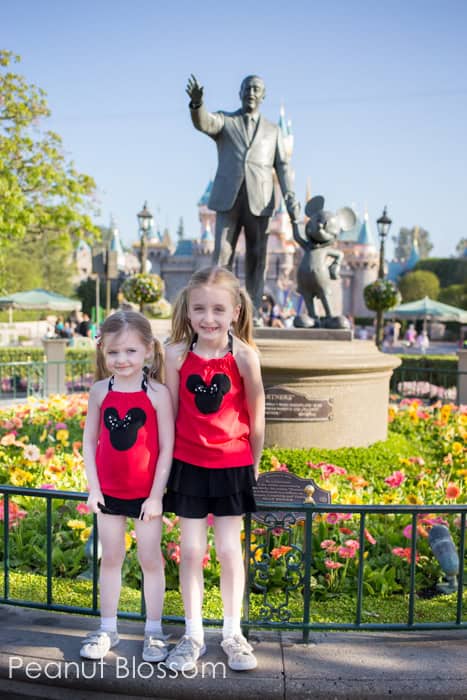 I haven't been shy about sharing my crazy dream to do a runDisney race. I wrote about it here and I've been keeping you posted on Instagram with my training photos.
When I registered for the conference, they offered the option to sign up for a 2 mile fun run through Disneyland and California Adventure sponsored by New Balance. The run required a 13 minute mile pace and though I was currently only at a 16 minute mile pace I was not about to miss this chance for my first runDisney event.
Over the last 7ish weeks I've been motivated by the Disney magic to hit the gym track and run my little heart out in hopes of improving my time. As more details came out about the event, we learned the run would be finishing in CarsLand. I have a whole post in my head I can't wait to type out about this area of the parks, I have truly never seen anything like it.
The fun run required a 4:45 am wake up time for me and my family had to be on site by 6:30 am if they wanted to see me finish. It was a very early day for all of us but I couldn't have asked for a more supportive crew than Tim and the girls.
It didn't hurt that they got to meet Lightning McQueen while they waited for this slow poke to show.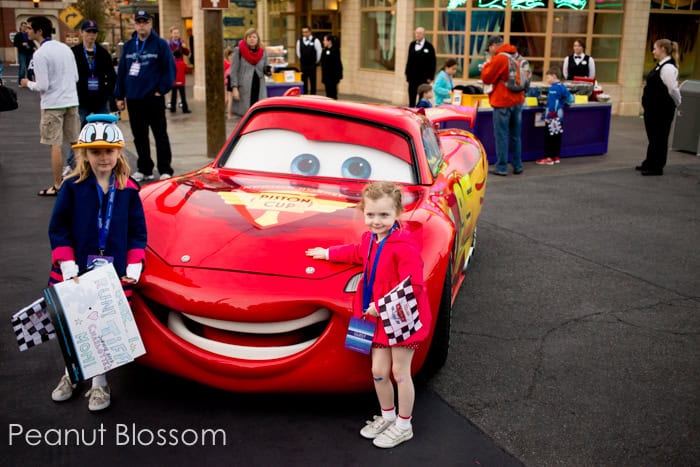 And guess who did it??!! I was slow but still somehow managed to finish somewhere in the middle of the pack. I kept up with the quick pace of the run/walk group for the first mile and then fell back when I needed longer walk breaks during the second mile.
I crossed the finish line with these two cuties smiling, waving, and proudly holding up their decorated chEAR cards: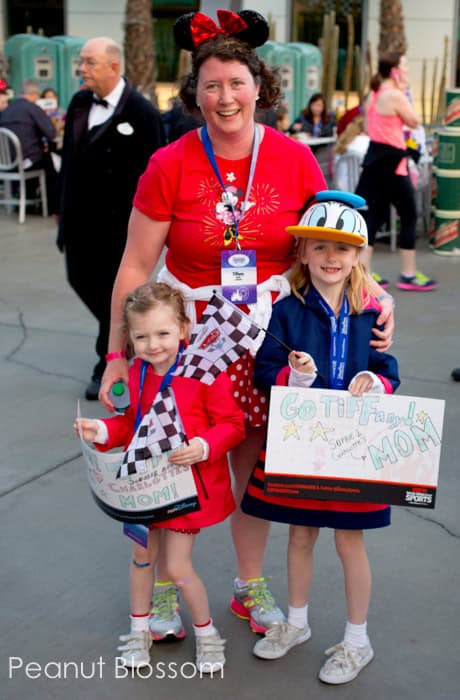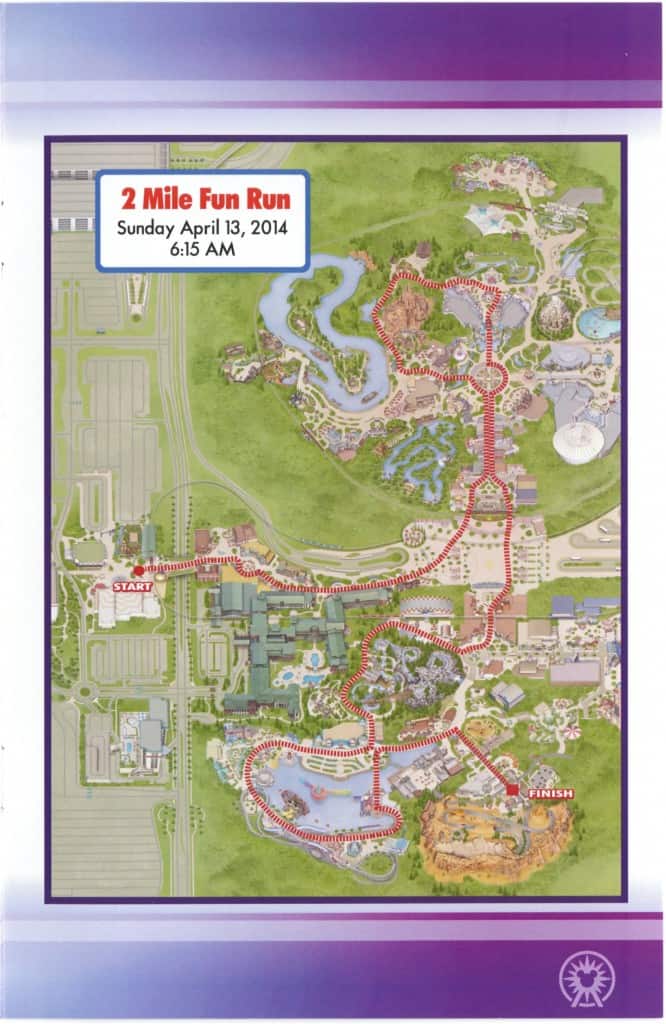 Along the way I managed to learn 4 very important things:
1. Stop to take at least one photo!: Everyone around me was pausing to take a selfie at some point on the route. I was terrified if I stopped I'd have trouble starting again or that it would take me too long and I wouldn't finish in time. If I had it to do over again, I'd get at least ONE shot of me near the castle. It would be worth sacrificing a little of my run time.
2. The Potato Chip Trick: I hate hills. Hate them. I trained on a flat even track, so I knew the hilly terrain was going to slow me down. We were given some pointers by the New Balance team before we left and this simple trick completely saved me:
Pump your arms--hand from hip to mouth like you're eating a potato chip from a bowl at your hip--when you need a burst of energy. Hills especially. This tricks your brain into moving your feet faster.
At the end of the run when I was tired and worn we hit a really big hill in Pacific Wharf. I pumped my arms like I was eating potato chips and powered up that hill. I can't believe their trick worked but I actually passed a couple ladies on my way up!
3. Disney Cast Members are AWESOME: I noticed this during our entire visit but it became extremely apparent after I broke away from the run/walk pack and was on my own. Running is so a mental game of motivation. It would have been so easy to berate myself for not being able to keep the pace. As I rounded a corner walking, one of the cast members cheered out:
"C'mon girl, pick up that pace! You've got this! Keep going!" and when I started to run again I got a hearty: "Atta girl!!"
Towards the end, several of the cast members shouted, "You're almost there! You can do it! The end is just around the corner!" It was hard not to grin like a fool every time they got to encouraging me.
4. Running is way better with friends: While many of these women are still so new to me, it was so special to do the event with like-minded Disney fans. I showed up with my Minnie ears ready to go and was surrounded by other Minnie's and more elaborate, creative costumes. Nothing breaks those new-people jitters like seeing other people wearing tutus (think Kevin from Up) and snowmen noses (think Olaf from Frozen) and acting as though absolutely nothing is out of place.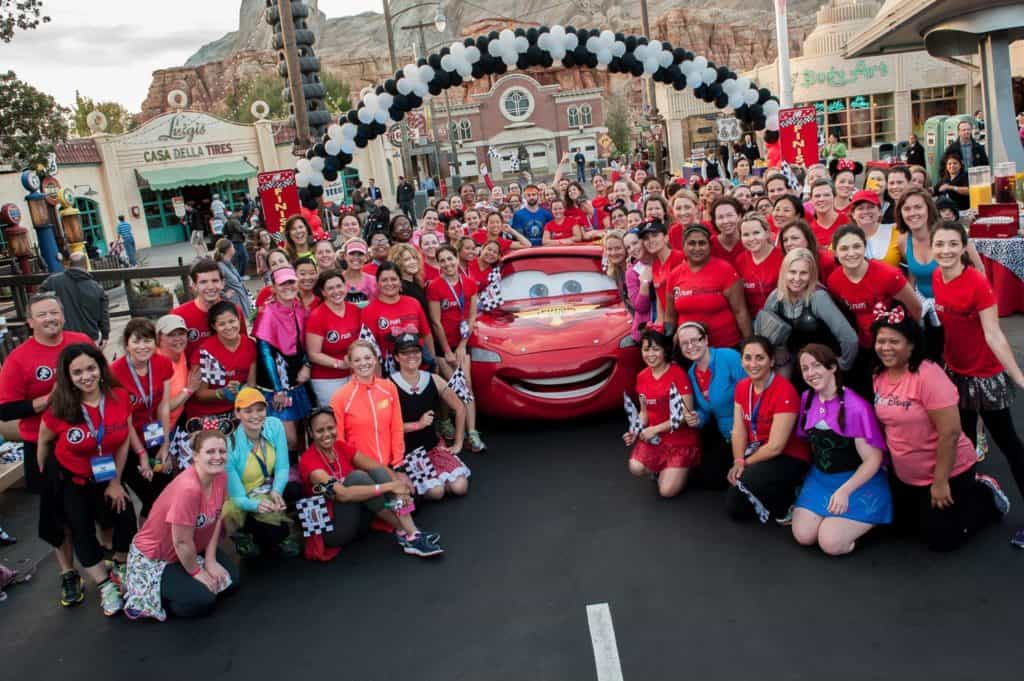 Check out that awesome group shot by Josh Hallett (@hyku on Twitter.) I was so busy celebrating with my family I nearly missed it. Can you spot me at the very back??
Hint: Look for the telltale Minnie ears. . .

I attended the Disney Social Media Moms Celebration and was provided a generous discount for the trip. The Fun Run was sponsored by New Balance, I was provided a pair of running shoes to wear for the run. I'm very proud to share my own thoughts and opinions with you about the amazing experiences I had as a result of the trip.