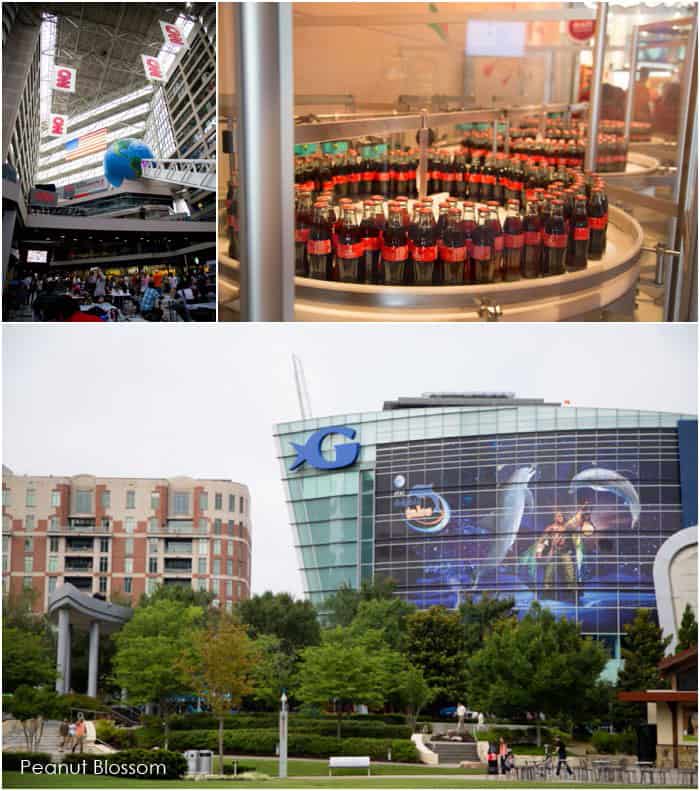 Back in January I took a solo trip to Atlanta, GA, a place I'd never been to before. All it took was one look at the awesome city center and I knew I wanted to bring the family back for a weekend trip this summer. It's been on the top of our Must-See list.
We finally got our chance during the holiday weekend for Independence Day. Unfortunately, a lot of other people had the exact same thought and all the attractions were overrun with crowds! We still had a fantastic time and I'm already looking forward to returning with the kids on a less busy weekend.
In the next couple days I'll share more specific details from our trip but today I wanted to cover the reasons we were so excited to head to Atlanta for our holiday. Have you ever been? What was your favorite must-see thing?

What really drew me to Atlanta was just how walkable the area surrounding the Olympic Park in city center is. With the park in the middle, you have the Georgia Aquarium, the World of Coca Cola, and the Inside CNN Tour all right there. I loved the idea of staying in one small area for our weekend trip and not needing to rely on transportation other than walking.
1. Centennial Olympic Park: Right in the middle of the city is this large open park. There are splash fountains for the kids when it's hot, ice skating in the winter, playgrounds, statues, and walking paths all through the park. It's the perfect place for a stroll and to spend some relaxing time.
2. Georgia Aquarium: This was the biggest draw for our trip. We loved the Shedd Aquarium in Chicago before our move and the girls had been craving some sea life. This aquarium was absolutely amazing and worth every effort for the trip. You can view my review of the Georgia Aquarium here.
3. World of Coca-Cola: Right next to the aquarium, I was initially a bit skeptical of the Coke museum but this turned out to be a highlight of our weekend! Leave it to those brilliant brand marketers to do it up right. Everyone in our group from age 3 to adult had a wonderful time. You can view my review of the World of Coca-Cola here.
4. Inside CNN Tour: While the tour itself was sold out during the busy weekend we were there, we did stop for a break and a soda in the food court of this incredible building. We're definitely planning on seeing this next time.
5. Legal Seafoods - Atlanta: Handyman Tim and I used to live in Providence, RI where I fell in love with Legal Seafoods restaurant. We were giddy to discover the location here in Atlanta and it is right within easy walking of this area. Though it feels like a fancier upscale place, it was more accommodating for our children then several chain restaurants we've frequented. Since it was a weekend getaway, it was nice to have one meal that wasn't made up of chicken nuggets and fries!