5 Awesome Things to See at the Georgia Aquarium
Tips for visiting the Georgia Aquarium with kids. The 5 best things to see at the aquarium and tips for making the day go smoothly.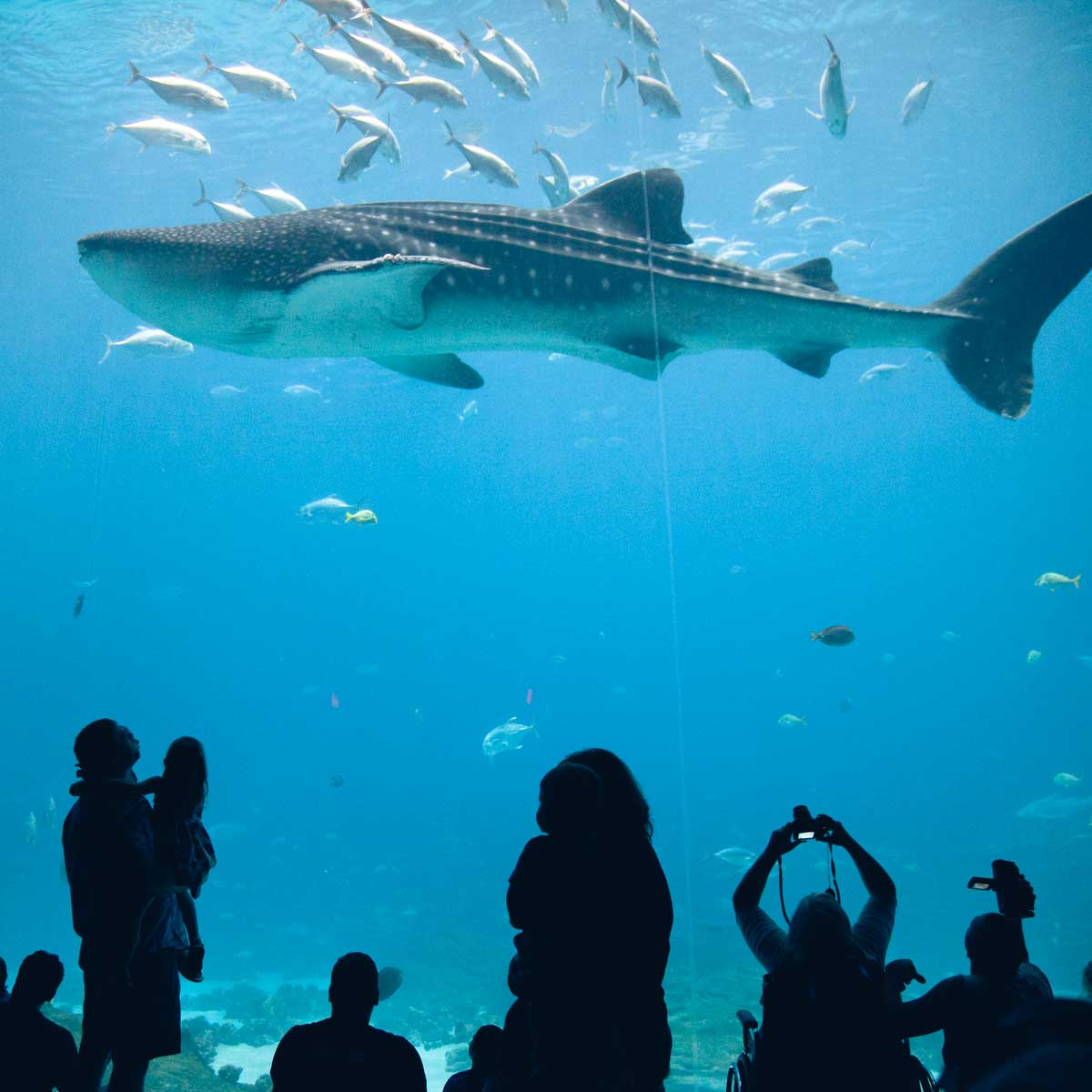 The Georgia Aquarium was the biggest hotspot on my Must See list with our girls. After my solo trip to Atlanta in January, I could not wait to bring the rest of the family back for a weekend. The close proximity of so many attractions in one small spot was very appealing but I have to admit that secretly I was worried our old beloved Shedd Aquarium in Chicago might have set my girls' expectations too high for this aquarium.
Those fears were absolutely unfounded.
The Georgia Aquarium felt enormous and spectacular. We managed to visit on the most crowded and busy of all days and even this chaos-averse momma had a phenomenal time. Now that I've had time to process our visit, I regret not buying an annual pass right away. Despite the 4 hour car trip it takes to get there, it is a spot I'd love to return with our kids again as soon as possible. I hope you find this post helpful in planning your own visit to this amazing attraction.
Top 5 Favorite Moments
1. Windows to the Water
There are so many unique and wonderfully designed windows and portals for viewing the sea creatures at the aquarium. From small round bubble windows to ginormous walls of water to a tunnel that squirrels underneath the whales, everywhere you turn there is a new vantage point for getting a closer look. We loved the variety!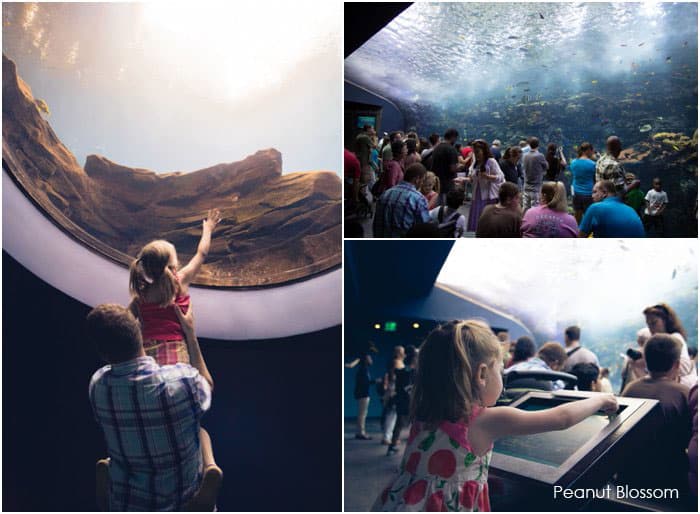 2. The Whale Viewing Room
If things hadn't been as busy and congested as they were on the crowded holiday weekend date we visited, my family could have sat in the whale viewing room for an entire afternoon. See the photo at the top of this post? I didn't even capture the entire wall window. The view was nothing short of majestic.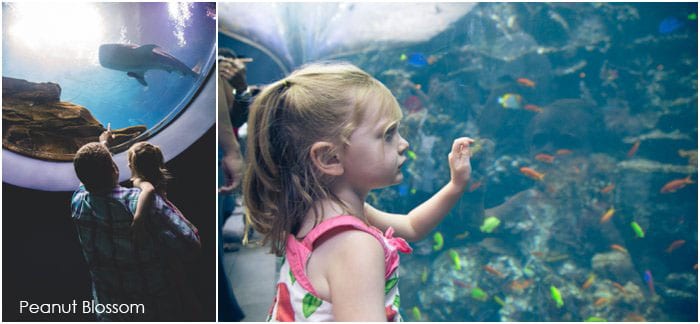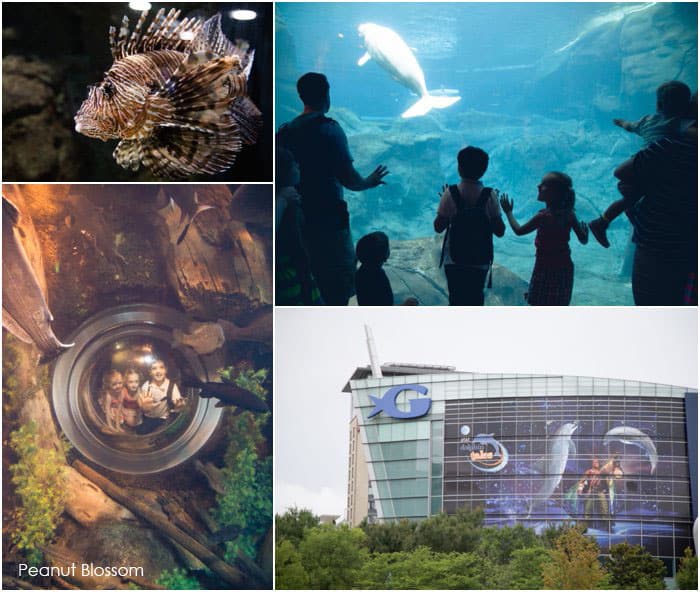 3. The Divers
In several aquariums we were able to watch the divers at work in full on scuba gear. The kids were mesmerized by watching them clean the windows and keep things orderly. At one spot, the diver approached the window and waved at all the kids.

4. The Petting Zones
There were at least 2 stations where guests are welcome to pet the sea life. We encountered sting rays, tiny sharks, starfish and coral. The squeals and giddy laughter from Handyman Tim the girls after having touched the fish was a joy to hear. I so wish I had the chance to capture that moment with my camera, but for once I was too busy experiencing it for real. It was that awesome.
5. The Dolphin Show
I saved the best for last. Do NOT, I repeat do NOT miss the incredible dolphin show: "Dolphin Tales." We were lucky enough to be warned that tickets move quickly for this experience and we grabbed ours right away upon arrival. Our show started at 1:30 in the afternoon so it came at the tail end of our visit. No pun intended. Somehow I thought it was just going to be a few dolphins doing tricks, we came "this" close to skipping it because of the crowds. It ended up being the highlight of the day!
Dolphin Tales is more like a musical with dolphins in the cast. They interact with their trainers timed to the music and story. My jaw dropped at the opening lasers and didn't close till the show was over. Worth every effort to fit it into your visit.
NOTE TO PARENTS: Little Pea at age 3 was a teensy bit nervous. Had she been any younger, she would have freaked. The show is very loud, very very dark, and very action-filled. If you have nervous little ones that don't appreciate dark lit rooms with loud music, I make the exception for you and say skip it till they're ready. The room is so large and so crowded, it's not the kind of thing you can easily get out of if your child starts to cry or scream.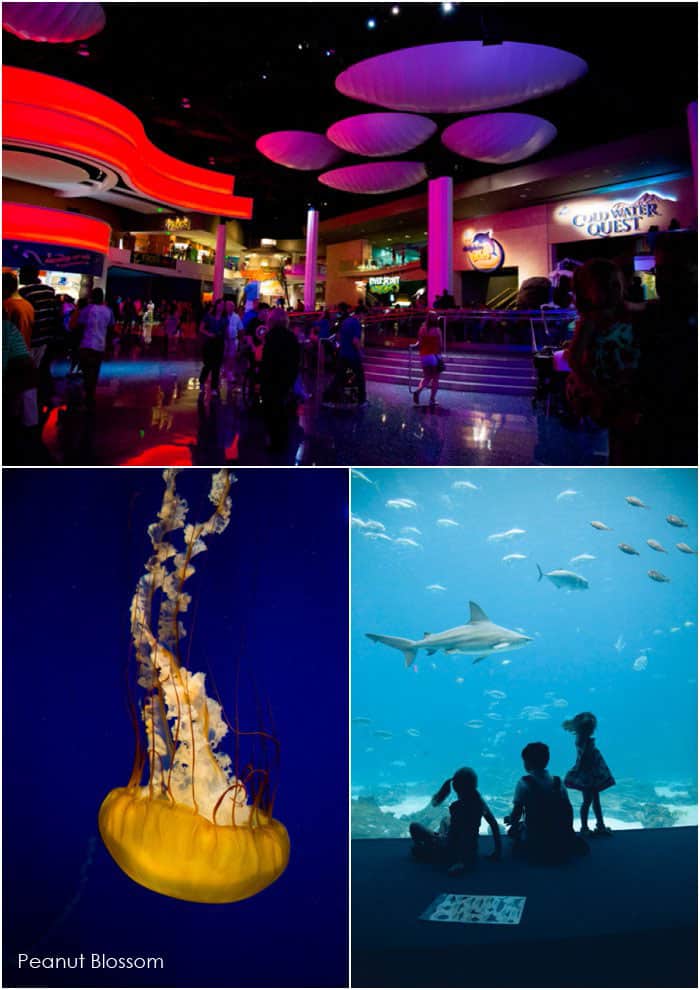 Tips for Visiting with Kids
Are you ready for a visit? Let me help you along with some of our tips for making it a success.
1. Arrive Early!!!
It's crucial to get there first thing in the day. We arrived 15 minutes prior to the opening and there was already an insane line. Granted, we were there on what just might have been their busiest day ever due to the 4th of July holiday weekend and going on a Saturday but employees at the check in have told me that lines form quickly anyway. Make this your morning activity and then get out for something else in the afternoon if it gets too crowded for your taste.
If you plan to do enough of the attractions listed on the City Pass, it was worth it's weight in gold to be able to go in the City Pass lines vs. general admission. Especially on a crowded holiday weekend.
3. Grab your dolphin tickets
Do this immediately upon arrival. They disappear quickly. The tickets are included with your admission pass but you have to get them at a separate window inside the aquarium so that you have seats for a certain timed show. If you decide to skip the show later, you can hand in your tickets to be redistributed to other families.
4. Lunch Tips
By 11:30 things were so crowded and we were starving. We desperately needed a break and to get away from the crowds for a bit. You are allowed to leave the aquarium with a special stamp but you must return within a certain window. We had our Dolphin tickets for 1:30 and were told to be back no later than 1 p.m. because they started seating early.
We got our stamps and headed outside to go to Johnny Rockets which is within very easy walking distance. It was just the break we needed. But be especially warned–the lines when we returned were so long they would have been impossible to ever even imagine getting back in. We were told to go through the Annual Passholders line for re-entry which sped things up considerably but still plan for extra time to get through security.
Be sure to double check their current policy before you try to leave. Getting back in isn't as easy as you might think but it can definitely be worth it for a little break. There are several quick-service restaurants just around the corner.
More Things to See in Atlanta