The Boathouse at Disney Springs is one of the best places to relax and enjoy a casual seafood dinner with your family during your next Disney vacation.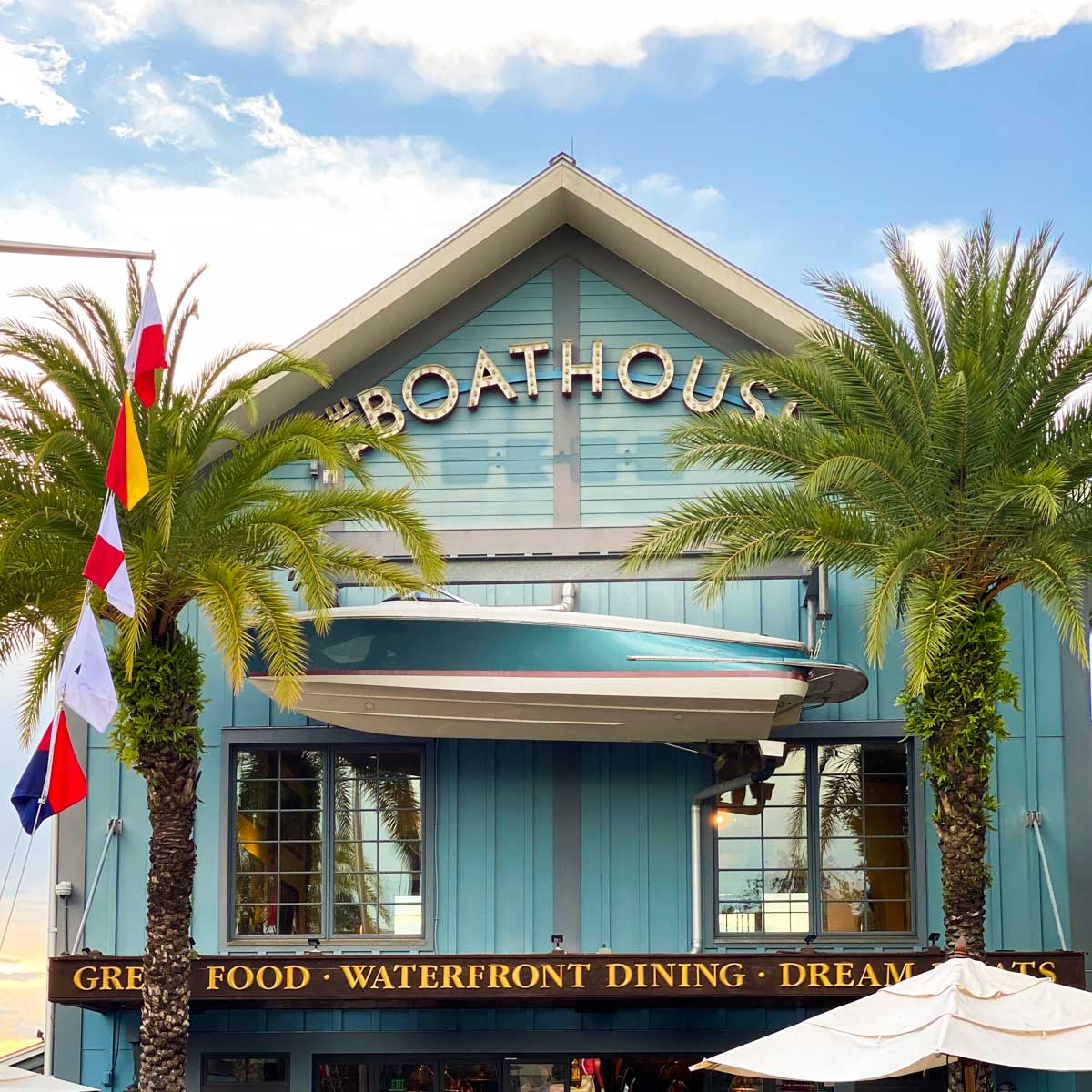 There are so many restaurants to choose from during a visit to Disney Springs, the downtown shopping and dining center at Walt Disney World.
It can be overwhelming to pick one if you're traveling with kids and need a family-friendly menu for everyone to enjoy.
One of my very favorite places to eat at Disney Springs is The Boathouse.
It has been on my Disney itinerary for most trips over the last few years but curious if this is a good restaurant for you?
Check out The Boathouse menu suggestions and tips below!
Jump to:
Our Review of The Boathouse in Disney Springs
Whether I'm traveling with my kids or on a solo trip with my girlfriends, The Boathouse is one of my favorite places to eat in Disney World because:
The Ambiance: The restaurant is right on the water and has a wonderful vacation vibe.
The Food: I love seafood but the menu offers alternatives for friends who don't enjoy fish.
The Location: Since the restaurant is in Disney Springs, you don't need a park ticket to be able to access it. You get all the Disney service and quality without the need for a park pass.
If you are interested in dining at The Boathouse, here are a few things you need to know before you head to the restaurant:
Reservations
Disney Springs restaurants tend to get very busy, especially during peak vacation times throughout the year.
For the best chance at getting a table, I strongly encourage you to make dining reservations in advance.
The Boathouse is easier to get a reservation than other Disney dining options, but it is still a smart idea to plan ahead.
Timing Tips
We like to reserve a dinner at The Boathouse for our arrival evening since we don't have park tickets for that first arrival day and an evening at Disney Springs is a fun way to kick off the trip.
If you're looking to save money, reserve a lunch instead of dinner since the food items are a little bit cheaper earlier in the day.
Map It
1620 E. Buena Vista Dr.
Lake Buena Vista, FL 32830
Phone: 407-939-2628
How to Get There
If you're staying at any of the Disney Resorts, there will be bus service to Disney Springs and then you can just walk to the restaurant
FUN TIP: If you're staying at Disney's Port Orleans French Quarter Resort, you can take a ferry boat over to Disney Springs and then simply walk over to the restaurant.
Otherwise, you can drive to Disney Springs and park in their large lots and walk from there.
There is no parking RIGHT at the restaurant, plan for a 5 minute walk from the lot to the restaurant.
The Restaurant Decor
If you want to feel like you're on a Florida vacation, you'll be very pleased with the theme and decor of The Boathouse restaurant.
The entire place is boat themed and you'll find ocean front decor in every nook and cranny of the place.
My kids were tickled pink by the booths shaped like boats.
My husband loved the sea captain merchandise in the fun gift shop attached to the restaurant.
BONUS: Looking for a unique Father's Day gift?? Be sure to take a swing by the gift shop before you leave. So many fun finds.
What's on the Menu?
Unlike other seafood restaurants, The Boathouse menu has a little something for fish lovers and those who haven't quite found their "sea legs" yet.
You can view the entire Boathouse menu here, but here are some of our favorites:
Shrimp & Andouille Mac and Cheese
This was the winning dish out of everything we ordered for dinner during our latest visit.
My oldest daughter took the chance on the shrimp mac and cheese with spicy andouille sausage.
Though the sausage is spicy, the dish as a whole isn't over the top with heat.
The thick, creamy cheese sauce and savory shrimp help to temper the spice and the entire dish was drool-worthy.
I couldn't stop sneaking bites.
Grilled Mahi Tacos
My younger daughter is a HUGE taco fan but usually of the ground beef and cheese variety at home.
She took a chance on our family vacation and tried fish tacos for the first time.
She absolutely loved them. I blinked and her meal had disappeared.
She appreciated that the condiments were served on the side so she could pick and choose what went on top of each taco.
Coconut Shrimp
I ordered the coconut shrimp appetizer as my main entree because I wasn't feeling super hungry that evening.
We had ordered a caesar salad to pass family-style so I could get a little more veggies into the kids so that helped fill me up, too.
It is a very small portion though, so either order it as an appetizer to share or plan to add a side dish or salad if you have a heartier appetite.
Maine Lobster Bisque
My kids were curious about this item on the menu, so we ordered one to share and everyone loved it.
Rich and creamy, it was so delicious it disappeared before I could get a picture of it!
Budget Tips for Dining with Kids
One of my favorite ways to save money while dining at Disney is to hunt down side dishes, salads, and appetizers that we can share among the table.
These items are often more affordable than full entrees and portions are usually generous enough that we can fill up on a few cheaper things that we share.
Great items on The Boathouse menu that could be shared as a family include:
Classic Caesar or Garden Salads
Fresh-cut French Fries Shareable Plate
Baby Carrots & Broccolini Side
Red Potatoes Side
Dockside Shrimp Boil: A full entree that would be easy to share.
Peel and Eat Key West Shrimp: An appetizer that would add protein to the salads or soup