Disney's Port Orleans Resort French Quarter in Orlando, Florida is one of the Moderate level Disney resorts that is perfect for families who want a quiet place to unwind after a long day at the parks.
Over the last decade, our family has stayed at a wide variety of Disney resorts and local hotels during our visits to Walt Disney World.
For our most recent trip, we chose Disney's Port Orleans French Quarter for a number of reasons:
We wanted a moderate level Disney resort.
It was a new-to-us resort, but we were familiar from a visit to the Port Orleans Riverside, the sister resort to French Quarter.
We were attracted to it's smaller, more walkable size.
We wanted comfort and the Disney feel that fit our vacation budget.
The hotel choice ended up being absolutely perfect for our family of four with two teenage daughters.
I would not hesitate to book a stay here again!
Read on to see if this Disney resort is a good fit for you and your family.
Jump to:
KNOW BEFORE YOU GO
If you're staying at Disney's Port Orleans French Quarter in Orlando, FL here are some important details to know before you arrive for check-in:
Map It
Address:
2201 Orleans Dr.
Lake Buena Vista, FL 32830
Call Ahead
If you need to get ahold of someone on property, you can reach the hotel staff by phone.
Phone Number: (407) 939-1936
Check In Process
I strongly encourage you to check in ahead of arrival via the Walt Disney World Experience app on your phone.
This app will be essential during your stay for everything from ride wait times and park hours to mobile ordering for dining.
Once you've been assigned a room, you can also use the app as a key to your room door. There's no need to visit the front desk unless you need to pick up your Magic Bands.
You can also check in in-person at the hotel welcome area if you prefer but you may find it with just one or two cast members available to help a line full of guests waiting.
Parking
If you're driving to Orlando, you can park at the resort for a daily fee of $25.
When you arrive at the resort, be prepared to show your ID before the guard at the gate will open the entrance for your vehicle.
There are multiple parking lots surrounding the resort, you'll want to know your room number before you find the lot closest to your area.
If you haven't been able to check in yet, you can park near the hotel lobby and move your car later.
The Lobby
When you arrive at the main building of the Port Orleans resort, you will find a smaller than average but stunning welcome area.
In fact, this was one of my favorite parts about the hotel:
The smaller size makes everything very easily accessible when you are exhausted from all the walking you do during the day.
The front desk, on-site dining, and gift shop all surround a pretty open space filled with a bubbling fountain.
On-Site Dining Options
We took advantage of the on-site quick service dining at Sassagoula Floatworks & Food Factory several times during our trip.
Normally, we love to eat inside the parks as often as possible but it was wonderful knowing that a delicious and easy dinner (with NO LINES) was available to us just a short walk from our hotel room.
While the quick service meals may not be your most memorable dining experiences from the trip, everything we ate was reasonably delicious and we never had to worry about finding a table to sit.
That said, the Port Orleans French Quarter is home to one of the BEST Disney treats of all time: the warm, fresh Mickey-shaped beignets.
If you've never had a beignet, they are like a dense donut dusted with powdered sugar.
The French Quarter has several dipping sauce options and even liqueur-infused beignets for the grown-ups in the Scat Cat Club near the quick service.
Guest Room Buildings
The guest rooms are located in separate buildings that surround the main lobby building.
Once you exit the back of the main building, you'll find several open green spaces and the hotel pool.
The guest rooms line the river's edge all around the resort.
We stayed in Building #6 which was one of the furthest buildings from the main center and it was still such a fast and easy walk to everything we needed.
Guest Rooms
For our trip, we stayed in a garden view hotel room on the second floor of building #6.
As a family of four, we choose the double beds option vs. a king.
There are so many things I LOVED about our Disney hotel room.
1. The Storage Spaces
There were two sinks with tons of storage space for toiletries above and below the counter.
The vanity area has a privacy curtain that sectioned off that portion of the room so we could store our shoes and travel laundry hamper back there and contain some of the visual clutter of the room.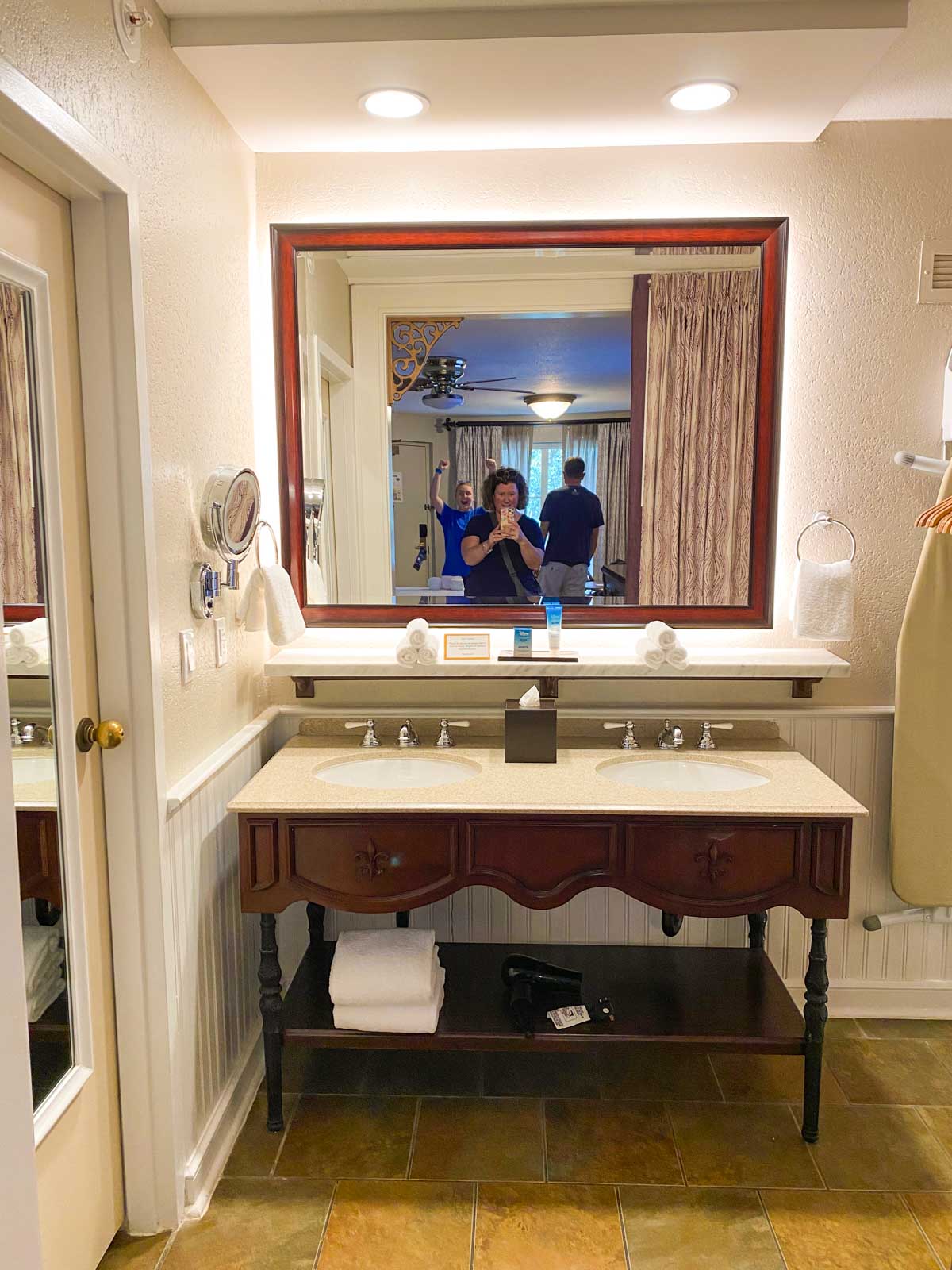 The beds are raised slightly higher than average so there's plenty of room to store your suitcases and assorted luggage under the bed and out of the way.
The drawers in the dresser are the widest and deepest I've ever seen and had plenty of room for storing an entire family's vacation wardrobe.
2. Clean and Comfy Bathroom
At home I love a shower stall but when traveling with the kids, I love the extra breathing room a bathtub with curved shower curtain rod gives the space.
The bathrooms were extremely clean and stocked well with plenty of Disney's signature H20 body products.
They even had our bathroom towels in the shape of a hidden Mickey head waiting for us on the beds.
3. In-Room Dining Area
This small table with two chairs was the most-used space in our room. It's like Disney knew that I have two STARVING teenage girls and a husband who requires an early morning breakfast before we hit the road.
We kept on this table a tote bag full of snacks we brought from home and filled our mini fridge with water bottles and sodas to help cut down on the cost of our trip's food budget.
Pack a few of these easy picnic supplies so you can also enjoy an easy meal with the kids or an end-of-day glass of wine in peace.
4. Comfy Mattresses & Pillows
Now that I'm home, I'm seriously missing the deep sleep I got on our Disney trip. I slept like a rock on that mattress with those pillows.
Maybe part of it was all the fresh air and 24,000 daily steps, but I haven't slept nearly as well in a week!
Amenities
Looking for a specific amenity I haven't mentioned? It is quite likely they have it! We spent as much time as possible inside the parks during our visit but if you have a down day without a park pass, be sure to look up the long list of fun options available right at the resort.
Transportation to the Disney Parks
Like at all Disney resorts, as a guest you get free transportation to all four of the Disney Parks as well as Disney Springs.
Bus Information
At Port Orleans, you will use the Disney bus line to access transportation.
There are two stations right out the front of the main building. They are marked with the destinations that pick up and drop off at each stop but you could ask a cast member nearby for help if you need.
Big displays also announce the estimated arrival time for the next bus, but you could also verify that information in the Disney Experience app on your phone.
Boats to Disney Springs
Unique to Port Orleans, there is also a ferry boat that will take guests over to Disney Springs and back again.
The boats run every 10 - 15 minutes or so and the ride takes about 20 minutes.
We absolutely loved the open air boats and gentle ride home at the end of our Disney Springs evening. I highly recommend taking advantage of this service.
You could take the boat over and then plan to dine at The Boathouse in Disney Springs for a delicious seafood dinner on your arrival evening before your park tickets kick in.