Tony's Town Square Restaurant in Magic Kingdom is one of the best places to relax and enjoy an Italian dinner with your family during your Disney vacation.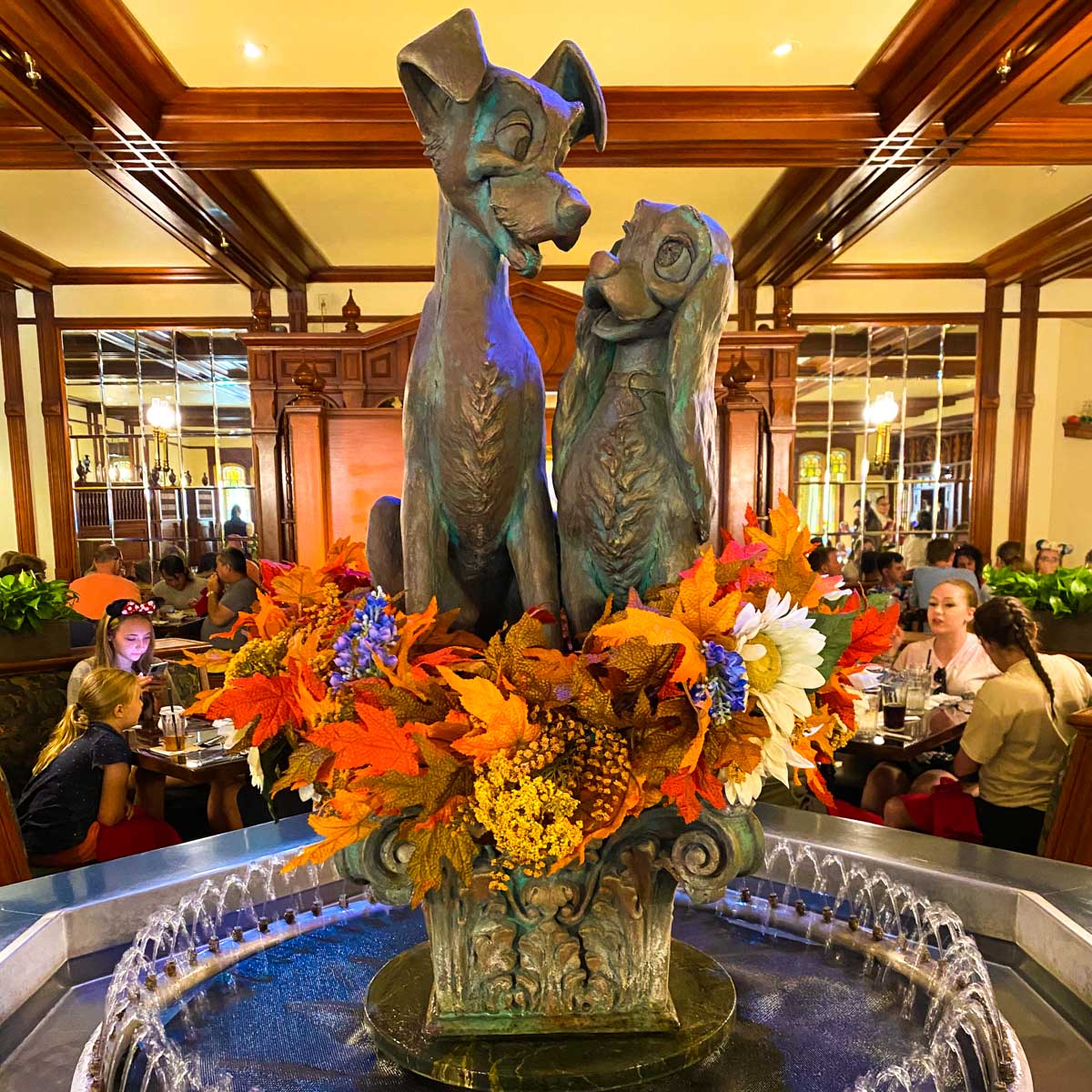 Choosing the best restaurants for your Disney vacation can be such a stressful part of the vacation planning.
The dining budget will be a significant part of your expense for the trip, so you want to be sure that your meals are delicious and as enjoyable as possible.
If you're planning to visit Magic Kingdom during your next Walt Disney World vacation in Orlando, Florida, you're probably wondering which restaurants should top your list.
One of our family's favorite places to eat in Magic Kingdom is the beautiful Tony's Town Square restaurant.
Jump to:
Our Review of Tony's Town Square Restaurant in Disney World
There are so many reasons our family enjoy's this particular Magic Kingdom restaurant.
We've planned a meal here during most of our Disney vacations over the years and we keep going back for more.
Who Is "Tony"?
The name of Tony's Town Square comes from the character of Tony from the Disney animated movie "Lady and the Tramp."
Tony is the character that runs the Italian restaurant where Lady and the Tramp enjoy their iconic spaghetti dinner scene to the tune of "Bella Notte."
Know Before You Go
If you're considering Tony's Town Square for a meal, here are a few things you should know first.
Reservations Strongly Recommended
Tony's is a table service restaurant in Magic Kingdom.
Reservations are strongly encouraged.
However, if you're traveling during a slower season you may have some luck as a last-minute walk up.
The easiest way to make reservations is to use the My Disney Experience site.
Timing Tips for Your Reservation
Check the parade schedule for your visit and try to time a meal at Tony's Town Square just before the parade start time.
If you're lucky, you may be seated near the front of the restaurant and can peek at the parade passing by as you dine.
Alternatively, you could plan your meal for an hour or so before the parade and you will be able to view it from the sidewalk outside the restaurant as you leave.
Park Ticket Required
The only way to dine at Tony's is to have a valid park pass for Disney's Magic Kingdom.
The restaurant is not available for guests outside of Magic Kingdom.
Find It By Foot In Magic Kingdom:
Tony's restaurant is located right in the main entrance square of Magic Kingdom.
Once you enter the park itself, it will be off to the right side of the square as you face the castle.
Hours:
Change depending on Magic Kingdom's park hours for the day.
What's On the Menu?
Tony's Town Square serves a wide variety of Italian themed dishes and the menu has a little something your whole family is likely to enjoy.
You can check out the full Tony's Town Square menu here.
But since seeing is believing, here are the items we ordered and enjoyed during our most recent visit:
Tony's Garlic Bread for the Table
We sat down to dinner absolutely starving after a long and active day in the park.
This garlic bread disappeared in a flash and was an amazing start to the meal.
It is light and crispy and totally delicious. The appetizer is served with a pitcher of cheese sauce that I didn't find necessary but my husband absolutely loved.
Chicken Parmigiana
My husband told our server he had a big appetite and asked for recommendations.
She suggested the chicken parmigiana (or chicken parmesan).
It is a generous portion of chicken that comes with a side of pasta with tomato sauce.
He definitely enjoyed his meal.
Fettucine Alfredo
I ordered the fettucine alfredo with chicken and I was so happy to discover just how tender the meat was.
There was a little more sauce than I usually prefer, so you may want to ask them to go lighter on the sauce if you don't like your noodles swimming in alfredo.
Spaghetti and Meatballs
How can you visit Tony's and NOT have a plate of spaghetti and meatballs?
My daughter enjoyed the classic dish but made one very important substitution . . .
Fun Fact: You can ask your server to substitute a short noodle like penne for the long noodle like spaghetti. It is SO much easier for kids to eat.
Penne with Chicken Al Forno
Unfortunately, this was the one disappointing dish from our meal.
My daughter ordered the baked pasta dish not realizing it would come in a metal casserole dish like a lasagna.
That was her mistake. However she didn't appreciate how much cheese was in the dish and the top was a little overdone.
She was also disappointed to discover that she couldn't omit the mushrooms from the dish when she ordered.
She still took a chance on it, but was disappointed to see just how high the ratio of mushrooms was in the mix.
So unless you LOVE cheese and mushrooms, you may want to skip this dish.
Does Tony's Serve Alcohol?
It used to be the standard that no restaurants in Magic Kingdom would serve alcohol.
They've since changed that rule and now the table service restaurants do serve beer and wine with dinner.
A chilled glass of pinot grigio tasted like sheer heaven on our busy park day. We were so excited for this change in policy!
What is the Restaurant Like?
Tony's Town Square has a lovely family-friendly vibe and fun Lady and the Tramp / Italian restaurant themed decor.
Don't miss the adorable fountain of everyone's favorite movie dogs right in the center of the restaurant.
We were seated in the glass encased front patio facing the town square.
The ambiance was relaxing and relatively quiet as compared to the bustling noise of Magic Kingdom.
The sit-down restaurant is a relaxing oasis that will give you the rest you need to fuel up for an evening of fun until the fireworks!
More Magic Kingdom Tips
Planning a day in Magic Kingdom? Don't miss our family's best advice for your Disney vacation: