Want to get great pictures of your kids at Disney? Avoid crowded backgrounds in your photos and follow this simple tip for having a relaxing photo day at the parks.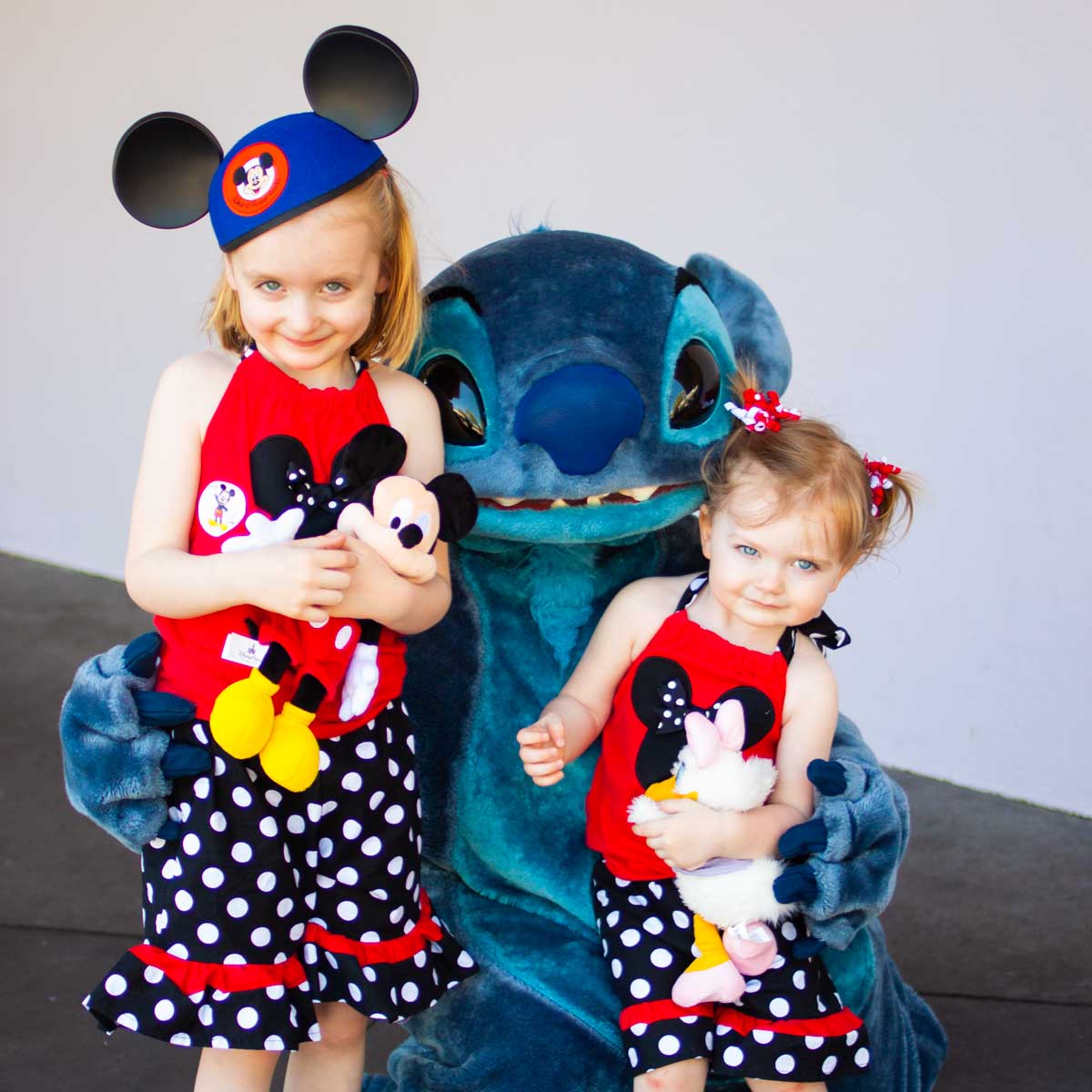 When you've obsessed over all the gorgeous Disney photos on Instagram before your Disney vacation, it can be a rude awakening to arrive at the parks and realize this terrible secret:
Getting good shots at Disney is HARD!
The Biggest Problem:
Disney parks are very crowded even on slower traffic days.
Those gorgeous photos you see on social media can be nearly impossible to capture without lots of extra bodies in the frame.
This can be even more complicated if you're traveling with very young kids. Anyone with a 2 year old knows that toddlers see every moment out of their strollers as an opportunity to run as far and fast away from parents as possible.
Since our toddler's safety was far more important than taking her photo, she appears in most of our Disney photos safely strapped in her stroller.
But what do you do when you want to capture a great photo of your young kid exploring the park on their own two feet??
The Brilliant Solution:
Knowing just how important it was to me to capture some memorable photos of our girls' very first trip to Disney, my husband suggested I designate one single morning out of our 5-day trip to a short photo session of the girls in the park.
But the key to success is all in the timing:
Day 1: Get Oriented
We took the kids to ride on as many rides at Magic Kingdom as we could squeeze into a single day and got familiarized with the layout of the park. I kept an eye out for locations in the park that I might want to capture later.
Day 2: Go Early and Take It Slow
We scheduled a "slow down and take some pictures" morning followed by an early lunch and sight-seeing day to watch the parades and live shows.
It is crucial to let the big excitement about the park run it's course without too many photos on the first day. By repeating the same park on a second day, the kids were far more willing to take it a little easier.
The Photo Session Timeline:
In my opinion, one of the most magical places to get great photos of your kids at Magic Kingdom is right at the entrance of Main Street.
Here are my best tips for getting precious shots of your little ones at the park.
Step 1: Arrive Early & Shop for Ears
Arrive at Magic Kingdom at park opening time and head straight for Mickey & Minnie Mouse's dressing room.
You'll find them right off the main square of the entrance park. If you head there directly in the morning, there is very little wait.
As you head out of their greeting room you exit through the store where the famous mouse ear hats are sold and personalized.
The store is nicely lit and you can get some pictures of the kids trying on different hats as you wait for the embroidery of the hats you've purchased.
Once your kids have their hats, there is a pretty little courtyard area directly outside the store with beautiful lighting. This is where I caught my favorite picture of my toddler at Disney:
My oldest daughter wore her mouse ear hat all day long. Splurge for the more expensive personalization option, it shows up in photos far better than their cheaper option does!
I was able to get so many sweet photos of the back of her head with her name on her hat that really gave a personal touch to our images. The thinner, cheaper embroidery option would never show up.
Step 2: Shoot Early & Then Relax
The park opens at 9 a.m. as a general rule. From 9 - 10 am was the last of the golden hour time frame for us during the time of year we visited.
After that time zone, the light becomes very harsh and bright and you need to look for open shade if you don't want squinty, sweaty photos.
Decide which images are most important to you and try to get them done before 10 a.m.
This means the entire photo opportunity lasts for less than an hour total. End the session with a delicious snack or late breakfast/early lunch and your kids won't even be bothered that you took the time.
We spent the rest of our photo day enjoying the experiences the park had to offer and didn't stress about all the rides:
We hunted down as many characters as we could find.
We enjoyed the parades and live entertainment.
And we simply strolled around the prettiest sections of the park and took them all in.
Consider Their Wardrobe:
I'll be the first to admit it, we went way over the top with the girls' outfits for this trip.
Crazy outfits aren't required, but if you splurged on something especially cute, this photo session is a great way to ensure it gets documented.
If you are looking for wall-worthy images from your vacation it does pay to consider what your entire family is wearing during the day you plan to set aside the time for photos. Wondering what to wear to Disney?
We color coordinated for just that one day:
The girls wore their matching Disney outfits in shades of red, white, and black.
I wore a simple white t-shirt and shorts.
My husband donned a coordinating grey Mickey Mouse t-shirt.
It wasn't difficult or complicated to arrange, but we just made sure nothing clashed. At any time, any combination of the four of us looked excellent in the photos together for that one day.
The photos from that entire day are absolutely some of my favorite from the entire trip.