The best things to do at Disney Springs when visiting with your kids during a Disney family vacation. This is a great list of things to do outside the Disney Parks.
Ever since our first trip to Disney World, a visit to Disney Springs has been among our top must-do things.
Way back when, it was called "Downtown Disney" but after a total overhaul and crazy update, they reopened as a luxury dining and shopping center called Disney Springs.
Our favorite part is that you can visit Disney Springs for free and without a park ticket which makes it a great thing to do outside the Disney parks.
We usually try to visit on our arrival day because a visit to Disney Springs immediately puts us in a Disney magic frame of mind without wearing us out before our first fun day in the parks.
If you're looking for a list of fun things to do at Disney Springs with your kids, here are our family's favorite things.
Editor's Note: I wrote this post after our first-ever Disney trip in 2012 and it still includes some original photography of my kids when they were small. It has been completely rewritten and updated with fresh photos from our recent visit.
Jump to:
The Best Things to Do at Disney Springs
You can arrive at Disney Springs via your own car and park in the big lot out front.
Better yet, use the Disney resort transportation and arrive by bus so you don't have to worry about parking!
Once you're inside, be prepared for an inviting set of choices to draw you into this wonderful retail space.
1. Stroll Through Luxury Shopping & Dining Center
If you arrive early enough before any dinner reservations you may have, spend some time getting a little bit lost in the wandering pathways through the retail spaces and just get your bearings.
Window shopping options are plentiful and the entire center is landscaped with brick paths, bridges, and lots of lovely landscaping.
It's easy to get a lost as you walk, you can always pull up a map of the shopping center on your phone in the My Disney Experience app.
2. Admire Amazing LEGO Art
There's a GIANT LEGO store on site in Disney Springs and you'll find lots of amazing LEGO sculptures sprinkled around the area.
We've loved spotting the LEGO Loch Ness Monster since our first visit when my girls were young.
There's an adorable Sorcerer Mickey, Star Wars themed displays, and a prince fighting a fire breathing dragon!
3. Take a Trip to the "Emerald Isle"
There are SO many delicious restaurants in Disney Springs to choose from but one of the most fun is Raglan Road, an Irish themed restaurant that often features live Irish performers.
Since we're planning a trip to Ireland this spring, my daughter was extra excited to browse through the gift shop at the restaurant which is filled to the brim with traditional Irish souvenirs.
4. Enjoy a Seafood Dinner on the Water
Two of my favorite restaurants at Disney Springs are Paddlefish and The Boathouse because they offer plenty of seafood on their menus and you can dine right on the water.
When we travel with family, we prefer to dine at The Boathouse because it is just a little more casual.
When I'm traveling with my girlfriends for a runDisney weekend, we choose Paddlefish as a special splurge.
5. Watch a Volcano Erupt
While we were enjoying our dinner at The Boathouse, my daughter started pointing at the volcano erupting just across the water.
At first I didn't believe her, but sure enough there is a "live volcano" outside the Rainforest Cafe that can be seen erupting even from a distance, especially at night.
6. Listen to Live Music
One of the most magical memories from our recent trip to Disney World for my husband was accidentally stumbling upon a FREE live music concert at Disney Springs, just outside the Disney Store.
The band that night was playing some of our college favorites. He grabbed a beer from a local drink cart and settled in for the music while the teens did some shopping.
I went back and forth between singing along with my husband and shopping with the kids, everyone left super happy.
7. Take a Hot Air Balloon Ride
We prefer to keep costs down and take advantage of all the FREE things to do at Disney Springs while we visit, but if you've got some room in your vacation budget, you can schedule an 8-minute ride in a hot air balloon!
The Aerophile Balloon Flight is a 400-foot lift over the water where you can enjoy a 360-degree view of Disney Springs from above.
Tickets are currently $25 for adults and $20 for children ages 3 - 9.
You can check for any pricing changes and the details you need to plan a visit here.
8. Have a Drink with a GIANT Octopus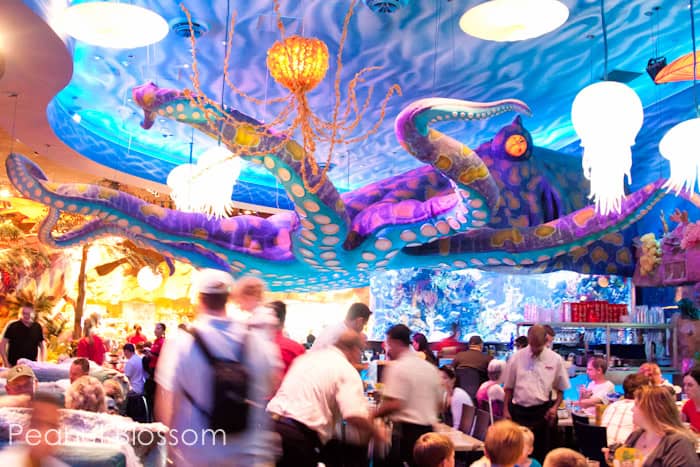 This may be the only octopus bar I've ever seen.
Those enormous tentacles actually move slowly above the patrons inside the T-Rex Cafe.
If dining at the restaurant is out of you budget, head in for a drink at the octopus bar so you can take a peek!
9. Let the Kids ROAR with Dinosaurs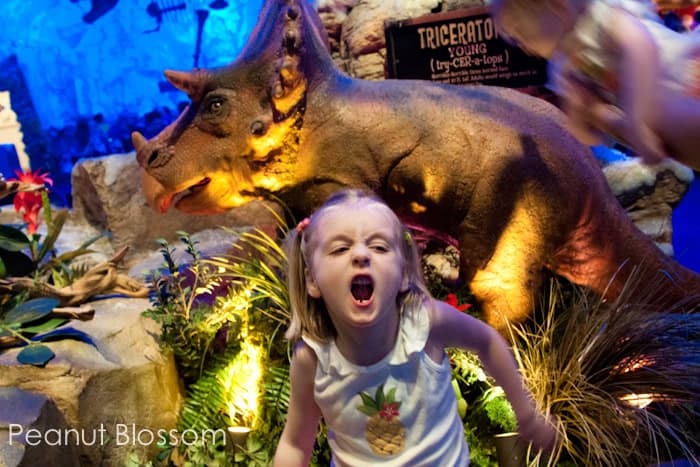 The T-Rex Cafe is otherwise known as the only restaurant louder than my kids when they were little.
Normally that would be a huge drawback in choosing a dining spot but our girls were Wound Up from all the Disney energy. Asking them to sit like ladies and be quiet nearly got us kicked out of a nicer place that shall not be named.
At T-Rex? Not even remotely an issue. There are thunderstorms and dinosaurs and lots and lots of people.
See that photo? No one could hear her roaring. It. Was. Awesome.
As younger parents, Tim and I were finally able to just relax and not worry about the kids' energy levels for once. It was probably the best dinner we had the entire trip just for that reason alone!
It has become such a favorite family memory, we couldn't resist recreating the moment during our last trip:
10. Get a Giant Ice Cream Sundae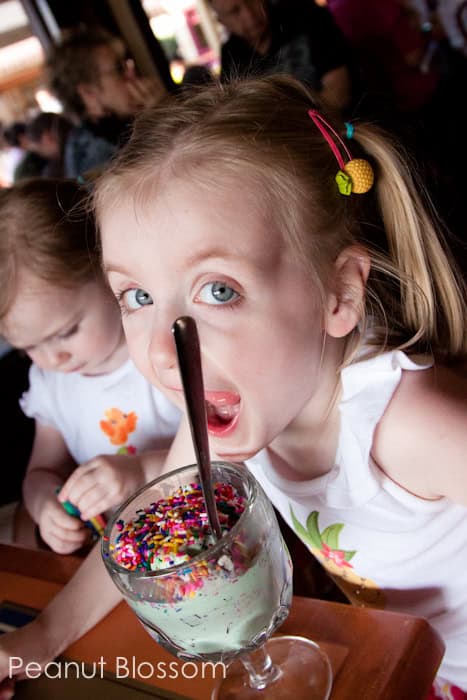 Oh yeah baby, look at those sprinkles!
Don't pay for the insane dessert prices at your sit-down restaurant when you can get an amazing ice cream treat at the Ghiradelli shop at Disney Springs!
11. Sample a Cupcake or Two
If ice cream isn't your thing, head over to the Sprinkles Cupcake shop and check out the delicious flavors they're serving up.
Their menu changes seasonally and offers amazing cupcake options you don't want to miss.
12. Trade Disney Pins
If you managed to get your kids into Disney pin trading, take them to the amazing Disney Pin shop on site in Disney Springs. They can test out their trading skills before you head into the parks.
Not into trading? Disney pins make an excellent souvenir to bring home. Check out the ones with the year dated on them. We have a whole pin board of them at home.
13. Shop at the BIGGEST Disney Store You've Ever Seen
If you miss the Disney Store at your local mall like we do, you're in luck.
The BIGGEST Disney store you've ever seen is on site at Disney Springs.
The Wide World of Disney has everything you can imagine nestled in the multi-room shop.
Seriously, keep an eye on your kids because they'll disappear in a flash with all the tantalizing Disney merch on display!
14. Get Your Ears
As much as I love buying mouse ears in Magic Kingdom in the hat shop on Main Street, there is something to be said about getting your ears early at Disney Springs.
This lets you leisurely try on ears without worrying you're wasting precious ride time in the park!
If you're shopping for your first-ever ears? Main Street.
If you're shopping for accessory ears to add to your collection? Disney Springs all the way.
BONUS: You can wear them the moment you step foot in Magic Kingdom the next day!
15. Take a Boat to Disney's Port Orleans Resort
Even if you're not staying at Disney's Port Orleans Resort, you can ride the ferry boat that goes back and forth between the landing and Disney Springs.
It was such a fun way to use Disney transportation for our recent trip but the boat ride could be a lot of fun during the day with your kids.
More Disney Vacation Planning Tips