Disney vacations don't need to be a hurried rush from one ride to the next. Use these tips to slow things down and savor this memorable family trip you've waited to long to take with your kids.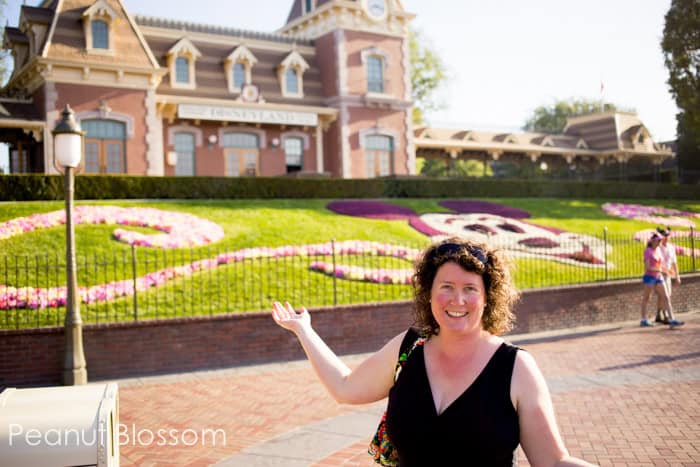 When Tim invented his infamous "See One Thing Rule" in 2012 it was in response to surviving the Disney Parks with a toddler. Little did we know then how that approach would improve our vacations forever after. We have learned to not let an aggressive Must See! List spoil our family adventures.
When the invitation came to join the Disney Social Media Moms Celebration in Disneyland in Calfornia last spring, for the very first time in my life, my "One Thing" was the experience itself as a whole. Never did I imagine being able to see Walt's original park in person. When we were prepping for our trip and trying to determine everyone in the family's single most important thing to see during our visit, I struggled to pick what would make me most happy.
That's when I realized, the whole trip was my One Thing. Just simply being in Disneyland was enough for me. Sure there were specific sights and rides I really wanted to encounter, you can read about them in my 10 Pieces of Disneyland Magic for WDW Fans, but overall just being able to walk in Walt's footsteps and meet other Disney fans at the Celebration was enough for me.
The result was one of the most relaxed, laid back Disney vacations we've taken yet. So today I want to share my tips for taking the hysteria down a notch and show you how to actually enjoy your time at Disneyland.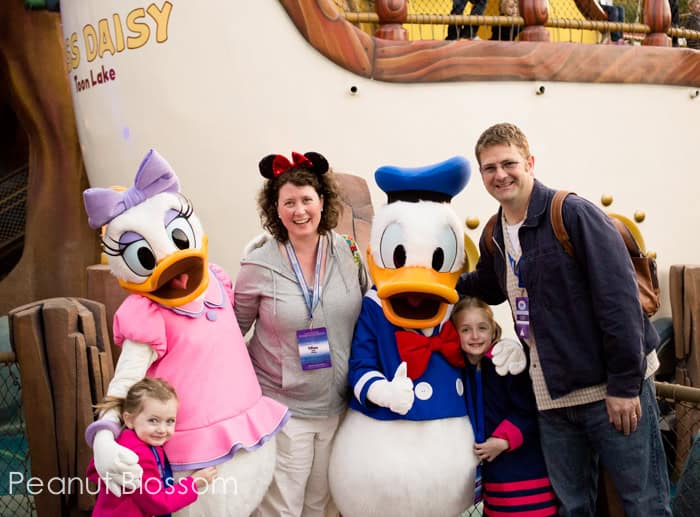 1. Mom & Dad matter, too!: This is YOUR vacation as much as it is for your kids. When we pick our One Things, Tim and I pick one for each of us, too. The kids are prepped ahead of time and understand that part of being a family is taking turns while each of us experiences what we want from our family vacation. So while they may have fallen asleep during the Great Moments With President Lincoln presentation that Tim wanted to see, they didn't complain because they knew that was on Daddy's list.
Our One Thing List for this trip included:
Tim: Great Moments With President Lincoln & Meet Donald (ok, that's 2 things, but let's not be picky here.)
Tiffany: It's a Small World, which was celebrating it's 50th Anniversary. I even spotted Richard Sherman, woah!!!
Peanut: Mr. Toad's Wild Ride, we read "Wind in the Willows" together right before the trip to prepare.
Little Pea: Meet as many princesses as possible -- which we solved with breakfast in Ariel's Grotto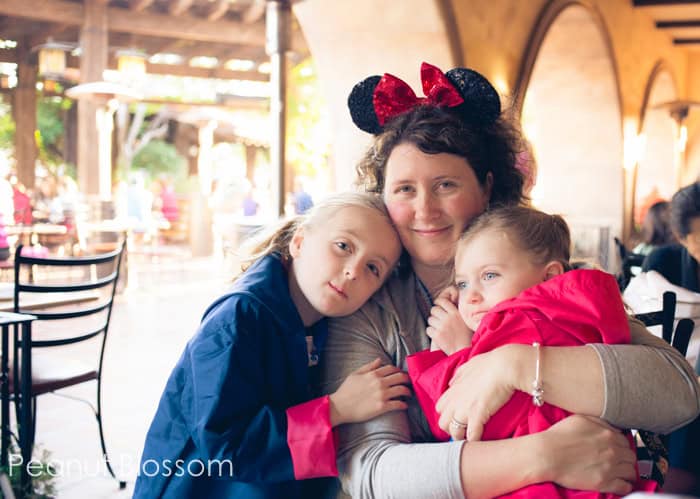 2. Get in the picture!: I can count on one hand the number of photos I am in during the last few vacations we took--added all together!! This trip I made a conscious effort to get in front of the camera as much as possible. For my girls' sake as much as my own. We have combos of all sorts--whole family, me with each girl separately, me with just the girls, and me on my own.
To make this happen we had to slow things down a LOT. I had to get my camera set and then hand it over or stop to take a selfie. It felt so awkward and weird, and I can't say it ever felt any better. But here we are almost a year out from the trip and I am loving having all these pictures to look back on! I was there, too! Not just my kids. Check out these tips on how to look Awesome in your own vacation photos and then make the time to get in front of the camera!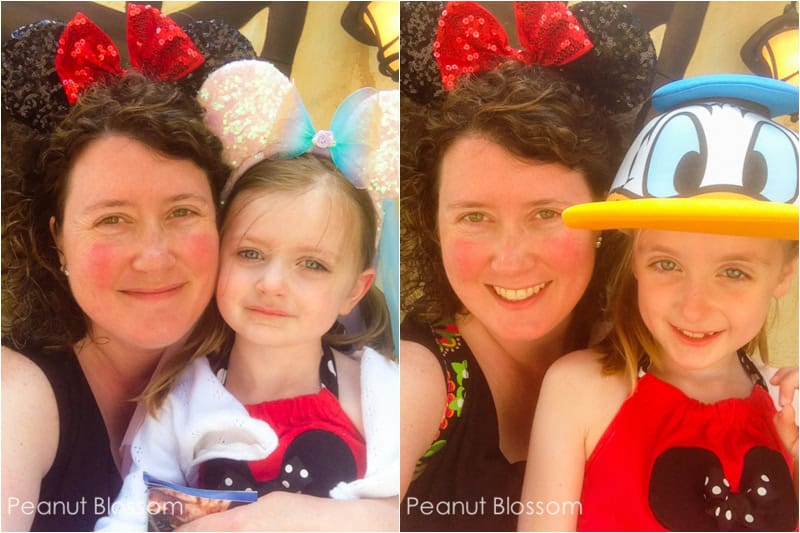 3. Take time with your ears: Knowing that my favorite photos from our entire trip the first time around were from the day I captured the girls with their first ear hats, we planned enough time for our California ear purchasing adventure this time around. We stopped for this moment just before lunchtime as everyone was starting to heat up a little and needed a break. This was another great opportunity for me to get in on the pictures and we slowed down to take selfies with our magical accessories.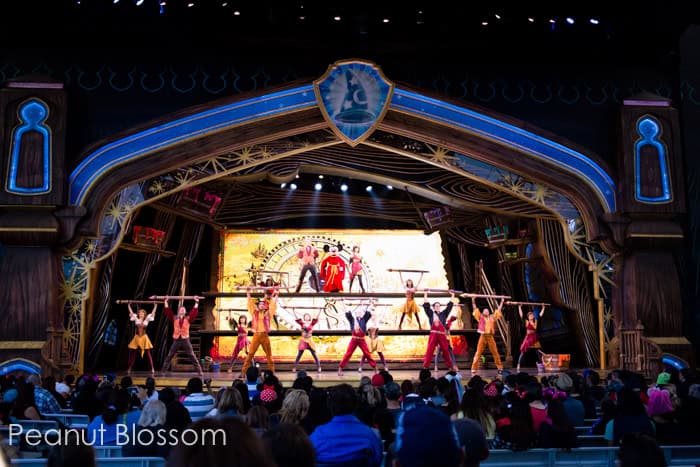 4. Be open to unexpected experiences: We had a dinner appointment in Toon Town as part of the Disney Social Media Moms Celebration that started at 6 pm on Saturday. We were in the park early and had some time to kill. It turned out that the live show "Mickey and the Magical Map" started and ended right outside of Toon Town just before we were due for dinner. This was something we had wanted to see but we hadn't picked an official time to make it happen. It was an impromptu decision that worked out perfectly!
The girls were starting to get a little tired but we still had a big evening ahead of us. Being able to sit and have some quiet time while being entertained by this fantastic show was the perfect solution.
Pro Tip: Be sure to grab the live performance schedule for the park when you enter and just keep it in your pocket. A parade or a show or a street performance can be the perfect pick-me-up in-between a steady stream of rides.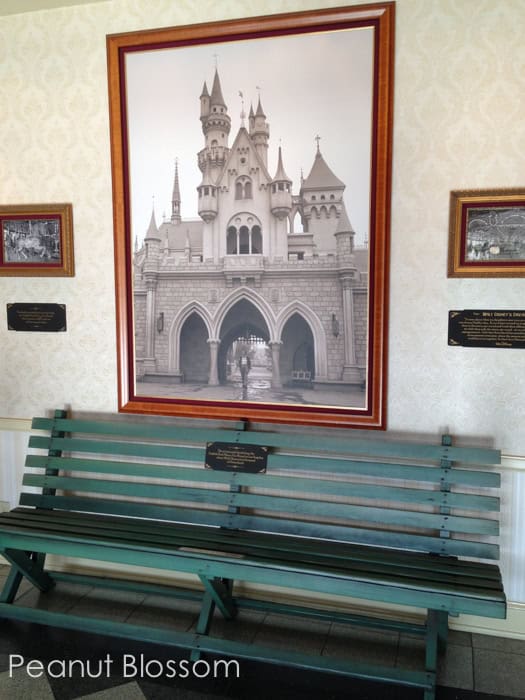 5. Go on a treasure hunt for trivia: Every guide book and map you'll see highlights the main attractions. You can't miss them, even if you tried. But what about the lesser visited things hidden in the parks? Did you know that they have the bench Walt sat upon while he dreamed up the concept of Disneyland preserved and on display? I adore the vintage photos of Walt in the parks but actually seeing this bit of memorabilia was truly touching. Take the time to hunt it down and actually read the signage on display. Our favorite time for this kind of experience is as we leisurely stroll our way out of the park. The kids have had their fill of rides and excitement and are usually good natured about leaving slowly because it means we are still inside the park! Ha!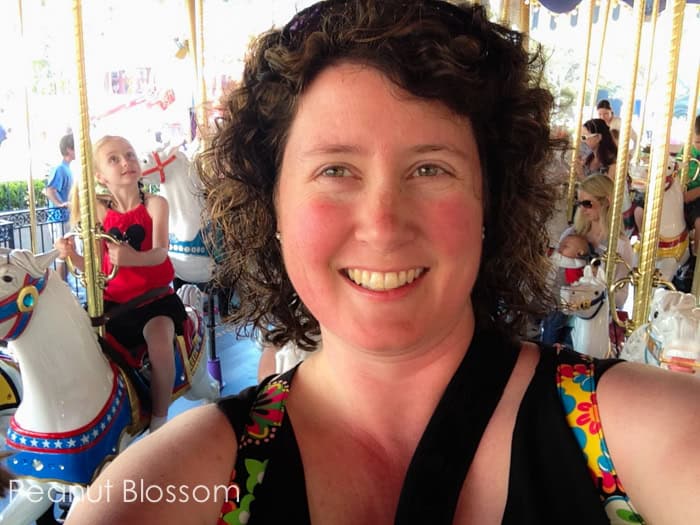 6. Be a goofball: The more fun you are having, the more fun your kids will have. Fact.
I squealed like a little girl when I got to ride the Same Carousel as Walt did and as Emma Thompson & Tom Hanks did in "Saving Mr. Banks." That scene from the movie where Tom (as Walt) teases Emma (as PL Travers) that he bet his staff he couldn't get her on a ride makes me Laugh Out Loud every single time. It is my 2nd favorite moment in the whole movie. Not riding that carousel was not an option. I hoisted myself up on that pony and took a selfie while giggling away. My kids thought I was nuts, but they loved every second of seeing mommy so playful.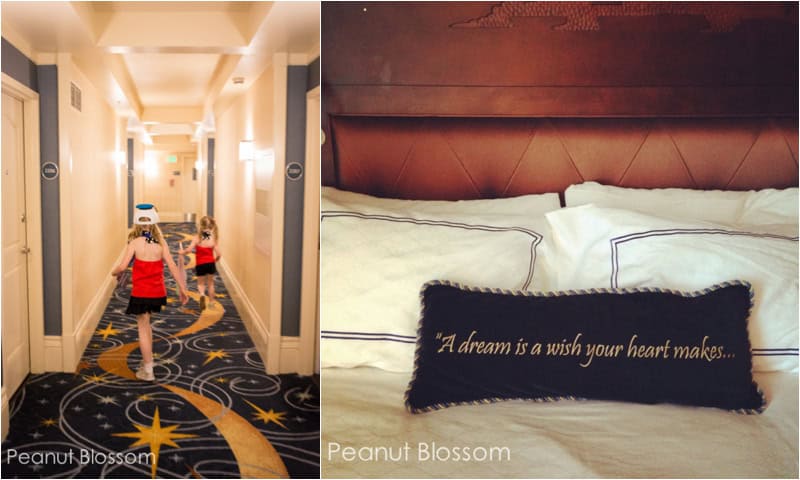 7. Take Naps!: Even at a slower pace, Disney Parks can be exhausting for everyone. At Disneyland you have even less of an excuse since going back to the hotel for a rest is so crazy easy to do! A 2 hour recharge in the middle of the afternoon during the worst heat is just good practice and makes for much better evenings for everyone.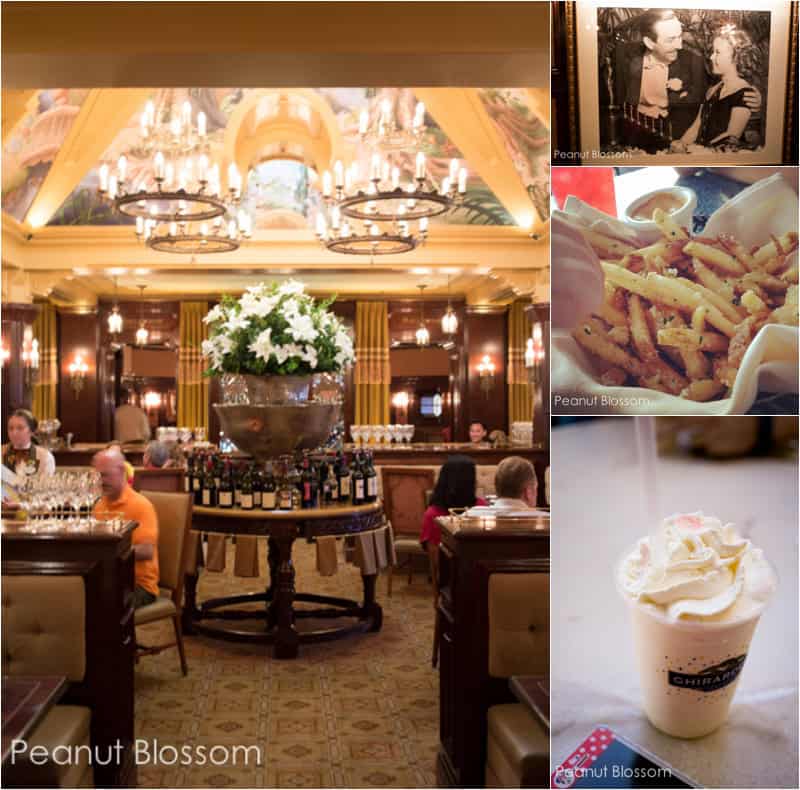 8. Dine Well: Towards the end of our 5 days, Tim and I were finally craving a more adult meal. The food we had during the trip was delicious with lots of healthy options, but I wanted a nicer sit-down restaurant with a personal waiter and less crowds. We took the extra time our of our very last day to spend a leisurely lunch at Carthay Circle in Disney's California Adventure park. This gorgeous restaurant is on the higher end of the price scale but worth every penny, in my opinion. It was the perfect "send off" meal experience to cap off a magical vacation.
The menu changes seasonally and is expertly prepared from locally sourced ingredients. We ordered a starter and two entrees and shared them family style so we could each sample a few different things. We indulged with a glass of wine and savored our special meal. The restaurant itself is worth seeing because it is a replica of the theater where they held the premier for Snow White and the Seven Dwarves. There are fantastic vintage photos of Walt & friends throughout, I loved this one of him with little Shirley Temple at the Academy Awards!
If dining at a nicer establishment just isn't in your budget, take the time to hunt down a Disney signature treat. Our favorite is the Dole Whip, but be on the hunt for a churro, turkey leg as big as your head, those amazing pomme frittes from Cafe Orleans, or a Ghiradelli surprise.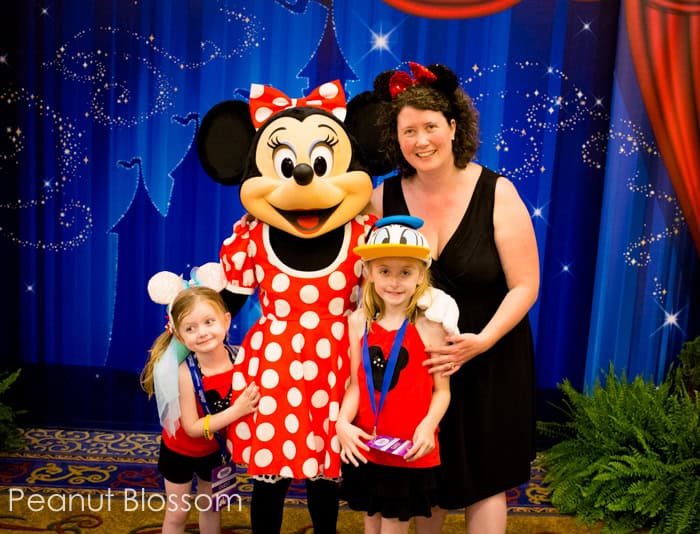 9. Find your Spirit Character: Hands down, Minnie was my personal mascot for this trip. I ran in her ears during the 2 mile fun run and loved running into her a few times over the course of our visit. Meeting the characters isn't usually a top priority for us during our trips to the Disney Parks, but it was so much easier to find them at Disneyland! I have a ton of pictures of the characters we met from this trip and they make me smile so hard! It is definitely worth picking your favorite and hunting them down once during your visit.
10. Enjoy the beauty of the details: Every now and then, pull yourself out of the moment and just look around you. The Disney Parks have expertly themed their grounds to maximize gorgeous views everywhere you turn. I could have let the girls ride the teacups all day long just to watch how the light came through the trees and lit up the colors on the cups. I never get tired of seeing the castle from all the different angles. And we all love to spot hidden Mickeys and the tiny statues and details sprinkled throughout the park.
Peanut Blossom is proud to be a Disney Social Media Mom. We were invited to join their annual celebration in Disneyland in Spring 2014 and provided a discount to experience the magic of the Disney Parks. All thoughts and opinions are our own.