Wondering whether to bring your DSLR camera to Disney for your next vacation? Photographer Jessica Holden shares her advice in today's Real Moms of Disney interview.
You're about to take the kids for a big trip to Disney and now you're thinking about all the photos you want to capture while you're there.
Should you bring your DSLR to the Disney Parks or just rely on your cell phone??
Real all the guide books and blog posts you want, the best way to get Disney advice is from a family who has recently experienced the Disney magic themselves.
I love interviewing people after they travel to Disney to hear the kind of real world, hands-on advice you can only get from a parent who has just been to Disney!
Every time I chat with a friend, they share golden nuggets that help shape our own future Disney trips.
I'm so excited to introduce you to photographer Jessica Holden, as the newest member of our series Real Moms of Disney. 
Jessica from California shares her thoughts after several trips to Disneyland with her family. You won't want to miss her awesome advice below.
Jump to:
How Many Times Have You Been to Disneyland?
We've been to Disneyland many, MANY times!
I went a few times as a child, and my husband and I went together a couple of times before we had our baby, but our first trip as a family was when our daughter was 3.
We were worried that 3 might be too young to really enjoy Disneyland, but it ended up being so perfect because she was absolutely enamored with the princesses, and the magic of it all was so incredibly real to her.
We took her to a character breakfast that trip, and at first that was a little scary for her but I think that was also when our family love affair with Disneyland really began.
Piglet came to our table and could tell Emily was a bit apprehensive, so he sat down quietly beside her at our table and "conversed" silently with us for at least 15 minutes until Emily could no longer resist his charms.
At that moment, we knew Disneyland would be a place we'd hold close to our hearts forever.
We've gone at least once a year since that trip, and last year we even got season passes and were there half a dozen times.
Emily has visited on a school trip where she hung out alone with her friends and Tom and I chaperoned (and got to be kids again all by ourselves when we were off-duty!); we've been there with other families; Emily and I have gone on a girls' trip with my sister and her daughter; and Emily and I have gone by ourselves.
But mostly our trips have been just the three of us, and even though our daughter is now 15, Disneyland still is completely magical to all three of us and so many of our most treasured memories of our little family are from our visits there.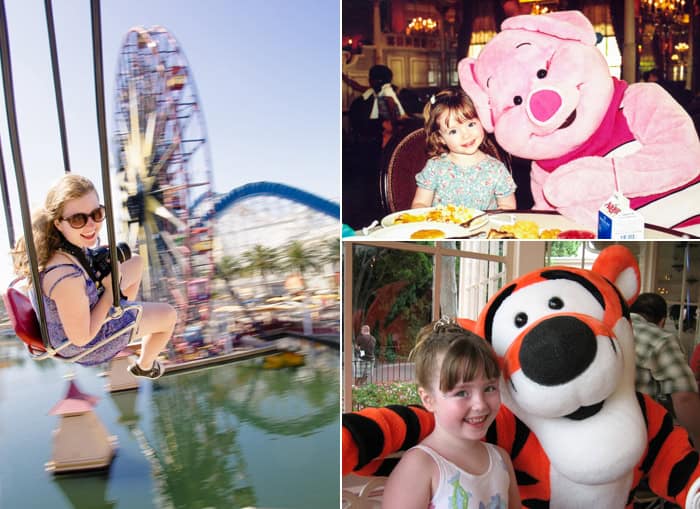 Where Did You Stay?
The first time we went, we stayed at the Embassy Suites.
That was nice because since the room had a separate seating area, we could put Emily down to bed and still have some time to ourselves in the evenings without keeping her up.
But you have to take a shuttle to and from the park, which means you have a little bit less flexibility with your schedule and you pretty much don't go back to the room for a bit midday—it's just too much of a hassle.
We've also stayed at the Holiday Inn Anaheim Resort—very clean and comfortable, and a bit closer to the park than the Embassy Suites, but you still need to either drive and park or rely on the shuttle to get you to and from the park.
For the vast majority of our trips we have stayed at the Grand Californian.
It's definitely pricey, but we absolutely adore the hotel—it's beautiful, the rooms feel spacious, and the cast members are so incredibly kind and friendly (as we find them to be throughout the parks).
And you can't beat the convenience of having your own entrance to California Adventure just downstairs with very little line.
Another HUGE perk of staying so close is that you don't have to carry so much around with us at the parks because it's so simple to just run back up to the room to grab a jacket or change lenses on my camera.
The hotel restaurants are wonderful (it's best to make reservations in advance whenever possible—we've had good luck in general, but at peak season they can book up), and the pools are lovely and so much fun.
And they have poolside food and drink service, so we can have a meal or snack, or I can even sip a cosmo while watching Tom and Emily swim—it feels so decadent!
Staying at the Grand Californian makes the whole trip feel more relaxing, to me, because at any time we can just take a break from the excitement and crowds for a little while and hang out in our room or at the pool, and it's so easy to head back in whenever we wish.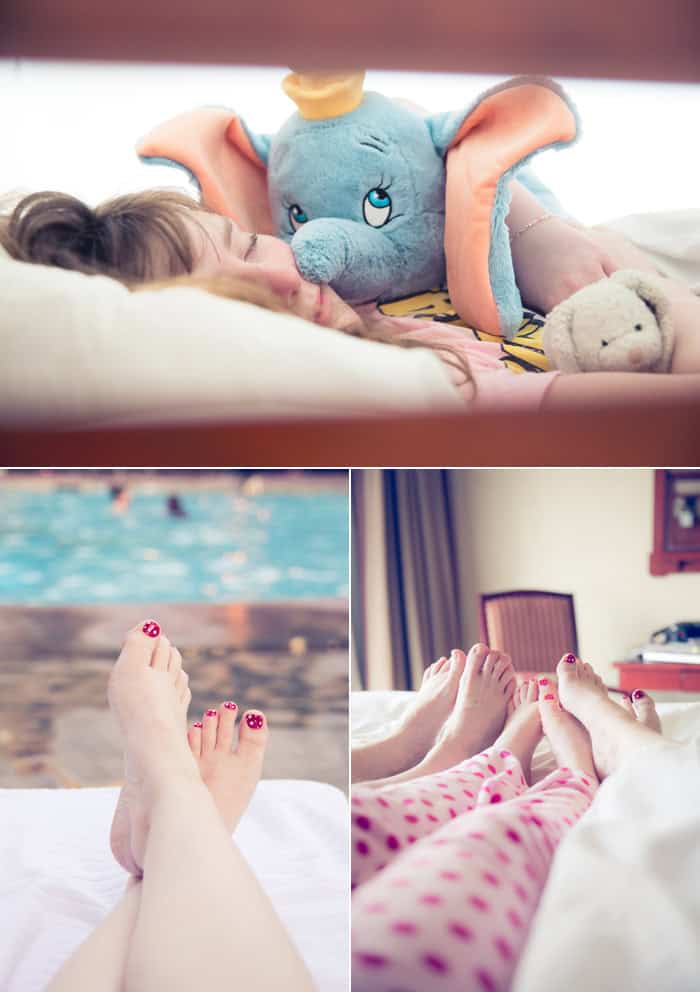 What Was Your Favorite Dining Experience?
We have so many, all for different reasons!
We tend to most often find ourselves eating at California Adventure where there's a wider variety of food, from the more traditional burgers/hot dogs/chicken strips to more unusual things like Mexican, Italian, and Mediterranean fare.
And of course a character meal is a must!
We've tried and enjoyed them all, but most often we find ourselves doing Goofy's Kitchen, which is at the Disneyland Hotel.
Often we will stay one more night at the park after our passes run out, and then have brunch at Goofy's Kitchen to end our trip on a high note before embarking on the long trek home.
Once in a while we will treat ourselves to a super special meal while at the parks.
Our favorite place is the Napa Rose in the Grand Californian Hotel, which serves fantastic Californian cuisine.
We've never had a disappointing meal there, and the service is simply wonderful!
Ditto with the Wine Country Trattoria at the Golden Vine Winery inside California Adventure.
It's a little more expensive than Napa Rose and slightly less wonderful food (but still great), but the benefit is that eating dinner there gives you Premier Seating for the World of Color for that same night, and the World of Color is definitely a HUGE must-see!
We also love Carthay Circle in California Adventure, which also gives you Premier Seating for the World of Color.
All of these restaurants have great kid's menus as well.
For all of these restaurants it is wise to make reservations in advance—you can call up to 60 days ahead of time.
We also like to go into Downtown Disney to find virtually anything—pasta, pizza, sandwiches, salads, Italian, Mexican, even Cajun—it would be hard to think of a type of food you can't find in/around Disneyland and Downtown Disney!
One of our favorite places in Downtown Disney is Catal and the Uva Bar.
Catal is upstairs, and if you happen to be seated on the balcony during a Disney fireworks show, you will get a gorgeous view.
The Uva Bar is in the center of Downtown Disney and feels trendy, lively and fun, with a wonderful, fresh menu and a great drink menu.
And a huge (but perhaps unattainable!) goal of ours is to one day enjoy a meal at Club 33!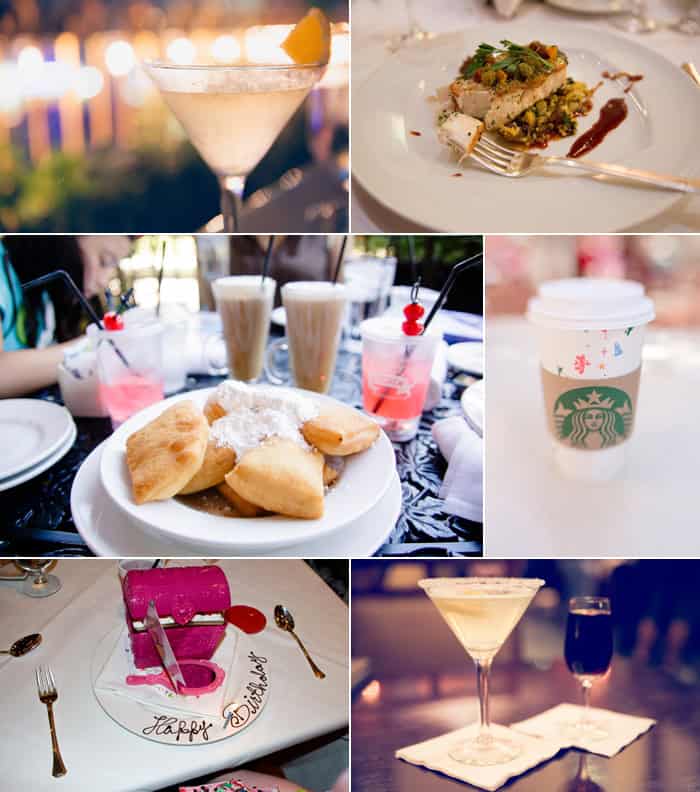 What Advice Would You Give Another Mom Planning a Trip?
My biggest advice would be to resist the urge to "plan" too much.
You never know how long ride lines will be (but there are smartphone apps to help with that—download one—they are lifesavers!), or where you'll be when you suddenly need a snack, where a character you simply must meet might show up, or when an impromptu parade or hula hoop party might suddenly appear.
Make a list as a family covering the things each of you absolutely must do/see, and schedule things that have to happen at a certain time (shows, etc.), but otherwise make yourself a promise to just roll with the magic.
I am a planner at heart, but (and I know this will sound corny, but bear with me) I find that at Disneyland, half of the joy is just being together as a family and watching the bliss unfold for all of you.
There really is magic everywhere you turn, and if you are too concerned with keeping to a schedule, it might just feel at best rushed and at worst exhausting and stressful, so resist the urge!
Another tip for moms with little ones would be to bring a stroller.
We brought one even after our daughter had grown a bit past the stage of needing one.
The parks have stroller parking throughout, and it is so much easier to carry all the things littler ones might need (diapers, extra clothing/layers, extra socks and bandaids (there's a lot of walking!), water, snacks, purchases, etc.) if you have a stroller with you.
Use common sense, of course, and don't leave valuables unattended in your stroller, but the ability to leave a plethora of things for a bit now and then can be freeing!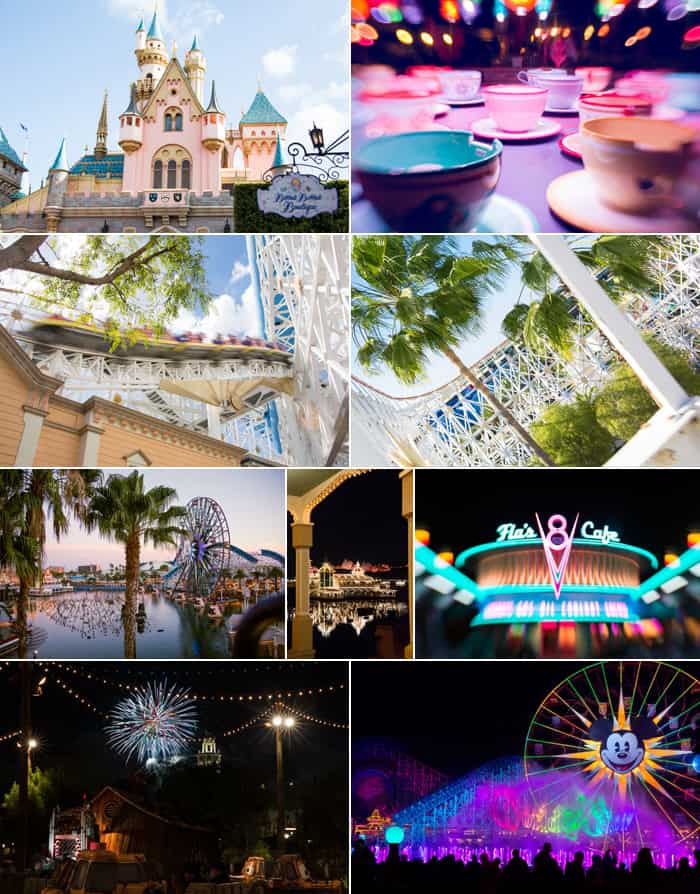 Should You Bring a DSLR to Disney?
My last big tip is photography-specific, and it perhaps won't apply to everyone.
But I am a photographer, and my advice on that front would be to bring your big-girl camera.
(I admit, my biggest lifelong fantasy would be for Disney to invite me to the Disneyland parks to shoot an ad campaign for them starring my sweet little family of Disneyland fanatics—LOL!)
In the parks I never carry my purse with me, and my credit card/ID, room key, lip gloss, phone, and refillable sunscreen can fit easily into my pockets.
So instead of a purse, I sling my camera over my shoulder.
I bring a zoom lens so I can really capture everything that happens (sometimes I will change out the lens in our room when it gets darker and I need better light handling).
I find there are very few rides where I can't have my camera across my shoulder, but even when I can't keep it with me (Space Mountain, Soarin' Over California, and Grizzly River Rapids (bring a gallon-size zip-lock for that one—don't ask) come to mind), there is always a safe place to stow it by my seat.
My most cherished "souvenirs" from our trips are my photos.
One of my greatest sources of joy are being able to document the moments as they happen, and years down the line, those images bring me and my family renewed joy every time we look at them.
And reviewing photos on the back of the camera is a fun way to kill time in lines, to boot!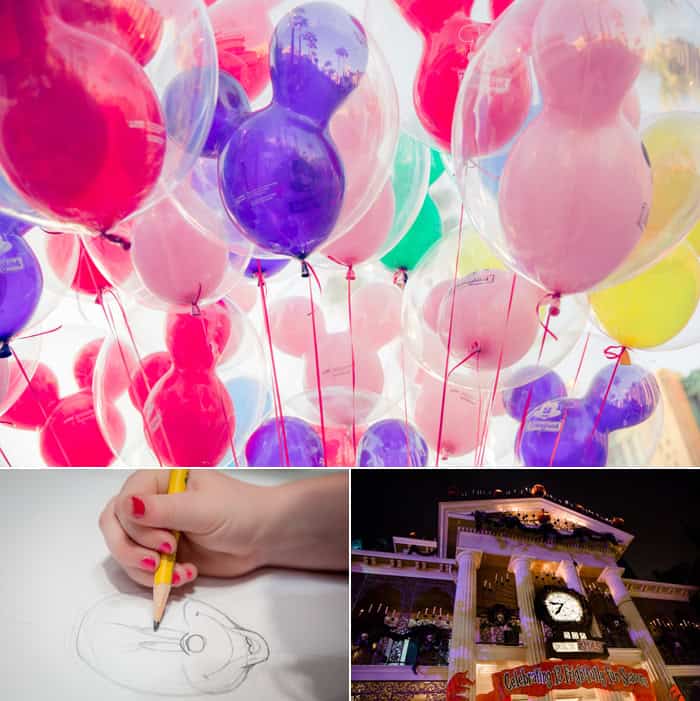 What Was the Most Magical Moment From Your Trip?
We have more magical moments with each trip that it would be impossible to choose just one!
Our trips have evolved as we went from a romantic couple to a family, and then as a family with a preschooler to a family with a teenager.
Waiting for visits, autographs, and photos with princesses and other characters used to be a highlight; then going on more and more adventuresome rides and swimming at the hotel pools with the waterslides became big.
Now so much of it is beautifully nostalgic for all three of us, and we appreciate just the uninterrupted time together that we just can't seem to manage at home with three different but crazy schedules.
And our daughter loves the independence of hanging out in our room while we enjoy a date downstairs, and all three of us love the cuisine, the joyful atmosphere, and of course the rides!
Disneyland holds such a huge place in our hearts, and we know it will forever.
We already can't wait to come one day as a family of three generations, and to experience the magic anew through the eyes of our grandbabies!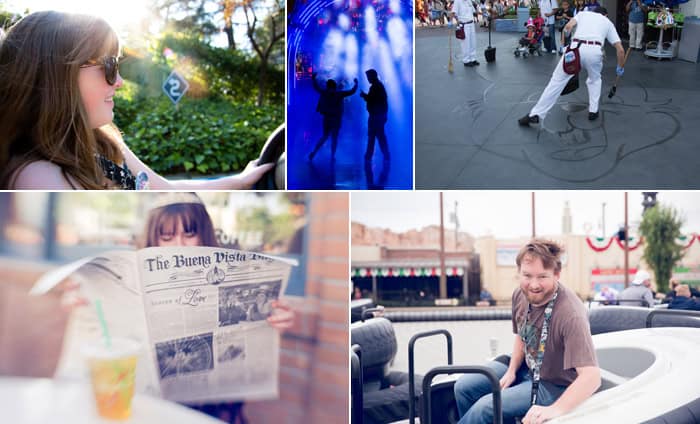 - Jessica H from California
Like this post? Pin it!