When was the last time YOU got in the photo? As moms, we're the main photographers for our families. It can be so hard to hand over the camera and ask our partners to take our photos. But, it is super important that we do.
My single greatest regret when I first downloaded the photos from our first trip to Disney with the kids was:
"WHY didn't I hand the camera over more often and get IN the photos??"
I took 600+ images over the course of 6 days.
I appear in approximately 7 of them.
I'm so grateful for those 7 images:
I did make sure to have my husband capture me with each girl individually at the park.
We have family shots in front of the castle at Magic Kingdom.
I'm in a picture with Mickey Mouse.
And, there's this nice shot of us in front of the Epcot "golf ball".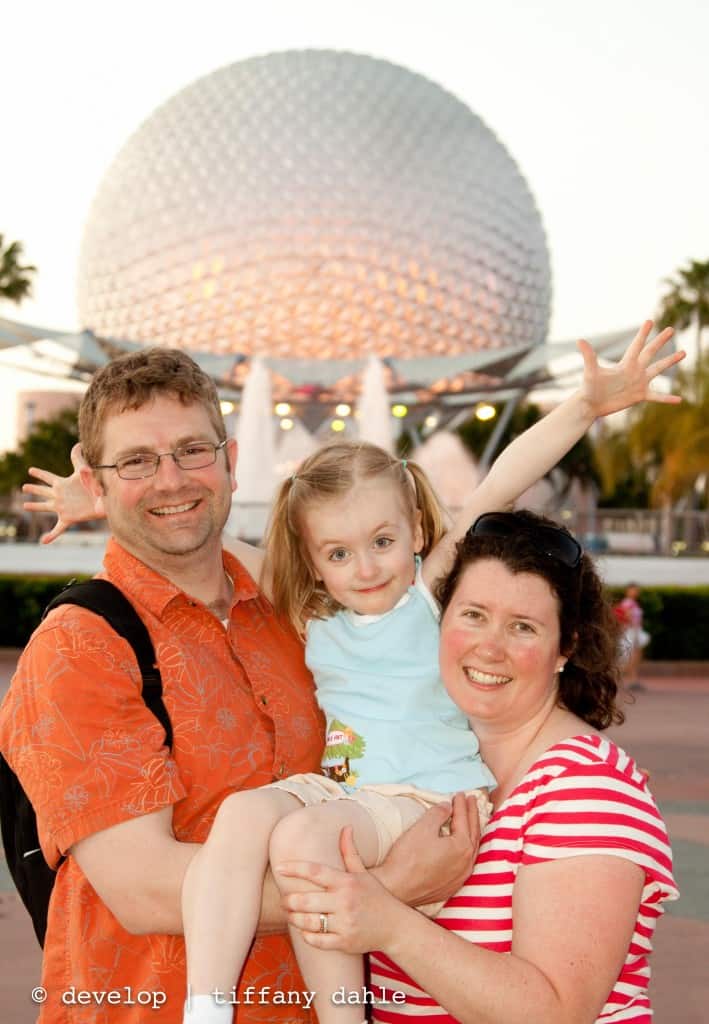 I brought my DSLR and even though my husband can snap a shot if I set it up for him, we were overcome by how much there was to juggle between keeping an eagle eye on both kids and the stroller and taking in the parks.
It was all just too much.
So while I'm grateful to have handed the camera over those seven times, I'm really wishing I would have thought to do it far more often.
Whether you think you look good or not, whether you wish you were skinnier/younger/dressed better/had more make-up on, none of it matters. Someday, you'll want to look back and see yourself in your own vacation photos.
Your kids will be happy to see your smiling face in there, too.
It may feel awkward to have to say so directly: "Take my picture!" but you're likely not going to get in the photo unless you do.
Tips for Looking Good in Your Vacation Photos: