How to Look Awesome in Vacation Photos
Want to look amazing in your family vacation photos? Don't miss these easy posing tips to make sure you look your best.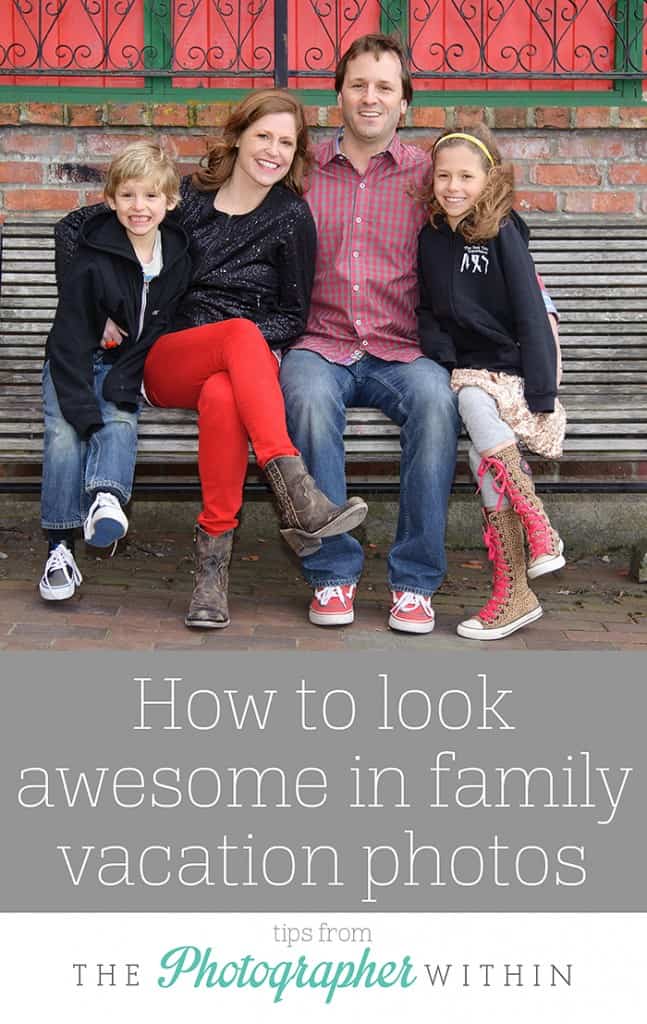 With a few family trips to Disney under our belt and the accompanying family photos we take there, I've been seeing a bit of a trend:
I'm not super pleased with our group shots of all 4 of us. I can't really put my finger on what it is that I don't like, but I know the photos could be better.
I reached out to some photographers I highly respect and asked for help!
Jessica Gwozdz stepped up to share her awesome advice on posing tips. I know I've picked up a few new ideas that I plan to implement for our next trip!
I hope you find it just as helpful,
How To Look Great in Family Vacation Photos:
I am professional photographer and a mom, and I know how important it is for our kids to have us in photographs with them.
But I also know how bad I can feel about myself when I get a once-in-a-lifetime opportunity to pose with my kids in front of an amazing vacation landmark but then hate the way I look in the photo.
I have taken some example shots of common mistakes people make when taking family photos on vacation.
Huge props to my friend who was willing to be the model mom for this article. She's truly a great sport to let me take both nice photos as well as intentionally awkward photos of her and her family to illustrate my points.
Example 1: DON'T!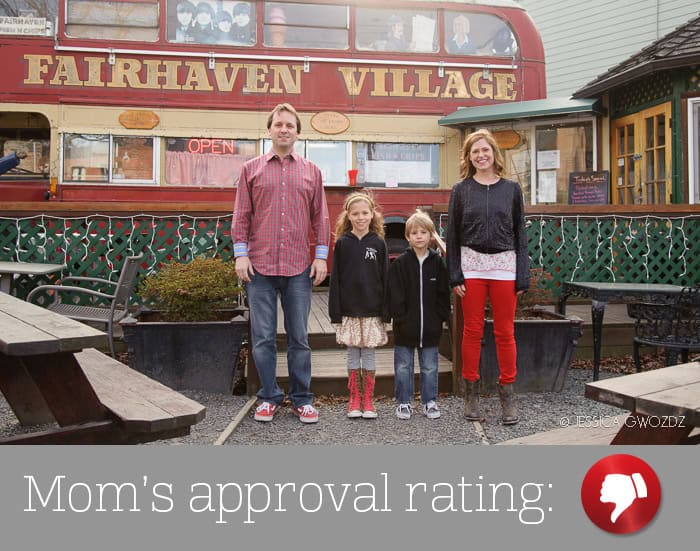 If you want to take a photo with your family in front of a landmark, don't just stand there like a lineup, head-on to the camera. This is not only unflattering but it looks like a photo of a bunch of strangers.
A photo like this leaves us wondering: "Do these people even like each other?"
EXAMPLE 1: DO!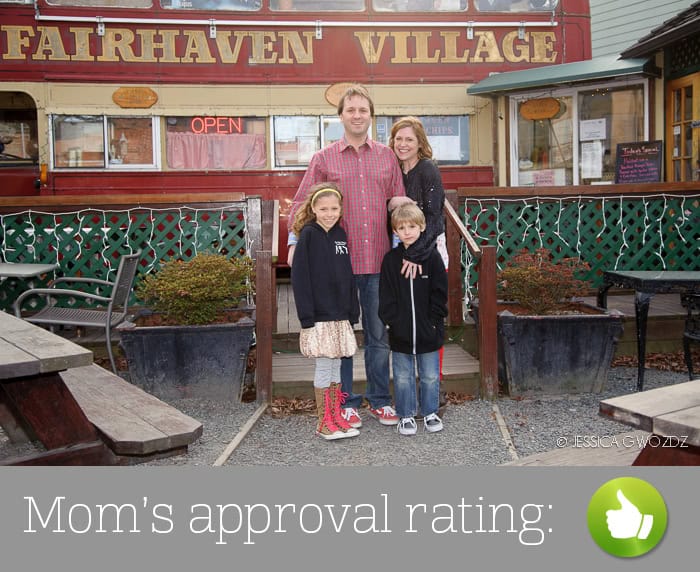 Instead, try these ideas:
Connect with your family by getting close together
Turn your body slightly sideways: our model mom shown here has a great figure but for others who might have a belly to hide, this pose would help tremendously
Position smaller children in front to do some "body-blocking" of any larger adults
Example 2: DON'T!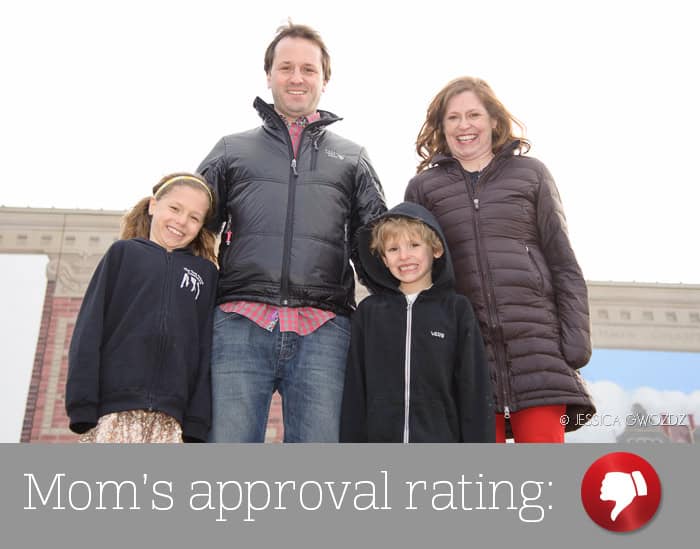 What about the position of the camera?
Don't hand your camera off to a small child to take a family photo.
As the subject of the portrait, you never want to be looking down toward the camera.
This type of position gives everyone (and I do mean everyone!) a double chin. It's so unflattering.
I can make pretty much anyone look bad if I shoot from below them.
EXAMPLE 2: DO!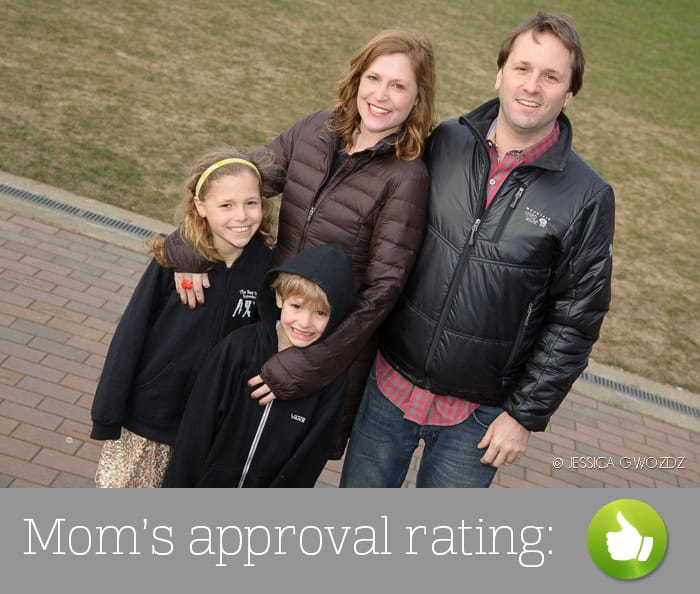 For extra slimming:
Position the person taking the photo of your family stand higher than you so that they are shooting down towards your family.
Everyone in the group should look upwards which gives pretty light reflected in their eyes and automatically gives everyone a nicely defined chin.
Example 3: DON'T!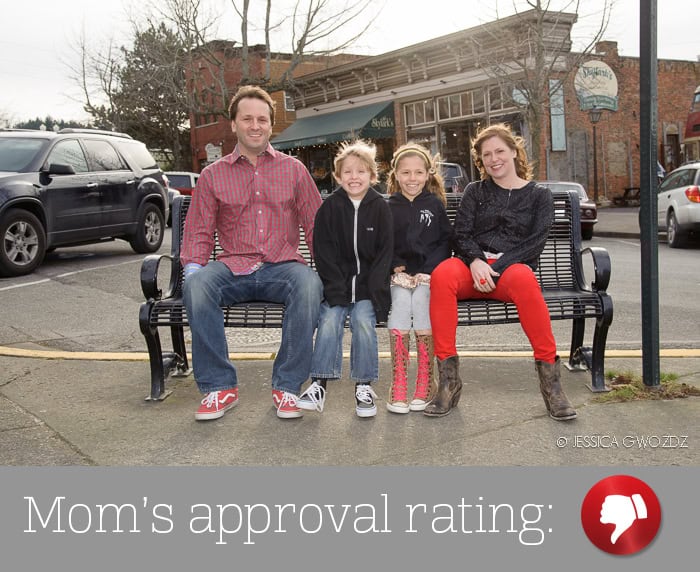 If you are going to take a seated family photo, don't just plop down on a bench.
While this might feel really comfortable after a long day on your feet, this photo is rather unflattering.
EXAMPLE 3: DO!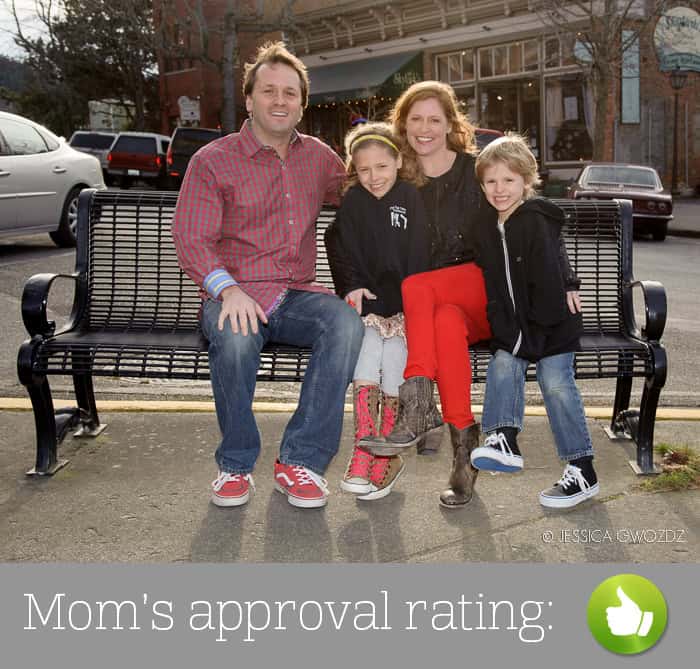 For seated shots:
Sit upright and cross your legs into a more feminine pose.
Gather in a little bit closer with your family.
You can use the body-blocking concept again here with small children to help hide hips and thighs if this is an area you are concerned about.
The camera position should be at about the family's eye level. For this seated portrait on the bench, I (as the photographer) bent down slightly to try to keep my camera even with the parents' faces.
Example 4: DO!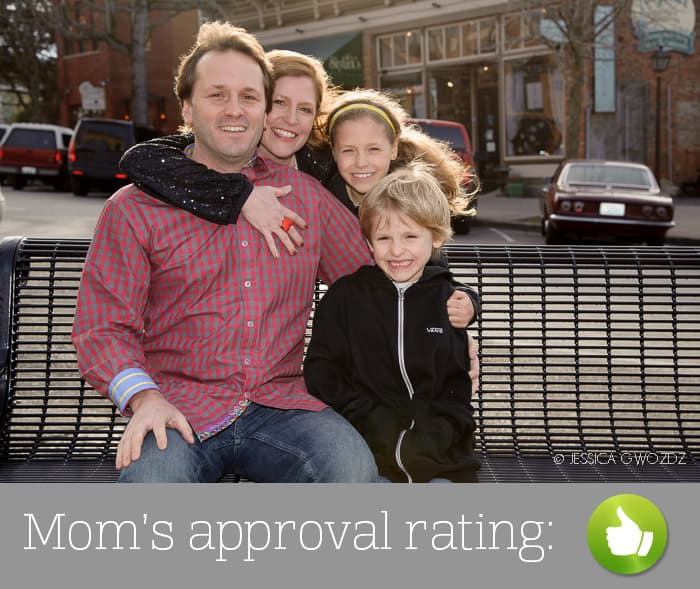 Bonus tip for the super self-conscious:
If there is a member of the family who is very self conscious about excess weight, we can take the body-blocking concept to the extreme and put that person behind the rest of the group.
Make sure they don't stand too far back and that they still connect and engage physically with the rest of the family in the photo.
This will result in a very cute and warm family photo.
So c'mon moms – get in the picture! Your kids will thank you for it.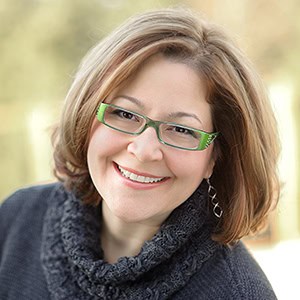 Jessica Gwozdz ran a portrait business in Chicago for 10 years before relocating to Bellingham, Washington last summer. Jes is a studio lighting instructor at The Photographer Within. When she's not taking photos or teaching about photography, Jes likes to relax with her husband, their two children, and their new rescue dog.