Jungle Navigation Co. Skipper Canteen Restaurant in Magic Kingdom is a unique dining experience in Disney's Adventureland but, will your kids enjoy the meal?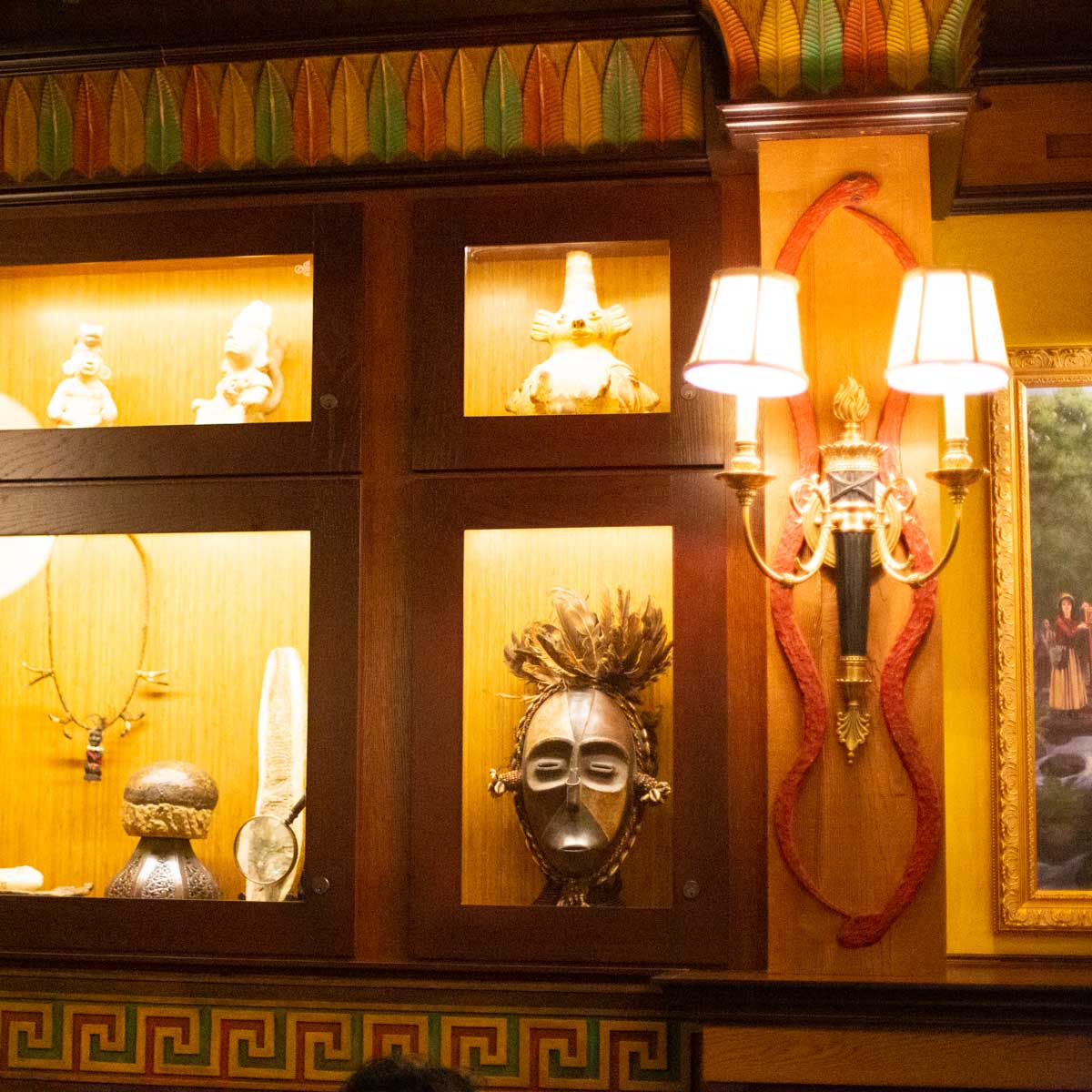 Choosing the best restaurants for your Disney vacation can be such a stressful part of the vacation planning.
The dining budget will be a significant part of your expense for the trip, so you want to be sure that your meals are delicious and as enjoyable as possible.
If you're planning to visit Magic Kingdom during your next Walt Disney World vacation in Orlando, Florida, you're probably wondering which restaurants should top your list.
When the Jungle Navigation Co Skipper Canteen opened in Adventureland, I was lucky enough to sample the new menu in the first few months.
I was on a girls trip for a runDisney weekend and dined with all adults at the time, but the experience definitely shaped whether or not to bring my kids back during the next visit.
Jump to:
Our Review of the Skipper Canteen Restaurant in Disney World
If you've never dined at the Skipper Canteen with your kids before, it's a really good idea to take note of these thoughts before you make that reservation:
What is the Skipper Canteen?
The name of the Skipper Canteen comes from the classic Disney ride just across the way, the Jungle Cruise.
To make the most out of your visit to the Skipper Canteen, you'll definitely want to make sure you and your family ride the Jungle Cruise before you dine.
Alternatively, you could prep ahead and watch the Jungle Cruise movie at home and then plan to do the ride after your meal.
Either way, the theme of the restaurant won't make much sense out of context but you won't leave hungry!
Know Before You Go
If you're considering the Skipper Canteen for a meal, here are a few things you should know first.
Reservations Strongly Recommended
The Skipper Canteen is a table service restaurant in Magic Kingdom.
Reservations are strongly encouraged.
However, if you're traveling during a slower season you may have some luck as a last-minute walk up.
The easiest way to make reservations is to use the My Disney Experience site.
Timing Tips for Your Reservation
The Jungle Cruise ride wait time gets long in a hurry. If you want to time a visit to the ride near your dining reservation, you'll have to make sure to leave plenty of time.
During a recent visit, we enjoyed an evening ride on the Jungle Cruise after sunset. If you schedule a very late dinner reservation, you may luck out with a shorter wait time for the ride and can do it in the dark.
However, I believe a morning ride is the most fun, before things get too hot and while the sun is up so you can see all the detail of the ride. So if you plan to ride first and then have lunch after, your timing could work out much more easily.
Park Ticket Required
The only way to dine at the Skipper Canteen is to have a valid park pass for Disney's Magic Kingdom.
The restaurant is not available for guests outside of Magic Kingdom.
Find It By Foot In Magic Kingdom:
The Skipper Canteen is located in Adventureland near the Swiss Family Treehouse. If you're looking for it by the Tiki Room or the Magic Carpets of Aladdin, you're not in the right spot.
It is right next to the Sunshine Tree Terrace, closer to the entrance to the Hub.
Hours:
Change depending on Magic Kingdom's park hours for the day.
What's On the Menu?
The Skipper Canteen serves a variety of African, Asian, and Latin-inspired dishes and the menu is filled with unique items your kids are not likely to recognize.
You can check out the full Skipper Canteen menu here.
While right in line with all of the Disney dining menus inspired by exotic locations, the actual item name maybe something that is new to you but they always include a plainer description in more familiar American vocabulary.
Seafood, Meat, & Vegetarian Items
The menu has a variety of options including a fish of the day and a shrimp appetizer for seafood lovers and several items with pulled pork, lamb chops, beef or chicken.
Vegetarians will be able to select from a salad, vegetable stew, and falafel appetizer.
All of the dishes incorporate vegetables, salsa, pineapple, and/or jasmine rice fill the plate.
Budget Tips
The average entree prices run fairly high at Skipper Canteen, just like they do at most Disney restaurants.
If you want to save a little money on the meal, you could order soup and salad from the appetizer menu for less than a single entree.
Add an appetizer for the table and split a dessert to help round out your meal and allow you to sample a few items.
Ask Your Server
The wonderful thing about Disney dining is the expertise your table server will have about the menu.
Disney accommodates allergies and dietary requirements so well. Unsure of anything listed on your menu item? Simply ask and they'll explain what it is to help you decide.
Kid-Friendly Dishes
The kids' menu at Skipper Canteen offers several hearty options including steak, chicken, and tofu.
But parents of picky eaters who want to dine someplace a little more fun and different will be pleased to know there is a super-safe mac and cheese option that was absolutely delicious, too.
Does Skipper Canteen Serve Alcohol?
It used to be the standard that no restaurants in Magic Kingdom would serve alcohol.
They've since changed that rule and now the table service restaurants do serve beer and wine with dinner.
The Skipper Canteen goes farther with a specialty cocktails menu that includes margaritas, sangria, and the Jungle Bird. We were so excited for this change in policy!
What is the Restaurant Like?
Skipper Canteen is absolutely loaded with fun Jungle Cruise details.
Quirky decor on display includes carved animal figures, tribal masks, adventure maps, and drums.
The servers are all dressed and ready to hop on a Jungle Cruise of their own after helping you enjoy an exotic meal during your vacation.
Will Kids Like this Disney Restaurant?
When I planned our return trip to Disney and needed to make our dining reservations, I chose to skip the canteen when visiting with my teen girls.
Not because I thought they wouldn't like it, but because we could only dine at one table service restaurant during the visit to Magic Kingdom during our trip and we preferred another location. (You can see our favorite restaurant picks here.)
Kids will enjoy the jungle theme of the restaurant, especially if they enjoyed the movie.
The menu is filled with unique items, but the kid options are one of the better groupings available in the park if you want a healthy meal with lots of vegetables to offset the hamburgers/hot dogs routine of quick service.
If the price fits with your budget and you're excited to try something different on your trip, this could be an excellent choice for table service with kids.
More Magic Kingdom Tips
Planning a day at Magic Kingdom? Don't miss our family's best advice: