10 Fun Movies Filmed in North Carolina
Movies filmed in North Carolina are so fun to watch if you have just moved to Charlotte. Get a peek at the lovely state you now call home during a movie date night in!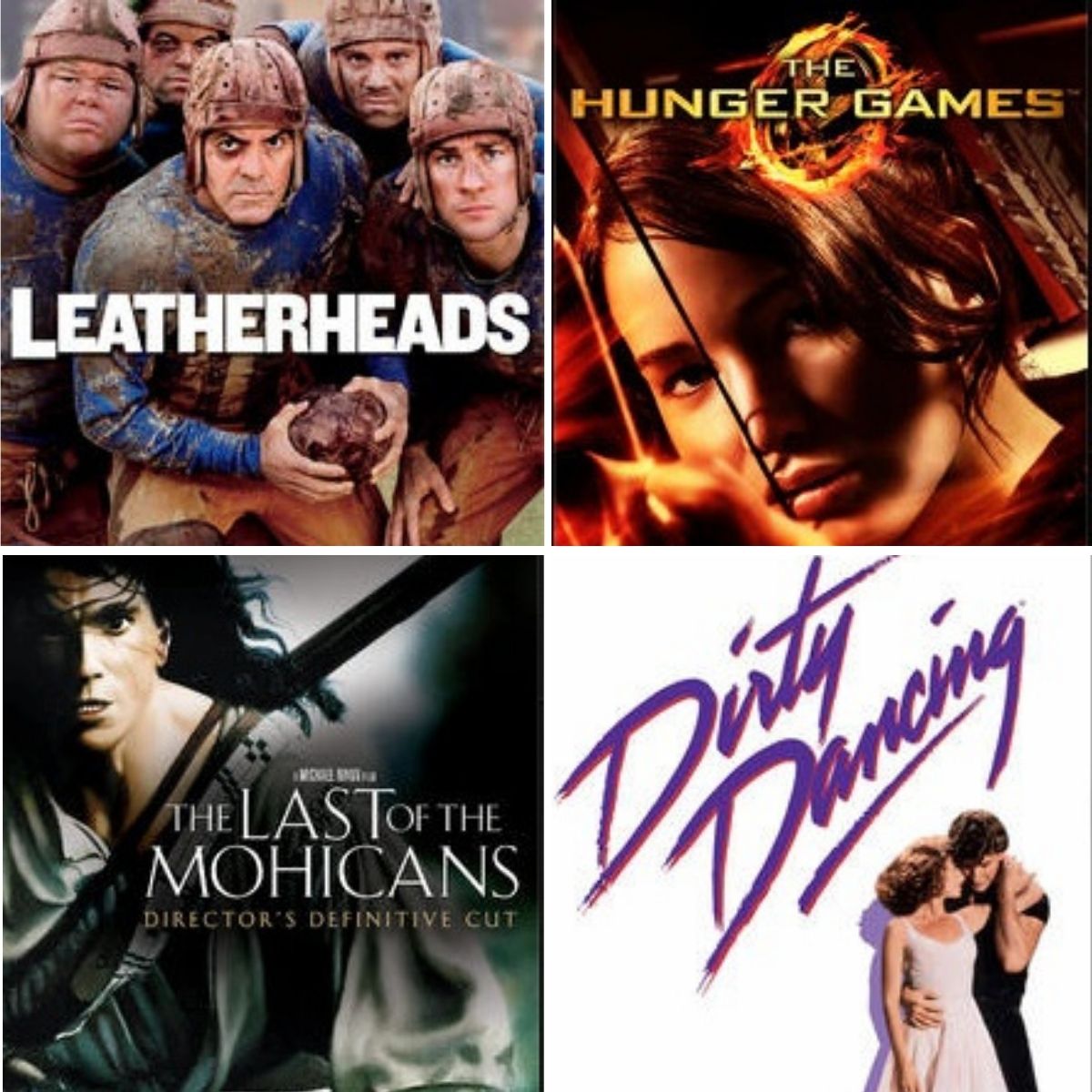 If you're planning to move to Charlotte, one of the best ways to get excited about your new home is to watch one of the amazing movies filmed in North Carolina.
When we moved to the South from the Midwest, we were so excited to see the mountains and beautiful waterways of our new state in major movie features.
I've made a list below of our favorite movies with local scenery and listed where each one was filmed. How fun would it be to make a Day Trip bucket list to scout out all the locations in person??
Jump to: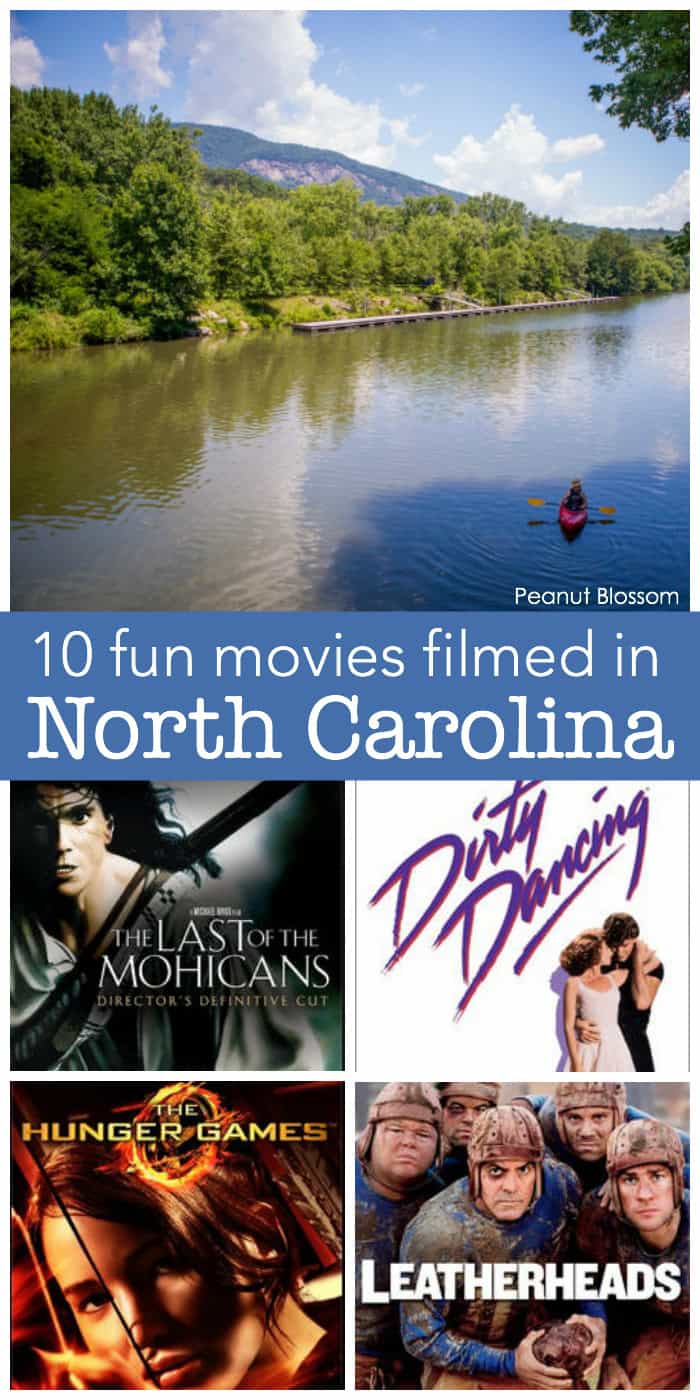 1. The Hunger Games
My favorite on the list! I devoured the trilogy. If you haven't already, read the book first!
What is The Hunger Games about?
Based on the best-selling books by Suzanne Collins, THE HUNGER GAMES is the first film in the franchise. Every year in the ruins of what was once North America, the Capitol of the nation of Panem forces each of its twelve districts to send a teenage boy and girl to compete in the Hunger Games. Sixteen-year-old Katniss Everdeen volunteers in her younger sister's place and must rely upon her sharp instincts when she's pitted against highly trained Tributes who have prepared their entire lives. If she's ever to return home to District 12, Katniss must make impossible choices in the arena that weigh survival against humanity and life against love.
Where was The Hunger Games filmed?
The Hunger Games was filmed in spots all across North Carolina in cities like: Asheville, Barnardsville, Black Mountain, Cedar Mountain, Charlotte, Concord, Hildebran, and Shelby.
You can visit many of the places in a fun Hunger Games Itinerary. Get the full travel itinerary here.
Watch it with Amazon Prime here.
Rent it on iTunes here.
2. Last of the Mohicans
We just watched this one last week and it was fantastic! My sister loves it and insisted we watch it as soon as possible.
What is Last of the Mohicans about?
"An epic adventure and passionate romance unfold against the panorama of a frontier wilderness ravaged by war. Academy Award® winner Daniel Day-Lewis (Best Actor in 1989 for My Left Foot) stars as Hawkeye, rugged frontiersman and adopted son of the Mohicans, and Madeleine Stowe is Cora Munro, aristocratic daughter of a proud British Colonel. Their love, tested by fate, blazes amidst a brutal conflict between the British, the French and Native American allies that engulfs the majestic mountains and cathedral-like forests of Colonial America. Based on the American literary classic by James Fenimore Cooper."
Where was Last of the Mohicans filmed?
This is an Asheville movie and was filmed in the mountains near the Biltmore & Chimney Rock.
Rent it on Amazon here.
Rent it on iTunes here.
3. Dirty Dancing
This classic 80s movie is a prime example of a North Carolina movie. If you haven't seen it recently, it's time for a rewatch.
What is Dirty Dancing about?
The summer of 1963 innocent 17-year-old Baby (Jennifer Grey) vacations with her parents at a Catskill's resort. One evening she is drawn to the staff quarters by stirring music. There she meets Johnny (Patrick Swayze), the hotel dance instructor, who is as experienced as Baby is naive. Baby soon becomes Johnny's pupil in dance and love.
Where was Dirty Dancing filmed?
Dirty Dancing was filmed near Asheville at Lake Lure, North Carolina.
Watch it free with Amazon Prime here.
Rent it on iTunes here.
4. Talladega Nights: The Ballad of Ricky Bobby
This one's for the husbands! Ha. Tim was super excited to be able to add this one to the list. It's probably the only way he'll get me to see it.
What is Talladega Nights about?
The fastest man on four wheels, Ricky Bobby (WILL FERRELL) is one of the greatest drivers in NASCAR history. A big, hairy American winning machine, Ricky has everything a dimwitted daredevil could want, a luxurious mansion, a smokin' hot wife (LESLIE BIBB) and all the fast food he can eat. But Ricky's turbo-charged lifestyle hits an unexpected speed bump when he's bested by flamboyant Euro-idiot Jean Girard (SACHA BARON COHEN, TV's "Da Ali G Show") and reduced to a fear-ridden wreck. Losing his wife and job to best bud and fellow fool, Cal Naughton, Jr. (JOHN C. REILLY), Ricky must kick some serious asphalt if he's to get his career back on the track, beat Girard and reclaim his fame and fortune. 'Cause as Ricky Bobby always says, IF YOU AIN'T FIRST, YOU'RE LAST!
Where was Talladega Nights filmed?
Talladega Nights was filmed in North Carolina. Many of the racing scenes were filmed at the Lowe's Motor Speedway in Charlotte, North Carolina, while scenes for the Bobby family's residence were filmed at a mansion near Lake Norman, just north of Charlotte.
Rent it on Amazon here.
5. Days of Thunder
Ahhh. Tom Cruise in the golden years. This is NASCAR country folks.
What is Days of Thunder about?
From the engine roar and fever pitch of professional stock car racing, Days of Thunder explodes with the most spectacular racing action ever captured on film. Tom Cruise plays race car driver Cole Trickle, whose talent and ambition are surpassed only by his burning need to win. Discovered by businessman Tim Daland (Randy Quaid), Cole is teamed with legendary crew chief and car-builder Harry Hogge (Academy Award®-winner Robert Duvall) to race for the Winston Cup at the Daytona 500. A fiery crash nearly ends Cole's career and he must turn to a beautiful doctor (Nicole Kidman) to regain his nerve and the true courage needed to race, to win and to live.
Where was Days of Thunder filmed?
The North Carolina parts of the movie were filmed in the Charlotte Motor Speedway and the North Wilkesboro Speedway.
Rent it on Amazon here.
Rent it on iTunes here.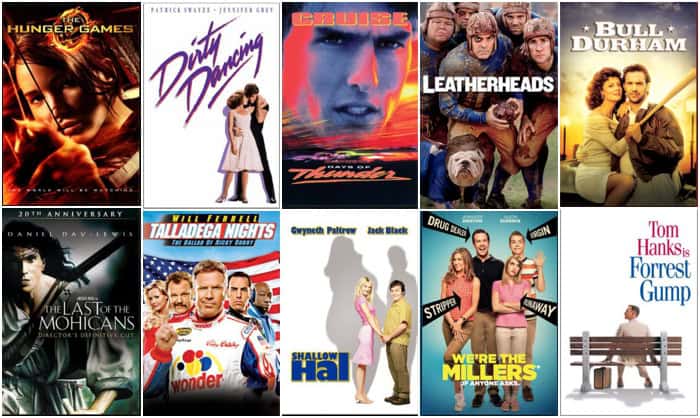 6. Shallow Hal
I was really surprised to find Shallow Hal on the list of movies filmed in North Carolina. We saw it years ago, I would love to rewatch it and look for landmarks.
What is Shallow Hal about?
From the duo that brought you Dumb and Dumber and There's Something About Mary comes a hilarious film about "inner beauty"! Hal (Jack Black) is a man so shallow that all he cares about are the bodies of the women he dates. After being hypnotized into seeing the beauty that exists even in the least physically appealing women, he now thinks he's found true love. But what he doesn't realize is that his gorgeous girlfriend (Gwyneth Paltrow) is actually a 300-pound-not-so-hottie!
Where was Shallow Hal filmed?
Shallow Hal was filmed completely in the Charlotte region. You'll spot sites in Uptown, Dilworth, South Park, and Concord.
Other fun Charlotte landmarks you'll spot in the movie include:
The Bank of America Corporate Center served as the JPS Funds building where Hal worked.
St. Peter's Episcopal Church on the corner of North Tryon and 7th streets was where Hal asked out the first girl.
Fuel Pizza on North Tryon Street was where Hal and Rosemary have a first date.
Pike's Soda Shop in the South End is where Hal and Rosemary shared a milkshake.
Freedom Park was where Hal introduced Rosemary to his friend Mauricio.
The Latter Arcade courtyard on South Tryon Street can be seen after Mauricio reversed the spell on Hal and they abandoned Rosemary at a restaurant
The Capital Grille in Uptown Charlotte was the restaurant where Rosemary saw Hal at dinner with Jill.
Rent it on Amazon here.
Rent it on iTunes here.
7. Leatherheads
George Clooney. Yes ma'am.
What is Leatherheads about?
Academy Award® winners George Clooney and Renée Zellweger team up in this fun-filled comedy set against the beginnings of pro football. Dodge Connelly (Clooney), captain of a struggling squad of barroom brawlers, has only one hope to save his team: recruit college superstar Carter Rutherford (John Krasinski, The Office). But when a feisty reporter (Zellweger) starts snooping around, she turns the two teammates into instant rivals and kicks off a wild competition filled with hilarious screwball antics!
Where was Leatherheads filmed?
Leatherheads was filmed in many North Carolina cities including Salisbury, Spencer, Greensboro and Winston-Salem.
Rent it on Amazon here.
Rent it on iTunes here.
8. We're the Millers
This is just lighthearted fun, Tim and I both really enjoyed this fluffy pick.
What is We're the Millers about?
David Clark is a small-time pot dealer who likes to keep a low profile. His clientele includes chefs and soccer moms, but no kids. He learns the hard way that no good deed goes unpunished when he tries to help out some local teens and winds up getting jumped by a trio of gutter punks. Stealing his stash and his cash, they leave him in major debt to his supplier, Brad. In order to wipe the slate clean—and maintain a clean bill of health—David must now become a big-time drug smuggler by bringing Brad's latest shipment in from Mexico. Twisting the arms of his neighbors, cynical stripper Rose and wannabe customer Kenny, and the tatted-and-pierced streetwise teen Casey, he devises a foolproof plan. One fake wife, two pretend kids and a huge, shiny RV later, the "Millers" are headed south of the border for a Fourth of July weekend that is sure to end with a bang.
Where was We're the Millers filmed?
We're the Millers was filmed in Wilmington, North Carolina. Check out some of our pictures from our great family getaway to Wilmington, NC.
Buy it on Amazon here.
Buy it on iTunes here.
9. Bull Durham
Would you believe me if I said I've never seen this one? I love Kevin Costner. Definitely going on our to-watch list.
What is Bull Durham about?
A romantic love story set in the dirt and grit of minor league baseball. Sarandon is a groupie for the Carolina Durham Bulls who chooses a protege each season to school in the art of love. This season she picks the team's untameable pitcher but eventually abides her true passion, the team's catcher, Costner.
Where was Bull Durham filmed?
Bull Durham was filmed at the Historic Durham Athletic Park in Durham, NC.
Buy it on Amazon here.
Rent it on iTunes here.
10. Forrest Gump
One of my very favorite movies. I had no idea it is North Carolina gem. Love the nostalgia and soundtrack! Perfect for date night.
What is Forrest Gump about?
Tom Hanks gives an astonishing performance as Forrest, an everyman whose simple innocence comes to embody a generation. Alongside his mamma (Sally Field), his best friend Bubba (Mykelti Williamson), and his favorite girl Jenny (Robin Wright), Forrest has a ringside seat for the most memorable events of the second half of the 20th century. Winner of six Academy Awards®, including Best Picture, Best Director (Robert Zemeckis), and Best Actor (Tom Hanks), FORREST GUMP remains one of the great movie triumphs of all time.
Where was Forrest Gump filmed?
The North Carolina parts of Forrest Gump were filmed near Grandfather Mountain near Asheville, NC. There's even now a sign that says "Forrest Gump Curve"!
Rent it on Amazon here.
Rent it on iTunes here.
More Places to See in North Carolina
Now, hit the road and check out some of those filming locations in person! Here are some of our favorite things to do in North Carolina: