As part of our role on the Parent Council at SeaLIFE Aquarium in Concord, NC, we were invited to this media event to share the news with our local readers.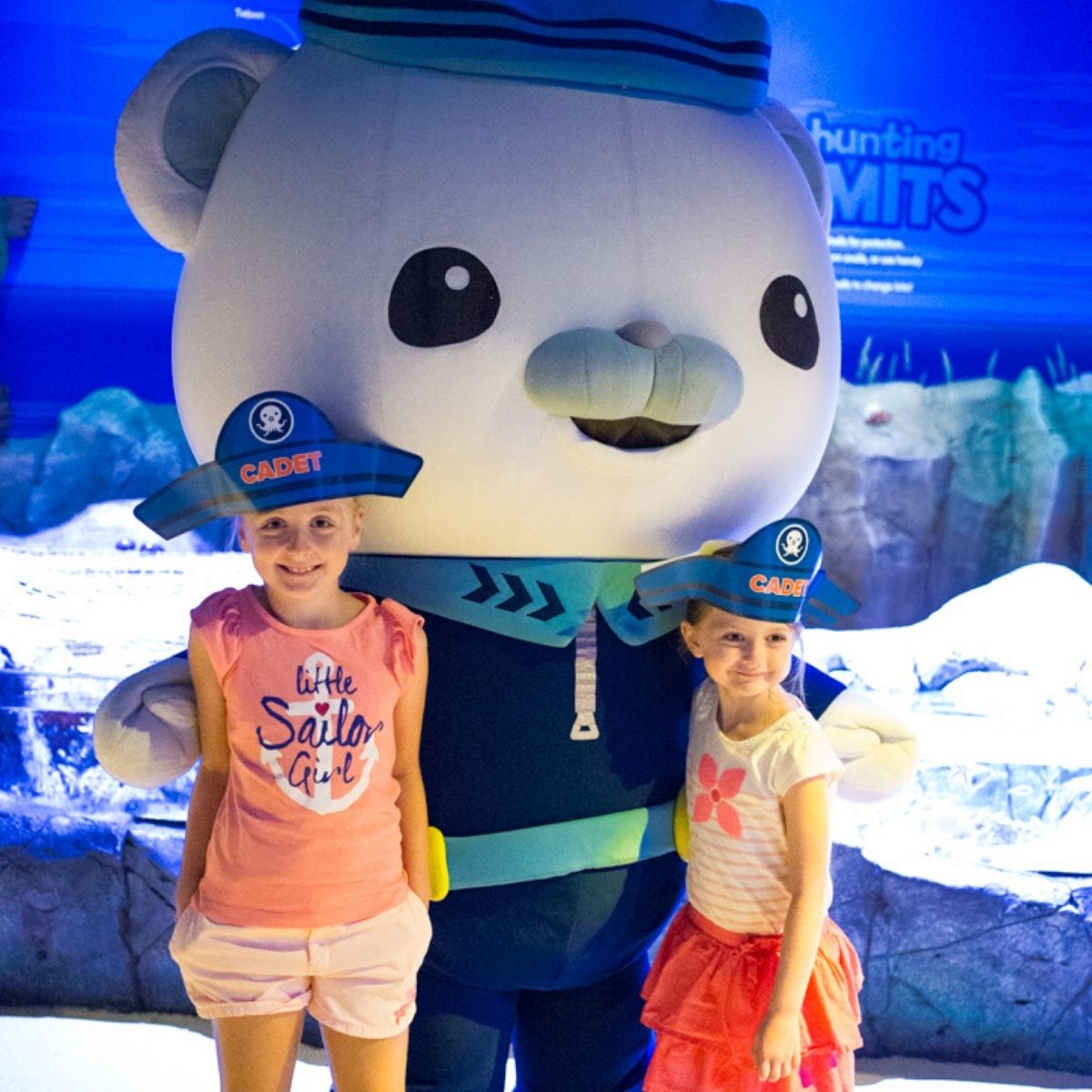 Earlier this week, the girls and I were invited to a special media event at SEA LIFE Aquarium in Charlotte to meet the Octonauts Captain Barnacles & Kwazii. We have adored this show ever since it first debuted on the Disney Junior Channel and I've been surprised by all the creature facts the girls have picked up over the few seasons it's been on the air.
The Octonauts is a perfect tie-in with the aquarium since several of the creatures the team encounters have a home at SEA LIFE. My girls were tickled pink to make the connections--particularly with the spider crab from the episode they watched just before we left for the event.
As far as I know, these fun characters are purely part of this traveling exhibit and not featured anywhere in the Disney Parks so it makes for a very special photo opportunity for a little Octonauts fan in your family!
Not familiar with this show? Be sure to check out the cute books and play sets I found for you. Is it wrong I want that octopod for myself??:
P.S. Not familiar with SEA LIFE? Be sure to check out our full review here!
The Octonauts Sail in to SEA LIFE Aquarium
Meet kids' television characters Captain Barnacles and Kwazii August 7 through 23
Captain Barnacles and Kwazii of The Octonauts, a popular animated children's television show on Disney Jr., will visit SEA LIFE Charlotte-Concord Aquarium August 7 through 23. During this period, visitors can take photos with the characters at scheduled onsite meet-and-greet events and become part of the Octonauts crew by participating in the new Octonauts Training Academy at the aquarium.
The Octonauts are a team of undersea adventure heroes who rescue and protect sea creatures in trouble. During each television episode, viewers are able to learn about a variety of marine life as The Octonauts study facts about sea creatures in need and their ocean habitats. Captain Barnacles, a brave polar bear, is the leader of The Octonauts crew while Kwazii, a daredevil kitten, is a fearless adventurer with an exciting pirate past.
"SEA LIFE is thrilled to have The Octonauts visit us again and this time with even more interactive, fun activities," said Dalia Goldgor, General Manager at SEA LIFE Charlotte-Concord. "We are excited to watch our little guests complete the Octonauts Training Academy and meet the characters at the end of their adventure."
While The Octonauts are visiting SEA LIFE Charlotte-Concord, guests can enjoy special on-site activities, featuring the Octonauts Training Academy. The Training Academy will guide children through different exploration zones on their way to earning official Octonauts crew member status. For meet-and-greet times and ticket information, visit www.visitsealife.com/charlotte-concord.
The Octonauts are included in regular admission. For a limited time, tickets can be purchased online for as low as $11.95. If visitors are unable to purchase tickets in advance, SEA LIFE Charlotte-Concord now offers discounted rates on walk-up admission. Adult tickets are $18 and child tickets are $14 at the door.
About SEA LIFE Charlotte-Concord
SEA LIFE Charlotte-Concord is a 26,000-square-foot indoor aquarium with another 10,000 square feet planned for future expansion. This one-of-a-kind attraction allows visitors to experience the magical world beneath our seas with marine habitats, displays, and close encounters with thousands of sea creatures. SEA LIFE provides a glimpse of the diversity of marine life while also playing an active role in animal and environmental conservation. Visitors see strong evidence of SEA LIFE's Breed, Rescue and Protect activities around the world, including new projects developed locally.
SEA LIFE is the world's largest aquarium chain with over 45 attractions around the world. SEA LIFE Charlotte-Concord is the sixth SEA LIFE aquarium launched in the U.S. and parent company Merlin Entertainments' 100th attraction worldwide. SEA LIFE Charlotte-Concord is located at Concord Mills, 8111 Concord Mills Blvd. in Concord, NC. For more information, visit www.visitsealife.com/charlotte-concord.
About The Octonauts
The Octonauts are a dynamic eight-member team of quirky and courageous adventure heroes who dive into action whenever there is trouble under the sea. Equipped with a fleet of aquatic vehicles, they rescue amazing sea creatures, explore incredible new underwater worlds, and often save the day before returning safely to their home base, the octopod. Based on the original books by Meomi, Octonauts is animated by Brown Bag Films and continues to go from strength to strength as a unique and exciting global pre-school brand.