Timeline for runDisney Enchanted 10k
Interested in running the Enchanted 10K at Walt Disney World in Florida? Check out the timeline for when you'll need to wake up for the race and how to get to the start line.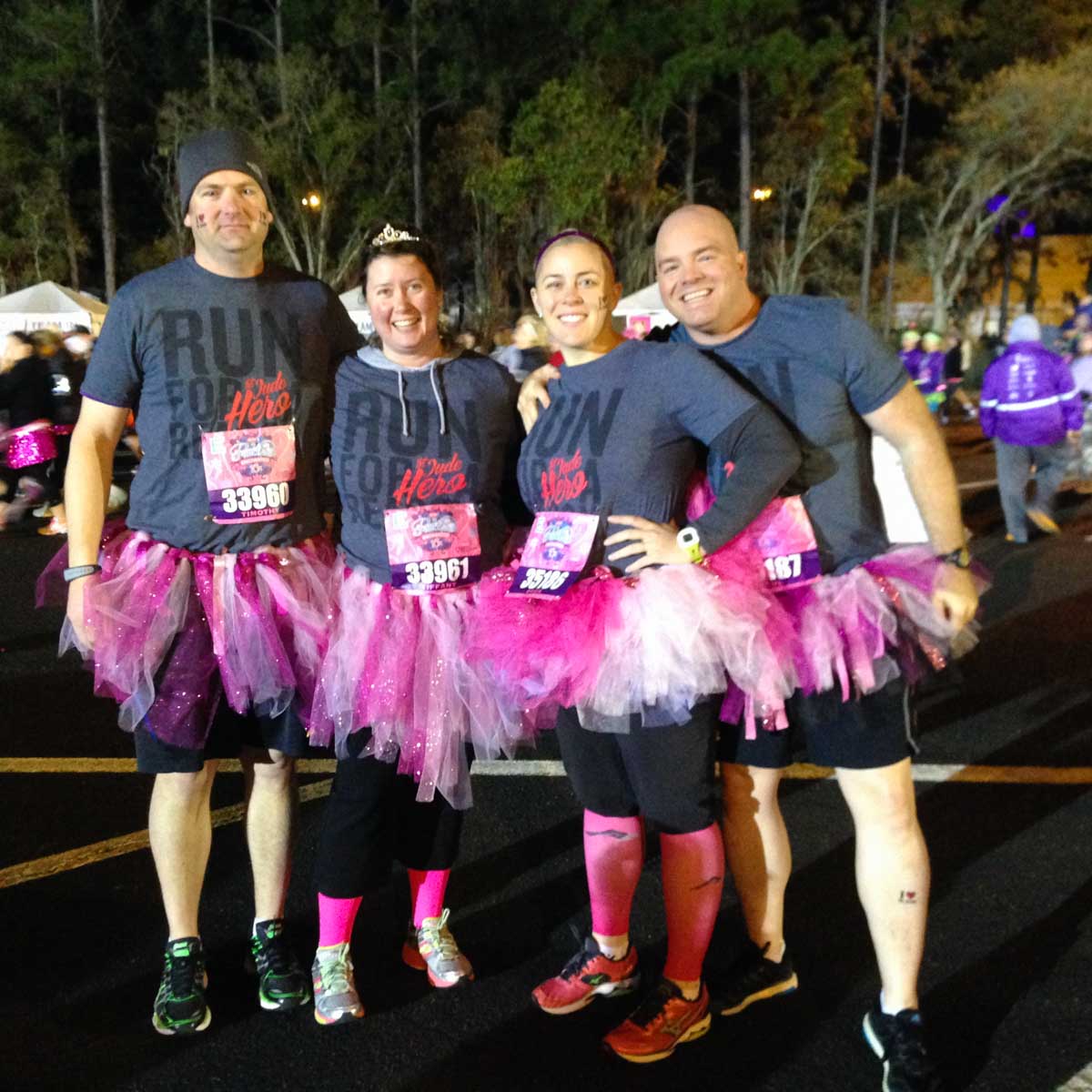 4 sparkly tutus + 6.2 miles = $6,586 for St. Jude Children's Hospital!!!
We did it! Team Hot Pink Tutu took EPCOT by storm and rocked the runDisney Enchanted 10k! I am so proud of Handyman Tim and our dear friends Paul & Erica and what we all accomplished over the last few months.
I have so many things to share with you, I'm going to break it down into a couple posts. Today I just wanted to give a brief overview of the weekend, but more detailed advice on what is involved with runDisney events is coming soon.
We arrived on Thursday in the late afternoon and headed straight to the Expo at the ESPN Wide World of Sports Center to pick up our race bibs. I've never been to this complex before, it is gorgeous!
I wish I had more pictures to share, but everything was super overwhelming. We did stop for a photo op near the 10K sign though:
Our race wasn't until Saturday so we had Friday to have a little fun. (A whole dedicated post on Friday's shenanigans coming soon.) Friday night we headed to bed at 8pm but made sure to have every last stitch of gear and clothing prepared and laid out for the morning.

Our Saturday schedule looked like this:
3:10 am: Wake up, get dressed for the run
3:30 am: Meet team at bus stop at our hotel
4:00 am: Arrive at EPCOT and walk to St. Jude welcome tent
4:45 am: Team photo with St. Jude
4:50 am: Walk to corral assignment, we were in Corral E (the last one to go. Ouch.)
5:30 am: The official race begins with Corral A. It took about 13 minutes for each additional corral to be set up and released.
6:20 am: Our corral is finally lined up and we're on our way!
8:05 am: Finally cross the finish line!! Walk through line to get medal, through another line to get water and box of snacks, and then back to the St. Jude tent to pick up our stuff.
9:30 am: Arrive back at hotel, showers for everyone!
We finished the morning with breakfast at Perkins because we didn't plan ahead with dining reservations at a Disney restaurant. Once we collected ourselves and rested, it was back to EPCOT for the rest of the afternoon to celebrate.
This weekend away with just Tim and our friends, doing something so healthy for us and supporting St. Jude in the process was truly one of the highlights of my life.
There was a brief moment around mile 5 where I was exhausted and in pain and thought, "I'm CRAZY. Why do I put myself through these things?? I'm NEVER doing this again." But the feeling subsided as soon as I crossed the finish line.
After spending the day in the park with my medal proudly around my neck, I went to sleep that night excited for the next time and I'm already planning my trips to the track starting this week. I definitely consider this a Win.