4 Memorable Details for Vacation Photography
These beach picture ideas will help you capture the prettiest family beach pictures for displaying at home when your vacation is done. With these beach photo ideas, you won't be able to wait to unload the pictures from your camera!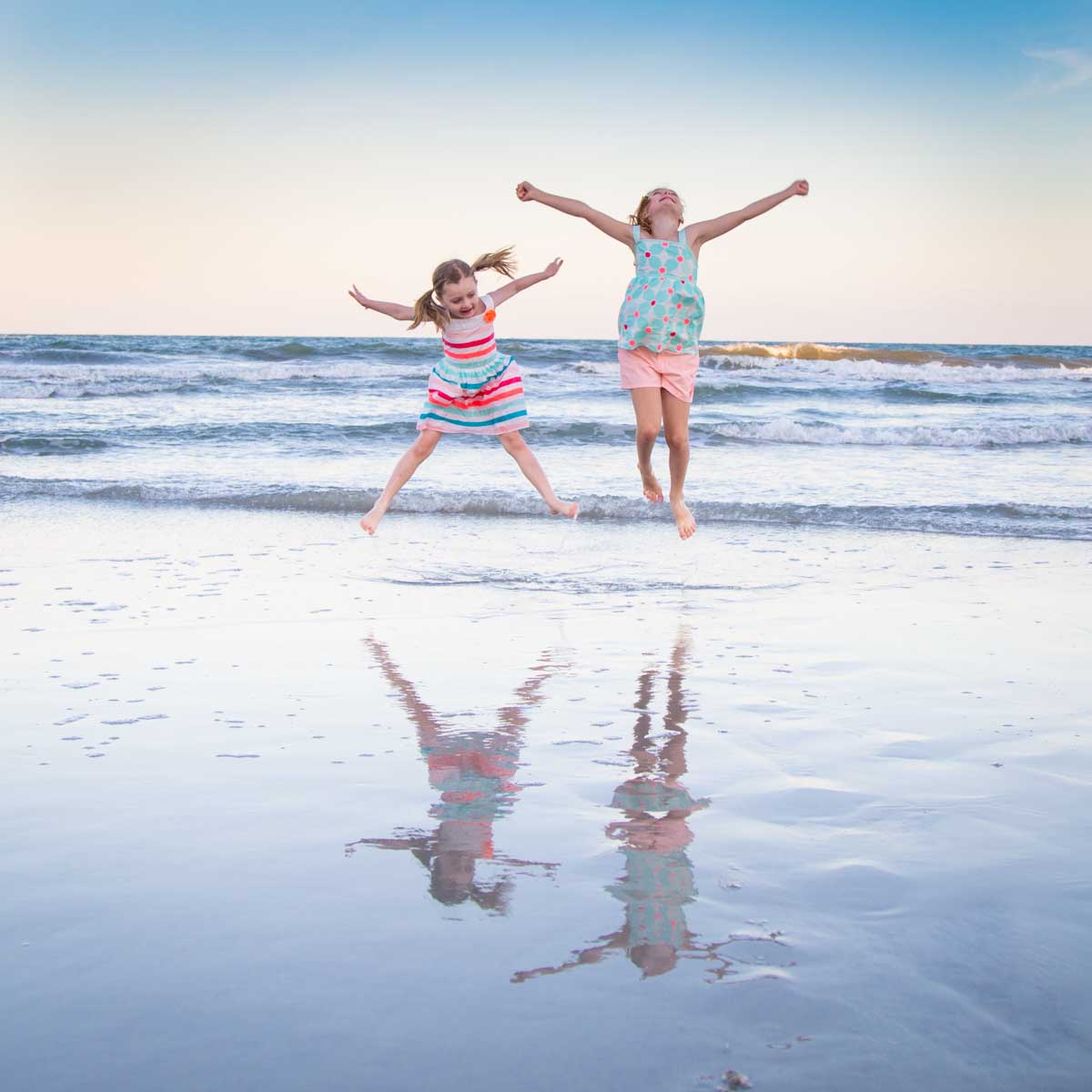 Why do we put so much effort into capturing the best family vacation photos? So we can come home and share them!
I'm not necessarily talking about bragging on social media (though, I'm pretty sure your friends will love your new family beach pictures), I'm talking about printing them out, putting them on display in your home, sending a few to Grandma, and using those gorgeous beach photos for remembering your priceless family adventure.
Everyone is happier at the beach, the smiles are bigger, the background is breathtaking, why wouldn't you want to some fun new beach picture ideas?!
How to capture the beach pictures to fill an entire collage!
To create an eye catching beach photo collage or to fill a wall gallery full of images from one single session, you need a variety of angles and subjects to tell a detailed and interesting story. Once you develop the routine of capturing this kind of variety, you'll find it improves almost any session from any adventure but it is definitely easiest to practice while you are at the beach.
Take a peek at how I used photos from one single beach photo session to create this adorable keepsake when I got home: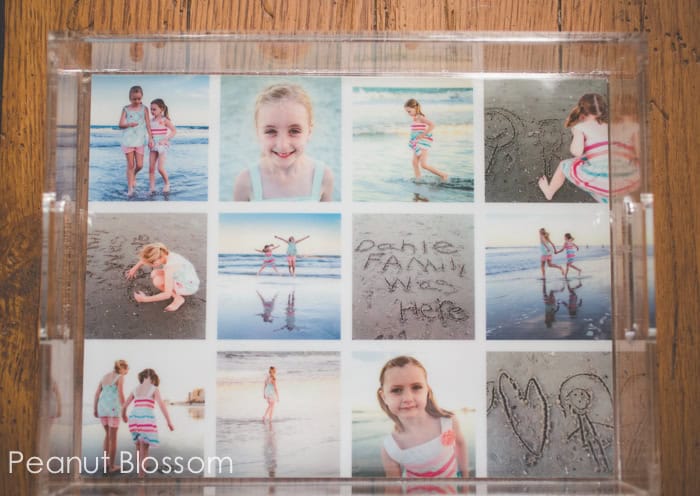 After 3 years of heading to the East coast beaches near Charlotte, I've developed an informal pattern to the way I shoot my beach photos knowing they will be printed out for our wall gallery back at home. I thought it might be helpful to share that mental checklist with you.
4 Categories of Photos to Capture
A wide angle
A mid-range
A single portrait
A close-up detail shot
Let's take a closer look at each of those four categories.
1. The Whole Beach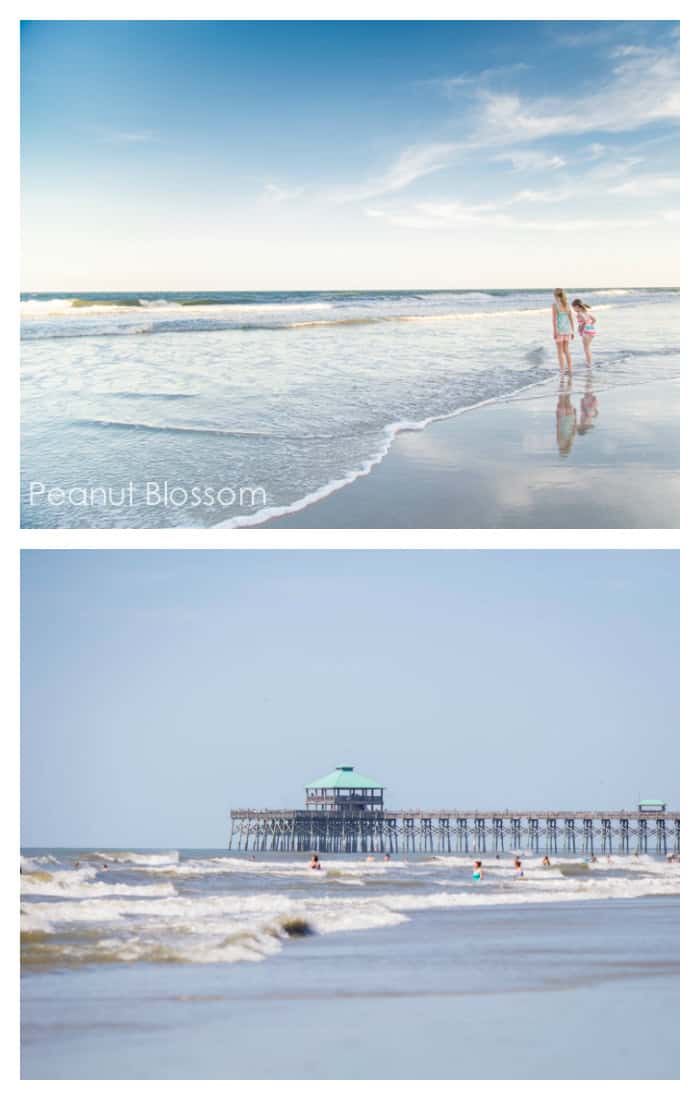 I stand back as far from the scene as I can, put my widest angle lens on my camera, and try to capture a few images that tell the story of "where" we went. Sometimes these images have our girls in them, sometimes they don't. Though, I do find that including the small children gives a great sense of the giant scale of the ocean.
Maybe it's a wide angle of the outside of your hotel or beach house. Maybe there's a gorgeous pier at your beach. Pull back and capture as much of the location in one photo as you can.
2. Mid Range Action Shot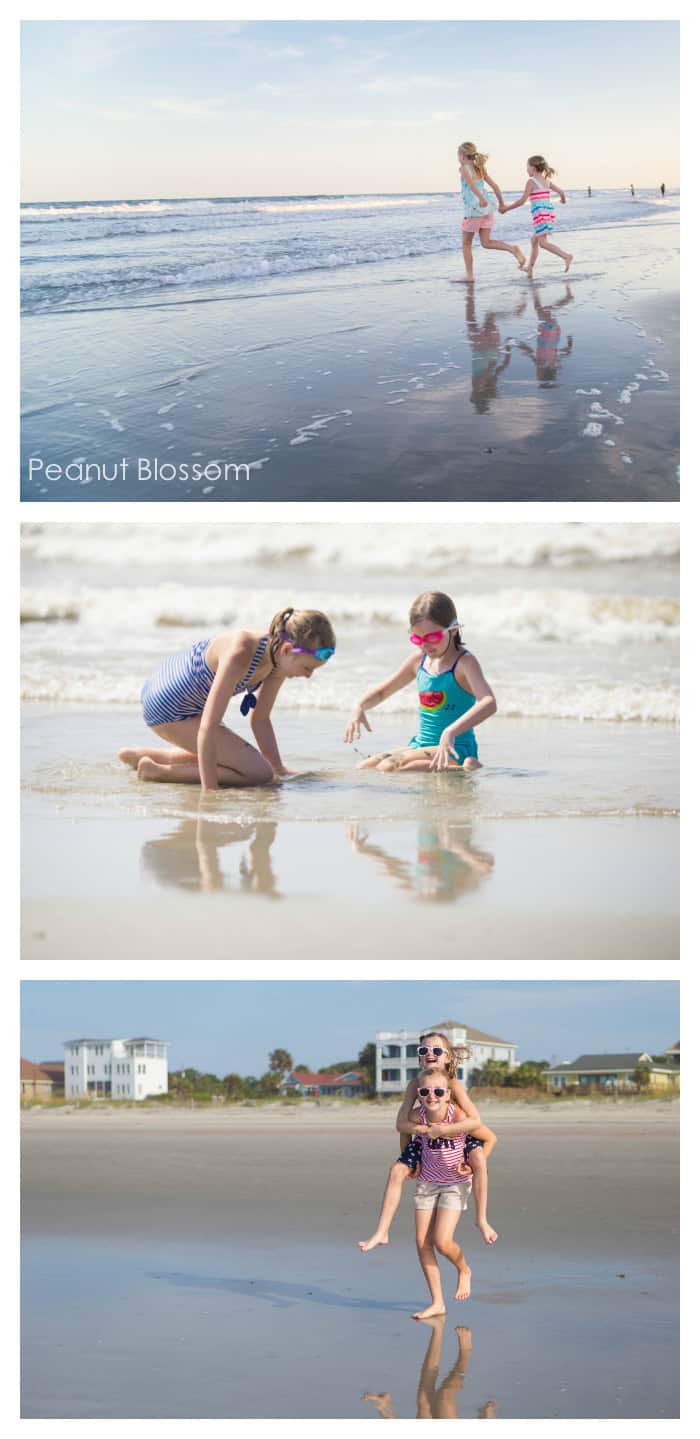 This includes full body shots of my kids interacting with their environment. I love to capture family beach pictures that include:
jumping huge jumps with hands flung high in the air
building sand castles
hunting for shells
strolling the beach holding hands
piggy back rides
running into the water
I capture family beach pictures from both in front and from behind. Sometimes it is sweet to see their expressions, but sometimes it is nice to just let them have their privacy and shoot from where they can't see you.
(And for you girl moms out there, it can be a lovely way to capture a sundress that has a particularly beautiful back.)
Here's an example of my girls in the same spot captured from both front and back: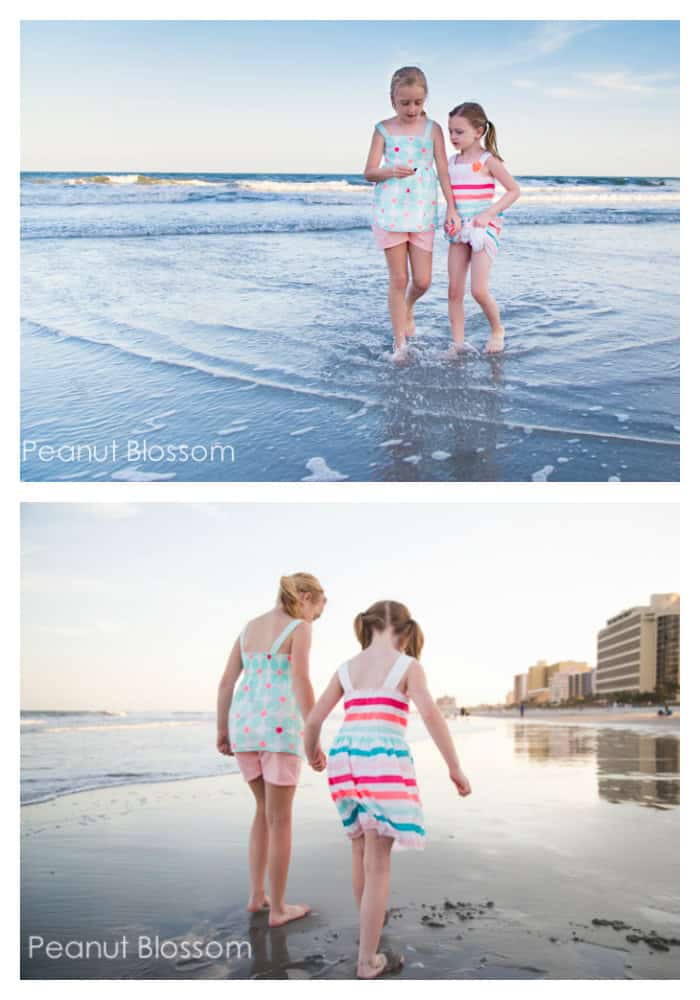 3. Individual Portraits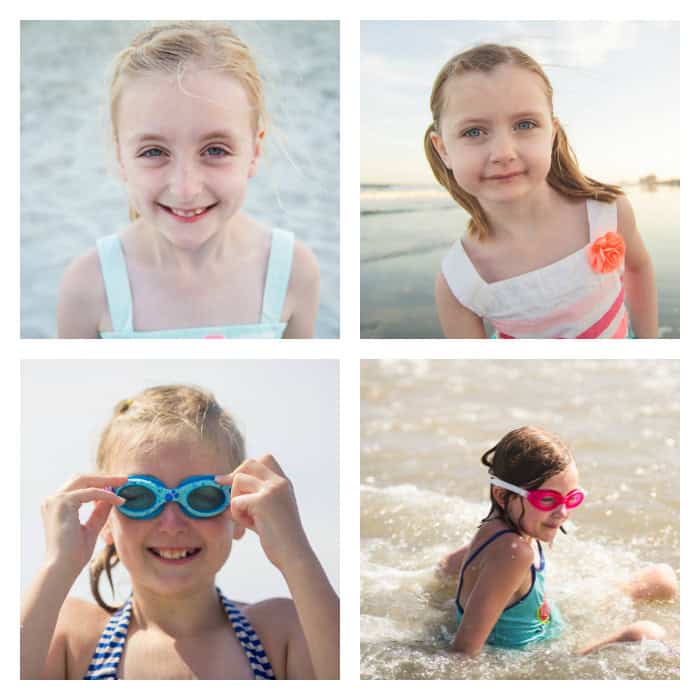 My kids know that mommy's not leaving that beach without a solid picture of each daughter individually. During our last trip, I had that dressy photo of the Peanut at the top left within minutes but I struggled to get a good one of Little Pea. It took several attempts in various spots on the beach before I finally captured one I liked enough to claim as her official photo from that trip.
We've long since stopped the traditional birthday milestone photos and instead I try to make a point to get at least one pretty portrait during our annual trips to the beach. I love the idea of having a collage of them representing all our family fun by the time the girls are in their teens.
But I also make sure to take individual shots of them drenched from the ocean, wearing their goggles, and having a blast at the beach. Both the formal dressy and messy fun photos have a special spot in my heart!
4. Up Close Details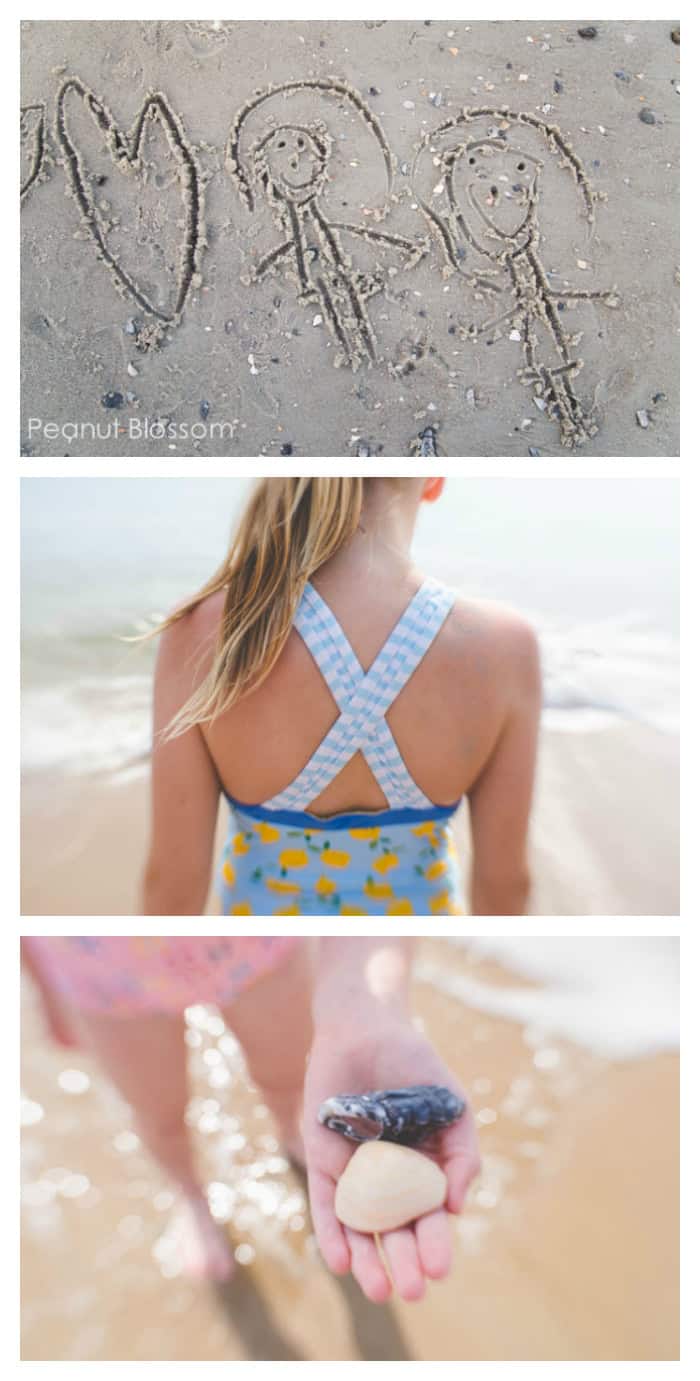 Details of the beach are all around you. Get in close and find a fun way to shoot any of these fun beach photo ideas:
shells at the water's edge
flip flops in the sand
sunglasses on your little one
the detail of a fun sun hat
the creations your kids make from sand
a detail from a fun swim suit
Two of my very favorite beach photos of all time are of the Peanut and Little Pea (separately) holding shells in their hands while standing in the ocean water. You can see them both in this beach photography post here.
Sometimes I'll repeat a favorite shot from year to year, but I try to find new ideas to sprinkle in, too. This time, without prompting, the Peanut wrote a message in the sand and we had so much fun making this our detail shot of the trip.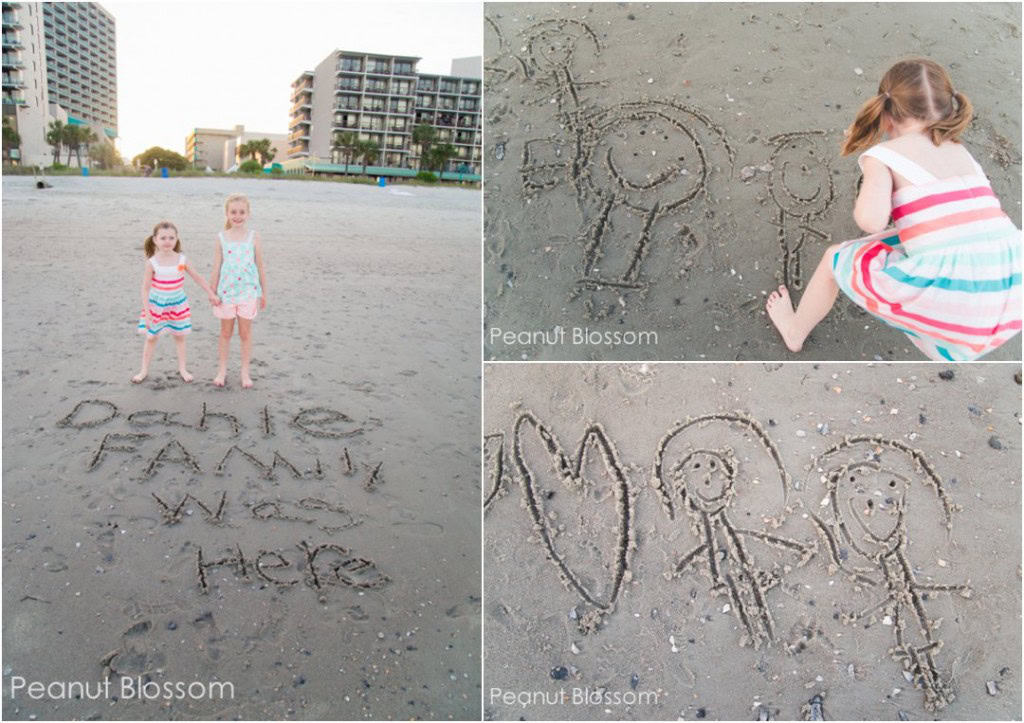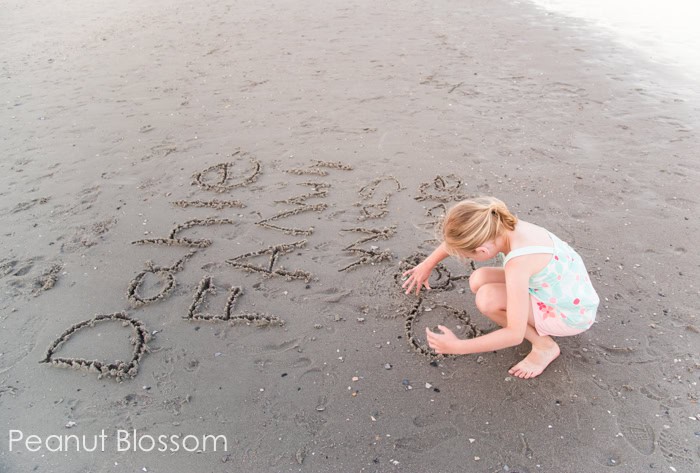 More Beach Photo Tips
Shoot both horizontal and vertical images at the beach: I have to actively remember this one!! It lets me print them for my wall gallery which has frames that go in both directions.
Capture pictures of the kids all together and individually at the beach. If every photo has all the same people in it, it can make for a fairly boring and uniform collage. Mix and match your subjects.
Try a few "no posing" posing tricks, kids sometimes need a little prompting when you're trying to get that perfect beach photo.
Family Beach Photo Inspiration
Capturing family photos at the beach has become my favorite summer pass time. If you want more tips and tricks, you won't want to miss these helpful posts.