Best Ice Cream in Charlotte
Looking for the best ice cream in Charlotte? So are we! This summer, we're doing a local ice cream challenge and exploring all the Queen City has to offer for ice cream lovers.
I grew up in the Dairy State where our official dessert was local frozen custard — the kind that streams out freshly made daily and comes in only chocolate, vanilla, and the one or two special flavors of the day. I am a passionate ice cream lover and moving to the south, away from my beloved frozen custard, was a bit of a heartbreaker. (Which is why we ate daily at Kopp's Frozen Custard when we visited family!)
This summer, the girls and I decided to launch a local Charlotte Ice Cream Challenge. We are on a mission to find the very best frozen treats here in the Queen City for families. We've done our research and made an epic list of the best ice cream places in Charlotte that BOTH parents and kids will love.
We plan to review one new spot a week all summer long. We'll update this post as we go, so be sure to follow along. Do you have a favorite ice cream spot to take your kids? Leave me a note in the comments and I'll add it to our list of places to try!
The Best Ice Cream in Charlotte, NC:
To help you navigate this post, we've listed the contenders in order of our preference. In some cases it was a very close call so be sure to read each review to decide which one will work best for your family.
You can jump ahead to each review here:
Va da Vie Gelato
Waxhaw Creamery
Menchie's
Bruster's
Ben & Jerry's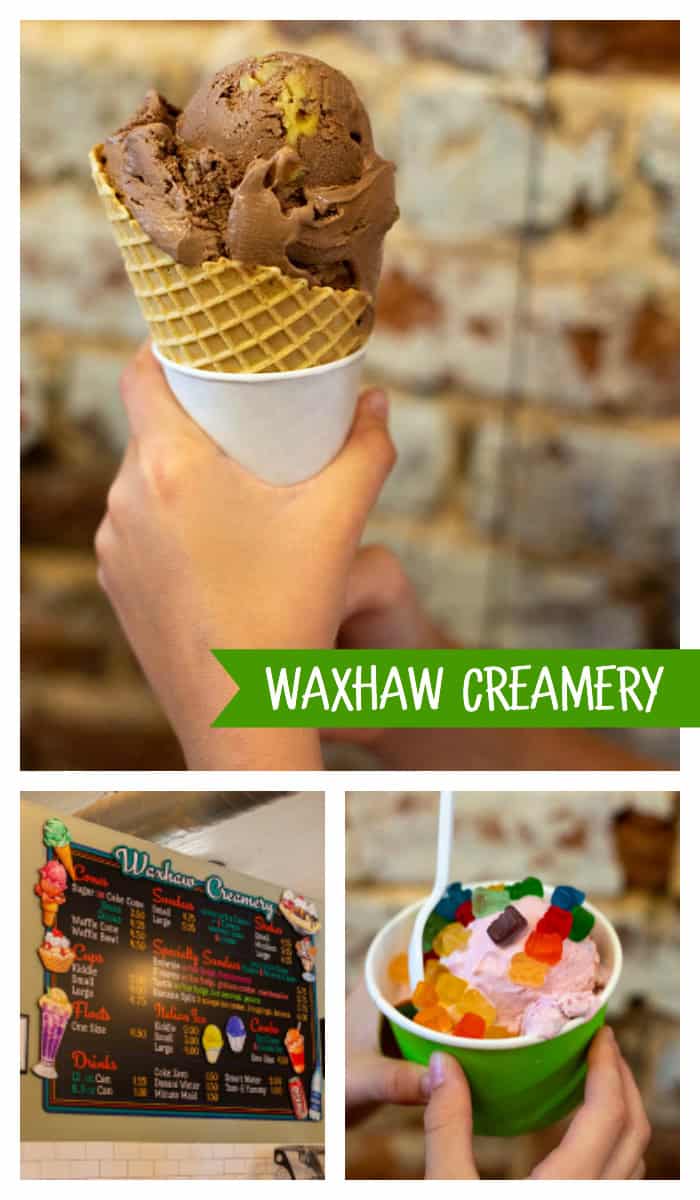 Our visit to Waxhaw Creamery was a whole family affair. The location is in the historic district of Waxhaw in an adorable exposed-brick shop. The menu of flavors felt like it was a mile long and then the choices for toppings and sundaes made the decision making nearly impossible–but in the best way! Everyone in the family is sure to find something that makes them happy on this long menu of options.
The girls chose cotton candy with gummy bears (WHY, kids, WHY??) and rocky road in a waffle cone. I taste tested a turtle sundae and Tim had mint chocolate chip in a cup. Every single one of us left deliriously happy.
The ice cream is smooth and creamy and not too hard.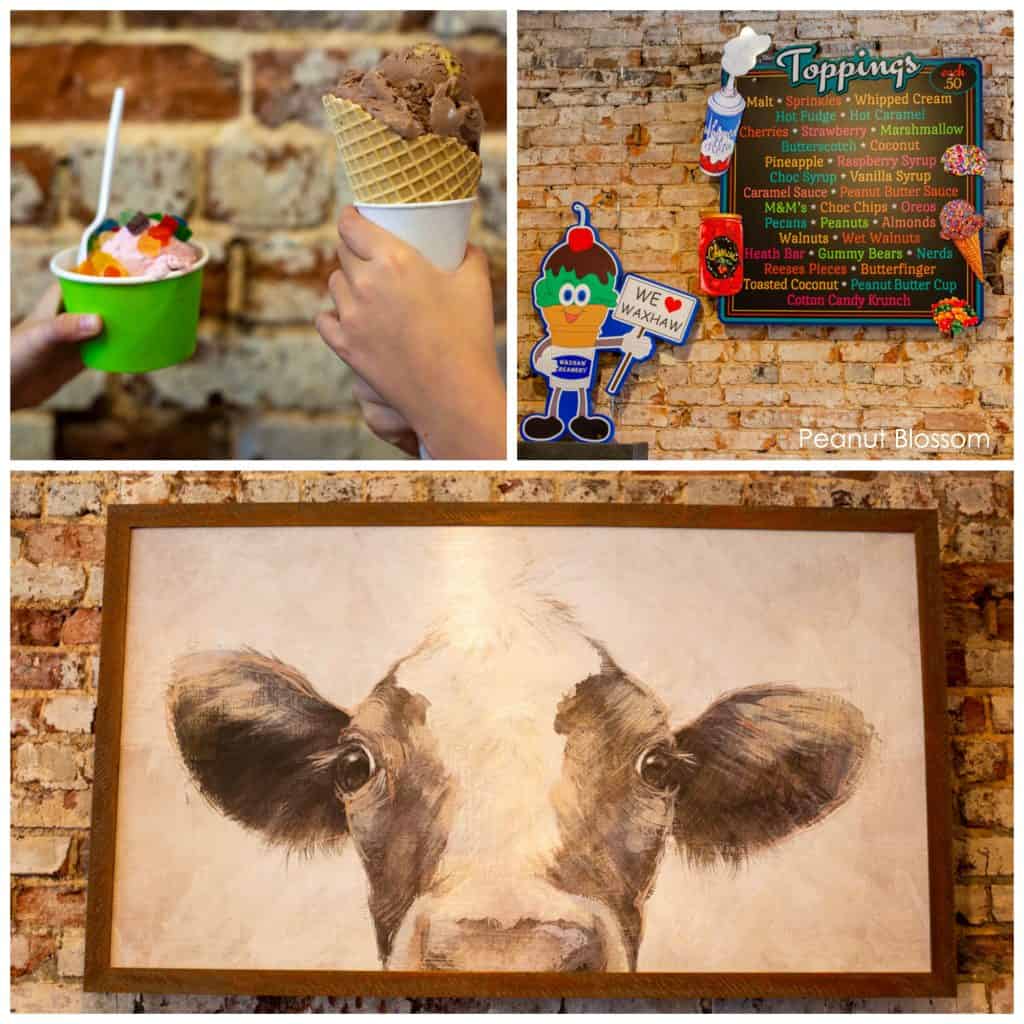 The Waxhaw Creamery break down for families:
Thumbs up:
Jaw dropping flavor and topping options.
Incredible ice cream product.
The girls loved the portion sizes.
The waffle cones are excellent.
They offer Italian ice options for anyone who wants to avoid dairy.
Adorable setting to sit and relax with your family with plenty of seating.
The staff was warm, friendly and very helpful.
You can sample plenty of flavors.
Thumbs down:
The nuts inside the rocky road were whole walnuts and "too big" according to the Peanut.
Sunday afternoons can get crowded and busy.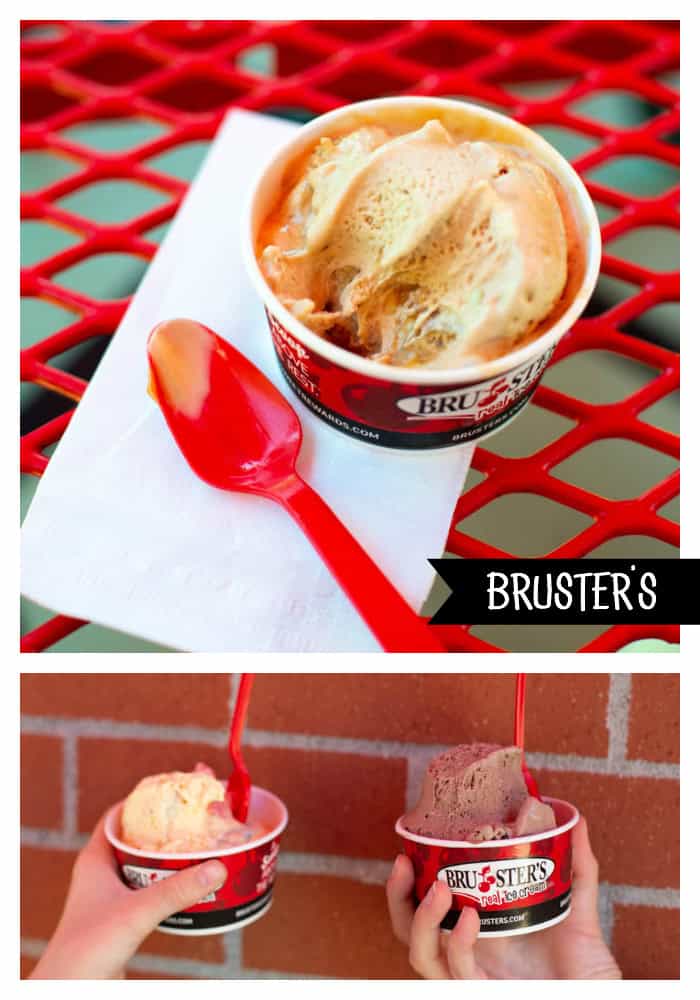 Bruster's Real Ice Cream in Matthews:
Review coming soon!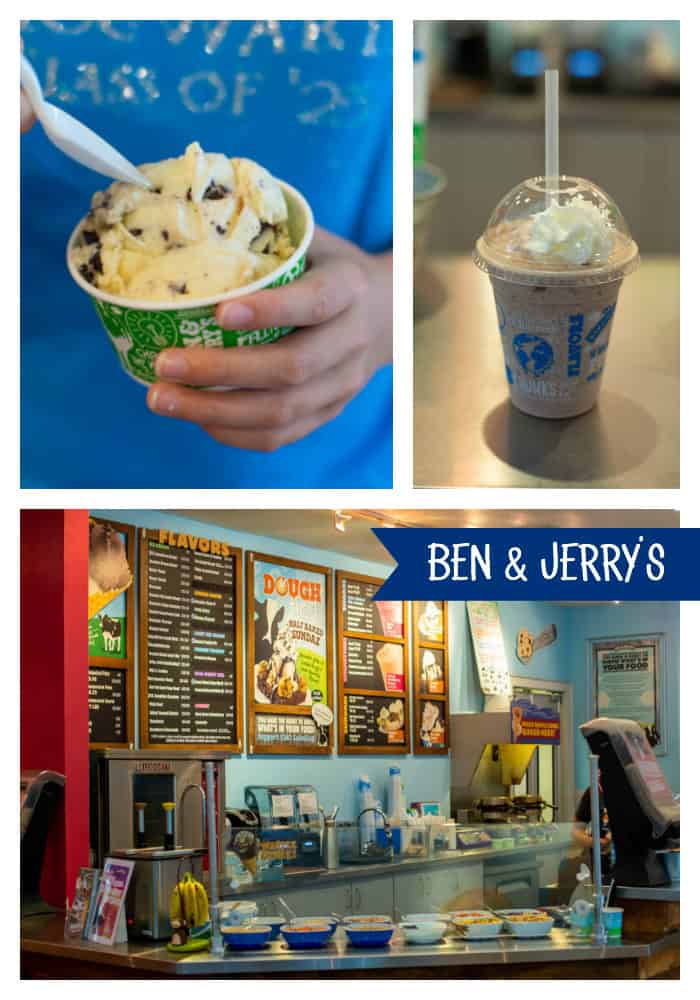 Ben & Jerry's Ice Cream in South Park:
Review coming soon!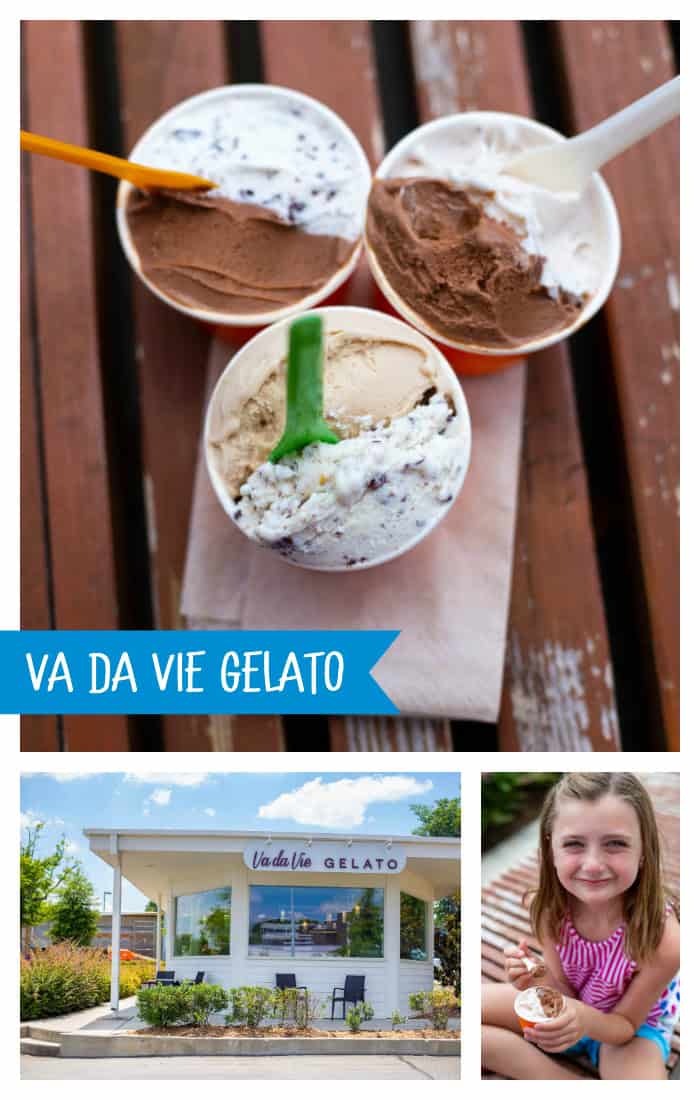 Va da Vie Gelato in the Park Rd Shopping Center:
Editor's Note: Sadly, Va da Vie Gelato has permanently closed. We are SO sad about this news.
I haven't had ice cream this good since I lived in Italy in my 20s. We stopped in at Va da Vie Gelato not knowing what to expect and I was blown away. The free-standing gelato shoppe is the cutest building in the Park Road Shopping Center. Inside is all gleaming stainless steel and gorgeous containers of small batch, handmade gelato. Outside is an adorable patio where you can pause to enjoy your treat.
The gelato itself is hand-crafted using local ingredients following the owner's own recipes. I spoke with him for a while and he pleaded with me to not share the names of the actual gelato flavors themselves. He hates to disappoint customers when a flavor that sends them running to the store is sold out for the day and since each one is made fresh in small batches, you never quite know what you will find.
Each flavor we sampled was smooth, creamy, and just *this bit* softer than normal ice cream. The menu is designed to pair 2 flavors together in various combinations. I can tell you that we found awesome varieties including vanilla, chocolate, fruit, nut, and classic Italian dessert flavors available during our visit.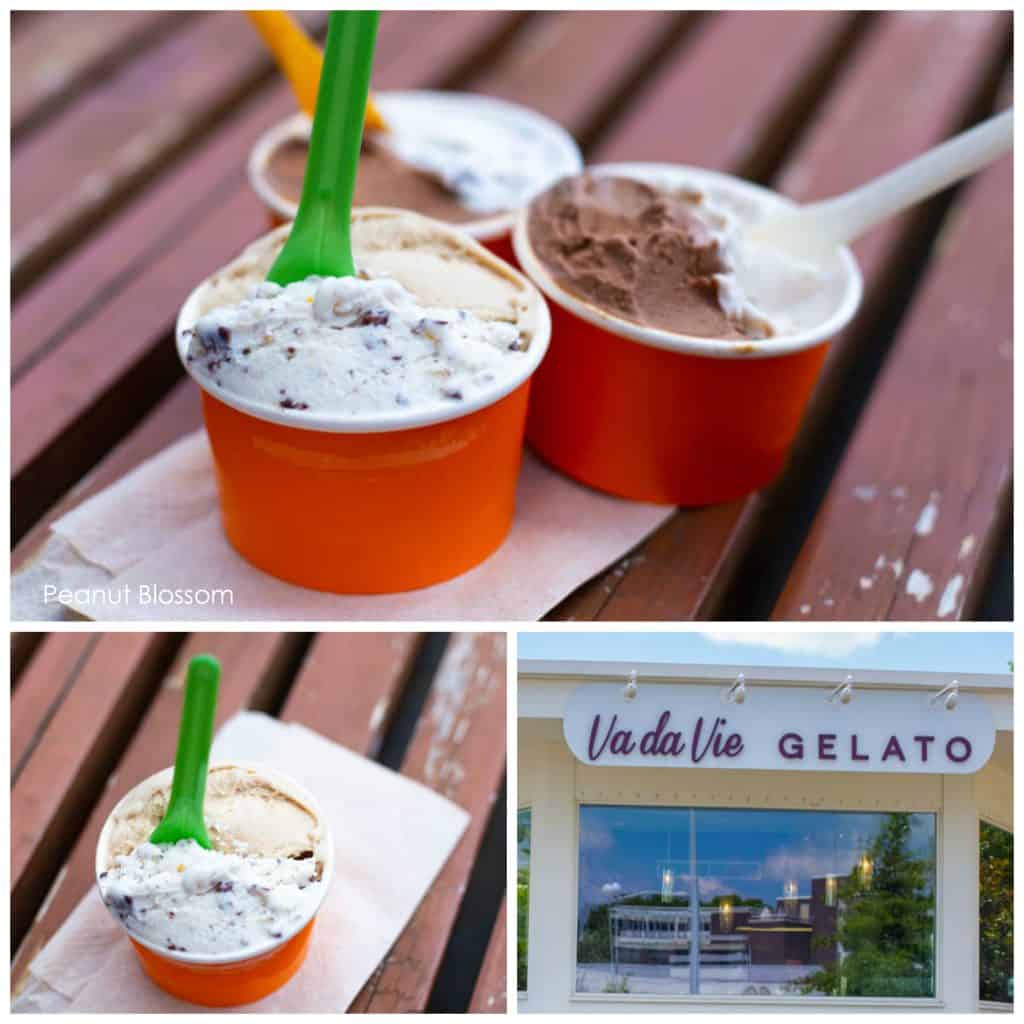 The Va Da Vie Gelato breakdown for families:
Thumbs Up:
This has been my very favorite ice cream in all of Charlotte so far. I cannot wait to go back and try every flavor. The texture and the flavors are amazing.
The girls practically inhaled their treats. Faster than any other place we've stopped.
There are no toppings on the menu to complicate things, the focus is on pure gelato perfection.
Approaching your selection by thinking of flavor pairings is a fun way to expand kid taste bud palette to appreciate fruit + nut or fruit + chocolate or chocolate + nut, etc. Ask your server to help you combine two flavors just for you.
Their entire menu is gluten-free if that is important to you.
Locally sourced ingredients, small business local owner. I love shopping small.
Thumbs Down:
The kids were disappointed how small the serving size was. (I think it mostly came from the fact that it was SO good, they reached the bottom too quickly.) Thankfully the spoons are teeny weeny which forces you to slow down and savor.
There is seating available at the shop — both inside and out — but I imagine on a busy night it could get crazy crowded quickly.
The flavors are just a teeny more gourmet than kids might be used to, but plain vanilla and chocolate are definitely options.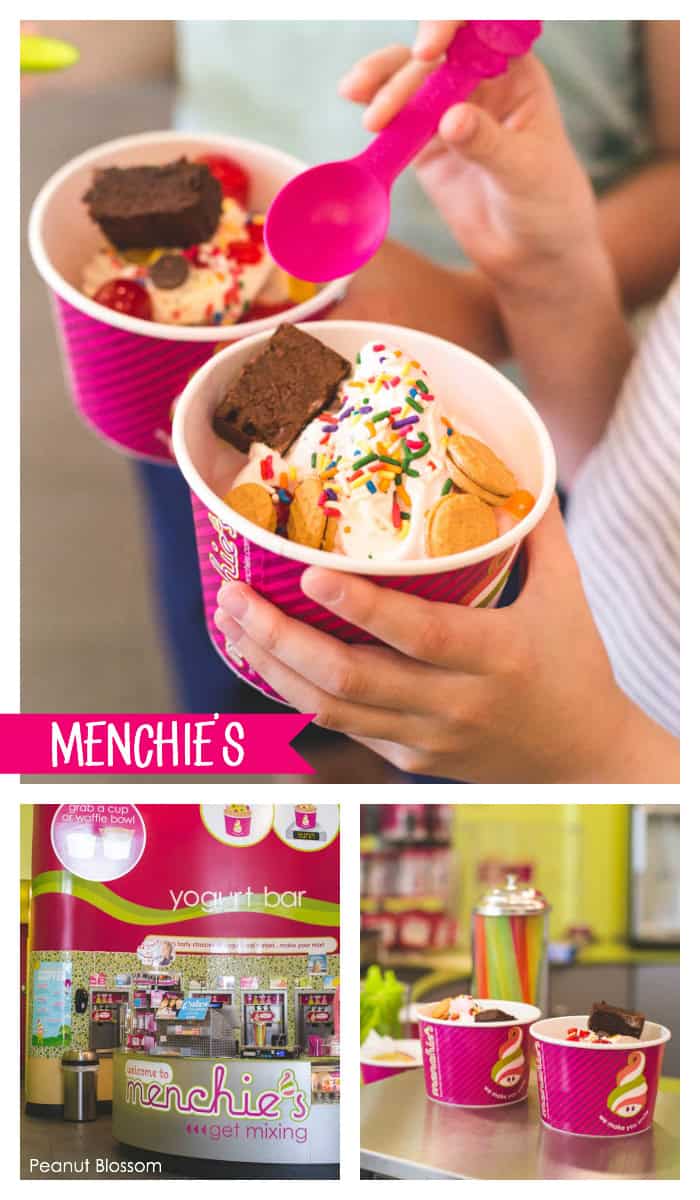 Week 1 of our Charlotte Ice Cream Challenge found us trying a new frozen yogurt spot in Waverly. We had a coupon for buy one, get one free so my frugal heart couldn't resist even though it is "yogurt" and not "ice cream." It's our challenge, we'll bend the rules if we like.
To be honest, frozen yogurt spots like this are generally not my favorite. The yogurt is usually a little watery and has an odd tang to it. But my kids LOVE the serve your own yogurt dispensers and the buffet of topping options so as a special treat to kickstart summer, I decided to give it a go.
I was SHOCKED to discover how amazingly delicious the frozen yogurt is at Menchie's! We sampled the following flavors:
Cookies & Cream
Cake Batter
Cheesecake
Dulce de Leche
Strawberry
Original Tart
The cheesecake/dulce de leche swirl was my very favorite — sweet, creamy, and no weird yogurt tang. I'm a sucker for soft-serve ice cream, and this absolutely hit the spot.
Little Pea went with a strawberry / original tart swirl that was amazing. The Peanut chose the cake batter / cookies & cream combo which was a little too sweet for my taste but a huge hit with her.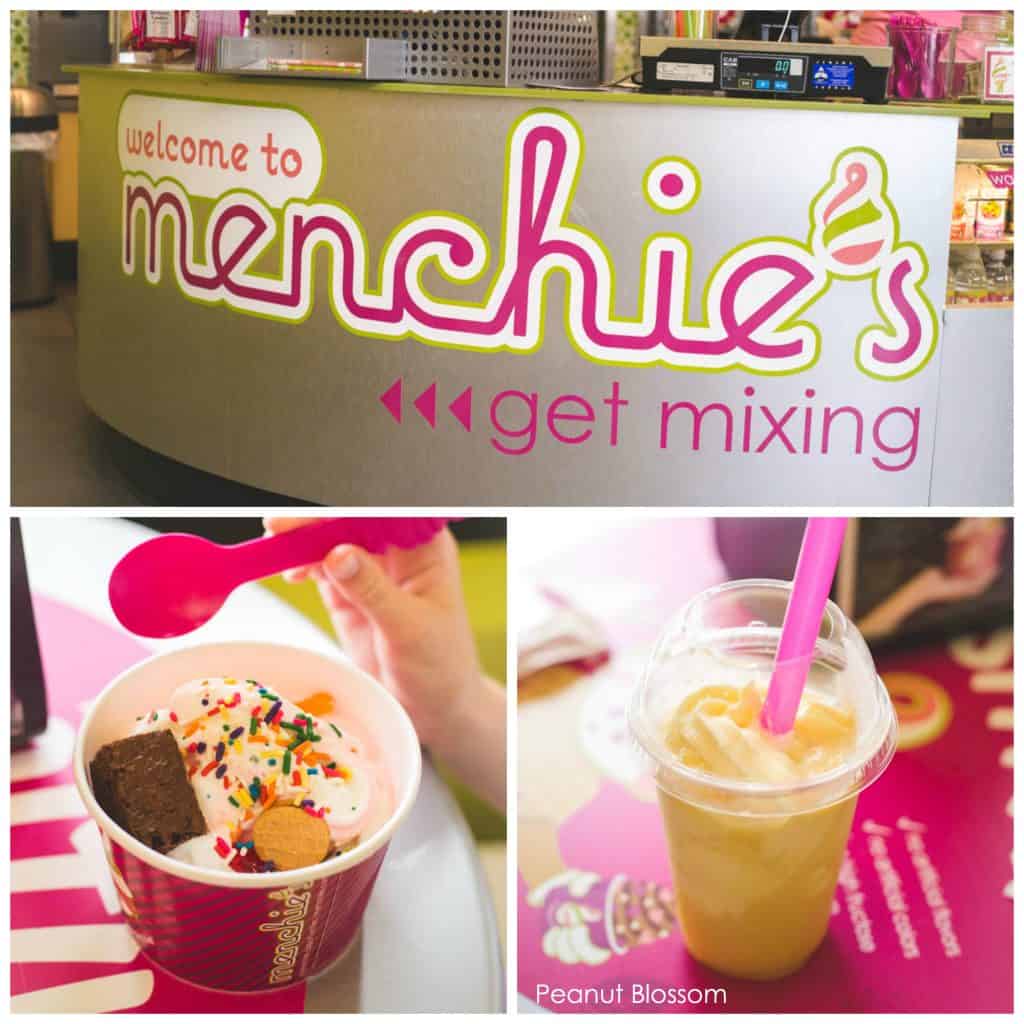 The Menchie's frozen yogurt breakdown for families:
Thumbs up:
The frozen yogurt was creamy and delicious. Definitely worth a repeat visit. All three of us loved it.
They always offer a no sugar added option if that is important to you.
You can sample any of the flavors you want with tiny little cups before purchasing.
The toppings bar had awesome options: candy, cookies, nuts, fruit, and sauces.
They give you awesome little reusable spoons that my kids adored. We kept ours and plan to use them at home.
Thumbs down:
WHY do kids put the weirdest combos of toppings on their yogurt when given the chance?? Brownies, gummy worms, and peanut butter cookies?? Blech. But, it made my kids ecstatic.
You pay by weight, so it is hard to budget for what your treat will cost.
They offered a Pineapple Dole Whip float that looked exactly like my favorite Disney treat. I was SO excited and then so disappointed. It doesn't hold a candle to the Disney version. But, I'd absolutely go back for a cup of the dulce de leche . . .