These 3 easy tips for keeping kids happy in the car for a long road trip will actually make mom and dad happier, too!
We just finished an 8 hour road trip to Orlando with the girls so this week I'm sharing my favorite sanity savers for all that wonderful tight-quarters family togetherness that comes with that much time in a car!
Do you have any great road trip tips to share? Leave me a comment, I'd love to hear it!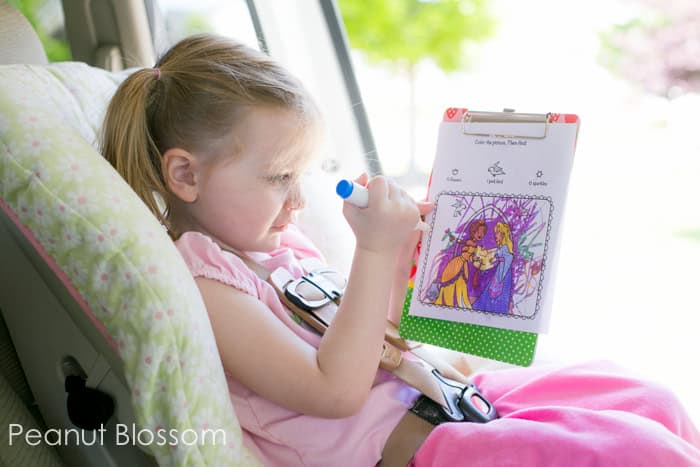 1. Start with a Fresh Space
On an average day around town I would be mortified to let you see the inside of my car. Crumbled crackers, random shoes, crumpled receipts--my car has it all. But ahead of a big road trip, I take a large garbage bag out to the vehicle and empty it of every single last item. Even the car seats!
A quick run through a car wash that does both inside and out service is about $15 in our area. SO worth the money!!
Starting with a clean slate helps you to take advantage of every nook and cranny of your vehicle for packing storage.
Take note of all the cup holders and pockets and hooks you may not have noticed before. You're about to need them.
Find a good spot for a garbage bag to hold wrappers, napkins, tissues, etc.

If your back doors have pockets, consider placing a container of baby wipes in each one. They're perfect for quickie clean-ups of all kinds and for wiping off dirty hands before/after eating snacks.
Choose creative entertainment for the kids that won't leave pen marks on your freshly washed car. Little Pea was ecstatic to play with the Melissa & Doug Surprize Ink travel set. The magic marker included with the set only reveals color on the coloring pages included and won't leave marks on the seats or clothes.
2. Keep the Kids Comfy
Nothing makes kids crankier than being uncomfortable. These little tips help avoid the biggest causes of annoyance on a longer road trip.
Feet dangling from raised car seats can cause tingling after an extended period of time. We secure small pieces of luggage just beneath their feet to take advantage of the space and give them a spot to rest their tootsies (rather than propping them up on the back of our seats!!)

Keep the traveling lovies you need right in the cabin of the car. They make great pillows or wraps if the temperature dips.
Use those cupholders you've now recently discovered from your clean up to host water bottles & snack cups.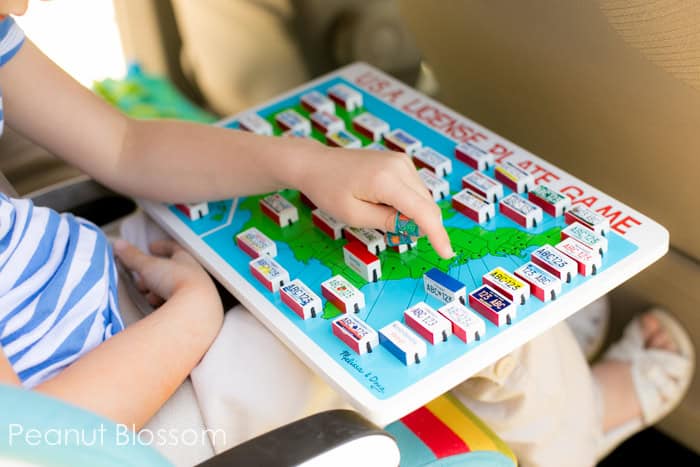 3. Keep the Kids Entertained
Boredom is for sure the biggest concern on a long trip. Remember to bring a mix of activities that are both short term distractions and longer term involved projects.
Shorter term distractions like coloring activities and handheld non-screen games like and awesome Pinball Arcade game are perfect. Keep a clipboard handy in the pocket in front of their seats, it makes a perfect portable desk top to stabilize both.

Longer term distractions like this fantastic Travel Bingo game, this License Plate game, or discussion starters like the this one are activities meant to be worked on over the course of your trip.
Have a special playlist planned out for your iPod with music your family doesn't listen to very often. If your car doesn't hook up to an iPod, borrow a few new cds from the library. For our trip to Disney we listened to an awesome mix of songs from Disney musicals mixed together with some pop favorites for mom & dad.
More Road Trip Tips