What to Pack in a Grab Bag for Kids
Whether you're heading on a road trip or traveling by plane with kids, it's handy to have a grab bag with essentials to make the trip go easier.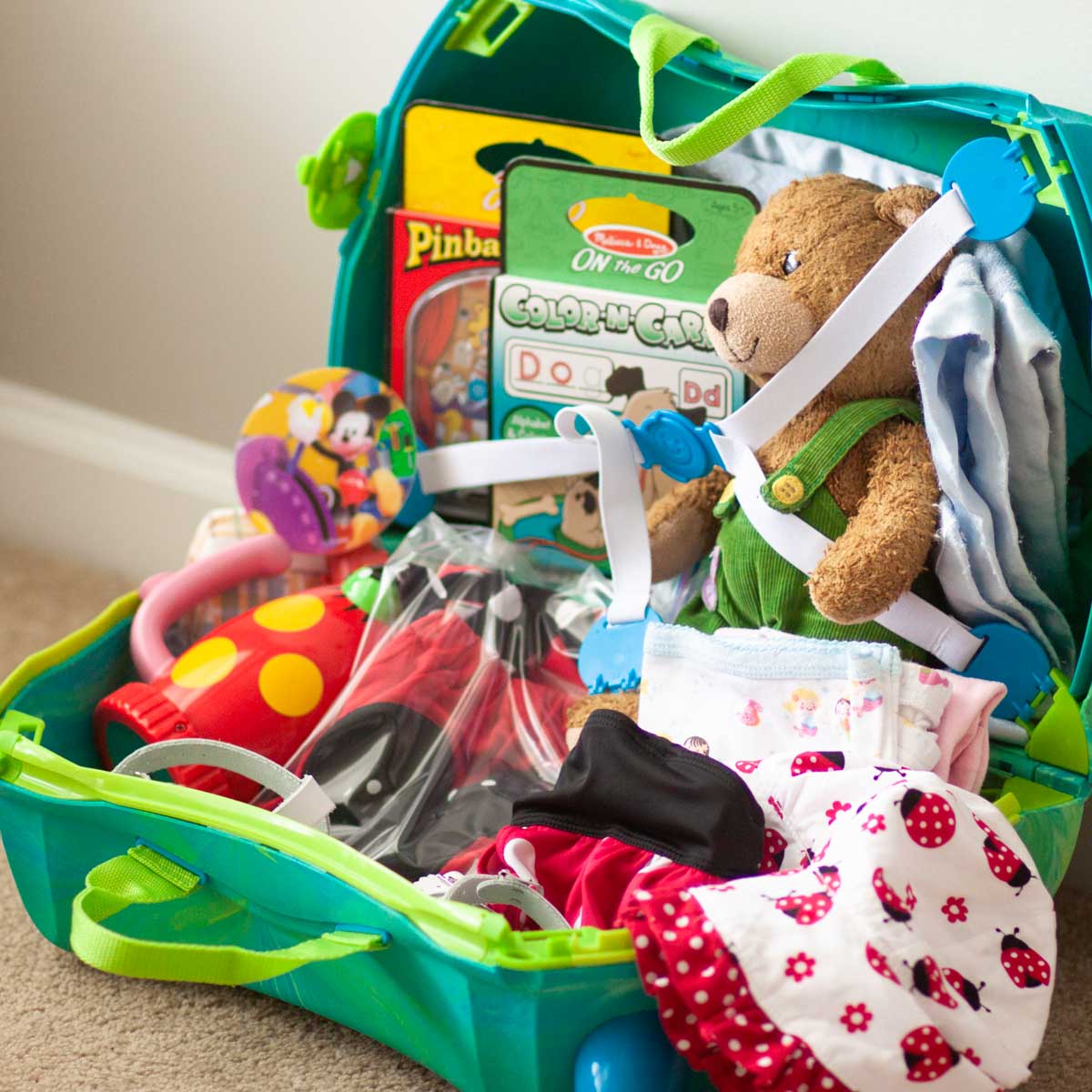 The key to successful travel with kids is organization.
There are few things worse than mounting frustration as you hunt through piles of stuff to find the one thing your baby needs RIGHT NOW.
If you're traveling with your kids on a road trip this year or planning to fly with your baby for the first time, be sure to check out this packing list of things to put in a grab bag before you go.
Jump to:
What is a Grab Bag?
This is simply a fancy name for the tote bag, backpack, or kid-sized suitcase that you fill with just one or two nights' worth of essential items to make your travel easier.
This isn't the bag where you pack everything, just what you need for a pause in the drive.
When to Bring a Grab Bag
Being organized before you head out the door is always helpful when you're on the go with kids, but there are two scenarios where what's in your grab bag is even more important:
1. Long Road Trips with Kids
If your family travels have you taking a long road trip with kids where you might be staying overnight in a hotel along the way, you don't want to have to completely unpack your trunk to get at the essentials you need in a pinch.
Do you really want to haul every last thing into the hotel for a one-night stopover stay? No, you really don't.
Instead, a grab bag lets you simply grab just what you need for one night (or two) while everything else stays put in the car.
2. Flying with Kids
If you're flying for the first time with your kids, you're probably worrying about how to bring along the essentials in your carry on in case of emergencies.
What happens if your checked luggage is lost on the way to your destination?
The last thing you need is to be caught empty handed and needing to be comfortable for the evening without any of your child's essentials.
What to Pack in a Kid's Grab Bag
I used this packing list for kids when we took our epic 16 hour road trip one summer. It made such a huge difference and made it possible for me to travel with my two young kids alone.
During our overnight stay on the way to our destination, I was able to just grab what we needed for the one night:
1 Pair Pajamas/Nightgown
1 clean change of clothes including 2 pairs of undies, just in case
Swimsuit: Heading to the pool is a great time killer while you wait for lost bags or to work off energy in the hotel after a long drive! Don't forget water shoes or sandals.
Sunhat and sunglasses
Traveling lovies, they stay on our person at all times during the transportation
Diapers/swim diaper if applicable & wipes
Nightlight and/or a kid's flashlight: More important for the road trip, not worth the hassle inside a carry-on. Helps the little ones scared of the dark when they're transported from the car to the room past their bedtimes.
Toothbrush and then the kids share from my essential toiletries as needed
1 or 2 small books or toys to keep entertained in a pinch. This list of travel games would be perfect.
And for the carry-ons: Any other essentials you wouldn't want to spend your vacation without. For us that means our camera, Disney pins & travel journal!
If you're flying and are worried that an item could be confiscated by airport security, it is always worth the time to double check the TSA's web site before you go.
Keeping Kids Happy on the Go
If you want to make your family trip go more smoothly, arm yourself with our best tips for keeping your kids happy on road trips: