If you want to take your dog on vacation you need to plan ahead for finding a dog-friendly place to stay, pack what you'll need for the trip, and prepare for their safety to avoid losing your dog on vacation.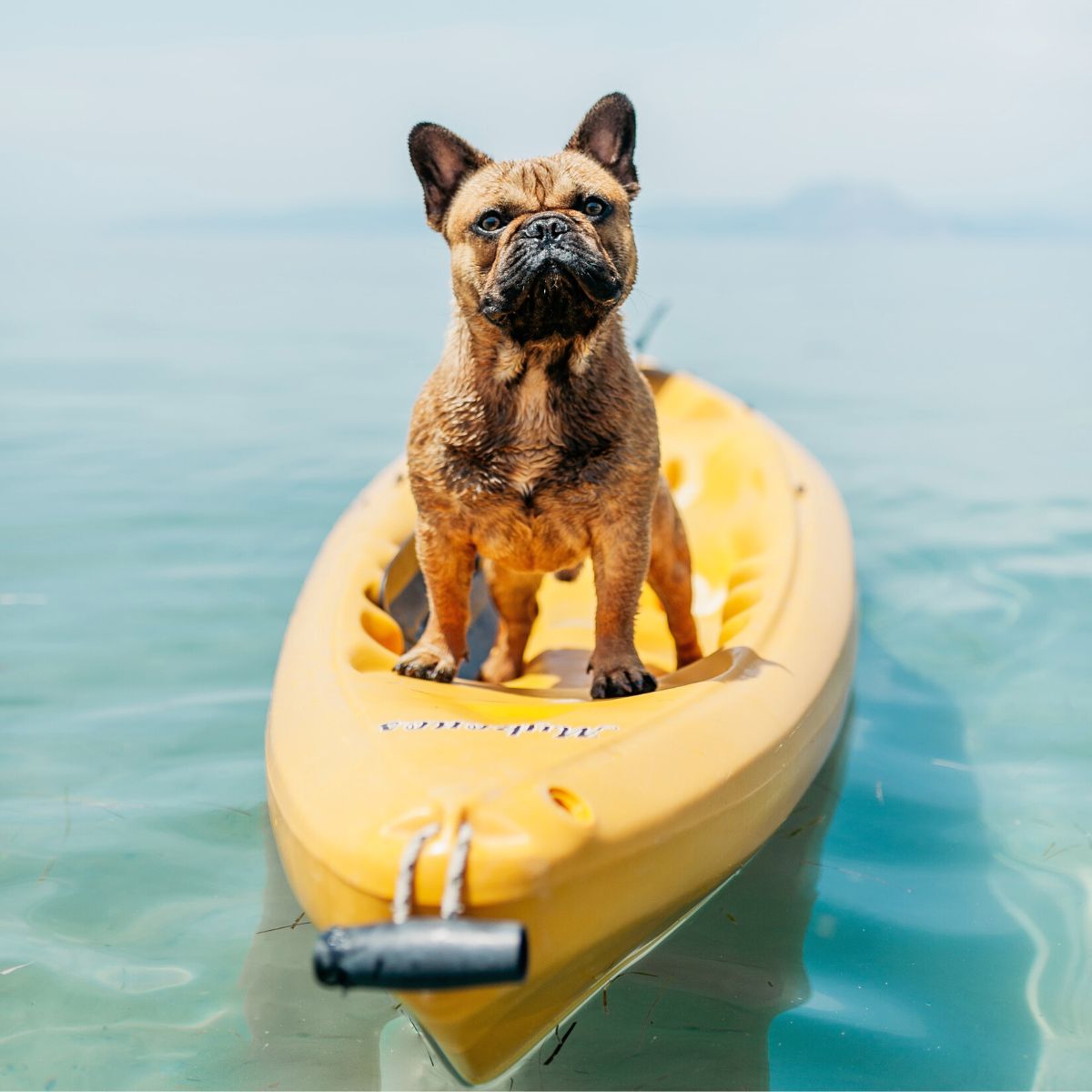 Our family has always owned a dog and we love them like they are our children. When we rented a beach house for a family beach trip, we thought it would be fun to take our dog on vacation with us for the week.
Despite our nearly constant supervision, in a very brief moment of distraction, our sweet doggy wandered off from the beach house and got lost.
My family was devastated. We immediately began to search for her and it was the most traumatizing thing to watch my kids sobbing as we wandered around the neighborhood looking for her, not knowing if we'd ever see her again.
I would definitely say it was worse than the time I had to tell my kids it was time to put our dog to sleep.
After two hours of intense searching and action, a heaven sent miracle connected us to the stranger who found our dog. When we heard where she had been found and the situation she was in at the time, it was truly a miracle she was safe.
I wanted to share what we learned from that horrifying experience to help you make the decision on whether or not to bring your dog on your vacation and if you do, to help you prepare to keep them safe and happy so you can relax and enjoy your trip.
Jump to:
Should You Take Your Dog on Vacation?
The decision on whether or not to take your beloved pet with you on vacation is not one you should take lightly.
It sounds like a lot of fun to have your dog with you for the trip, but have you considered these things?:
Are you ready to be fully responsible for your pet at every moment?
Just because you found a dog-friendly place to stay it doesn't mean they can come with you to the beach or other places you may want to visit.
While you're out for the day, pets must be crated even at beach houses because service or repair people may enter the home while you're out.
Where are you staying? Will you have neighbors who may be annoyed by barking? There's a noise ordinance on many beaches and you can and will be reported for disturbing the peace.
How safe is your destination if your dog accidentally got off leash? Are there busy roads, alligator swamps, etc. near where you'll be?
Pros:
There are many good reasons to take your dog on vacation including:
You have your buddy with you for the trip
The pet fee at the rental or hotel might be less than the kennel fee at home
Don't need to find a dog sitter
Cons:
There are also some very good reasons it is a bad idea to take your dog on vacation including:
Less flexibility for doing things you want to do while on the trip
Additional responsibility for caring for your pet
More gear to pack in your car or bring on the plane
Complicates the drive to your destination, especially on hot days when they can't be left in the car for you to take a restroom break.
Risks that your dog could get lost on vacation: Don't think this could happen? Be sure to keep reading about our family's story below.
Personally, I used to feel that leaving our dog behind was mean.
Kenneling felt like a punishment and I worried she'd be lonely without us.
After our one and only experience taking her along for a vacation, I now firmly believe that if you love your pet, your biggest concern should just be that they are in the safest place possible.
Perhaps that is with you on vacation, perhaps that is in a kennel safe at home, but neither of those choices is inherently bad. A kennel can be a very loving choice.
Packing List
If you decide to take your dog on vacation, here is the list of things you'll want to pack before your trip:
Food: Bring plenty of their food with a little extra just in case.
Bowls: Your destination may not have food and water bowls, bring your own. Also plan to include a travel water bowl for the drive and excursions.
Treats
Medicines: If your dog needs any meds, be sure to bring them.
Leash: Even at dog-friendly destinations, it is always required that dogs be on a leash.
Crate: Even if you're renting a beach house, you absolutely need a crate. Our beach rental had problems that required a repair technician to be able to enter the rental during the day and our dog absolutely needed to be crated.
Towels/Blanket/Bedding: Bring your own comfort items for keeping your dog cozy, do not plan to use on site bedding or towels out of courtesy.
Poop Bags: You'll definitely need to clean up after your dog.
Collar with Tag with Your Phone Number: Absolutely 100% be sure your dog has a tag on their collar with your information. Even if your dog is chipped, this is a security step you need to take if you're traveling with your dog.
AirTag on Collar: The collar with tag helps someone find you if they find your dog. The AirTag helps YOU find your dog even if they are alone. Get the AirTag here and the collar attachment we use here.
Current Photo on Your Phone: Be sure to have a recent, well lit, photo of your dog from the front and from the side. If you lose your dog, you'll need pictures to help identify and find him.
How to Prevent Losing Your Dog on Vacation
We are dedicated, loving, responsible pet owners. Our dog is a family member who is deeply loved.
I never thought losing our dog on vacation could happen to us, but your entire routine on vacation is different than home and mistakes can happen in a blink of an eye.
Here are the things you can do to prevent losing your dog before it happens:
Have a Chain of Responsibility
Everyone on the trip works as team to make sure that one person is in charge of the dog's safety at all times. When the responsibility changes to another person, be sure the hand-off is secure: "I'm going inside and leaving the dog with you." should be said out loud and acknowledged by the next in line.
No Off-Leash Time Outside, Ever
Even if your dog is laying down and sleeping on the porch. Even if your dog is trained to come back when you call. There are so many new things to smell and explore that could be a temptation for a curious dog to run off.
Identification
Be sure your dog's tags are on at all times and current with your phone number. Chipping is great, but that doesn't help a random beach walker help find you without taking the dog to a shelter or vet for scanning.
Add an AirTag to the Collar
An AirTag will help you quickly find your dog on the chance they run off without waiting for someone to call you.
We could have saved hours of fear and worry and found our lost dog sooner if we'd had an AirTag attached to her collar with this attachment.
Join Local Facebook Groups Before You Go
Look up the local groups for your destination. For example, at Tybee Beach there are groups called: Lost & Found Tybee and a group for the Local Lifeguards. If you wait until your dog is already lost, you will waste time trying to find these groups for help.
Recent Photos On Your Phone
Have a recent photo on your phone, especially if your dog is groomed and the hair style changes with hair cuts. Have everyone in your whole party keep a copy on their phone.
What to Do if You Lose Your Dog on Vacation
When we lost our dog on vacation, it was one of the scariest 2 hours of my life.
It took just 1 minute of distraction for her to sneak away from the family and get lost in the neighborhood where we were renting a beach house.
We spent the next couple of hours scouring the island on foot and by car, stopping every person we encountered to ask for help.
In the end, our story had a happy ending and our dog was found, but we learned several important lessons:
Call the Police
Call the police with information about your dog immediately. Give them your name, a description of your dog, your phone number/contact information, and the details about where you're staying.
In the end, it was the police having access to that information that connected us to the person who found our dog.
Split Into Groups
1 part of your party should search nearby on foot, 1 part should search up to a mile radius by car. Your dog can get so much farther than you think. If possible, have another member of your party stay home and do the digital work on the phone and computer and be available for the police.
Stop and Talk to Everyone
Walkers, Delivery Men, Cars you pass on residential roads, Picnickers/campers, Shop owners, literally every single person you encounter as you search. Tell them to call the police if your dog is found because it is easier for them to remember than your phone number.
After an hour of searching and asking for help, we started to run into people who had already heard our dog was missing. For the most part, people are caring and really want to help find a lost dog and they will spread the word for you as well.
Use Social Media
Post a public post on your own Facebook profile and ask your friends to share. Then, share that post into local groups. You can search by your destination name and then "Lost & Found."
We shared posts in a local lost and found group, a local lifeguard group, and a local social group. In the end, the person who found our dog posted on her own Facebook profile. Her friends encouraged her to call the police who already had our information.
If Your Dog is Lost for More than 1 Day
We were lucky enough to be reunited with our dog in 2 hours but if you still haven't been able to find your dog, you should consider doing these things as well:
Call the Local Vet & Groomers
Depending on how many are in the area, this could take some time. But the truth is that your dog could be found and kept by a stranger who may attempt to take them to a vet for a check-up or to a groomer for a cleaning. This is way more common than you'd like to think.
Call the Humane Society
Well-meaning strangers may attempt to turn your dog in to the humane society.
Call Animal Control
Animal control may do more patrolling or encounter your dog in the wild. Be sure they are notified that your dog is missing.
More Vacation Planning Tips
So many decisions need to be made before you leave for a vacation. As you plan your next adventure, don't miss these helpful tips: