How to Plan Your First Trip to Europe
Planning your first trip to Europe with kids? Or maybe you're traveling the world with just you and a partner. Either way, learn how to plan your international vacation so everything goes smoothly.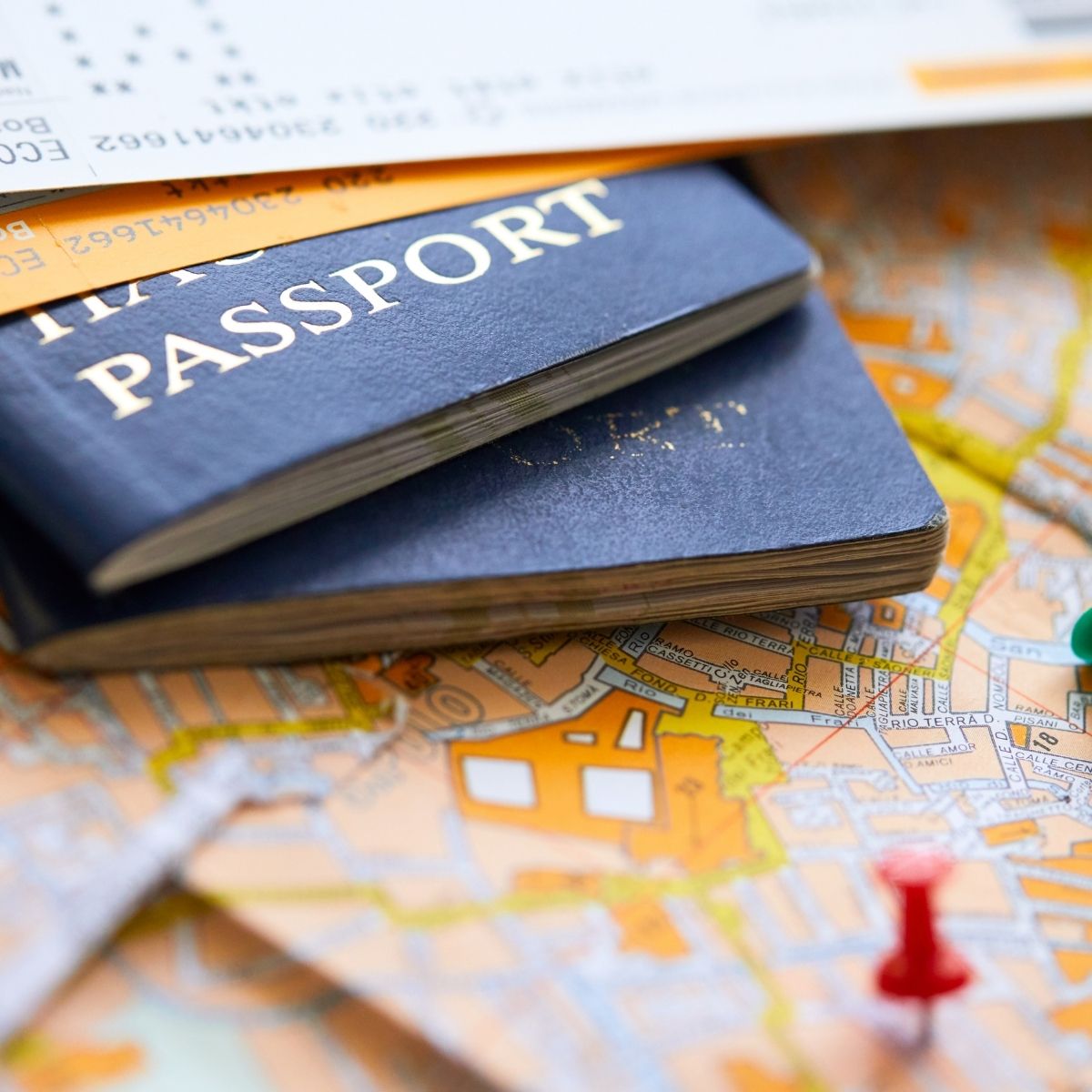 My first European trip was my 2-week high school foreign language trip to Spain when I was a sophomore. Everything about that international trip was organized for me by the school's travel team.
The next three times I set foot in Europe was a family trip to London, England, accompanying my dad on a work trip to Milan, Italy, and a 4-week backpacking adventure with my sister through most of Western Europe including Germany, Austria, Switzerland, and parts of France.
Those trips were organized mostly by my parents and I had little to do with any of the planning until the last-minute changes we made while backpacking.
When it came time to plan the first international trip I took with my husband, I suddenly realized just how much effort gets put into planning an European vacation!
We spent two weeks driving through Germany, Switzerland, and Northern Italy together and had the time of our lives.
Whether you've already experienced an international trip that was planned for you or you've never left the US, don't be overwhelmed. Planning a memorable vacation in Europe just needs to be broken down into easy bite sized steps.
Jump to:
1. Pick Your Destination
This is the most fun part of your whole adventure. The world is your oyster, where do you want to go?
Most families start with a specific location in mind before starting to plan a trip. I like to keep a running idea list of places I want to go with just my husband or as a whole family.
My favorite European destinations include:
Italy: Milan / Lake Como, Florence, and Rome
France: French Riviera, Paris
Germany: Heidelburg, Munich
Austria: Vienna
Spain: Seville, Barcelona
England: London
Switzerland: Zurich
Ireland: We're heading to Dublin on this 7-day Ireland Itinerary next year
Side Note: If Europe ends up not working out, you can still get a taste of Europe by spending a weekend in Montreal. Canada has been on my bucket list for a while and you still need a US Passport to visit.
2. Choose Your Arrival City
Depending on the size of the European country you plan to visit, you may have more than one option. Which airport is closest to the things you imagine experiencing? Is there an airport in a neighboring country that might actually be closer?
Make a list of the arrival options. You may find that it is more affordable to fly into one airport vs. another when it comes time to actually book your trip.
3. Make an Itinerary Wish List
Our travel enthusiasm and excitement often means we make unachievable itineraries. Even a one week trip in Europe will go faster than you'd like and you may not be able to see everything you wish to see the first time around.
For now, make a list of everything your heart desires. Do all the browsing you want about your location and go ahead and make an epic master list.
Better that your list is too long than not long enough. It would be a shame to miss something special about your destination because you didn't explore the options enough while you were still at home.
Now that your list is a mile long, go back through and rearrange your wish list by order of importance.
Put the Must-Do's at the top with the Could-Wait Till Next Time's at the bottom.
4. Map Your Itinerary
Use Google Maps to save your wishlist items in a customized List or Map. You can learn how to set up a custom vacation map in Google maps here.
Once you've added your itinerary list to a map, you can get a better understanding of how far apart each activity is and how long it might take you to enjoy each experience.
Add a guesstimate of how much time you want to devote to each item to your master itinerary list.
5. Consider Transportation Needs
Are all your wish list sites in or near your destination city? Or will you require transportation to get between points?
Are public transportation, taxi cabs, or trains a viable option? Or will you need to rent a car?
Weigh these factors and your comfort level with driving in a foreign country, they may determine changes to your itinerary and timeframe for travel.
6. Consider Time Frame
This is the first point where harder decisions need to be made.
There are several factors that will determine how long you travel and what time of year you plan to go:
How Many Days Are Needed for Your Essential Itinerary Items?: Looking back at your wish list, add the guesstimate of time for each activity. How long is a reasonable stay for your trip? Don't forget to factor in at least a day for overcoming jet lag if it is your first trip across time zones.
What Is the Peak Travel Season?: Every country has a few peak time periods for travel based on local events, weather, and school breaks. Prices for transportation and lodging tend to go up during these seasons. Are you willing to pay a premium or do you prefer to look for a more budget-friendly time of year to go?
What Will the Weather Be Like?: Looking at the activities you plan to do, is weather an important factor to consider? Or will the cherry blossoms in Europe be blooming? Be sure to check the average temps and rainfall for your destination during the season you plan to go.
Availability of Essential Activities: Is there a major renovation or construction happening on a cathedral or museum you want to see? Is your landmark closed to the public for cleaning? Do the open hours fit when you'd be available to travel? If there is an absolute must-do on your list, be sure to check that it will be available for viewing when you want to travel. It would be such a disappointment to go all that way only to discover a "Closed" sign on the front door.
7. Set Your Travel Budget
Setting your travel budget is a give and take experience:
Would you rather stay longer in more affordable hotels? Or do you prefer to go for a shorter trip and stay in luxury accommodations?
Would you rather see absolutely everything about your destination or can you only plan a "sampler trip" of the major highlights for now?
The final itinerary decisions will likely be made based on your final total budget.
As you explore the related costs for your trip, be sure to consider these important details:
Hotel or Alternate Lodging: Whether you plan to stay in a 4-star hotel or rent an AirBnB, you'll find an overwhelming list of options for your stay. Price out a few based on the distance from your itinerary. If your travel time frame is flexible, be sure to compare different seasons as well.
Flights: Some travelers prefer convenience, some are willing to have adventure-filled budget travel that requires layovers, transfers, and flexible timing. Know what kind of traveler you are and compare your prices accordingly.
Destination Transportation: Check car rental availability and pricing as needed for your plan. Consider the costs of subways, taxis, or busing.
Admission Tickets: Research the entry fees for any major landmarks or museums you wish to see.
Food & Beverage: There is so much wiggle room with this travel essential. Do you plan to dine out 3-times a day? Or could you stop by a local market or grocery to pick up some staples for your hotel?
8. Get an Estimate for Travel Insurance
After investing so much time and energy into planning your international trip and then the deposits you'll pay for airfare and lodging, you absolutely want to protect yourself with travel insurance in case of the unforeseen.
You can purchase a simple travel insurance policy through an independent company.
The peace of mind you'll have knowing you are protected from future disaster is priceless as you wait for your trip to arrive.
9. Book Your Accommodations
With your travel plan now in place, make your final selection for hotels or lodging and book your stay.
Be sure to check the cancelation policy before paying your deposit.
You can learn about amazing vacation rentals in Europe here.
10. Book Local Transportation
If you plan to rent a car or need other transportation like inter-city trains, make your reservations in advance.
11. Book Your Flight
Since flights are the most difficult to rearrange of all the travel reservations, I prefer to book them last. I want to know that once my flight is booked, I already have a place to stay and a plan for while I am there.
If flight availability requires a change in your plans, you may need to adjust the lodging by another night or so. It is usually much easier to adjust your hotel reservation as needed.
If you're traveling at a peak time for your destination, you'll want to book your flight out much farther in advance than you would need to during a less popular time frame.
Get a Travel Book
Once your trip is booked, I think it is so fun to grab a travel book or two to get excited about the vacation. Here are a few of the travel books I've loved: