What to Pack for a Picnic Date
Learn what to pack for a picnic date that will help you have a good time in a unique location. This is the best way to have a romantic date for a special occasion.
There's something inherently romantic about sharing a delightful meal in the great outdoors surrounded by nature's beauty.
A picnic date offers a charming and intimate setting to create lasting memories and impress your special someone, especially on a first date.
But how do you plan a picnic that will sweep your partner off their feet?
Learn how to craft a picnic experience that is nothing short of perfection. From selecting the perfect location to planning a tantalizing menu, these tips will walk you through every step, ensuring your picnic date is an enchanting affair.
Jump to:
5 Romantic Picnic Date Ideas
You are sure to get some bonus points for these cute picnic date ideas. There are so many good options for any time of year.
1. Sunset Beach Picnic
Pack a cozy blanket, a bottle of chilled sparkling wine, and a basket filled with delectable treats. Head to a picturesque beach, spread out your blanket, and enjoy the breathtaking view as the sun sets. The sound of the waves, the warm sand beneath your toes, and the company of your loved one will create a truly romantic atmosphere. This is for sure one of my own personal favorite places for a romantic picnic date.
2. Wine and Cheese Date
Find a serene spot in a nearby vineyard or a beautiful park. Set up a rustic picnic table with a selection of fine cheeses, freshly baked bread, and an assortment of charcuterie. Pair it with a bottle of your favorite wine and watch the conversation flow.
3. Secret Garden Picnic
Seek out a secluded botanical garden or a hidden park with blooming flowers. Set up a whimsical picnic with fairy lights, cushions, and an outdoor blanket. Bring along a picnic basket filled with gourmet sandwiches, colorful salads, and decadent desserts.
4. Picnic by the Lake
Find a tranquil lakeside spot with a stunning view. Rent a rowboat or a paddle boat to add a touch of adventure. Pack a delicious picnic spread with refreshing fruit salads, finger foods, and refreshing beverages.
5. Rooftop Romance
If you have access to a rooftop terrace or a balcony with a stunning view, transform it into a romantic picnic spot. Set up a cozy seating area with soft cushions and twinkling lights. Serve a selection of gourmet bites, such as mini quiches, easy crostini toasts, and chocolate-covered strawberries. Enjoy the city skyline or a starry night with your sweetie.
Picnic Gear to Pack
The most important things to pack for a picnic include the following items to help you enjoy some quality time in your picnic area of choice: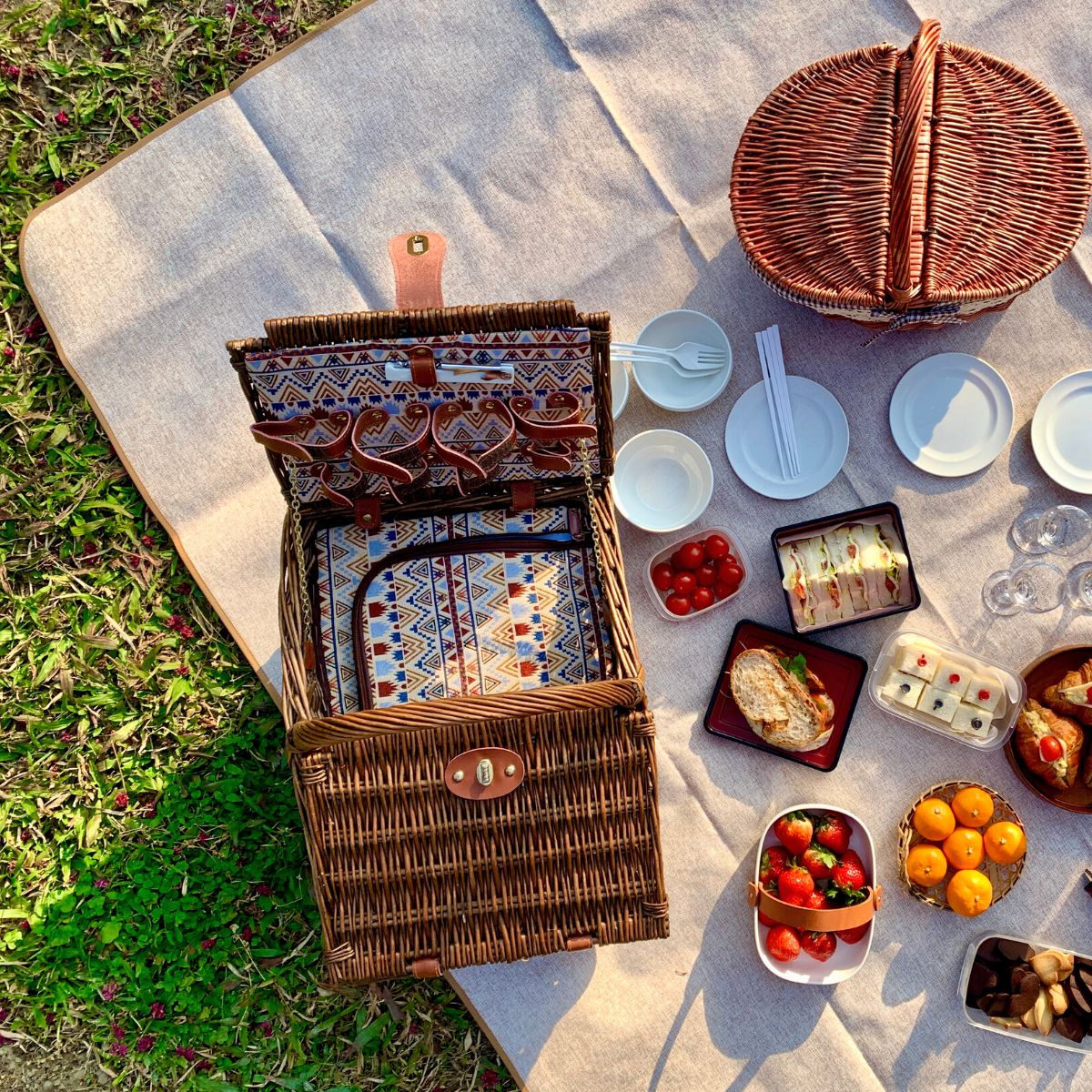 Picnic Essentials
Picnic Blanket:
Look for a large blanket that is sturdy enough to hold up to grass, sand, and other outdoor surfaces. One that rolls up and has containment buckle straps for easy packing is especially useful. We love this picnic blanket which comes in several color options.
Picnic Basket:
The picnic basket you chose depends on your goal. Want a perfectly romantic Instagram-worthy basket? Definitely go with a gorgeous wicker basket. Want something more practical that will carry your food and keep it cool? Go with a thermal picnic cooler. Need to hike a ways to your picnic site? A picnic backpack is much easier to carry.
Picnic Tables:
Even if you plan to sit on the ground, having a portable hard surface helps to have a place to set a wine glass or a plate of food to keep it away from crawly bugs.
If you're doing a beach picnic, this is the perfect picnic tray because it folds flat and you can rinse the sand right off it.
If you want a more elegant look, this bamboo picnic tray with legs even has spots to nestle a stemmed glass so they don't tip over.
Charcuterie Board:
This 7.5 inch charcuterie board is perfectly picnic sized and has a hidden compartment with cheese knives that make for easy packing.
Bottle Opener:
A compact waiter's corkscrew is the perfect picnic bottle opener and will handle all kinds of beverages that need opening.
Picnic Glasses, Plates, and Utensils:
These shatterproof wine glasses come in a variety of colors, I'd personally totally choose the pink ones! You could choose a stemless wine glass to save space in the picnic basket.
Salad sized plates are perfect for a picnic and encourage slow nibbling as opposed to a larger dinner sized plate. These classy white dishes are nearly indestructible and very light weight.
Napkins and Wipes:
For a truly elegant picnic, bring linen or cloth napkins as opposed to paper ones. For a more practical dining experience, you can find gorgeous paper napkins in a wide variety of styles and colors. If you choose those plain white plates and simple goblets, you can mix and match your napkins with the seasons.
No matter what, definitely tuck in a few of these fantastic natural soap and water wet wipes. They don't leave a film on your hands and are perfect for using to both clean up before eating and for wiping up sticky fingers after you're finished.
While not exactly "Instagram worthy," these hotel picnic supplies are very practical and reusable and a great investment if you and your partner plan to do a serious amount of picnicking together.
For Entertainment
Board Games:
If you want to enjoy your picnic date beyond just dining, bring along a few fun travel games that you can tuck into the basket.
Portable Speaker:
Lighten the mood and play some music with a bluetooth picnic speaker.
Portable Projector:
If you really want to impress, pack a portable project to watch a romantic comedy or classic film together.
Practical Matters
Plastic Bags:
Tuck in a few plastic zip top bags. They are great for storing food after you're finished or containing dirty glasses or plates so you don't dirty the inside of your picnic basket or cooler.
Ice Packs:
Definitely keep in mind the food safety of your menu. At the very least you'll want ice packs to keep beverages chilled.
Trash Bag:
The number 1 rule of picnicking? Leave no trace! Carry out everything that you carry in, so be sure to bring a trash bag for things you won't want to put back into your picnic basket.
Bug Spray & Sunscreen:
You are dining in the great outdoors and that will naturally mean some considerations for your skin. Protect yourself from bug bites and sunburn accordingly.
Best Picnic Foods
Main Dish:
There are so many fun and easy picnic menu main dishes you could pick but overall the more finger foods the better. Think plates of fresh fruit, cheeses, crackers, crostini bites, mini quiches, and finger sandwiches.
Sweet Treat:
Every picnic should end with something sweet. It could be as simple as strawberries and a glass of champagne or you could pack old fashioned chocolate chip cookies and a thermos of milk.
For 45 totally delicious and easy to prepare recipes, be sure to check out this list of the best picnic food.
Best Picnic Drinks
Water Bottles:
Whether you plan to bring sparkling water or flat, have a few bottles of water as an option to stay hydrated.
Orange Juice:
This classic fruit juice works as a tasty beverage on its own or works to make mimosas with a little champagne.
Warm Drinks:
Taking a cold weather picnic? Surprise your date with a thermos of hot cocoa. Don't forget a package of marshmallows and some mugs.
Bottle of Wine:
Red wine is great for a picnic because you don't have to worry about keeping it chilled but white wine is worth the effort for a hot summer evening. In fact, why not try a Rose spritz?
Plan an Indoor Picnic
If date night falls on an especially hot day or you're not 100% certain you'll have good weather, it's smart to have a Plan B for your picnic.
If the weather forecast includes rain, why not just host an indoor picnic with all the goodies you prepared for the outdoor picnic? No need to let them go to waste after all that effort.
Your date will love the creativity of setting up a blanket on the living room floor, just be sure to have lots of cushions for comfy seating.
Light some candles or hang some fairy lights to mimic the starry skies.
Stream some romantic music on your picnic speaker and enjoy the quiet time with your special person.