5 Ways to Tell Kids You're Going to Disney
Planning a Disney family vacation and not sure how to surprise your kids? These fun and simple Disney vacation reveal ideas are perfect for any time of year.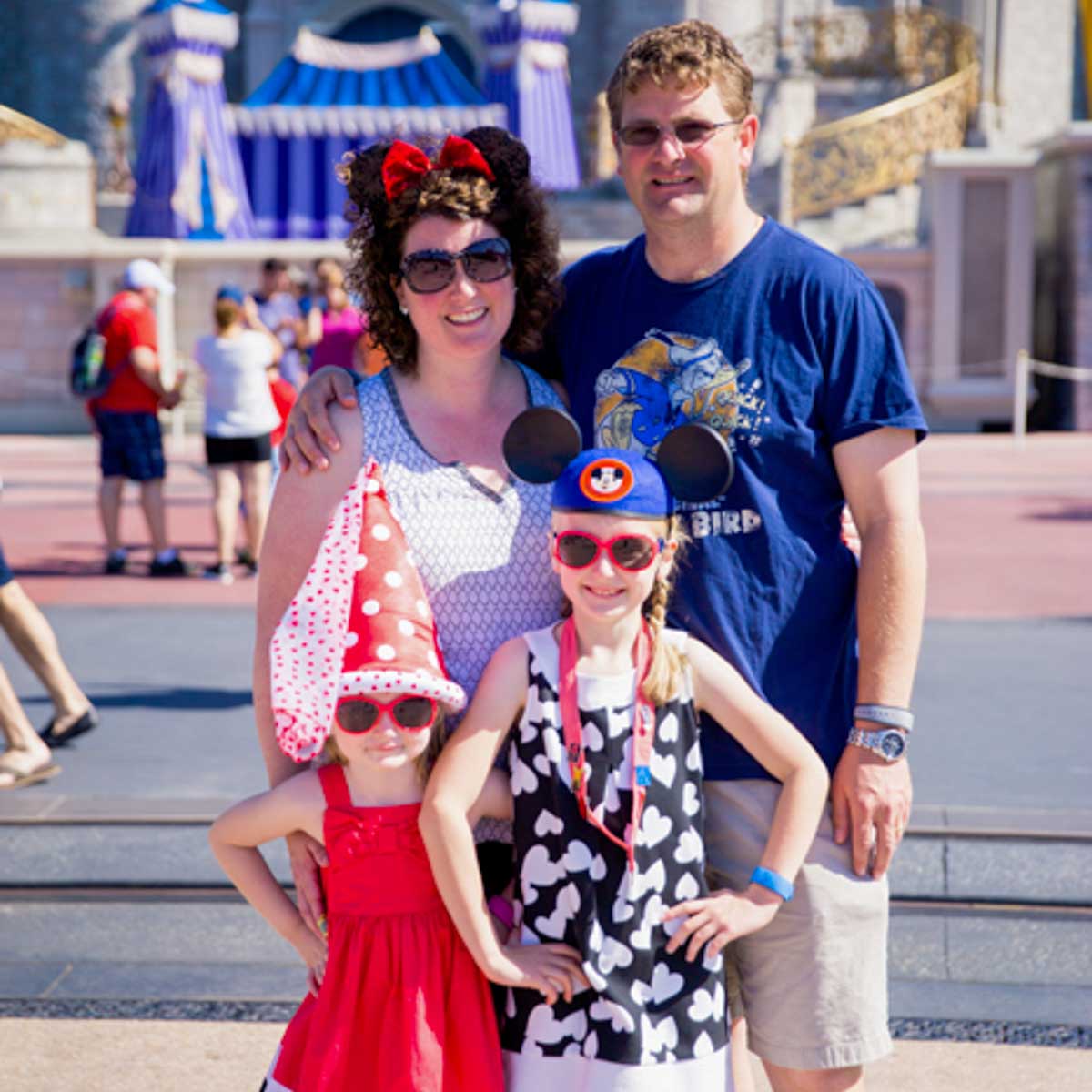 The first time we did a big Disney Vacation Reveal for our daughter was an embarrassing FLOP. We expected way too much from a 5-year-old at the time.
We learned from our mistakes and have found better, more exciting ways to reveal a Disney trip to the kids that actually gets the reaction you would imagine.
Whichever way you choose to tell your kids they're going to Disney, I hope your magical vacation starts off on the happiest of notes.

Jump to:
Watch a Disney Parks YouTube Video
One of my favorite ways to announce to the kids that we're going to Disney is to plan a fun movie night in the living room.
I pop the popcorn and tell the kids that it's MY choice for the movie for the evening. Then I show them a few select videos of the Disney Parks on YouTube streamed on our living room tv.
My husband plays along with commentary on the videos like:
Oooh, that looks neat. I wish we could see that.
What?! That ride looks AMAZING!
Can you imagine being able to watch a parade at night like that?!
He'll work the kids up into a frenzy of excitement and then we both shout: "We're going to Disney!"
Why This Works: For kids who have never been to Disney before, they may not even realize what it is that you're planning. Once they've seen videos of the actual parks, rides, and Disney resorts, it is a lot easier for them to get excited.
My two favorite Disney videos include:
Time Lapse Video of Magic Kingdom in Florida:
Time Lapse Video of Disneyland in California:
Give a New Suitcase with a Surprise Inside
When we had a trip planned shortly after our daughter's birthday, we gave her a new suitcase for her travels with a Mickey t-shirt already packed inside. It was her very first suitcase and a super practical gift just on its own, but the hidden Disney magic made it even more memorable.
If you plan to announce a family trip during the holiday season, you could also gift smaller travel backpacks if you need to purchase gifts for more than one child. Multiple suitcases could add up quickly.
Wear Matching Mickey Shirts
One year, my husband came out into the living room dressed and ready for church wearing a Mickey Mouse t-shirt. The kids giggled and cheered to see daddy wearing something unusually playful for Mass.
Then he handed each of them a little bundle and said, "Mommy and I got you something special to wear today, too!"
They both unrolled new bright red Mickey & Minnie t-shirts of their own. Our sweet girls were just happy to think they were matching daddy to church and it could have easily ended there.
But, Tim prompted me with a big, "Boy, it sure would be nice if we had someplace else to wear these shirts together!"
Which is when we were able to gleefully shout: "We're going to Disney!"
You could surprise them with matching shirts for any special family outing you've got planned: a dinner out at a restaurant, a visit to Grandma's, or "just because."
Give a Starter Set of Trading Pins
One year, the Easter bunny hid individual Disney trading pins inside plastic Easter eggs for the morning egg hunt.
When our girls were left holding handfuls of pins, they discovered a cute lanyard to hold them inside their Easter baskets.
Play Disney Music for Family Dinner
Plan a simple Disney-themed dinner for family dinner and have a playlist of your favorite Disney tunes ready to play as the soundtrack for your meal.
Simple menu item ideas could include:
Mickey Shaped Pizzas: Make your own homemade pizza dough and shape the pizzas with Mickey ears.
Breakfast for Dinner: Mickey-shaped waffles or pancakes
Chicken Legs & Churros: Since the giant turkey legs are harder to make at home, just make the smaller chicken drumsticks and pick up some frozen churros from the grocery store.
Then, once your trip has been announced, be sure to set up your DIY Disney countdown calendar!
Don't Miss These Disney Tips
Planning your family's Disney vacation? Be sure to check out these fantastic ideas first: