Planning your first trip to Disney? This is the Most Important Thing you need to know and the best advice you will receive about your entire trip.
If you're trying to organize all the details for your first Disney vacation and you're a planner like me, you're probably making the same mistakes I did when I planned our first Disney trip.
I was so excited for our first Disney trip with the kids, I spent months prepping to make sure everything went just perfectly.
But there's a big difference between Disney planning and Disney on the ground in real life. Especially if you're bringing kids.
Learn the mistakes to avoid and my husband's brilliant solution that completely saved our Disney vacation from absolute disaster.
Jump to:
Mistakes I Made in Disney Planning
As first time visitors to Disney World, I did a TON of research on what we should see with our girls.
I knew there was no way we'd ever come close to seeing it all so I wanted to be sure we didn't miss something really awesome because we were distracted by 50 other cool things first.
Knowing that we needed a game plan for suriving Disney with a toddler, I had the list of things to see, in which order, all figured out ahead of time.
I wanted to maximize what we saw with the least amount of waiting in line and working within the limited number of hours I knew we'd have each day.
I knew we'd be overwhelmed once we got into the parks and I thought having an organized checklist would help guide us through the chaos.
I obsessively researched:
Touring plans that promised we would avoid the worst of the crowds
Lists of the best rides and attractions for our kids' ages
Rope drop strategies so we could be first in line
Reservations tips and how to use the Disney app to maximize what we did
NONE of that effort worked.
Here's what happened instead:
Our Disastrous First Day at Disney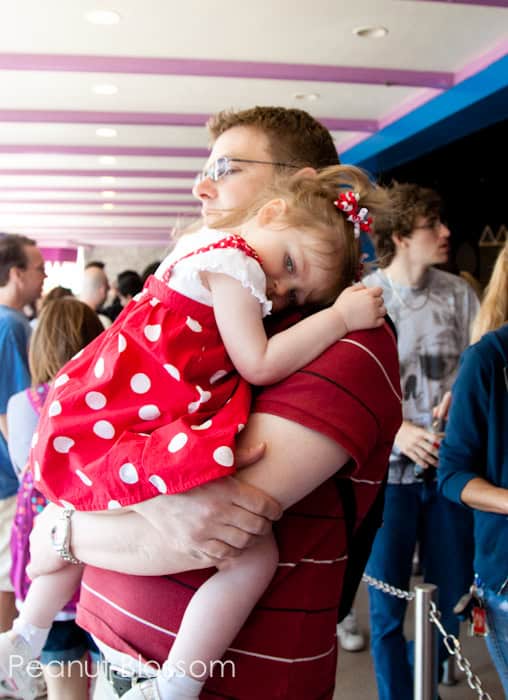 With my checklist in hand and all the Disney advice I had read swimming in my head, we arrived at Magic Kingdom early so we could be at the rope drop.
As first timers staying offsite, we didn't realize it would end up taking an entire hour to leave our car and actually get on to the grounds because of:
shuttle trains
lines
a monorail jump over the pond
We missed rope drop altogether.
Once we waited in line to get inside the park, we RAN up Main Street rushing past all the amazing things in order to get to Dumbo, which my guidebook insisted we had to do first if we wanted to do it at all.
After hustling our kids through the park immediately after entry, we arrived at Dumbo only to discover a 30 minute wait already exists.
Panic set in.
We had already been "on the go" for 2.5 hours between getting ready at the hotel and transportation to the park.
We had ran past so many appealing looking attractions to get to Dumbo that both girls were crying from disappointment.
All that time and we still hadn't done one single fun thing.
And now we discovered we should wait in line for another 30 minutes??
I frantically looked at my list trying to figure out what the next thing was that we should try to do instead.
The Winnie the Pooh ride was right there but we needed to get Fast Passes in order to ride it if we didn't want to wait 45 minutes.
My Detailed Disney Plan Had Failed
All the work I put in before we even arrived in Orlando had failed me in a huge and horribly dramatic way.
Now I was nearly in tears, too.
All that planning, all that hard work ahead of time to prevent this exact scenario. I was miserable.
Then my husband Tim came to my rescue.
After a deep breath we decided my husband would run to get the Winnie the Pooh Fast Passes while I took the girls to wait for the teacups ride.
It gave us time to collect ourselves for a minute and then Tim invented the Single Most Brilliant Disney Planning Tip you will ever find:
Our Solution
When you are visiting Disney with 2 very young children (ages 5 and 2 at the time for us!) you absolutely must set your expectations to LOW.
Lower that bar waaaay down if you want to save your sanity.
Tim's magic rule is simple:
One Thing Per Day. That's it.
Go into the park expecting to see One Single Thing.
As a family discuss that one thing the night before so everyone is on board with what they feel is the single most important thing to do.
Once you've accomplished your agreed-upon One Thing you have your whole day ahead of you.
It's like every single hour after that is a magic bonus hour because you've already done your One Thing.
I'm not even kidding how this simple mindset tweak changed our attitudes and outlook and absolutely saved our family vacation.
How We Implemented the Solution on Day 2
We arrived slightly earlier to the park since we now realized how long it would take to get inside.
As a family we agreed that our One Thing was to see Mickey Mouse in his dressing room off of Main Street and have our picture taken with him.
With our plan in mind, we entered the waiting line for Mickey but the girls were Happy!
They knew exactly what we were doing and why we had to wait. MICKEY!
We were all excited, relaxed, and enjoyed our short wait to meet the mouse.
After our meet and greet was over we lounged in the hat shop and bought the girls their mouse ear hats.
We strolled up Main Street at a much slower pace and I spent maybe 20 minutes just taking pictures of the girls wandering around and happy with their new mouse ears.
Those pictures are some of the best from our entire trip.
With our sense of accomplishment and relaxed pace, everything else we did that day felt like bonus.
We spent most of the rest of our day in Tomorrow Land on the Buzz Lightyear ride. Everyone enjoyed it so much we did it twice.
Because, why not?? We'd already done our One Thing!
The Most Common Misunderstanding
I've had readers comment in horror:
"We paid all this money to Disney only to see one thing?? Are you CRAZY?"
I am not suggesting you only SEE one thing, I'm suggesting you only PLAN for one important thing.
This is a mindset solution that is crucial to family happiness at the Disney theme parks.
We spent the entire day at Magic Kingdom.
We didn't see "just one thing," we saw dozens and dozens of magical things during our time there and had an amazing time together as a family.
But we only let one main wish list item guide our schedule for each day.
How to Use the One Thing Rule
If you want to save your Disney vacation from disaster, here's how I recommend implementing the One Thing Rule for your own family before you go:
Have a Family Meeting
Ask every member of the family what is the MOST IMPORTANT thing they want to do, see, or eat while you're at Disney.
For first timers, read through inspiration lists or watch some Disney Parks videos together to come up with ideas if they don't know where to start.
But everyone only gets to pick ONE thing to add to the Master List. The One Thing can be:
A Ride
A Character to Meet
A Food to Try
A Show to Watch (Fireworks, Parade, Live Entertainment, etc.)
Need some tips for where to start? Here are some lists of things our family has added to our own Disney One Thing plan:
Assemble the Bucket List
Add everyone's One Thing to the Master Disney Bucket List for your vacation.
At this point in the vacation planning, you should arrange your entire itinerary so that everyone has their most magic wish (within reason and budget) answered on your trip.
If you have fewer wishes than days in the parks, discuss as a family which additional Disney goals you want to add to the itinerary.
Add Easy Items to Pad Out the List
I always fluff up our itinerary with things I know will be very easy to add to our to-do list:
Remember, just because you're sticking to just One Big Thing, doesn't mean you won't do a ton of fun things every day.
Put these easy items on your list and have fun checking them off as you go!
Check Off Your List
Every morning before you go to the park, remind your family what the One Thing Goal is for the day.
It is easier for everyone to be more flexible with on the fly decisions that have to be made in order to make sure the One Thing happens that day:
"No, we can't wait 25 minutes in this line, because we have to make sure to ride the Seven Dwarfs Mine Train today. We'll check back with this ride as soon as we do our One Thing."
Celebrate Your One Things
Somehow those dedicated One Things were always our most favorite activity of the day.
We chose them intentionally and enjoyed the heck out of them in the moment.
Any missed opportunities were more easily smoothed over because:
"HEY! Remember when we did the One Thing that was most important to us today?? How FUN was that??"