4 Gorgeous Travel Books for Kids
These 4 travel books for kids are so gorgeously illustrated you'll want to steal them for yourself. Inspire your kids to explore the world from the comfort of your home. This post contains affiliate links, thank you for supporting us.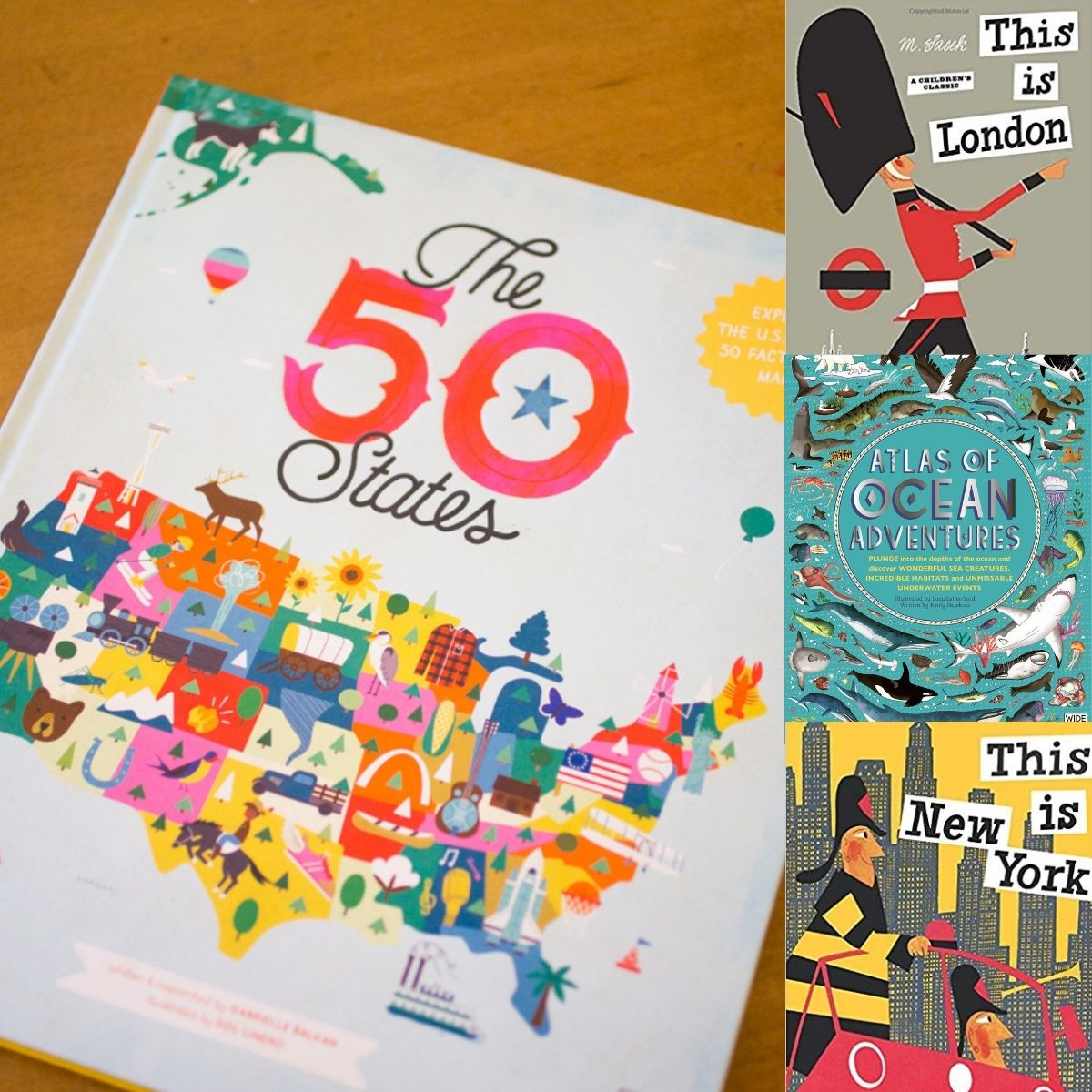 As much as I love to travel with our family, we are not nomadic full-time exploring adventurers. When we aren't planning for our next big trip, I still love to daydream about the places we'll eventually see by reading with my kids.
Though we love to pick up armfuls of books during our monthly trips to the library, I've spent years building up a wonderful home library, too. I love to be surrounded by beautiful books and have filled the shelves in our living room with titles that are worthy of keeping a permanent place of honor.
What Makes These the Best?
I believe high-quality travel books for kids meet the following requirements:
have gorgeous illustrations
are bright and colorful
have lots of tiny details for inspiring multiple read-throughs
I have given these travel books to my kids for birthdays, Christmas, and other special occasions over the past several years. I confess that the first thing that attracted me to each title was a desire to read it myself.
1. The Atlas of Animal Adventures
This is one of my youngest daughter's all-time favorite books.
The best way to encourage a desire to see the world in young kids is to talk about all the wonderful creatures that populate the far-reaching corners of the earth.
While many of the animals can be found at your local zoo, the book also covers ones your child may not have heard about yet.
The book has grown with my daughter over the years and she loves to read her favorite pages and look for new scenes in the detailed pages.
2. National Parks of the USA
It is my greatest wish to explore some of the national parks with my kids before they are grown. Until we can make that happen, this book scratches that itch and lets me enjoy the daydreaming with my kids at home.
3. The 50 States
I bought this book for my daughters after we moved from the midwest to the south. They loved pointing out the places where grandma and grandpa lived, the state we lived in before we moved, and the places my husband I met and lived before the kids came along.
We also point out which states are closest to us that we want to travel to next.
4. The "This Is" Series
These vintage-feeling books were first written in the 1960's but have been updated with modern information.
We have several of the international titles as well as the US This is New York and This is Washington D.C.
Our favorites include:
US Travel Books by Destination
European Travel Books by Destination