11 Washington DC Books for Kids
Want to prep your kids before a big visit to Washington DC? These picture books are a great way for them to learn all about the history of our capitol and get a taste of the fun they'll have on your family vacation.
We are taking a family road trip to Washington DC this summer to visit Tim's grandma. We've been looking forward to this trip for months and everyone is super excited to see family. I'm not sure how much time we'll have to actually take the kids sight seeing this go round but I still wanted to chat about Washington with the girls before we go.
I reserved a bunch of books from our library and we've been enjoying them for the last week or so. I think this is the best way to get kids excited about a vacation. At ages 4 and 7, I was sure to stick mostly to picture books. I'm looking forward to the day when they'll get just as excited about travel guides and maps as I do!
This is Washington DC: The ultimate in travel picture books. I love love love this series and we own several of them including this title. Lovely illustrations of all the major sites, just enough detail and explanation for little ones. The Peanut is at the perfect age for these (7+) but Little Pea likes the pictures.
First Garden: This was one of my favorites from the list. I loved reading about Michelle Obama's efforts to get the First Garden growing again. It gives a shot history of previous presidential gardens and ends with a few recipes. Perfect for summer!
Grace for President: This was my second favorite from this list. Darling story of a young girl who decides she wants to run for president. Her teachers stage a school election based off the process we use: electoral votes for each state, the campaign process, etc.
George Washington's Teeth: Quirky but the kids loved it! The true story of George Washington's dentures told in poetic picture book form. Travel for me is all about discovering the quirky details, I love instilling this sense of humor in my kids.
A is for Abigail: Written by Lynne Cheney and illustrated by Robin Preiss Glassner who you may recognize as the illustrator for the Fancy Nancy series. I loved this book! There is way too much detail in here and it really goes over my kids' heads, but this would be a book worth purchasing and keeping on hand for browsing and absorbing over time. Every page is loaded with inspirational women role models and yet it is light hearted and fun. Total keeper.
Madeline at the White House: Not as many landmark references as I had hoped but still a cute little tale. If you're heading to Washington for Easter, it predominately features the Easter Egg Hunt at the White House.
The House that George Built: I was unable to get this one from our library but I really wish I could. Tells the story of the White House being built.
Clifford goes to Washington: Another book our library did not have a copy of but looks adorable. It is described as Clifford taking a romp through DC and seeing the landmarks.
A Kid's Guide to Washington DC: This title is way beyond my girls right now but is cool enough I wanted to mention it. It is part travel guide, part work book. For kids ages maybe 9+ this would be an excellent choice.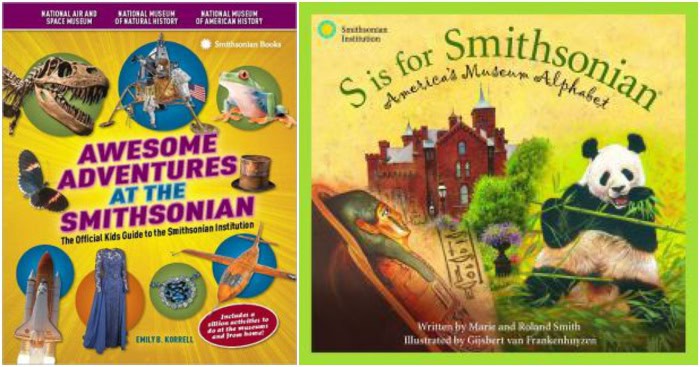 Awesome Adventures at the Smithsonian: If you're visiting the Smithsonian this is a great way to prep your kids. I feel that knowing what you are going to see makes the experience more interesting while you are there. We don't have time this trip but I'm bookmarking this book for future use!
S is for Smithsonian: Again, if you know you'll be at the Smithsonian, this is a lovely illustrated book. Lots of detail and background for prepping kids.
More Travel Books for Kids