Heading out on a road trip with kids? Get these awesome hotel tips for keeping things neat and organized so you can relax and enjoy your family vacation.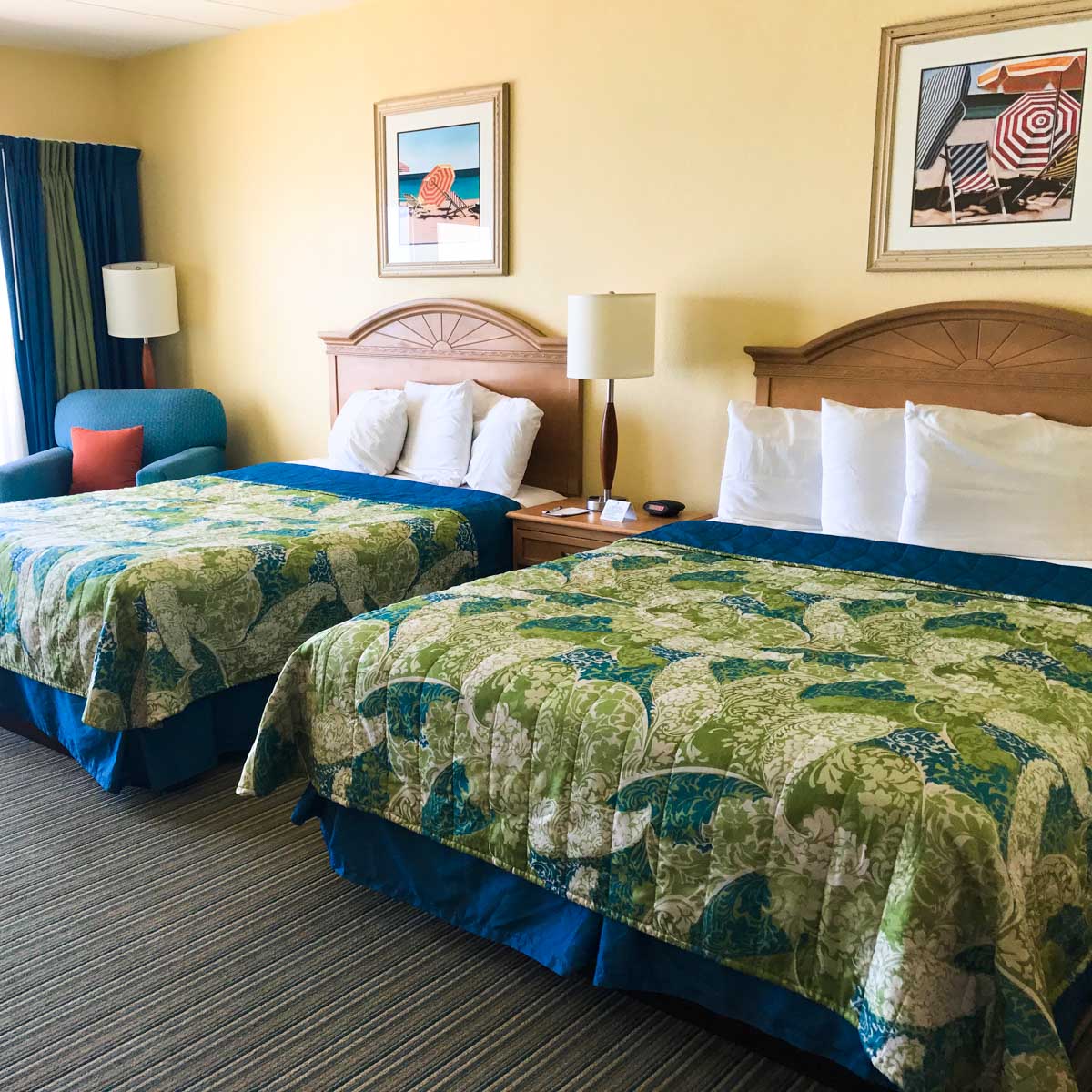 In order to save money on a family road trip, parents find themselves squeezing into tight quarters and sharing spaces with the whole family.
Especially frugal families may find themselves in hotel rooms smaller than expected but that doesn't need to ruin the vacation.
Keeping everyone sane and happy in the unusually tight quarters of a single hotel room can feel daunting but with just a few handy hotel tips, your entire family can happily share the hotel room and focus on the fun of the trip.
RELATED: Don't miss the 40+ essential items to pack in your car before you head out on the road.
The best hotel tips to help you survive your next road trip with kids:
1. Start with a clean palette:
If you've got toddlers that love to lick things, this tip is important enough to kick-start this whole list.
After a particularly horrific experience of having a super-sick kid in our hotel room one trip, I'm now a huge advocate of sanitizing the room yourself upon arrival. You just never know what happened in that room before you got there and the hotel cleaning crew is highly unlikely to be sanitizing every little surface between guests.
Before we unpack anything, I take just a couple minutes to run through the room with a few wipes and catch all the hard surfaces that get touched most often. If we're traveling during cold and flu season, I'll also spritz a little Lysol in the room, too.
2. Keep your room neat and tidy!
Nothing makes a hotel room feel more cramped than copious amounts of clutter. When an entire family is sharing one space, organization is essential. You don't want to waste precious vacation time hunting for a missing shoe or your car keys.
I always pack a few handy items in our car for our hotel stay that help us make smaller rooms more comfortable. You can read all about how we organize our hotel rooms with these items here.
Use the dressers:
Take 10 minutes upon arrival to unpack your suitcases into the dresser and put the empty luggage back in the car!! Our family of four brings 3 - 4 suitcases when we travel and they take up a significant amount of space in small hotel rooms.
It is wonderful not having to stare at cluttered suitcases for the duration of a trip. It will also give you added space to move around in the room. (If you traveled by plane, consider nesting your empty suitcases and storing them the closet to economize the space.)
Bring along 3-packs of child sized skirt hangers:
Be sure to get the kind with the clips, not just regular hangers, just like these hangers. Since they are small, light, and packable, they are easy to bring along on the trip.
This brilliant trick can be used for hanging up wet swimsuits on the shower curtain rod. There just never seems to be enough hooks in hotel bathrooms for both towels & swimsuits and you never know whether or not your hotel will have a drying line in the shower. The hangers allowed us to move the dry suits to the closet and out of the way when morning shower time hit.
3. Establish acceptable entertainment options:
Have you ever tried to convince a little kid that the hotel room phone is not a toy? All those buttons! If you don't want to be charged for odd calls or be a nuisance to the front desk with constant rings, be sure to come prepared for kid-appropriate hotel room activities.
Activity books:
We love activity books because they fit easily into suitcase pockets. Pick books that will work with a pencil or chalk so you don't have to worry about pen or markers accidentally staining hotel bedding.
Special toys from home:
If you brought your traveling lovies be sure to set rules on where they should be put before you leave the room. I was so nervous they'd get caught up in the bedding when the room service changed the sheets. We made sure to have a designated "safe spot" in the dresser just to be sure.
Pro Tip: The drawer in the bedside table is just the right size for holding your kids' books & lovies. Give them total ownership of what goes in that small space! They'll love that small bit of control and personal space.
4. Pack a portable pantry:
The first time we traveled with our kids I had completely forgotten about hotel mini bars and room snacks. Of course the kids immediately zeroed in on the candy bars and chips made available in our room by the hotel. Unless you're interested in paying $6 for a Kit Kat, make sure to bring along your own kid treats and water bottles!
Pro Tip: It's vacation, have a few fun sweet treats in the mix! Just because you're saving money doesn't mean you can't splurge on candy you don't normally indulge in. Our girls went nuts for Swedish Fish & Junior Mints--both of which are easy to dole out in super small portions. We hit up the movie candy aisle at Target before the trip for special goodies.
5. Evening illumination & white noise:
Preferences for particular sleeping conditions can be one of the bigger pitfalls of everyone sharing one hotel room. One of our daughters sleeps in a dark room, the other insists on having a light on in the hallway. One person loves it freezing cold, another wants to be snuggly warm. A few family members who won't be named tend to snore.
Pack a night light:
Bringing your own night light from home will help the ones that need that extra comfort. In a pinch, we leave the bathroom light on and just shut the door most of the way but some hotel rooms aren't laid out in a way that makes that helpful.
Pack a portable box fan:
One part temperature adjuster, one part white noise machine. You will always find a box fan in our trunk for road trips. On the occasion we forget to bring it, we'll grab one for less than $10 at the local pharmacy or superstore.
No fan? You can always Download a free white noise app for your iPhone and consider packing a bluetooth speaker so it can play loud enough for the room to hear. It will help drown out all the bumps (& snores) in the night.
Pro Tip: Avoid white noise settings that might have scary undertones for younger kids--my girls hated the parrots in the Rainforest option on our particular app!