This route is perfect for traveling from Charlotte to Northern Minnesota with kids. Stops include Kentucky, Chicago, Milwaukee, Madison, and Minneapolis/St. Paul. What to do, where to stay, and how to survive!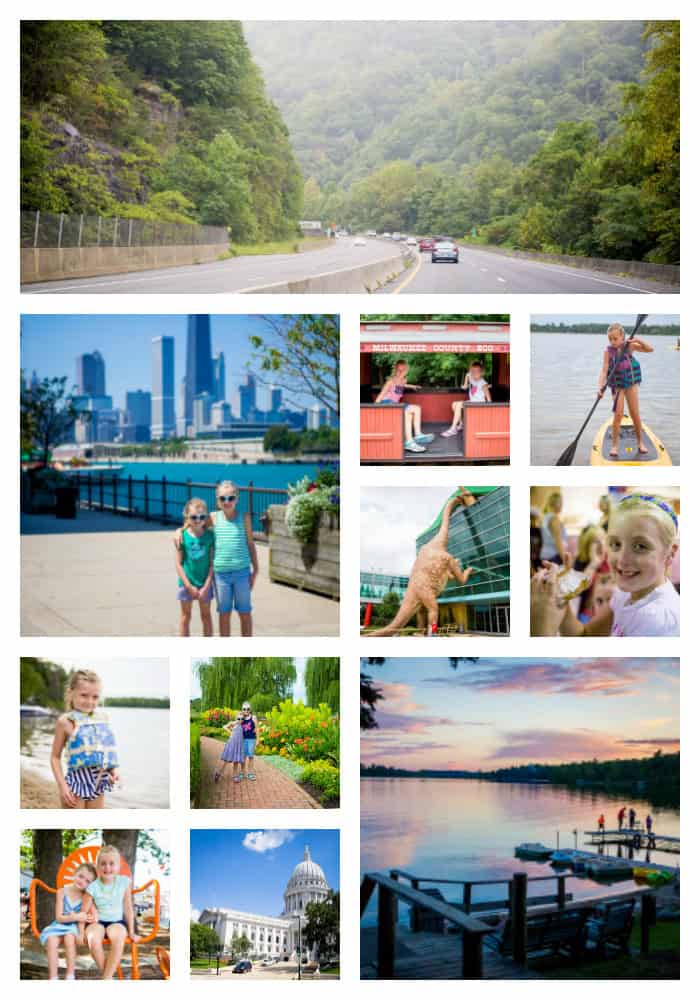 For 3 whole weeks this summer, the girls and I embarked on an epic family road trip throughout the midwest. I mentioned it before we left while packing was on my mind. I had great intentions for sharing our adventures from the road with you as we went along. Somewhere during Week 2 the plan fell apart as I discovered the challenges of blogging on the road. I will never rely on hotel wi-fi again!
I learned so much from this family road trip that I want to share with you and I would love to inspire you to do something similar with your family. This is an experience I will never forget and I would jump at the chance to do it again. Over the coming weeks I will be rolling out recaps of the trip, highlighting reviews of our favorite places to stay and things to see city by city.
Have you visited the Midwest? While it may not be as popular as either coast for tourists, our Grand Tour took us to some of the very best places the Midwest offers. I hope that my recaps might encourage you to visit someplace you hadn't considered before, there are so many lovely things to see!
Our family road trip route was nearly perfect as a round-trip experience from the south. I plotted it on a map so you can see. The green pins mark where we stopped on our way up to Minnesota. The red pins mark where we stopped on the way home headed south to Charlotte.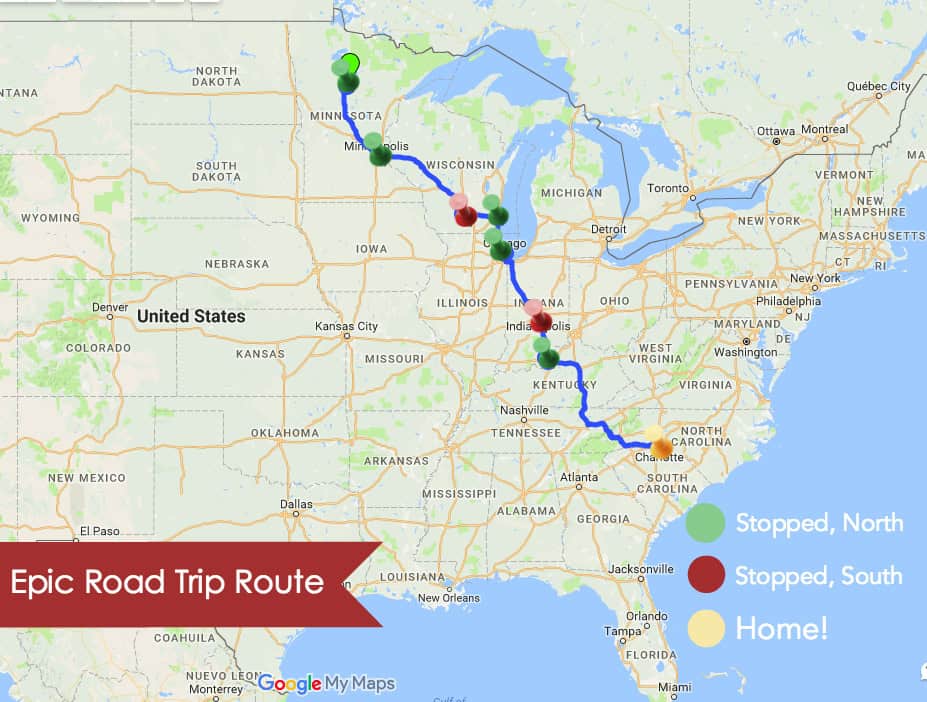 Our Midwestern Family Road Trip Itinerary:
Heading North:
Day 1: Depart Charlotte, NC and drive to Louisville, KY.
Day 2: Depart Louisville, KY and drive to Chicago, IL.
Visit the Louisville Slugger Museum in downtown before leaving the city.
Day 3 - 5: Explore Chicago.
You can read our budget-friendly tips for visiting this amazing city here. We had a blast visiting the Shedd Aquarium, Maggie Daley Park (twice!), Navy Pier, and more.
Day 5: Depart Chicago en route to Milwaukee, WI:
Visit Chicago Botanic Gardens and our all-time favorite pancake spot along the way.
Day 6-10: Explore Milwaukee.
We kickstarted our weekend in Milwaukee with a family wedding at the Pfister Hotel. It was an amazing place to have a miniature romantic getaway with Tim.
The girls and I visited the Wisconsin State Fair, Milwaukee County Zoo, attended a family wedding, and enjoyed several local delicacies including my beloved Kopp's Frozen Custard.
Day 11: Depart Milwaukee and drive to St. Paul, MN.
Day 12: Explore the Twin Cities.
We spent a day at the Mall of America and visited the new Crayola Experience there. I'm excited to review this spot in particular!
Day 13: Depart St. Paul and drive to Leech Lake, MN.
Day 13 - 16: Enjoy nature at Leech Lake.
We attended a family reunion in northern Minnesota where our kids ran like a pack of wolves with their cousins for 4 days.
Heading South:
Day 17: Depart Leech Lake and drive to Madison, WI.
Day 18: Explore Madison, WI.
We broke up our condensed drive home with a stop in our old university town to visit college friends. We only allowed one day there as a break but Tim and I agreed it is one spot we'd love to return with the kids for a longer visit someday. For this trip, we stayed at the amazing Edgewater Hotel right on the lake and within walking distance of the state capitol.
Day 19: Depart Madison and drive to Indianapolis, IN.
Day 20: Explore Indianapolis.
We made the excellent decision to stay right downtown in a spacious Embassy Suites hotel room. We spent our single day at the amazing Children's Museum where we discovered the new Doc McStuffin's exhibit that was just installed. It was incredible. I'm excited to share more details soon.
Day 21: Drive from Indianapolis home to Charlotte.
This was one of our longest days and wow were we all So Happy to get home at the end of it!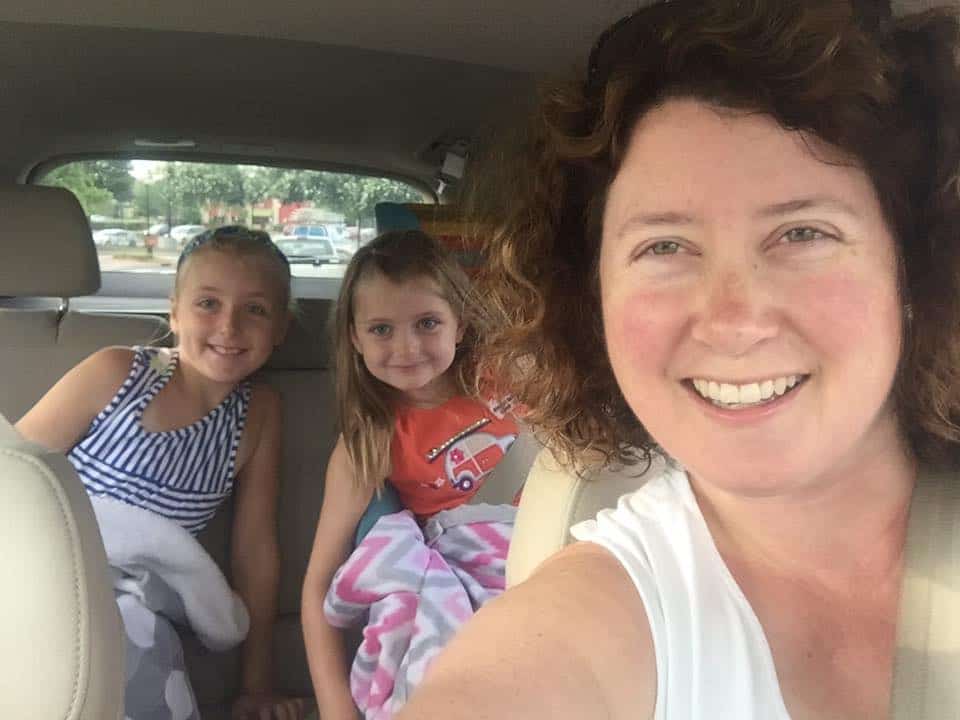 Family Road Trip Travel Tips:
In addition to the fabulous places we stopped along the way, I learned a ton about successfully traveling with kids on a family road trip. I spent the first half of the trip alone with my girls. Tim joined us for the second half. I have a lot to say about both methods of traveling and tips to encourage you to try it on your own.
Before you leave home, be sure to grab some free US state travel guides.
I'm excited to share:
Tips for moms traveling alone with kids
Photography tips for capturing your travel story
As I organize all these thoughts, I'm curious if you have any specific family road trip questions you'd like answered. Let me know in the comments below and I'll be sure to do what I can to help.