Going on an epic long road trip with kids? These great tips will help you pack all the essentials for keeping the kids happy on the long drive.
Essentials for Traveling with Kids
When I told friends that I was planning on traveling alone with my kids for 2 weeks as part of our epic road trip this summer, I was really surprised that the first response was always: "ALONE?! You are so brave, I couldn't do that."
After hearing that comment more than a few times, nervousness and fear started to creep in. Was I crazy to consider traveling across 6 states alone with the kids? What exactly is everyone afraid of?
The first thing that came to mind was our safety. I have a whole post I will eventually share on how to make sure you and the kids are safe while traveling alone together. But right up close to that was keeping organized and dealing with all our gear by myself.
Tim usually serves as our bag hauler when we reach hotels. The girls and I always help, but he'll carry the brunt of the heavy items or make extra trips down to the car from our hotel room if we forgot something. Knowing I didn't have an extra pair of adult hands to help carry or to fetch things while I sat with sleeping kids in a hotel beds, I wanted to be sure that we could easily organize, tote, and haul everything we needed in just one trip from the car to the hotel room. So while I was packing, I made sure that EVERYTHING had a specific place.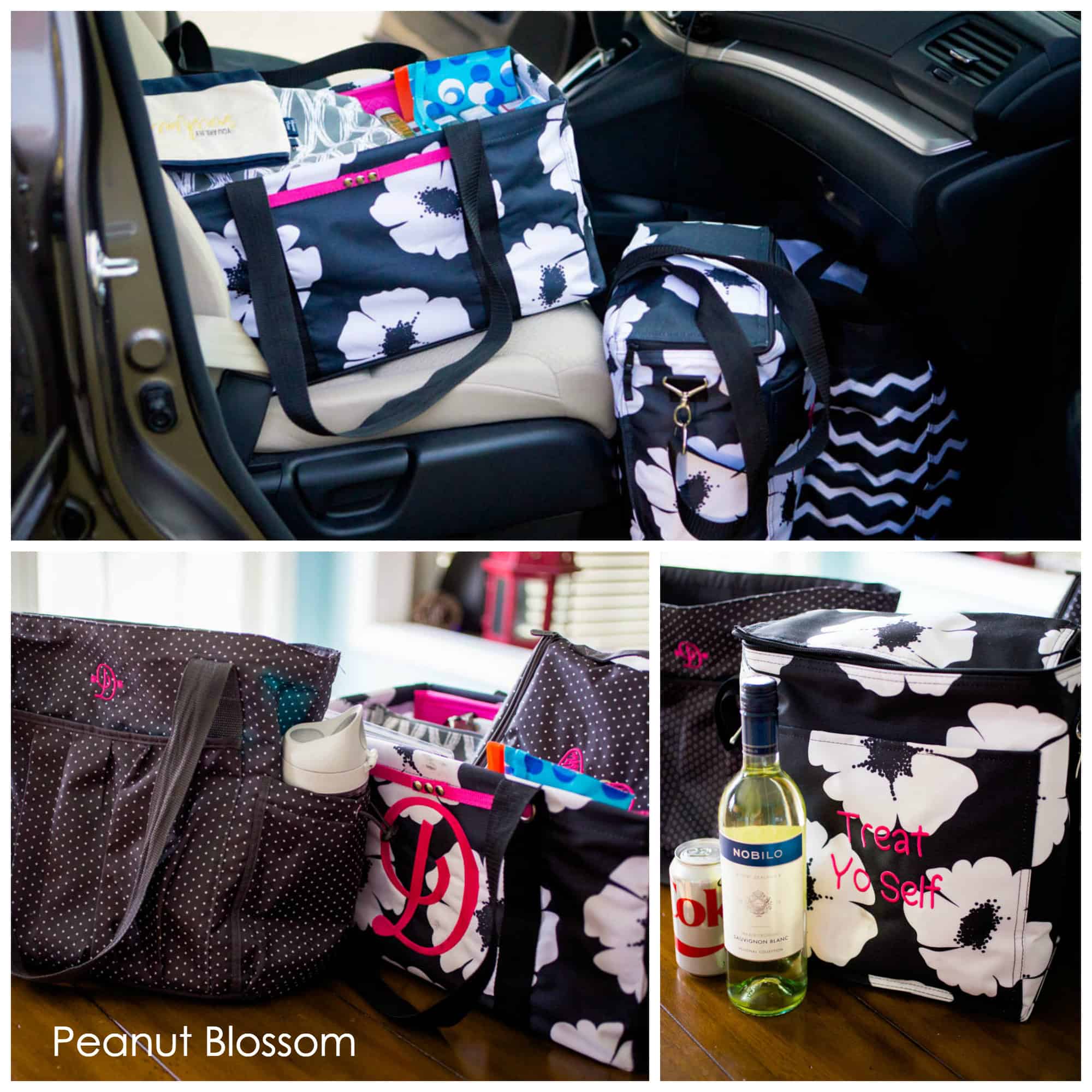 3 Must-Have Bags
My carseat companion bag: Featured at top, this bag held everything in it that I needed within arm's reach during our drive. I could keep my eyes on the road and easily grab anything I needed knowing exactly where it was.
Our entertainment bag: I kept essential evening things we needed in the hotel here--books, my laptop, coloring supplies & activity books, etc.
My "Treat Yo Self" cooler: (Parks & Rec, anyone?!) Fresh fruit and yogurt pouches for the kids, and "mommy essentials" for evenings cooped up in the hotel alone after a long drive for me. This bag saved us so much money and kept me sane.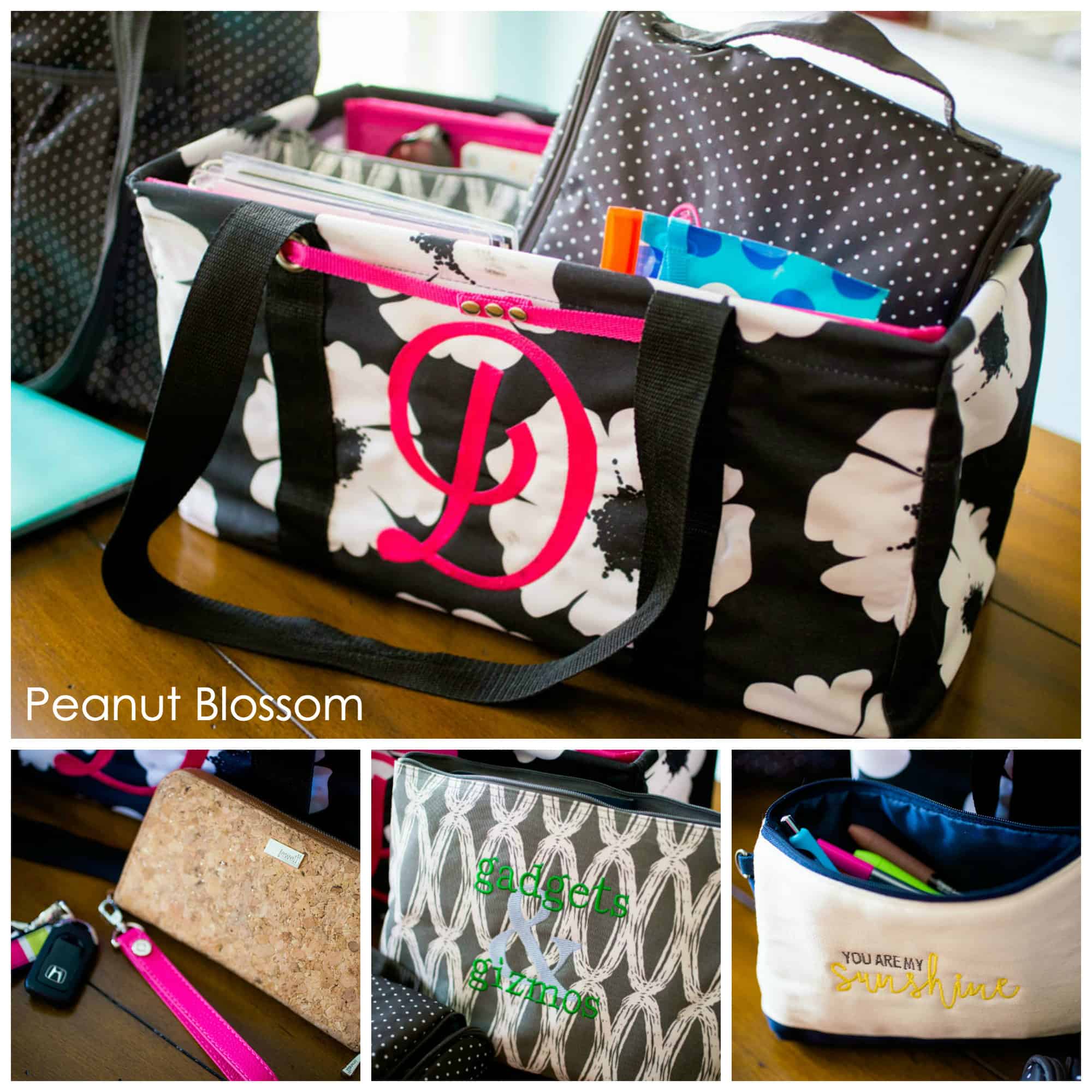 Carseat Companion Bag:
Utility Tote with Stand Tall Insert: I kept all the small cluttery items that usually rattle around my car neatly organized in a utility tote bag outfitted with a stand tall insert with mesh pockets along the sides. While driving I couldn't take my eyes off the road so I could slip my hand into the organized bag and know right were everything was.
Inside I stored:
A pile of audio books from the library
Gum for the kids
Kleenex
Sunglasses for all 3 of us
My planner & pens
My wallet
Several zipped pouches of smaller items
Huggies wipes
Water bottles
Packets of snacks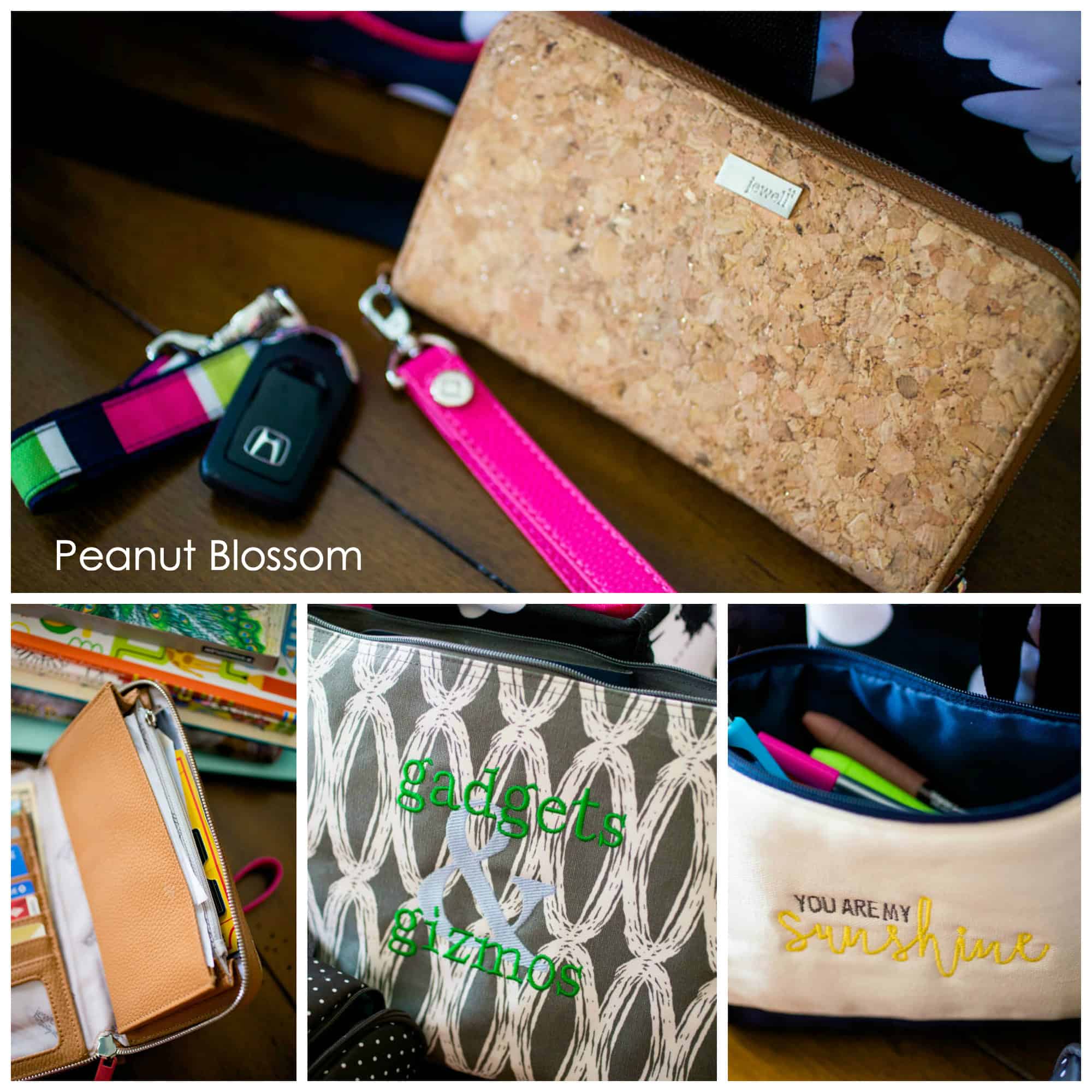 It's all about the Benjamins Wallet: I did not carry a purse with me for the duration of our 3 week trip. This wallet helped make that happen. It has tons of pockets inside for plenty of cards, a spot for your cash, and two separate long pockets where I stored tickets to museums, receipts for our budget, and gift cards that helped pay for our trip. In a pinch, even my phone could fit inside and get zipped up and I could carry it by the cute pink wrist-strap.
Gadgets & Gizmos Zipper Pouch: I have several of these amazing zipper pouches but this particular one was invaluable on the trip. We traveled with charging cords and devices for multiple tablets, three cameras, an iPhone, and a laptop. I would have gone insane trying to find just the right charger at the right moment without the giant baggie of gizmos always tucked in the same spot in my bag! When packing up to move on to the next city, all the chargers got rounded up from the outlets and put right back here.
Mini Zipper Pouch of pens: I never leave home without my planner and pens but I was surprised just how often they came in handy during our drive! When you're traveling for 3 weeks, there is a lot to keep track of -- reservation numbers, museum info, checklists, etc. I keep a pack of gel pens handy and organized in a mini sized pouch that was just the right size. At home, I keep this in my purse on the go, too.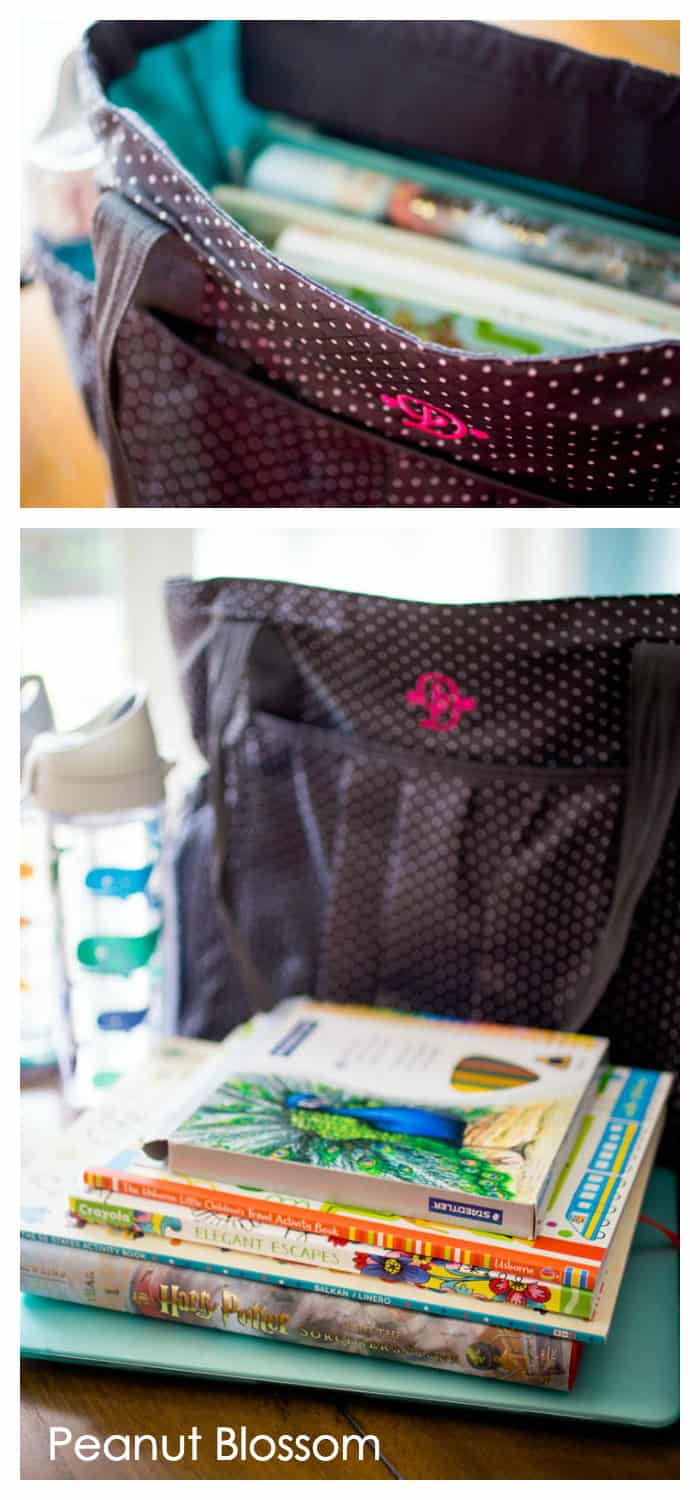 Our Entertainment Bags:
New Day Bag: 1 part travel tote, 1 part purse in a pinch
I knew there would be a ton of downtime in our evenings and I didn't want the kids just getting sucked into watching the hotel tv every night. The Peanut and I were still finishing reading Harry Potter together and I couldn't bear to leave it behind for 3 weeks. We brought along coloring books, colored pencils, activity books, reading books for both girls, a kids' travel guide, and my laptop so I could try to keep up on the blogging and research our next destinations as we went.
The New Day Bag served to carry all of those things into the hotel rooms at check in and then got emptied out to serve as my day bag on the go with the kids. Their water bottles fit into the 2 exterior pockets and the inside of the bag has tons of open pockets for sunglasses, sunblock, etc. and a zipper pocket to hide things for more security. I was able to bring the kids sweatshirts for when museums got chilly and always had a spot to store anything we picked up from stores.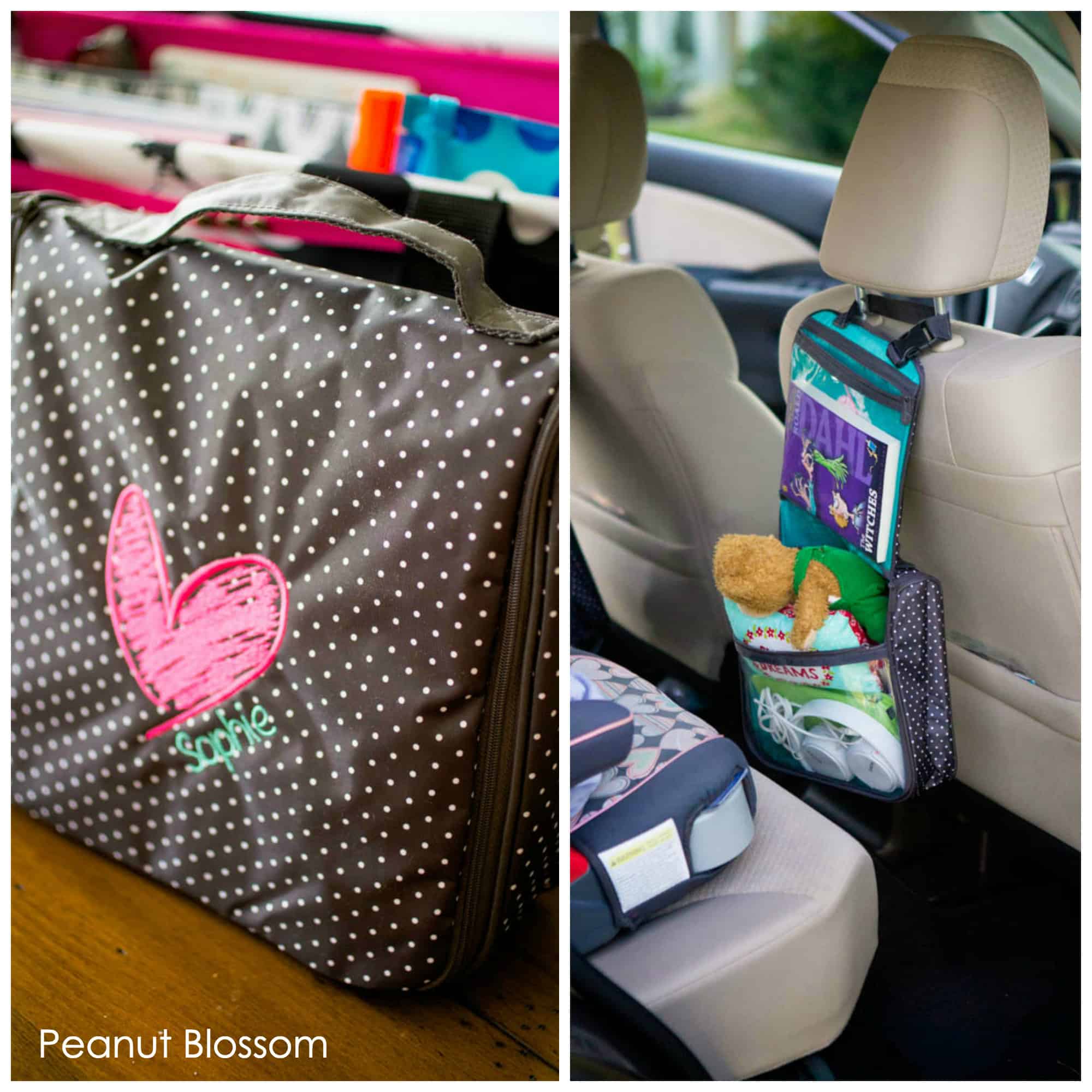 Hanging Traveler Case: The kids were responsible for carrying and organizing their own smaller personal items for the car. We hung the pocketed traveler case from the seat head rests in front of them so they had quick access to books, small loveys, headphones, and their tablets loaded with audio books. They folded up quickly and zipped closed. I was able to just slip them quickly into the bigger New Day Bag for storage.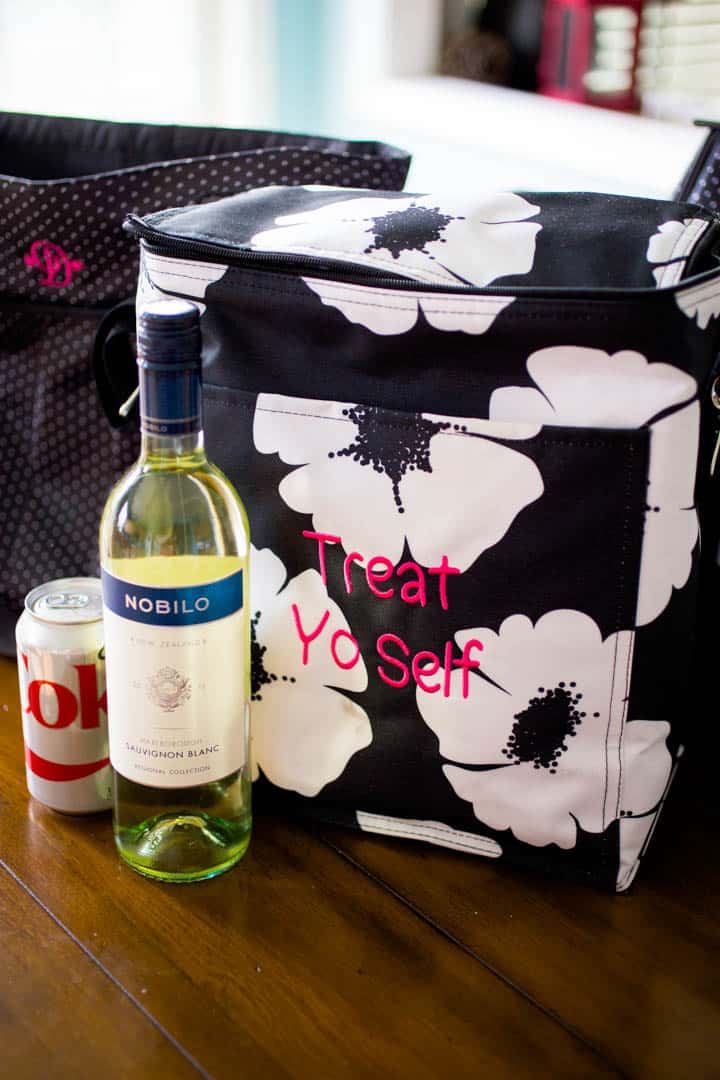 Treat Yo Self Picnic Thermal Cooler:
Raise your hand if you're a Parks & Rec fan! ME! If not, watch this video here and catch up to speed on the joke. Traveling alone with kids requires you keep a sense of humor for sure. At the end of the long day of driving it never failed to make me chuckle to pull out a little pre-chilled white wine or a cold Diet Coke and secret mommy-only chocolate from my picnic thermal cooler. We also saved money (and ate healthier!) breakfasts on the go because I brought along lots of fresh fruit and yogurt for the girls in the cooler as well. Since the bag is taller than it is wide, it was easy to find a spot for it in the car.
With everything belonging in a specific spot, it was so easy to tuck everything away and then find it again when needed. Even after a chaotic 8 hour drive with the kids, I could pack up everything from the car that we needed into easy to carry tote bags: