Everything you need to know to plan the best family beach vacation you've ever had! From where to go and where to stay when you get there to what to do and eat, all the tips you need to plan your family trip are here.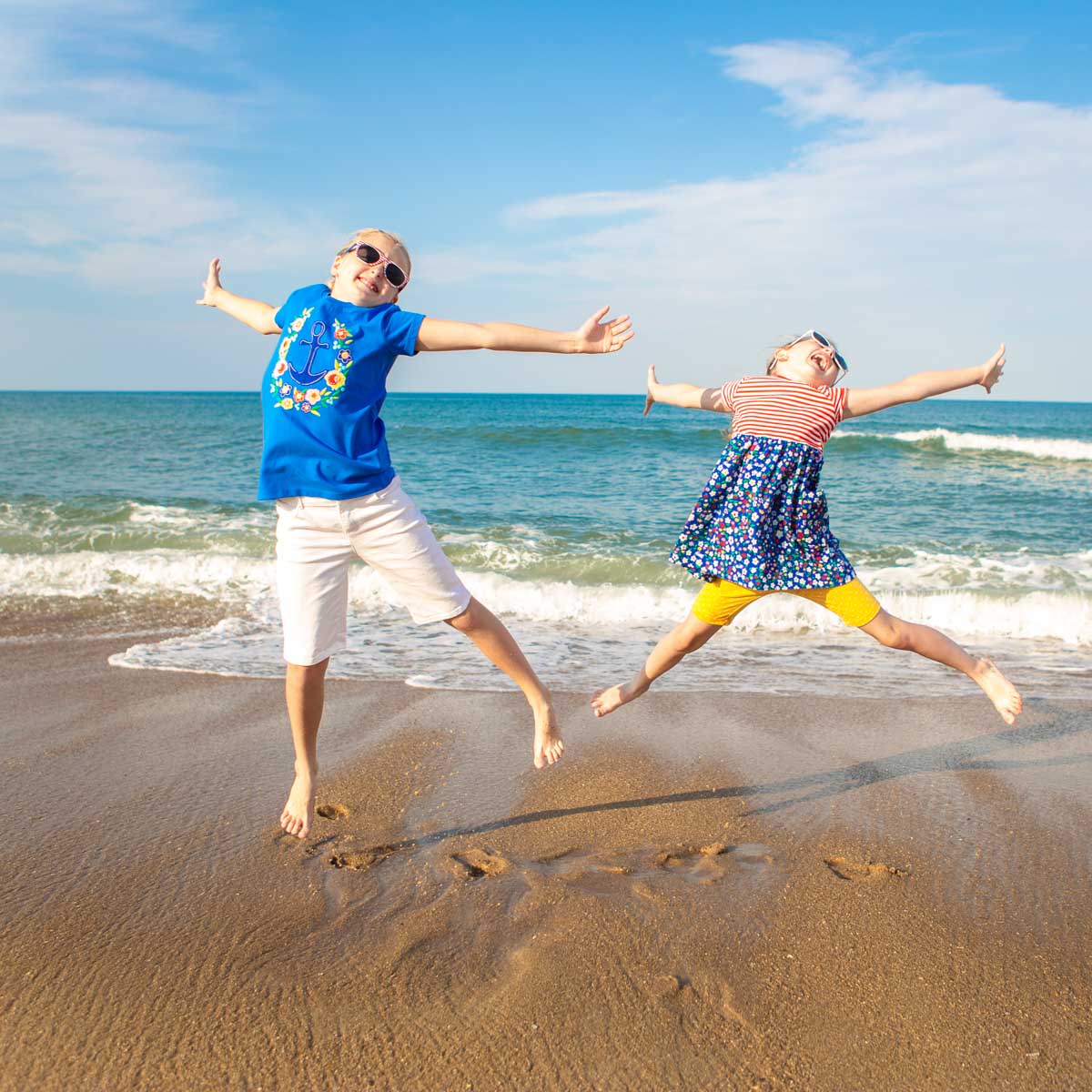 For over a decade our family has spent a week at the beach for our annual family beach vacation.
We've sampled the best family beaches all along the East coast from the Outer Banks, North Carolina to Amelia Island, Florida.
We started this tradition when my girls were just 5 and 2 and they've grown up at the beach over the last 10+ years.
I've definitely learned a thing or two about how to plan a family beach vacation so that everyone has the best time.
I'm gathering up all my best advice and tips from the entire site in one place to help walk you through the process of planning the ultimate beach trip for your own family.
Any questions?? Be sure to leave me a comment, I'd love to help.
Jump to:
When to Go
When we first moved to the South, I assumed that people only went on beach trips during the late Spring and Summer.
We quickly learned that with warm weather lasting well into November, fall is actually a very popular time to go to the beach. In fact, some school systems even have a fall break!
We've also visited the beach mid-Winter and had the time of our lives. Depending on what you want to do when you go, there's really so many great options for when to go to the beach.
Where to Go
As I share more about all of our family beach trips, you'll be able to find the relevant information by destination right here!
Coming Soon: Our favorite beaches, Folly Beach and Hilton Head Island.
Where to Stay
Even though we go to the beach every year, not all trips look exactly the same.
Sometimes we've stayed in a beachfront hotel with a view, sometimes we've rented a beach condo resort. A few times, we rented a huge beach house for a family reunion.
Want to weight the pro's and con's? Don't miss my thoughts on a beach condo vs. hotel here.
What to Pack
Organizing everything your family will need at the beach can feel like a part-time job before you go! Let me help with my best packing lists for your beach vacation.
What to Eat
Once you get there, what do you plan to eat?
If you're staying in a hotel, you may appreciate these easy breakfast ideas for your hotel room.
If you're staying at a beach condo, you'll definitely appreciate these easy vacation meals for your rental kitchen.
Either way, you'll be spending plenty of time down on the sand. So don't miss this great list of beach snacks to pack into your cooler.
What to Do
This might be my favorite part of a family beach vacation--spending quality time with my kids!
Take this opportunity to truly slow things down and connect with your kids.
If you've forgotten how to play (don't worry, we all have to some extent), help yourself out and pack a few of these awesome beach toys adults will love too and tuck in a travel game or two to your luggage before you go.
What Type of Trip Will You Take?
There is no shortage of things to do at the beach and every single destination offers up it's own variety of options.
There's a perfect beach to suit whatever it is your family loves:
National and State Parks: You'll find them all up and down the coast.
Animal Lovers: Pick the right beach and you're sure to see Dolphins, Sea Turtles, Wild Horses, Manatees, Alligators/Crocodiles, Crabs, and more
Shell Hunters: Shells can vary widely depending on the type of beach you visit.
Fishing Trips and Kayaking: Find a beach with a nearby marina.
Lighthouses: There's a whole tour for them in North Carolina.
Waterparks: Some of the beach condos have amazing pools.
Girls Trip: There is excellent shopping and dining in some beach towns.
Romantic Getaway: Pick your pleasure, but Hilton Head would be my choice.
Biking Trails: Whether you want to ride directly on the sand or just find a town with bike trails, there are lots of options.
Golfing: Some beaches offer amazing golf courses nearby.
Capture Your Memories
You're going to want to keep that camera handy but getting great photos at the beach can be harder than you think! Here are some of my best beach photography tips:
Getting Excited for Your Trip
Once your trip is planned, it's time for the countdown! Get your whole family excited with these fun beach ideas.